If you are having trouble viewing this newsletter, click here
SUMMER Comics Sale
Howdy!
Yesterday was another busy day, as I spent the morning enhancing the wildlife habitat at our farm, and the afternoon and early evening sorting comics and books in our Jason St. Mega-Store. This comfortable pattern of steady work has sustained me all summer, and has allowed me to achieve much that is good and productive.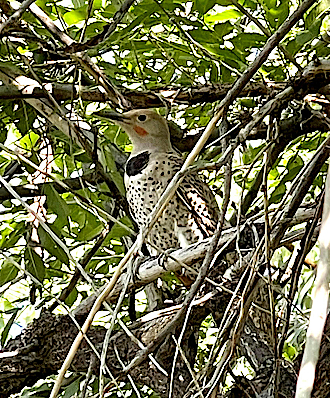 Red-shafted Northern Flicker at the farm in Boulder.
I am particular happy that I was able to sort through another 3,000 of my recently-purchased back issue comics yesterday, locating yet another nice batch of out-of-stocks for Will and Pam to grade, and to then enter into our website inventory for you. This kind of effort on my part is not sexy or flashy in any way, but it is through this kind of unceasing toil that we continue to improve the collectibles opportunities that we can offer you each and every day.
If you can spare a minute to check out our extensive listing of new arrivals at the end of this newsletter, you will see that it consists of a remarkable soup-to-nuts selection of titles and issue numbers. That is because our entire focus is on offering you the broadest possible selection of comics, magazines, and books, regardless of their current popularity. In a nutshell, that is why I spent so many weeks on the road (and $300,000.00+) earlier this year buying up private comics collections from fans all around the nation. It is specifically through integrating those comprehensive lifetime accumulations into our own, that we are able to (gradually) fill in every blank spot in our website selections for you.
While my personal quest to stock all of the comics ever published is what has allowed us to build Mile High Comics into largest and most comprehensive comics store in the world, I must also note that today's list does also contain a number of "key" issues (Sandman #1, #8, Saga of Swamp Thing #37, Next Men #21, etc), that Will and Pam purchased just yesterday from fans selling collections to us in our Jason St. Mega-Store. Through the sum of all of our buying efforts, great progress is being made!
I will close today's newsletter by reflecting upon the blessings of Providence. Ten years ago this month, I made the momentous decision to auction off the last of my personal collection of Golden Age comic books, specifically to cover the down payment on our 65,000 square foot Jason St. building. While other comics retailers at that moment in time were choosing to sell off their retail stores, I instead made a decade-long commitment to our creating the greatest comic book store that the world has ever seen.
Ten long years (and an incredible amount of hard work) later, our immense Jason St. Mega-Store is now a "bucket-list" destination for many, with ardent fans flocking to Denver from all around the world to view our enormous "cathedral of comics." As a direct result, we are now truly blessed to be inundated daily by a legion of visitors from out-of-state locations, almost all of whom find rare treasures among our vast offerings to enhance their collections. Not surprisingly, our comparable in-store sales are now nearly doubling every year, which truly helps to offset my pain at having sold my beloved Golden Age comics. Simply put, creating so much joy for so many, makes me very, very happy.
Happy collecting!
Chuck Rozanski/Bettie Pages,
President – Mile High Comics, Inc.
July 21, 2021
P.S. Our 40% off SUMMER! codeword sale is still in effect for you on almost all of our back issue comics and magazines listed on our website, including most of those new arrivals in the list that follows. Only new issues, a few variants, and our professionally-graded items are exempt. The codeword does also apply to most comics that we offer in Jason St. Enjoy!
MARVEL
2001 (JACK KIRBY) (1976) #6 Good
2001 (JACK KIRBY) (1976) #7 Good
AGE OF ULTRON VS. MARVEL ZOMBIES TPB (2015) #1 Near Mint/Mint
ALIAS VOL. 2: COME HOME TPB (MARVEL) (BENDIS) (2003) #1 2ND 2004 Near Mint/Mint
ALIAS VOL. 3: UNDERNEATH TPB (MARVEL) (BENDIS) (2003) #1 2ND PRINT Near Mint/Mint
ALL-NEW ALL-DIFFERENT AVENGERS VOL. 1: MAGNIFICE TPB (2016) #1 Near Mint/Mint
ALL-NEW GHOST RIDER VOL. 2: LEGEND TPB (2015) #1 Near Mint/Mint
ALL-NEW INHUMANS VOL. 1: GLOBAL OUTREACH TPB (2016) #1 Near Mint/Mint
ALL-NEW X-MEN VOL. 1: GHOSTS OF CYCLOPS TPB (2016) #1 Near Mint/Mint
ALL-NEW X-MEN VOL. 4: ALL DIFFERENT TPB (2014) #1 Near Mint/Mint
ALL-NEW X-MEN VOL. 5: ONE DOWN TPB (2015) #1 Near Mint/Mint
ALL-NEW X-MEN VOL. 6: ULTIMATE ADVENTURE TPB (2015) #1 Near Mint/Mint
ALL-NEW X-MEN VOL. 7: THE UTOPIANS TPB (2016) #1 Near Mint/Mint
ALPHA FLIGHT (1983) (#1-130) #117 Very Fine
ALPHA FLIGHT (1983) (#1-130) #130 Near Mint/Mint
AMAZING FANTASY (2004) (#1-20) (MARVEL) #3 Very Fine
AMAZING FANTASY (2004) (#1-20) (MARVEL) #4 Fine
AMAZING FANTASY (2004) (#1-20) (MARVEL) #5 Very Fine

AMAZING FANTASY (2004) (#1-20) (MARVEL) #6
AMAZING FANTASY (2004) (#1-20) (MARVEL) #6 Near Mint/Mint
AMAZING SPIDER-MAN (1999) (#1-58, #500-700.5) (MARVEL) #3 Near Mint/Mint
AMAZING SPIDER-MAN (1999) (#1-58, #500-700.5) (MARVEL) #4 Near Mint/Mint
AMAZING SPIDER-MAN (1999) (#1-58, #500-700.5) (MARVEL) #5 Near Mint/Mint
AMAZING SPIDER-MAN (1999) (#1-58, #500-700.5) (MARVEL) #6 Near Mint/Mint
AMAZING SPIDER-MAN (1999) (#1-58, #500-700.5) (MARVEL) #7 Near Mint/Mint
AMAZING SPIDER-MAN (1999) (#1-58, #500-700.5) (MARVEL) #8 Near Mint/Mint
AMAZING SPIDER-MAN (1999) (#1-58, #500-700.5) (MARVEL) #9 Near Mint/Mint
AMAZING SPIDER-MAN (1999) (#1-58, #500-700.5) (MARVEL) #28 Near Mint/Mint
AMAZING SPIDER-MAN (1999) (#1-58, #500-700.5) (MARVEL) #29 UNBAGGED Fine
AMAZING SPIDER-MAN 1999 ANNUAL #1 Very Fine
AMAZING SPIDER-MAN ANNUAL (2015) #1 BIANCHI Near Mint/Mint
AMAZING SPIDER-MAN SPECIAL (2015) #1 KUBERT Very Fine
AMAZING SPIDER-MAN VOL. 4: GRAVEYARD SHIFT TPB (2015) #1 Near Mint/Mint
AMAZING SPIDER-MAN VOL. 4: WORLDWIDE TPB (2016) #1 Near Mint/Mint
AMAZING SPIDER-MAN VOL. 5: SPIRAL TPB (2015) #1 Near Mint/Mint
AMAZING SPIDER-MAN VOL. 8: WORLDWIDE TPB (2018) #1 Near Mint/Mint
ANGELA ASGARD'S ASSASSIN VOL. 1: PRICELESS TPB (2015) #1 Near Mint/Mint
ANT-MAN: SCOTT LANG TPB (2015) #1 Near Mint/Mint
ASTONISHING X-MEN VOL. 4: UNSTOPPABLE TPB (2008) #1 3RD PRINT Near Mint/Mint

ASTONISHING X-MEN VOL. 5: GHOST BOX TPB (2009) #1 2ND PRINT
ASTONISHING X-MEN VOL. 5: GHOST BOX TPB (2009) #1 2ND PRINT Near Mint/Mint
AVENGERS (1963) (#1-402) (MARVEL) #69 Very Good
AVENGERS (1998) (#0-84, 500-503) (MARVEL) #13 Near Mint/Mint
AVENGERS (1998) (#0-84, 500-503) (MARVEL) #14 Near Mint/Mint
AVENGERS (1998) (#0-84, 500-503) (MARVEL) #15 Near Mint/Mint
AVENGERS (1998) (#0-84, 500-503) (MARVEL) #16 Near Mint/Mint
AVENGERS (1998) (#0-84, 500-503) (MARVEL) #16 VARIANT Near Mint/Mint
AVENGERS (1998) (#0-84, 500-503) (MARVEL) #17 Near Mint/Mint
AVENGERS 1999 ANNUAL (ONSLAUGHT EPILOG) #1 Near Mint/Mint
AVENGERS ACADEMY: ARCADE – DEATH GAME TPB (2011) #1 Near Mint/Mint
AVENGERS BY BRIAN MICHAEL BENDIS TPB (2011) #4 Near Mint/Mint
AVENGERS BY BRIAN MICHAEL BENDIS TPB (2011) #5 Near Mint/Mint
AVENGERS FOREVER (1998) #4 J. SMITH Near Mint/Mint
AVENGERS FOREVER (1998) #5 Fine
AVENGERS FOREVER (1998) #6 Fine
AVENGERS FOREVER (1998) #7 Near Mint/Mint
AVENGERS SOLO: AVENGERS CLASSIC TPB (2012) #1 Near Mint/Mint
AVENGERS VOL. 3: PRELUDE TO INFINITY TPB (2014) #1 Near Mint/Mint
AVENGERS VS. X-MEN TPB (2013) #1 Near Mint/Mint
AVENGERS/IRON MAN: FORCE WORKS TPB (2016) #1 Near Mint/Mint

AVENGERS: EARTH'S MIGHTIEST HEROES ULTIMATE TPB (2012) #1
AVENGERS: EARTH'S MIGHTIEST HEROES ULTIMATE TPB (2012) #1 Near Mint/Mint
AVENGERS: TIME RUNS OUT TPB (2015) #1 Near Mint/Mint
AVENGERS: TIME RUNS OUT TPB (2015) #2 Near Mint/Mint
AVENGERS: TIME RUNS OUT TPB (2015) #3 Near Mint/Mint
AVENGERS: VISION AND SCARLET WITCH TPB (2ND EDITION) (2015) #1 Near Mint/Mint
AVENGERS: X-SANCTION TPB (2012) #1 Near Mint/Mint
BLACK WIDOW VOL. 3: LAST DAYS TPB (2015) #1 Near Mint/Mint
CAPTAIN AMERICA (1998) (#1-50) (MARVEL) #14 Near Mint/Mint
CAPTAIN AMERICA (1998) (#1-50) (MARVEL) #15 Near Mint/Mint
CAPTAIN AMERICA (1998) (#1-50) (MARVEL) #16 Near Mint/Mint
CAPTAIN AMERICA (1998) (#1-50) (MARVEL) #17 Near Mint/Mint
CAPTAIN AMERICA (1998) (#1-50) (MARVEL) #18 Near Mint/Mint
CAPTAIN AMERICA: SENTINEL OF LIBERTY (1998) #7 Fine
CAPTAIN AMERICA: SENTINEL OF LIBERTY (1998) #8 Near Mint/Mint
CAPTAIN AMERICA: SENTINEL OF LIBERTY (1998) #9 Near Mint/Mint
CAPTAIN AMERICA: SENTINEL OF LIBERTY (1998) #10 Fine
CAPTAIN AMERICA: SENTINEL OF LIBERTY (1998) #11 Near Mint/Mint
CAPTAIN MARVEL & THE CAROL CORPS TPB (2015) #1 Near Mint/Mint
CAPTAIN MARVEL VOL. 3: ALIS VOLAT PROPRIIS TPB (2015) #1 Near Mint/Mint
CIVIL WAR: HEROES FOR HIRE & THUNDERBOLTS TPB (1) #1 Near Mint/Mint
CIVIL WAR: HOUSE OF M TPB (2016) #1 Near Mint/Mint

CIVIL WAR: MS. MARVEL TPB (2015) #1
CIVIL WAR: MS. MARVEL TPB (2015) #1 Near Mint/Mint
CONAN ANNUAL (1973) #3 Very Good
CONAN ANNUAL (1973) #4 Fine
CONAN ANNUAL (1973) #4 Good
CONAN ANNUAL (1973) #5 NEWSSTAND Good
CONAN ANNUAL (1973) #6 Fine
CONAN ANNUAL (1973) #6 NEWSSTAND Fine
CONAN ANNUAL (1973) #6 NEWSSTAND Very Good
CONAN ANNUAL (1973) #6 NEWSSTAND Good
CONAN ANNUAL (1973) #8 Fine
CONAN ANNUAL (1973) #8 NEWSSTAND Very Fine
CONAN ANNUAL (1973) #8 NEWSSTAND Fine
CONAN ANNUAL (1973) #9 NEWSSTAND Fine
CONAN ANNUAL (1973) #9 NEWSSTAND Good
CONAN ANNUAL (1973) #10 Fine
CONAN ANNUAL (1973) #10 NEWSSTAND Fine
CONAN ANNUAL (1973) #10 Very Fine
CONAN ANNUAL (1973) #11 Fine
CONAN ANNUAL (1973) #11 NEWSSTAND Fine
CONAN ANNUAL (1973) #11 Very Fine
CONAN ANNUAL (1973) #11 Very Good
CONAN ANNUAL (1973) #12 NEWSSTAND Very Good
CONAN ANNUAL (1973) #12 NEWSSTAND Fair
CONAN ANNUAL (1973) #12 Very Good
CONAN ANNUAL (1973) #12 Very Fine
CONAN CLASSIC (1994) #1 Fine
CONAN CLASSIC (1994) #1 NEWSSTAND Very Good
CONAN CLASSIC (1994) #7 Fine
CONAN CLASSIC (1994) #8 Fine
CONAN CLASSIC (1994) #9 Very Good
CONAN SPECIAL: RED NAILS (1982) #1 Fine
CONAN THE ADVENTURER (1994) #1 NEWSSTAND Near Mint/Mint
CONAN THE ADVENTURER (1994) #1 NEWSSTAND Very Good
CONAN THE ADVENTURER (1994) #1 NEWSSTAND Good
CONAN THE ADVENTURER (1994) #2 NEWSSTAND Good
CONAN THE ADVENTURER (1994) #3 NEWSSTAND Good
CONAN THE ADVENTURER (1994) #4 NEWSSTAND Good
CONAN THE ADVENTURER (1994) #6 Very Good
CONAN THE ADVENTURER (1994) #7 Very Fine
CONAN THE ADVENTURER (1994) #7 Very Good
CONAN THE ADVENTURER (1994) #8 Fine
CONAN THE ADVENTURER (1994) #9 Good
CONAN THE ADVENTURER (1994) #9 Fine
CONAN THE ADVENTURER (1994) #10 Near Mint/Mint
CONAN THE ADVENTURER (1994) #10 Fine
CONAN THE ADVENTURER (1994) #10 Very Fine
CONAN THE ADVENTURER (1994) #10 Very Good
CONAN THE ADVENTURER (1994) #11 Fine
CONAN THE ADVENTURER (1994) #12 Very Fine
CONAN THE ADVENTURER (1994) #13 Fine
CONAN THE ADVENTURER (1994) #13 Near Mint/Mint
CONAN THE ADVENTURER (1994) #14 Near Mint/Mint
CONAN THE ADVENTURER (1994) #14 Good
CONAN THE ADVENTURER (1994) #14 Very Fine
CONAN THE BARBARIAN MOVIE SPECIAL (1982) #1 NEWSSTAND Fine
CONAN THE BARBARIAN MOVIE SPECIAL (1982) #1 NEWSSTAND Very Good
CONAN THE BARBARIAN MOVIE SPECIAL (1982) #2 NEWSSTAND Very Fine

CONAN THE BARBARIAN MOVIE SPECIAL (1982) #2
CONAN THE BARBARIAN MOVIE SPECIAL (1982) #2 Very Fine
DAKEN & X-23: COLLISION TPB (2012) #1 Near Mint/Mint
DAREDEVIL BY MARK WAID TPB (2012) #1 3RD PRINT Near Mint/Mint
DAREDEVIL: TYPHOID'S KISS TPB (2015) #1 Near Mint/Mint
DARKHAWK (1991) (#1-50) (MARVEL) #22 Near Mint/Mint
DOCTOR STRANGE (1998) (#1-4) (FLIGHT OF BONES)(MARVEL) #2 Near Mint/Mint
DOCTOR STRANGE (1998) (#1-4) (FLIGHT OF BONES)(MARVEL) #3 Near Mint/Mint
DOCTOR STRANGE (1998) (#1-4) (FLIGHT OF BONES)(MARVEL) #4 Near Mint/Mint
EXILES (2001) (#1-100) (MARVEL) #77 Near Mint/Mint
FANTASTIC FOUR (1961) (#1-416) (MARVEL) #399 DELUXE Near Mint/Mint
FANTASTIC FOUR (1961) (#1-416) (MARVEL) #400 DELUXE Very Fine
FANTASTIC FOUR (1998) (#1-79, 509-611) (MARVEL) #15 Very Fine
FANTASTIC FOUR (1998) (#1-79, 509-611) (MARVEL) #16 Near Mint/Mint
FANTASTIC FOUR (1998) (#1-79, 509-611) (MARVEL) #17 Near Mint/Mint
FANTASTIC FOUR (1998) (#1-79, 509-611) (MARVEL) #18 Very Fine
FANTASTIC FOUR (1998) (#1-79, 509-611) (MARVEL) #19 Near Mint/Mint
GALACTUS THE DEVOURER (1999) #1 Near Mint/Mint
GALACTUS THE DEVOURER (1999) #2 Near Mint/Mint
GALACTUS THE DEVOURER (1999) #5 Near Mint/Mint
GENERATION X (1994) (#1-75) (MARVEL) #67 Very Fine

GHOST RIDER (1990) (#1-94) (MARVEL) #28 NO POSTER
GHOST RIDER (1990) (#1-94) (MARVEL) #28 NO POSTER Very Fine
GHOST RIDER (1990) (#1-94) (MARVEL) #31 Near Mint/Mint
GHOST RIDER (1990) (#1-94) (MARVEL) #31 NO BAG Near Mint/Mint
GHOST RIDER (1990) (#1-94) (MARVEL) #39 Fine
GHOST RIDER (1990) (#1-94) (MARVEL) #49 Near Mint/Mint
GHOST RIDER (1990) (#1-94) (MARVEL) #55 Very Fine
GHOST RIDER (1990) (#1-94) (MARVEL) #59 Near Mint/Mint
GHOST RIDER (1990) (#1-94) (MARVEL) #60 Near Mint/Mint
GHOST RIDER (1990) (#1-94) (MARVEL) #68 Near Mint/Mint
GHOST RIDER (1990) (#1-94) (MARVEL) #70 Near Mint/Mint
GHOST RIDER (1990) (#1-94) (MARVEL) #72 Near Mint/Mint
GHOST RIDER (1990) (#1-94) (MARVEL) #80 Near Mint/Mint
GHOST RIDER (1990) (#1-94) (MARVEL) #82 Near Mint/Mint
GHOST RIDER (2001) (#1-6) (MARVEL KNIGHTS) #1 WIZARD 1/2 Fine
GHOST RIDER (2001) (#1-6) (MARVEL KNIGHTS) #4 Near Mint/Mint
GHOST RIDER (2001) (#1-6) (MARVEL KNIGHTS) #5 Near Mint/Mint
GHOST RIDER (2001) (#1-6) (MARVEL KNIGHTS) #6 Near Mint/Mint
GHOST RIDER (2006) (#1-35) (MARVEL) #2 Near Mint/Mint
GHOST RIDER & BLAZE: SPIRITS OF VENGEANCE (1992) #5 Very Fine
GHOST RIDER & BLAZE: SPIRITS OF VENGEANCE (1992) #6 Near Mint/Mint
GHOST RIDER & BLAZE: SPIRITS OF VENGEANCE (1992) #10 Near Mint/Mint
GHOST RIDER & BLAZE: SPIRITS OF VENGEANCE (1992) #11 NEWSSTAND Very Fine
GHOST RIDER & BLAZE: SPIRITS OF VENGEANCE (1992) #14 Very Fine
GHOST RIDER & BLAZE: SPIRITS OF VENGEANCE (1992) #15 Near Mint/Mint
GHOST RIDER & BLAZE: SPIRITS OF VENGEANCE (1992) #16 Near Mint/Mint
GHOST RIDER & BLAZE: SPIRITS OF VENGEANCE (1992) #17 Very Fine
GHOST RIDER & BLAZE: SPIRITS OF VENGEANCE (1992) #21 Near Mint/Mint
GHOST RIDER & BLAZE: SPIRITS OF VENGEANCE (1992) #23 Near Mint/Mint
GHOST RIDER ANNUAL (1993) #1 Near Mint/Mint
GHOST RIDER ANNUAL (1993) #1 W/O CARD Very Fine
GHOST RIDER ANNUAL (1993) #2 Near Mint/Mint
GHOST RIDER/BALLISTIC (1997) #1 Near Mint/Mint
GHOST RIDER/WOLVERINE/PUNISHER: DARK DESIGN (1994) #1 Near Mint/Mint
GHOST RIDER: HIGHWAY TO HELL (2001) #1 Near Mint/Mint
GI JOE #124 Very Good
GI JOE #127 Very Fine
GI JOE #134 Very Fine
GI JOE #137 NO BAG Fine
GI JOE #138 NO BAG Very Fine
HULK (1962) (#1-6, #102-474, #600-635)(INCREDIBLE)(MV) #367 Very Fine
HULK (1962) (#1-6, #102-474, #600-635)(INCREDIBLE)(MV) #474 Near Mint/Mint
HULK (1999) (#1-112) (MARVEL) #1 VARIANT Very Fine
HULK (1999) (#1-112) (MARVEL) #2 VARIANT Near Mint/Mint
HULK (1999) (#1-112) (MARVEL) #3 Near Mint/Mint
HULK (1999) (#1-112) (MARVEL) #92 Fine
HULK (1999) (#1-112) (MARVEL) #93 Fine
HULK (1999) (#1-112) (MARVEL) #94 Very Fine
HULK (1999) (#1-112) (MARVEL) #95 Very Fine
HULK (1999) (#1-112) (MARVEL) #96 Near Mint/Mint
HULK (1999) (#1-112) (MARVEL) #97 Near Mint/Mint
HULK (1999) (#1-112) (MARVEL) #98 Near Mint/Mint
HULK (1999) (#1-112) (MARVEL) #99 Near Mint/Mint
HULK (1999) (#1-112) (MARVEL) #100 Near Mint/Mint

HULK (1999) (#1-112) (MARVEL) #101
HULK (1999) (#1-112) (MARVEL) #101 Near Mint/Mint
HULK (1999) (#1-112) (MARVEL) #102 Near Mint/Mint
HULK (1999) (#1-112) (MARVEL) #103 Near Mint/Mint
HULK (1999) (#1-112) (MARVEL) #104 Near Mint/Mint
HULK (1999) (#1-112) (MARVEL) #105 Near Mint/Mint
INFINITY GAUNTLET (1991) #1 Near Mint/Mint
INFINITY GAUNTLET (1991) #2 Very Fine
INFINITY GAUNTLET (1991) #3 Near Mint/Mint
INFINITY GAUNTLET (1991) #4 Very Fine
INFINITY GAUNTLET (1991) #5 Near Mint/Mint
INFINITY GAUNTLET (1991) #6 Near Mint/Mint
INHUMANS: ONCE & FUTURE KINGS (2017) #4 NOTO Near Mint/Mint
IRON MAN (1998) (#1-89) (MARVEL) #14 Near Mint/Mint
IRON MAN (1998) (#1-89) (MARVEL) #15 Near Mint/Mint
IRON MAN (1998) (#1-89) (MARVEL) #16 Near Mint/Mint
IRON MAN (1998) (#1-89) (MARVEL) #17 Near Mint/Mint
IRON MAN (1998) (#1-89) (MARVEL) #18 Near Mint/Mint
MARVEL COMICS PRESENTS (1988) (#1-175) (MARVEL) #77 Near Mint/Mint
MARVEL COMICS PRESENTS (1988) (#1-175) (MARVEL) #78 Near Mint/Mint
MARVEL UNIVERSE, DELUXE EDITION #16 Near Mint/Mint
MARVEL UNIVERSE, DELUXE EDITION #17 NEWSSTAND Very Fine
MARVEL UNIVERSE, DELUXE EDITION #19 Fine
MARVEL UNIVERSE, DELUXE EDITION #20 Very Fine
MARVEL VS. DC (1996) #2 Near Mint/Mint
MARVEL VS. DC (1996) #3 Near Mint/Mint

NEW MUTANTS (1983) (#1-100) (MARVEL) #86
NEW MUTANTS (1983) (#1-100) (MARVEL) #86 Very Fine
NEW MUTANTS (1983) (#1-100) (MARVEL) #88 Very Fine
NEW MUTANTS (1983) (#1-100) (MARVEL) #89 Fine
NORTHSTAR (1994) #3 Near Mint/Mint
PETER PARKER (1976) (#1-263) (SPECTACULAR SPIDER-MAN) #224 Near Mint/Mint
PETER PARKER (1976) (#1-263) (SPECTACULAR SPIDER-MAN) #231 Very Fine
PETER PARKER (1976) (#1-263) (SPECTACULAR SPIDER-MAN) #235 Near Mint/Mint
PETER PARKER (1976) (#1-263) (SPECTACULAR SPIDER-MAN) #249 Near Mint/Mint
PETER PARKER (1976) (#1-263) (SPECTACULAR SPIDER-MAN) #262 Near Mint/Mint
PETER PARKER: SPIDER-MAN (1999) (#1-57, & 156.1) #3 Very Fine
PETER PARKER: SPIDER-MAN (1999) (#1-57, & 156.1) #5 Very Fine
PETER PARKER: SPIDER-MAN (1999) (#1-57, & 156.1) #6 Fine
POWER PACK (2017) (#63) (MARVEL LEAGCY) #63 CHRISTOPHE Near Mint/Mint
RUNE VS. VENOM (1995) #1 (Marvel Malibu/Ultraverse) Near Mint/Mint
SILVER SABLE & THE WILD PACK (1992) (#1-35) (MARVEL) #23 Very Fine
SILVER SURFER (1987) (#1-146) (MARVEL) #105 Fine
SILVER SURFER (1987) (#1-146) (MARVEL) #120 Near Mint/Mint
SILVER SURFER (1987) (#1-146) (MARVEL) #131 Very Fine
SILVER SURFER (1987) (#1-146) (MARVEL) #133 Near Mint/Mint
SILVER SURFER (1987) (#1-146) (MARVEL) #143 Near Mint/Mint
SILVER SURFER: LOFTIER THAN MORTALS #1 Near Mint/Mint
SILVER SURFER: LOFTIER THAN MORTALS #2 Near Mint/Mint

SPIDER-GIRL (1998) (#0-100) #4
SPIDER-GIRL (1998) (#0-100) #4 Fine
SPIDER-GIRL (1998) (#0-100) #5 Near Mint/Mint
SPIDER-GIRL (1998) (#0-100) #7 Fine
SPIDER-GIRL (1998) (#0-100) #8 Near Mint/Mint
SPIDER-GIRL (1998) (#0-100) #16 Fine
SPIDER-GIRL (1998) (#0-100) #26 Near Mint/Mint
SPIDER-GIRL (1998) (#0-100) #27 Near Mint/Mint
SPIDER-GIRL (1998) (#0-100) #28 Near Mint/Mint
SPIDER-GIRL (1998) (#0-100) #30 Near Mint/Mint
SPIDER-GIRL (1998) (#0-100) #31 Near Mint/Mint
SPIDER-GIRL (1998) (#0-100) #57 Fine
SPIDER-GIRL (1998) (#0-100) #58 Fine
SPIDER-GIRL (1998) (#0-100) #59 Fine
SPIDER-GIRL (1998) (#0-100) #60 Fine
SPIDER-GIRL (1998) (#0-100) #61 Near Mint/Mint
SPIDER-GIRL (1998) (#0-100) #62 Near Mint/Mint
SPIDER-GIRL (1998) (#0-100) #63 Fine
SPIDER-GIRL (1998) (#0-100) #64 Near Mint/Mint
SPIDER-GIRL (1998) (#0-100) #65 Near Mint/Mint
SPIDER-GIRL (1998) (#0-100) #66 Near Mint/Mint
SPIDER-GIRL (1998) (#0-100) #67 Fine
SPIDER-GIRL (1998) (#0-100) #68 Very Fine
SPIDER-GIRL (1998) (#0-100) #69 Very Fine
SPIDER-GIRL (1998) (#0-100) #70 Near Mint/Mint
SPIDER-GIRL (1998) (#0-100) #71 Fine
SPIDER-GIRL (1998) (#0-100) #72 Fine
SPIDER-GIRL (1998) (#0-100) #73 Near Mint/Mint
SPIDER-GIRL (1998) (#0-100) #74 Fine
SPIDER-GIRL (1998) (#0-100) #75 Very Fine
SPIDER-GIRL (1998) (#0-100) #76 Very Fine
SPIDER-GIRL (1998) (#0-100) #77 Very Fine

SPIDER-GIRL (1998) (#0-100) #78
SPIDER-GIRL (1998) (#0-100) #78 Very Fine
SPIDER-GIRL (1998) (#0-100) #79 Fine
SPIDER-GIRL (1998) (#0-100) #80 Fine
SPIDER-GIRL (1998) (#0-100) #81 Fine
SPIDER-GIRL (1998) (#0-100) #82 Very Fine
SPIDER-MAN (1963) (AMAZING SPIDER-MAN) (#1-441) #322 Fine
SPIDER-MAN (1963) (AMAZING SPIDER-MAN) (#1-441) #323 Near Mint/Mint
SPIDER-MAN (1963) (AMAZING SPIDER-MAN) (#1-441) #324 Near Mint/Mint
SPIDER-MAN (1963) (AMAZING SPIDER-MAN) (#1-441) #325 Near Mint/Mint
SPIDER-MAN (1963) (AMAZING SPIDER-MAN) (#1-441) #361 Very Fine
SPIDER-MAN (1963) (AMAZING SPIDER-MAN) (#1-441) #362 Near Mint/Mint
SPIDER-MAN (1963) (AMAZING SPIDER-MAN) (#1-441) #363 Near Mint/Mint
SPIDER-MAN (1963) (AMAZING SPIDER-MAN) (#1-441) #402 Near Mint/Mint
SPIDER-MAN (1963) (AMAZING SPIDER-MAN) (#1-441) #403 Very Fine
SPIDER-MAN (1963) (AMAZING SPIDER-MAN) (#1-441) #410 Near Mint/Mint
SPIDER-MAN (1963) (AMAZING SPIDER-MAN) (#1-441) #427 Near Mint/Mint
SPIDER-MAN (1963) (AMAZING SPIDER-MAN) (#1-441) #440 Near Mint/Mint
SPIDER-MAN 2099 (1992) (#1-46) (MARVEL) #16 Near Mint/Mint
SPIDER-MAN 2099 (1992) (#1-46) (MARVEL) #19 Fine
SPIDER-MAN 2099 (1992) (#1-46) (MARVEL) #20 Fine
SPIDER-MAN 2099 (1992) (#1-46) (MARVEL) #21 Very Fine
SPIDER-MAN 2099 (1992) (#1-46) (MARVEL) #25 DELUXENEWS Fine
SPIDER-MAN 2099 (1992) (#1-46) (MARVEL) #26 Very Fine
SPIDER-MAN 2099 (1992) (#1-46) (MARVEL) #27 Very Fine
SPIDER-MAN 2099 (1992) (#1-46) (MARVEL) #28 Very Fine
SPIDER-MAN 2099 (1992) (#1-46) (MARVEL) #29 Near Mint/Mint
SPIDER-MAN 2099 (1992) (#1-46) (MARVEL) #30 Fine
SPIDER-MAN 2099 (1992) (#1-46) (MARVEL) #30 Very Fine
SPIDER-MAN 2099 (1992) (#1-46) (MARVEL) #36 Near Mint/Mint

SPIDER-MAN 2099 (1992) (#1-46) (MARVEL) #36 VENOM 2099
SPIDER-MAN 2099 (1992) (#1-46) (MARVEL) #36 VENOM 2099 Fine
SPIDER-MAN 2099 MEETS SPIDER-MAN (1995) #1 Near Mint/Mint
SPIDER-MAN MANGA (MARVEL) (1997) #26 Fine
SPIDER-MAN MANGA (MARVEL) (1997) #27 Fine
SPIDER-MAN MANGA (MARVEL) (1997) #28 Very Fine
SPIDER-MAN MANGA (MARVEL) (1997) #29 Fine
THOR (1962) (#83-125 JOURNEY INTO MYSTERY, 126-502) #411 Fine
THOR (1962) (#83-125 JOURNEY INTO MYSTERY, 126-502) #412 Near Mint/Mint
THOR (1962) (#83-125 JOURNEY INTO MYSTERY, 126-502) #441 Near Mint/Mint
X-MEN (1963) (#1-113, UNCANNY X-MEN #114-544) (MARVEL) #239 NEWSSTAND Good
DC
ACTION COMICS (1938) (#0-600, 643-904) (DC) #790 Very Fine
ADVENTURES IN THE DC UNIVERSE (1997) #10 Near Mint/Mint
ADVENTURES OF SUPERMAN (#0,#424-649) (1987) #497 Very Fine
AUTHORITY (DC WILDSTORM) (#1-12 ELLIS, #13-29 MILLAR) (1999) #19 (DC/Wildstorm) Near Mint/Mint
AUTHORITY (DC WILDSTORM) (#1-12 ELLIS, #13-29 MILLAR) (1999) #20 (DC/Wildstorm) Near Mint/Mint
AUTHORITY (DC WILDSTORM) (#1-12 ELLIS, #13-29 MILLAR) (1999) #21 (DC/Wildstorm) Near Mint/Mint
BATMAN/LOBO (ELSEWORLDS) (PRESTIGE) (2000) #1 Near Mint/Mint
BATWOMAN (2017) (#1-UP) (DC REBIRTH) #9 VARIANT Near Mint/Mint
BLOOD SYNDICATE (1993) #16 (DC: Milestone Press) Near Mint/Mint
BLUE BEETLE (2016) (DC REBIRTH) (#1-UP) #14 VARIANT Near Mint/Mint
CATWOMAN (2002) (#1-83) (DC) #6 Near Mint/Mint
CATWOMAN-THE SERIES (1993) (#1-94) (DC) #30 Near Mint/Mint
CATWOMAN-THE SERIES (1993) (#1-94) (DC) #31 Near Mint/Mint
CATWOMAN-THE SERIES (1993) (#1-94) (DC) #32 Near Mint/Mint
CATWOMAN-THE SERIES (1993) (#1-94) (DC) #50 DELUXE Near Mint/Mint
CATWOMAN-THE SERIES (1993) (#1-94) (DC) #51 Near Mint/Mint
CATWOMAN-THE SERIES (1993) (#1-94) (DC) #62 Near Mint/Mint
CATWOMAN-THE SERIES (1993) (#1-94) (DC) #69 Near Mint/Mint
CATWOMAN-THE SERIES (1993) (#1-94) (DC) #71 Fine
CATWOMAN-THE SERIES (1993) (#1-94) (DC) #76 Near Mint/Mint
CATWOMAN-THE SERIES (1993) (#1-94) (DC) #90 Near Mint/Mint
CATWOMAN-THE SERIES (1993) (#1-94) (DC) #91 Very Fine
CRISIS ON INFINITE EARTHS (1985) #7 NEWSSTAND Near Mint/Mint
CRISIS ON INFINITE EARTHS (1985) #8 NEWSSTAND Near Mint/Mint
DC 1,000,000 (1998) #1 Very Good
DC 1,000,000 EIGHTY-PAGE GIANT (1999) #1 Near Mint/Mint
DC VS. MARVEL (1996) #1 Near Mint/Mint
DEATHSTROKE (2016) (#1-UP) (DC REBIRTH) #25 VARIANT Near Mint/Mint
FOURTH WORLD (JACK KIRBY'S) (1997) #12 Near Mint/Mint

GEN-13 (1999) (#37-77) (DC/Wildstorm) #38
GEN-13 (1999) (#37-77) (DC/Wildstorm) #38 (DC/Wildstorm) Fine
GEN-13 (1999) (#37-77) (DC/Wildstorm) #39 (DC/Wildstorm) Near Mint/Mint
GEN-13 (1999) (#37-77) (DC/Wildstorm) #40 (DC/Wildstorm) Very Fine
HARLEY QUINN (2000) (#1-38) (DC) #3 Near Mint/Mint
HARLEY QUINN (2000) (#1-38) (DC) #4 Near Mint/Mint
HAWKWORLD (1989) (#1-3) (PRESTIGE) (DC) #3 Fine
ICON (1993) #11 (DC: Milestone Press) Near Mint/Mint
JSA KINGDOM COME SPECIAL: THE KINGDOM (2008) #1 Fine
JUST IMAGINE: CATWOMAN (2002) #1 Near Mint/Mint
JUST IMAGINE: CRISIS (2002) #1 Near Mint/Mint
JUSTICE LEAGUE TASK FORCE (1993) #30 Near Mint/Mint
JUSTICE LEAGUE TASK FORCE (1993) #34 Near Mint/Mint
JUSTICE LEAGUE TASK FORCE (1993) #35 Near Mint/Mint
KAMANDI CHALLENGE (2017) #10 VARIANT Very Fine
KAMANDI CHALLENGE (2017) #10 VARIANT Fine
KINDRED II (2002) #1 (DC/Wildstorm) Near Mint/Mint
KINDRED II (2002) #2 (DC/Wildstorm) Near Mint/Mint
KINDRED II (2002) #3 (DC/Wildstorm) Very Fine
KINGDOM COME PREVIEW (1996) #1 Very Fine
LEGENDS OF THE WORLD'S FINEST (1994) #2 Near Mint/Mint
LOBO (1993) (#0-64) (DC) #21 Near Mint/Mint
LOBO (1993) (#0-64) (DC) #22 Near Mint/Mint
LOBO (1993) (#0-64) (DC) #23 Near Mint/Mint
LOBO (1993) (#0-64) (DC) #24 Near Mint/Mint
LOBO (1993) (#0-64) (DC) #25 Near Mint/Mint
LOBO (1993) (#0-64) (DC) #26 Near Mint/Mint
LOBO (1993) (#0-64) (DC) #45 Very Fine
LOBO (1993) (#0-64) (DC) #63 Very Fine
LOBO/JUDGE DREDD: PSYCHO BIKERS VS. MUTANTS (1995) #1 Near Mint/Mint
LOBO: DEATH & TAXES (1996) #1 Near Mint/Mint
LOBO: DEATH & TAXES (1996) #3 Near Mint/Mint
LOBO: DEATH & TAXES (1996) #4 Near Mint/Mint
MAN-BAT (1984) (#1) (NEAL ADAMS) #1 Near Mint/Mint
NIGHTWING (1995) (#1-4) (DC) #1 Very Fine
NIGHTWING (1995) (#1-4) (DC) #2 Near Mint/Mint
NIGHTWING (1995) (#1-4) (DC) #3 Near Mint/Mint
NIGHTWING (1995) (#1-4) (DC) #4 Near Mint/Mint
NIGHTWING (2016) (#1-UP) (DC REBIRTH) #32 VARIANT Near Mint/Mint
NINJA BOY/OUT THERE PREVIEW (2001) #1 Near Mint/Mint
OMEGA MEN (1982) (#1-38) (DC) #3 Fine
PLANETARY (1999) #19 (DC/Wildstorm) Fine
PLANETARY (1999) #21 (DC/Wildstorm) Near Mint/Mint

PLANETARY/BATMAN: NIGHT ON EARTH (2003) #1
PLANETARY/BATMAN: NIGHT ON EARTH (2003) #1 (DC/Wildstorm) Near Mint/Mint
POWER OF SHAZAM (1995) #6 Near Mint/Mint
POWER OF SHAZAM (1995) #7 Near Mint/Mint
PROMETHEA (1999) #28 (DC/America's Best) Near Mint/Mint
RESURRECTION MAN (1997) (#1-27) (DC) #1 Very Fine
RESURRECTION MAN (1997) (#1-27) (DC) #2 Near Mint/Mint
RESURRECTION MAN (1997) (#1-27) (DC) #5 Very Fine
RESURRECTION MAN (1997) (#1-27) (DC) #6 Very Fine
RESURRECTION MAN (1997) (#1-27) (DC) #21 Near Mint/Mint
RESURRECTION MAN (1997) (#1-27) (DC) #26 Near Mint/Mint
RESURRECTION MAN (1997) (#1-27) (DC) #27 Near Mint/Mint
RESURRECTION MAN 1,000,000 (1998) #1 Fine
ROBIN: YEAR ONE (2000) #1 Near Mint/Mint
ROBIN: YEAR ONE (2000) #2 Very Fine
ROBIN: YEAR ONE (2000) #3 Near Mint/Mint
ROBIN: YEAR ONE (2000) #4 Near Mint/Mint
SANDMAN (1988) (#1-75) (DC/VERTIGO) #1 (DC: Vertigo Press) Fine
SANDMAN (1988) (#1-75) (DC/VERTIGO) #1 (DC: Vertigo Press) Very Fine
SANDMAN (1988) (#1-75) (DC/VERTIGO) #2 (DC: Vertigo Press) Good
SANDMAN (1988) (#1-75) (DC/VERTIGO) #2 (DC: Vertigo Press) Very Fine
SANDMAN (1988) (#1-75) (DC/VERTIGO) #3 (DC: Vertigo Press) Near Mint/Mint
SANDMAN (1988) (#1-75) (DC/VERTIGO) #3 (DC: Vertigo Press) Very Fine
SANDMAN (1988) (#1-75) (DC/VERTIGO) #4 (DC: Vertigo Press) Very Fine
SANDMAN (1988) (#1-75) (DC/VERTIGO) #5 (DC: Vertigo Press) Near Mint/Mint
SANDMAN (1988) (#1-75) (DC/VERTIGO) #6 (DC: Vertigo Press) Near Mint/Mint

SANDMAN (1988) (#1-75) (DC/VERTIGO) #6
SANDMAN (1988) (#1-75) (DC/VERTIGO) #6 (DC: Vertigo Press) Very Fine
SANDMAN (1988) (#1-75) (DC/VERTIGO) #7 (DC: Vertigo Press) Near Mint/Mint
SANDMAN (1988) (#1-75) (DC/VERTIGO) #7 (DC: Vertigo Press) Very Fine
SANDMAN (1988) (#1-75) (DC/VERTIGO) #8 (DC: Vertigo Press) Very Fine
SANDMAN (1988) (#1-75) (DC/VERTIGO) #9 (DC: Vertigo Press) Near Mint/Mint
SANDMAN (1988) (#1-75) (DC/VERTIGO) #9 (DC: Vertigo Press) Fine
SANDMAN (1988) (#1-75) (DC/VERTIGO) #10 (DC: Vertigo Press) Fine
SANDMAN (1988) (#1-75) (DC/VERTIGO) #11 (DC: Vertigo Press) Fine
SANDMAN (1988) (#1-75) (DC/VERTIGO) #12 (DC: Vertigo Press) Very Fine
SANDMAN (1988) (#1-75) (DC/VERTIGO) #13 (DC: Vertigo Press) Near Mint/Mint
SANDMAN (1988) (#1-75) (DC/VERTIGO) #14 (DC: Vertigo Press) Fine
SANDMAN (1988) (#1-75) (DC/VERTIGO) #15 (DC: Vertigo Press) Near Mint/Mint
SANDMAN (1988) (#1-75) (DC/VERTIGO) #16 (DC: Vertigo Press) Near Mint/Mint
SECRET ORIGINS 80-PAGE GIANT (1998) #1 Fine
SHADOW (1973) (#1-12) (DC) #12 Very Good
SHADOW (1986) (#1-4) (DC) (HOWARD CHAYKIN) #1 Near Mint/Mint
SHADOW (1986) (#1-4) (DC) (HOWARD CHAYKIN) #2 Fine
STATIC (1993) #10 (DC: Milestone Press) Near Mint/Mint
STATIC (1993) #11 (DC: Milestone Press) Near Mint/Mint
SUPERMAN (1986) (#0-226, #650-714) (DC) #73 Very Fine
SUPERMAN (1986) (#0-226, #650-714) (DC) #74 Very Fine
SUPERMAN (1986) (#0-226, #650-714) (DC) #75 3RD PRT Fine
SUPERMAN (1986) (#0-226, #650-714) (DC) #166 Near Mint/Mint
SUPERMAN (1986) (#0-226, #650-714) (DC) #170 Near Mint/Mint
SUPERMAN: WHERE IS THY STING (2001) #1 Near Mint/Mint

SWAMP THING, SAGA OF (1982) #20
SWAMP THING, SAGA OF (1982) #20 (DC: Vertigo Press) Fine
SWAMP THING, SAGA OF (1982) #21 (DC: Vertigo Press) Very Good
SWAMP THING, SAGA OF (1982) #22 (DC: Vertigo Press) Very Fine
SWAMP THING, SAGA OF (1982) #23 (DC: Vertigo Press) Very Fine
SWAMP THING, SAGA OF (1982) #24 NEWSSTAND (DC: Vertigo Press) Good
SWAMP THING, SAGA OF (1982) #25 (DC: Vertigo Press) Very Fine
SWAMP THING, SAGA OF (1982) #26 (DC: Vertigo Press) Very Fine
SWAMP THING, SAGA OF (1982) #27 (DC: Vertigo Press) Near Mint/Mint
SWAMP THING, SAGA OF (1982) #28 (DC: Vertigo Press) Very Fine
SWAMP THING, SAGA OF (1982) #29 (DC: Vertigo Press) Very Fine
SWAMP THING, SAGA OF (1982) #30 (DC: Vertigo Press) Very Fine
SWAMP THING, SAGA OF (1982) #31 (DC: Vertigo Press) Very Fine
SWAMP THING, SAGA OF (1982) #32 (DC: Vertigo Press) Very Good
SWAMP THING, SAGA OF (1982) #33 (DC: Vertigo Press) Very Fine
SWAMP THING, SAGA OF (1982) #34 (DC: Vertigo Press) Fine
SWAMP THING, SAGA OF (1982) #35 (DC: Vertigo Press) Near Mint/Mint
SWAMP THING, SAGA OF (1982) #36 (DC: Vertigo Press) Near Mint/Mint
SWAMP THING, SAGA OF (1982) #37 (DC: Vertigo Press) Fine
SWAMP THING, SAGA OF (1982) #38 (DC: Vertigo Press) Fine
SWAMP THING, SAGA OF (1982) #39 (DC: Vertigo Press) Very Fine
SWAMP THING, SAGA OF (1982) #40 (DC: Vertigo Press) Very Fine
SWAMP THING, SAGA OF (1982) #41 (DC: Vertigo Press) Near Mint/Mint
SWAMP THING, SAGA OF (1982) #42 (DC: Vertigo Press) Very Fine
SWAMP THING, SAGA OF (1982) #43 (DC: Vertigo Press) Near Mint/Mint
SWAMP THING, SAGA OF (1982) #44 (DC: Vertigo Press) Near Mint/Mint
SWAMP THING, SAGA OF (1982) #45 (DC: Vertigo Press) Very Fine
SWAMP THING, SAGA OF (1982) #46 (DC: Vertigo Press) Very Fine
SWAMP THING, SAGA OF (1982) #47 (DC: Vertigo Press) Near Mint/Mint
SWAMP THING, SAGA OF (1982) #48 (DC: Vertigo Press) Near Mint/Mint
SWAMP THING, SAGA OF (1982) #49 (DC: Vertigo Press) Near Mint/Mint
SWAMP THING, SAGA OF (1982) #50 NEWSSTAND (DC: Vertigo Press) Fine

SWAMP THING, SAGA OF (1982) #51
SWAMP THING, SAGA OF (1982) #51 (DC: Vertigo Press) Very Fine
SWAMP THING, SAGA OF (1982) #52 (DC: Vertigo Press) Very Good
SWAMP THING, SAGA OF (1982) #53 (DC: Vertigo Press) Very Good
SWAMP THING, SAGA OF (1982) #55 (DC: Vertigo Press) Fine
SWAMP THING, SAGA OF (1982) #57 (DC: Vertigo Press) Fine
SWAMP THING, SAGA OF (1982) #58 (DC: Vertigo Press) Very Fine
SWAMP THING, SAGA OF (1982) #59 (DC: Vertigo Press) Very Fine
SWAMP THING, SAGA OF (1982) #61 (DC: Vertigo Press) Very Fine
SWAMP THING, SAGA OF (1982) #62 (DC: Vertigo Press) Fine
SWAMP THING, SAGA OF (1982) #63 (DC: Vertigo Press) Fine
TOM STRONG (1999) #25 (DC/America's Best) Very Fine
TOM STRONG (1999) #26 (DC/America's Best) Very Fine
TOM STRONG'S TERRIFIC TALES (2001) #8 (DC/America's Best) Near Mint/Mint
TOM STRONG'S TERRIFIC TALES (2001) #9 (DC/America's Best) Very Fine
TOM STRONG'S TERRIFIC TALES (2001) #12 (DC/America's Best) Very Fine
WONDER WOMAN (1987) (#0-226) (DC) #58 Very Fine
WONDER WOMAN (1987) (#0-226) (DC) #106 Near Mint/Mint
WONDER WOMAN (1987) (#0-226) (DC) #107 Near Mint/Mint
WONDER WOMAN (1987) (#0-226) (DC) #108 Near Mint/Mint
WONDER WOMAN (1987) (#0-226) (DC) #127 Near Mint/Mint
WONDER WOMAN (1987) (#0-226) (DC) #146 Very Fine
WONDER WOMAN (1987) (#0-226) (DC) #147 Very Fine
WONDER WOMAN (1987) (#0-226) (DC) #148 Fine
WONDER WOMAN (1987) (#0-226) (DC) #149 Near Mint/Mint
WONDER WOMAN (1987) (#0-226) (DC) #152 Near Mint/Mint
WONDER WOMAN (1987) (#0-226) (DC) #166 Near Mint/Mint

WONDER WOMAN (1987) (#0-226) (DC) #167
WONDER WOMAN (1987) (#0-226) (DC) #167 Very Fine
WONDER WOMAN (1987) (#0-226) (DC) #170 Near Mint/Mint
WONDER WOMAN (1987) (#0-226) (DC) #208 Near Mint/Mint
WONDER WOMAN (1987) (#0-226) (DC) #209 Very Fine
WONDER WOMAN (1987) (#0-226) (DC) #210 Near Mint/Mint
WONDER WOMAN (1987) (#0-226) (DC) #211 Near Mint/Mint
WONDER WOMAN ANNUAL (1988) #7 Very Good
WONDER WOMAN ANNUAL (1988) #8 Very Fine
WONDER WOMAN PLUS (1997) #1 Very Fine
DARK HORSE COMICS
ALIENS VS. PREDATOR VS. TERMINATOR (DARK HORSE) (AVP) (2000) #1 Very Fine
ALIENS VS. PREDATOR VS. TERMINATOR (DARK HORSE) (AVP) (2000) #2 Very Fine
ALIENS VS. PREDATOR VS. TERMINATOR (DARK HORSE) (AVP) (2000) #3 Fine
ALIENS VS. PREDATOR VS. TERMINATOR (DARK HORSE) (AVP) (2000) #4 Very Fine
BUFFY THE VAMPIRE SLAYER (SEASON 8) (#1-40)(2007)(DKH) #30 JEANTY Very Fine
BUFFY THE VAMPIRE SLAYER (SEASON 8) (#1-40)(2007)(DKH) #35 JEANTY Fine
BUFFY THE VAMPIRE SLAYER (SEASON 8) (#1-40)(2007)(DKH) #36 CHEN Fine
BUFFY THE VAMPIRE SLAYER (SEASON 8) (#1-40)(2007)(DKH) #37 JEANTY Fine
BUFFY THE VAMPIRE SLAYER: SPIKE & DRU (1999) #1 Fine
BUFFY THE VAMPIRE SLAYER: SPIKE & DRU-ALL'S FAIR (2000) #1 Fine
CALL OF DUTY: BLACK OPS III (2015) #2 Very Fine
CALL OF DUTY: BLACK OPS III (2015) #3 Near Mint/Mint
CALL OF DUTY: BLACK OPS III (2015) #4 Near Mint/Mint

CALL OF DUTY: BLACK OPS III (2015) #5
CALL OF DUTY: BLACK OPS III (2015) #5 Near Mint/Mint
CONAN THE AVENGER (2014) #1 Very Fine
CONAN THE AVENGER (2014) #2 Near Mint/Mint
CONAN THE AVENGER (2014) #5 Fine
CONAN THE AVENGER (2014) #5 Near Mint/Mint
CONAN THE AVENGER (2014) #6 Fine
CONAN THE AVENGER (2014) #6 Very Fine
CONAN THE AVENGER (2014) #7 Fine
CONAN THE AVENGER (2014) #7 Near Mint/Mint
CONAN THE AVENGER (2014) #8 Fine
CONAN THE AVENGER (2014) #8 Very Fine
CONAN THE AVENGER (2014) #9 Near Mint/Mint
CONAN THE AVENGER (2014) #9 Fine
CONAN THE AVENGER (2014) #9 Very Fine
CONAN THE AVENGER (2014) #10 Near Mint/Mint
CONAN THE AVENGER (2014) #10 Very Fine
CONAN THE AVENGER (2014) #11 Very Fine
CONAN THE AVENGER (2014) #12 Fine
CONAN THE AVENGER (2014) #12 Near Mint/Mint
CONAN THE AVENGER (2014) #13 Fine
CONAN THE AVENGER (2014) #13 Near Mint/Mint
CONAN THE AVENGER (2014) #14 Near Mint/Mint
CONAN THE AVENGER (2014) #15 Fine
CONAN THE AVENGER (2014) #15 Near Mint/Mint
CONAN THE AVENGER (2014) #15 Very Fine
CONAN THE BARBARIAN (2012) (#1-25) (DARK HORSE) #2 CARNEVALE Near Mint/Mint
CONAN THE BARBARIAN (2012) (#1-25) (DARK HORSE) #3 CARNEVALE Near Mint/Mint
CONAN THE BARBARIAN (2012) (#1-25) (DARK HORSE) #4 Near Mint/Mint
CONAN THE BARBARIAN (2012) (#1-25) (DARK HORSE) #5 Near Mint/Mint

CONAN THE BARBARIAN (2012) (#1-25) (DARK HORSE) #7
CONAN THE BARBARIAN (2012) (#1-25) (DARK HORSE) #7 Near Mint/Mint
CONAN THE BARBARIAN (2012) (#1-25) (DARK HORSE) #8 Very Fine
CONAN THE BARBARIAN (2012) (#1-25) (DARK HORSE) #11 Near Mint/Mint
CONAN THE BARBARIAN (2012) (#1-25) (DARK HORSE) #12 Near Mint/Mint
CONAN THE BARBARIAN (2012) (#1-25) (DARK HORSE) #14 Fine
CONAN THE BARBARIAN (2012) (#1-25) (DARK HORSE) #14 Very Fine
CONAN THE BARBARIAN (2012) (#1-25) (DARK HORSE) #15 Near Mint/Mint
CONAN THE BARBARIAN (2012) (#1-25) (DARK HORSE) #15 Very Fine
CONAN THE BARBARIAN (2012) (#1-25) (DARK HORSE) #16 Very Fine
CONAN THE BARBARIAN (2012) (#1-25) (DARK HORSE) #18 Near Mint/Mint
CONAN THE BARBARIAN (2012) (#1-25) (DARK HORSE) #19 Very Fine
CONAN THE BARBARIAN (2012) (#1-25) (DARK HORSE) #20 Near Mint/Mint
CONAN THE BARBARIAN (2012) (#1-25) (DARK HORSE) #20 Very Fine
CONAN THE BARBARIAN (2012) (#1-25) (DARK HORSE) #21 Near Mint/Mint
CONAN THE BARBARIAN (2012) (#1-25) (DARK HORSE) #22 Near Mint/Mint
CONAN THE BARBARIAN (2012) (#1-25) (DARK HORSE) #23 Very Fine
CONAN THE BARBARIAN (2012) (#1-25) (DARK HORSE) #25 Very Fine
CONAN THE BARBARIAN: MASK OF ACHERON ONE-SHOT (2011) #1 Fine
CONAN THE BARBARIAN: MASK OF ACHERON ONE-SHOT (2011) #1 Near Mint/Mint
CONAN THE BARBARIAN: MASK OF ACHERON ONE-SHOT (2011) #1 Very Fine
CONAN THE BARBARIAN: MASK OF ACHERON ONE-SHOT (2011) #1 Very Good
CONAN THE CIMMERIAN (2008) #1 Near Mint/Mint
DARK HORSE CLASSICS: GODZILLA, KING OF THE MONSTERS (1998) #2 Near Mint/Mint
DARK HORSE CLASSICS: GODZILLA, KING OF THE MONSTERS (1998) #3 Near Mint/Mint
DARK HORSE PRESENTS (1986) (#1-157) #36 PAINTED Near Mint/Mint
DARK HORSE PRESENTS (1986) (#1-157) #46 Near Mint/Mint

GODZILLA (1995) (#0-16) (DARK HORSE) #7
GODZILLA (1995) (#0-16) (DARK HORSE) #7 Near Mint/Mint
GODZILLA (1995) (#0-16) (DARK HORSE) #8 Near Mint/Mint
HELLBOY: WEIRD TALES (2003) #7 Fine
NEXT MEN (1992) #21 Fine
NEXT MEN (1992) #22 Near Mint/Mint
SHADOW: IN THE COILS OF LEVIATHAN (1993) #2 Near Mint/Mint
SUPERMAN VS. TERMINATOR: DEATH TO THE FUTURE (2000) #2 Near Mint/Mint
IMAGE COMICS
BACKLASH (IMAGE) (1994) #1 Very Fine
BACKLASH (IMAGE) (1994) #13 Very Fine
BACKLASH (IMAGE) (1994) #14 Very Fine
BACKLASH (IMAGE) (1994) #19 Near Mint/Mint
BADROCK (IMAGE EXTREME) (1995) #2 Near Mint/Mint
BEAUTY (2015) #2 A HAUN Near Mint/Mint
BEAUTY (2015) #2 B TEMPLESM Near Mint/Mint
BEAUTY (2015) #3 B MITTEN Near Mint/Mint
BEAUTY (2015) #3 C HAUN Near Mint/Mint
BEAUTY (2015) #4 C KOSCHAK Near Mint/Mint
BEAUTY (2015) #5 A HAUN Near Mint/Mint
BEAUTY (2015) #5 C TISSERAN Near Mint/Mint
BEAUTY (2015) #6 A HAUN Near Mint/Mint
BEAUTY (2015) #6 C SHERRON Near Mint/Mint
BEAUTY (2015) #8 A HAUN Near Mint/Mint
BLACK KISS 2 (2012) #3 Near Mint/Mint
CREECH: OUT FOR BLOOD (2001) #1 Fine
CREECH: OUT FOR BLOOD (2001) #2 Very Fine
CREECH: OUT FOR BLOOD (2001) #3 Near Mint/Mint
CURSE OF THE SPAWN (1996) #11 Near Mint/Mint
CURSE OF THE SPAWN (1996) #22 Near Mint/Mint
CURSE OF THE SPAWN (1996) #26 Near Mint/Mint
CURSE WORDS (2017) #9 A BROWNE Near Mint/Mint
CURSE WORDS (2017) #9 A BROWNE Very Fine
DARKNESS (1996) (#1-40) (IMAGE TOP COW) #1 (Image Top Cow) Near Mint/Mint
DARKNESS (1996) (#1-40) (IMAGE TOP COW) #2 (Image Top Cow) Near Mint/Mint
DARKNESS (1996) (#1-40) (IMAGE TOP COW) #3 (Image Top Cow) Near Mint/Mint
DARKNESS (1996) (#1-40) (IMAGE TOP COW) #33 (Image Top Cow) Near Mint/Mint
DARKNESS (1996) (#1-40) (IMAGE TOP COW) #35 (Image Top Cow) Near Mint/Mint
DARKNESS (1996) (#1-40) (IMAGE TOP COW) #36 (Image Top Cow) Near Mint/Mint
DARKNESS (1996) (#1-40) (IMAGE TOP COW) #37 (Image Top Cow) Near Mint/Mint
DARKNESS (1996) (#1-40) (IMAGE TOP COW) #38 (Image Top Cow) Near Mint/Mint
DARKNESS (1996) (#1-40) (IMAGE TOP COW) #39 (Image Top Cow) Near Mint/Mint
DARKNESS (1996) (#1-40) (IMAGE TOP COW) #40 (Image Top Cow) Near Mint/Mint
DARKNESS INFINITY (1999) #1 (Image Top Cow) Fine
DV8 (1996) (#1-25) (IMAGE) #25 Near Mint/Mint
DV8 RAVE #1 Fine
FATHOM (1998) (#0-14) (IMAGE) #0 GREEN FOIL (Image Top Cow) Near Mint/Mint

FATHOM (1998) (#0-14) (IMAGE) #1 COVER A
FATHOM (1998) (#0-14) (IMAGE) #1 COVER A (Image Top Cow) Very Fine
FATHOM (1998) (#0-14) (IMAGE) #4 (Image Top Cow) Very Fine
FATHOM (1998) (#0-14) (IMAGE) #6 (Image Top Cow) Very Fine
FATHOM (1998) (#0-14) (IMAGE) #11 (Image Top Cow) Very Fine
FATHOM (1998) (#0-14) (IMAGE) #12 (Image Top Cow) Fine
FATHOM (1998) (#0-14) (IMAGE) #13 (Image Top Cow) Very Fine
FATHOM (1998) (#0-14) (IMAGE) #14 (Image Top Cow) Fine
FATHOM SWIMSUIT SPECIAL 2000 #1 (Image Top Cow) Fine
GEAR STATION #1 WIZARD 1/2 Near Mint/Mint
GEN-13 MAGICAL DRAMA QUEEN ROXY #3 Near Mint/Mint
HELLSPAWN (IMAGE) (2000) #5 Near Mint/Mint
INVINCIBLE (2003) #4 Very Fine
INVINCIBLE (2003) #5 Near Mint/Mint
INVINCIBLE (2003) #8 Very Fine
MAGE: HERO DENIED (2017) #3 Near Mint/Mint
MAXX (1993) #21 Near Mint/Mint
MAXX (1993) #27 Near Mint/Mint
MAXX (1993) #31 Near Mint/Mint
MOTOR CRUSH (2016) #8 A TARR Near Mint/Mint
ROCK CANDY MOUNTAIN (2017) (#1-8) (IMAGE) #6 Near Mint/Mint
SACRED CREATURES (2017) #5 B JANSON Near Mint/Mint
SAM & TWITCH (1999) #1 Near Mint/Mint
SAVAGE DRAGON COMPANION (2002) #1 Very Fine
SAVAGE DRAGON-THE SERIES (1993) (#0-UP) #32 Near Mint/Mint
SAVAGE DRAGON-THE SERIES (1993) (#0-UP) #55 Near Mint/Mint
SAVAGE DRAGON-THE SERIES (1993) (#0-UP) #56 Fine
SAVAGE DRAGON-THE SERIES (1993) (#0-UP) #65 Fine
SAVAGE DRAGON-THE SERIES (1993) (#0-UP) #68 Very Fine
SAVAGE DRAGON-THE SERIES (1993) (#0-UP) #81 Near Mint/Mint
SAVAGE DRAGON-THE SERIES (1993) (#0-UP) #82 Near Mint/Mint
SAVAGE DRAGON-THE SERIES (1993) (#0-UP) #83 Near Mint/Mint
SAVAGE DRAGON-THE SERIES (1993) (#0-UP) #96 Near Mint/Mint
SAVAGE DRAGON-THE SERIES (1993) (#0-UP) #117 Near Mint/Mint
SAVAGE DRAGON-THE SERIES (1993) (#0-UP) #118 Near Mint/Mint
SAVAGE DRAGON-THE SERIES (1993) (#0-UP) #119 Near Mint/Mint
SCALES & SCOUNDRELS (2017) #4 Near Mint/Mint
SCALES & SCOUNDRELS (2017) #4 Very Fine
SILVER SURFER/WITCHBLADE #1 1/2 (Image Top Cow) Near Mint/Mint
SOUL SAGA (2000) #4 (Image Top Cow) Very Fine
SOUL SAGA (2000) #5 (Image Top Cow) Near Mint/Mint
SPAWN (1992) #65 Fine
SPAWN (1992) #74 Near Mint/Mint
SPAWN (1992) #75 Near Mint/Mint
SPAWN (1992) #84 Fine
SPAWN (1992) #103 Near Mint/Mint
SPAWN (1992) #104 Near Mint/Mint
SPAWN (1992) #105 Near Mint/Mint
SPAWN (1992) #116 Near Mint/Mint
SPAWN (1992) #138 Near Mint/Mint
SPAWN (1992) #139 Very Fine
SPAWN (1992) #140 Near Mint/Mint
SPAWN (1992) #141 Near Mint/Mint
SPAWN: THE DARK AGES (1999) #5 Near Mint/Mint
SPAWN: THE DARK AGES (1999) #6 Fine
SPAWN: THE UNDEAD (1999) #1 Near Mint/Mint
SPAWN: THE UNDEAD (1999) #2 Very Fine
SUPREME (1992) (#0-56) (IMAGE) #26 Near Mint/Mint
SUPREME (1992) (#0-56) (IMAGE) #32 Near Mint/Mint
SUPREME (1992) (#0-56) (IMAGE) #41 VARIANT Very Fine
SUPREME (1992) (#0-56) (IMAGE) #42 Near Mint/Mint
SUPREME (1992) (#0-56) (IMAGE) #47 Near Mint/Mint
SUPREME (1992) (#0-56) (IMAGE) #48 Very Fine
SUPREME (1992) (#0-56) (IMAGE) #50 LIEFELD Fine
SUPREME (1992) (#0-56) (IMAGE) #51 Near Mint/Mint
SUPREME (1992) (#0-56) (IMAGE) #52 A Near Mint/Mint
SUPREME (1992) (#0-56) (IMAGE) #53 Very Fine
SUPREME (1992) (#0-56) (IMAGE) #54 Very Fine
TENTH (1997) (#0-4) (IMAGE) #1 1/2 Very Fine
VIOLATOR VS. BADROCK #1 VIOLATOR Very Fine
WALKING DEAD (2003) (#1-193) (IMAGE) #2 Very Fine
WANTED (2003) #1 WIZARD ACE (Image Top Cow) Fine
WARFRAME (2017) #2 Near Mint/Mint
YOUNGBLOOD (1992) (#0-10) (IMAGE) #10 Very Fine
YOUNGBLOOD (1995) (#1-10, & 14) (IMAGE) #3 Near Mint/Mint
YOUNGBLOOD (1995) (#1-10, & 14) (IMAGE) #4 UNBAGGED Near Mint/Mint
YOUNGBLOOD (1995) (#1-10, & 14) (IMAGE) #5 Very Fine
YOUNGBLOOD/X-FORCE #1 LIMIT TEAM Very Fine
INDEPENDENTS
ADVENTURE TIME: SPOOOKTACULAR (2017) #1 A CULBARD (Boom Studios Publishing) Near Mint/Mint
ANGEL: AFTER THE FALL (IDW Publishing) (2007) #17 B (IDW Publishing) Near Mint/Mint
ANGEL: AULD LANG SYNE (IDW Publishing) (2006) #3 MESSINA (IDW Publishing) Very Fine
ANGEL: AULD LANG SYNE (IDW Publishing) (2006) #4 MESSINA (IDW Publishing) Very Fine
ASSASSIN'S CREED: UPRISING (2017) #8 B CALERO (Titan Distributing) Very Fine
BLOODSHOT (1993) (0-51) (VALIANT) #42 (Acclaim/Valiant) Near Mint/Mint
BLOODSHOT (1993) (0-51) (VALIANT) #47 (Acclaim/Valiant) Near Mint/Mint
CAGED HEAT 3000 #2 (Roger Corman's Cosmic Comics) Fine
CAGED HEAT 3000 #3 (Roger Corman's Cosmic Comics) Near Mint/Mint
CHASTITY (2014) (#1-6) (DYNAMITE) #1 BLANK CVR (DYNAMITE Entertainment) Fine
CHASTITY (2014) (#1-6) (DYNAMITE) #1 LUPACCHB&W (DYNAMITE Entertainment) Near Mint/Mint

CHASTITY (2014) (#1-6) (DYNAMITE) #1 LUPACCHINO
CHASTITY (2014) (#1-6) (DYNAMITE) #1 LUPACCHINO (DYNAMITE Entertainment) Near Mint/Mint
CHASTITY (2014) (#1-6) (DYNAMITE) #1 SEELEY B&W (DYNAMITE Entertainment) Fine
CHASTITY (2014) (#1-6) (DYNAMITE) #2 LUPACCHINO (DYNAMITE Entertainment) Very Fine
CHASTITY (2014) (#1-6) (DYNAMITE) #3 LUPACCHB&W (DYNAMITE Entertainment) Very Fine
CHASTITY (2014) (#1-6) (DYNAMITE) #3 LUPACCHINO (DYNAMITE Entertainment) Near Mint/Mint
CHASTITY (2014) (#1-6) (DYNAMITE) #4 LUPACCHB&W (DYNAMITE Entertainment) Near Mint/Mint
CHASTITY (2014) (#1-6) (DYNAMITE) #4 LUPACCHINO (DYNAMITE Entertainment) Near Mint/Mint
CHASTITY (2014) (#1-6) (DYNAMITE) #6 LUPACCHB&W (DYNAMITE Entertainment) Near Mint/Mint
ETERNAL WARRIOR (1992) #47 (Acclaim/Valiant) Near Mint/Mint
ETERNAL WARRIOR (1992) #48 (Acclaim/Valiant) Near Mint/Mint
ETERNAL WARRIOR (1992) #50 (Acclaim/Valiant) Near Mint/Mint
ETERNITY (2017) #2 I HAIRSINE (Valiant Comics) Near Mint/Mint
FATHOM SOURCEBOOK (2014) #1 A (Aspen) Near Mint/Mint
FATHOM: BLUE (2015) #1 B (Aspen) Near Mint/Mint
FATHOM: BLUE (2015) #1 C (Aspen) Near Mint/Mint
FATHOM: BLUE (2015) #2 C (Aspen) Near Mint/Mint
FATHOM: BLUE (2015) #3 A (Aspen) Near Mint/Mint
FATHOM: BLUE (2015) #4 A (Aspen) Near Mint/Mint
FATHOM: BLUE (2015) #4 B (Aspen) Near Mint/Mint
FATHOM: BLUE (2015) #4 D (Aspen) Near Mint/Mint
FATHOM: BLUE (2015) #5 A (Aspen) Near Mint/Mint
FATHOM: BLUE (2015) #6 B (Aspen) Near Mint/Mint
FATHOM: ELITE SAGA (2013) #3 A (Aspen) Near Mint/Mint
FATHOM: ELITE SAGA (2013) #5 A (Aspen) Near Mint/Mint
FATHOM: ELITE SAGA (2013) #5 B (Aspen) Near Mint/Mint

FATHOM: KIANI (VOL. 2) (2012) #0 A
FATHOM: KIANI (VOL. 2) (2012) #0 A (Aspen) Very Fine
FATHOM: KIANI (VOL. 3) (2014) #1 B (Aspen) Near Mint/Mint
FATHOM: KIANI (VOL. 3) (2014) #2 B (Aspen) Near Mint/Mint
FATHOM: KIANI (VOL. 3) (2014) #2 C (Aspen) Very Good
FATHOM: KIANI (VOL. 3) (2014) #3 B (Aspen) Near Mint/Mint
FATHOM: KIANI (VOL. 3) (2014) #3 C (Aspen) Very Fine
FATHOM: KIANI (VOL. 4) (2015) #1 A (Aspen) Near Mint/Mint
FATHOM: KIANI (VOL. 4) (2015) #2 B (Aspen) Near Mint/Mint
FATHOM: KIANI (VOL. 4) (2015) #3 B (Aspen) Very Fine
FATHOM: KIANI (VOL. 4) (2015) #4 A (Aspen) Very Fine
FATHOM: KIANI (VOL. 4) (2015) #4 B (Aspen) Very Fine
FEMFORCE #91 UNBAGGED (Americomics) Very Fine
FEMFORCE #92 UNBAGGED (Americomics) Near Mint/Mint
FEMFORCE #93 UNBAGGED (Americomics) Near Mint/Mint
FEMFORCE #94 UNBAGGED (Americomics) Very Fine
FEMFORCE PIN UP PORTFOLIO (1987) #1 (Americomics) Fine
FEMFORCE PIN UP PORTFOLIO (1987) #2 (Americomics) Fine
FEMFORCE PIN UP PORTFOLIO (1987) #3 (Americomics) Fine
FEMFORCE PIN UP PORTFOLIO (1987) #4 (Americomics) Fine
FEMFORCE UP CLOSE (1992) #2 (Americomics) Very Fine
FEMFORCE UP CLOSE (1992) #9 (Americomics) Very Fine
FEMFORCE UP CLOSE (1992) #10 (Americomics) Near Mint/Mint
FEMFORCE UP CLOSE (1992) #11 (Americomics) Near Mint/Mint
FIGHTING AMERICAN (2017) (#1-UP) (TITAN COMICS) #1 A DODSON (Titan Distributing) Near Mint/Mint
FIGHTING AMERICAN (2017) (#1-UP) (TITAN COMICS) #1 C KIRBY (Titan Distributing) Near Mint/Mint

GOOD GIRL ART QUARTERLY (1990) #9
GOOD GIRL ART QUARTERLY (1990) #9 (Americomics) Near Mint/Mint
JUNGLE COMICS (1997) (#1-6) (A-LIST COMICS) #6 (A-List Comics) Near Mint/Mint
KAOS MOON (1996) #4 (Caliber Press) Near Mint/Mint
LAST DANGEROUS CHRISTMAS (1997) #1 (Aeon) Near Mint/Mint
LOLA XOXO (VOL. 2) (2017) #4 A OUM (Aspen) Near Mint/Mint
MAGNUS ROBOT FIGHTER (1991) (#0-64) (VALIANT) #1 W/ CARD (Acclaim/Valiant) Near Mint/Mint
MAGNUS ROBOT FIGHTER (1991) (#0-64) (VALIANT) #48 (Acclaim/Valiant) Near Mint/Mint
MAGNUS ROBOT FIGHTER (1991) (#0-64) (VALIANT) #51 (Acclaim/Valiant) Very Fine
MAGNUS ROBOT FIGHTER (1991) (#0-64) (VALIANT) #53 (Acclaim/Valiant) Near Mint/Mint
MAGNUS ROBOT FIGHTER (1991) (#0-64) (VALIANT) #56 (Acclaim/Valiant) Near Mint/Mint
MAGNUS ROBOT FIGHTER (1991) (#0-64) (VALIANT) #58 (Acclaim/Valiant) Very Fine
MAGNUS ROBOT FIGHTER (1991) (#0-64) (VALIANT) #59 (Acclaim/Valiant) Near Mint/Mint
MAGNUS ROBOT FIGHTER (1991) (#0-64) (VALIANT) #59 (Acclaim/Valiant) Fine
MAGNUS ROBOT FIGHTER (1991) (#0-64) (VALIANT) #60 (Acclaim/Valiant) Near Mint/Mint
MAGNUS ROBOT FIGHTER (1991) (#0-64) (VALIANT) #61 (Acclaim/Valiant) Fine
MAGNUS ROBOT FIGHTER (1991) (#0-64) (VALIANT) #63 (Acclaim/Valiant) Near Mint/Mint
MAGNUS ROBOT FIGHTER (1991) (#0-64) (VALIANT) #63 (Acclaim/Valiant) Fine
MAGNUS ROBOT FIGHTER (1991) (#0-64) (VALIANT) #64 (Acclaim/Valiant) Fine
MYRON MOOSE FUNNIES #1 (Fantagraphics) Good
NEIL AND BUZZ IN SPACE AND TIME (1989) #1 (Fantagraphics) Near Mint/Mint
PINK PANTHER: CARTOON HOUR SPECIAL (2016) #2 (American Mythology) Near Mint/Mint
PITT (1996) (#1 1/2, #10-20) (FULLBLEED) #20 (Full Bleed Studios) Very Fine
PITT CREW #3 (Full Bleed Studios) Fine
PITT CREW #3 (Full Bleed Studios) Very Fine
PITT CREW #4 (Full Bleed Studios) Very Fine
POWERPUFF GIRLS: BUREAU OF BAD (2017) #1 B CUNG (IDW Publishing) Near Mint/Mint
POWERPUFF GIRLS: BUREAU OF BAD (2017) #1 B CUNG (IDW Publishing) Fine
QUANTUM & WOODY (1997) (#0-32) (ACCLAIM/VALIANT) #1 (Acclaim/Valiant) Very Fine
QUANTUM & WOODY (1997) (#0-32) (ACCLAIM/VALIANT) #3 (Acclaim/Valiant) Near Mint/Mint
QUARRY'S WAR (2017) #1 C DRUMMOND (Titan Distributing) Near Mint/Mint
RED SONJA (2017) (#0-25) (DYNAMITE) #11 A MARION (DYNAMITE Entertainment) Near Mint/Mint
ROBYN HOOD: THE HUNT (2017) #5 C REYES (Zenescope Entertainment Inc) Fine
ROM VS. TRANSFORMERS: SHINING ARMOR (2017) #5 C MESSINA (IDW Publishing) Near Mint/Mint
RUST (1992) (#1-4) (ADVENTURE COMICS) #1 (Adventure Comics) Fine
RUST (1992) (#1-4) (ADVENTURE COMICS) #4 (Adventure Comics) Fine
SHADOW/BATMAN (2017) #3 A KALUTA (DYNAMITE Entertainment) Very Fine
SHADOW/BATMAN (2017) #3 A KALUTA (DYNAMITE Entertainment) Fine
SHE-CAT #2 (Americomics) Near Mint/Mint
SHE-CAT #3 (Americomics) Very Fine
SHE-CAT #4 (Americomics) Near Mint/Mint
SOLAR FLARE: SEASON 2 (2017) #2 (Scout Comics) Near Mint/Mint
SOLAR, MAN OF THE ATOM (1991) #1 (Acclaim/Valiant) Near Mint/Mint

SOLAR, MAN OF THE ATOM (1991) #10
SOLAR, MAN OF THE ATOM (1991) #10 (Acclaim/Valiant) Very Fine
SOLAR, MAN OF THE ATOM (1991) #60 (Acclaim/Valiant) Near Mint/Mint
SPIKE VS. DRACULA (2006) #5 CORRONEY (IDW Publishing) Very Fine
SPIKE: ASYLUM (2006) #1 A (IDW Publishing) Fine
SPIKE: ASYLUM (2006) #2 (IDW Publishing) Near Mint/Mint
SPIKE: ASYLUM (2006) #4 B (IDW Publishing) Near Mint/Mint
SPIKE: ASYLUM (2006) #5 A (IDW Publishing) Near Mint/Mint
SPIKE: OLD TIMES ONE-SHOT (2005) #1 (IDW Publishing) Fine
SPIKE: SHADOW PUPPETS (2007) #1 A (IDW Publishing) Very Fine
SPIKE: SHADOW PUPPETS (2007) #2 B (IDW Publishing) Near Mint/Mint
SPIKE: SHADOW PUPPETS (2007) #3 A (IDW Publishing) Fine
SPIKE: SHADOW PUPPETS (2007) #4 B (IDW Publishing) Fine
SPIRIT (1973) (#1-2) (KITCHEN SINK) #2 (Kitchen Sink Publishing) Good
STAR TREK: BOLDLY GO (2016) #14 B KOWALSKI (IDW Publishing) Near Mint/Mint
TUROK: DINOSAUR HUNTER (1993) (#0-47) (VALIANT) #0 (Acclaim/Valiant) Very Fine
TUROK: DINOSAUR HUNTER (1993) (#0-47) (VALIANT) #24 (Acclaim/Valiant) Near Mint/Mint
TUROK: DINOSAUR HUNTER (1993) (#0-47) (VALIANT) #25 (Acclaim/Valiant) Near Mint/Mint
TUROK: DINOSAUR HUNTER (1993) (#0-47) (VALIANT) #26 (Acclaim/Valiant) Near Mint/Mint
TUROK: DINOSAUR HUNTER (1993) (#0-47) (VALIANT) #27 (Acclaim/Valiant) Near Mint/Mint
TUROK: DINOSAUR HUNTER (1993) (#0-47) (VALIANT) #30 (Acclaim/Valiant) Very Fine
TUROK: DINOSAUR HUNTER (1993) (#0-47) (VALIANT) #32 (Acclaim/Valiant) Very Fine
TUROK: DINOSAUR HUNTER (1993) (#0-47) (VALIANT) #33 (Acclaim/Valiant) Very Fine
TUROK: DINOSAUR HUNTER (1993) (#0-47) (VALIANT) #35 (Acclaim/Valiant) Fine
TUROK: DINOSAUR HUNTER (1993) (#0-47) (VALIANT) #38 (Acclaim/Valiant) Very Fine

TUROK: DINOSAUR HUNTER (1993) (#0-47) (VALIANT) #39
TUROK: DINOSAUR HUNTER (1993) (#0-47) (VALIANT) #39 (Acclaim/Valiant) Fine
TUROK: DINOSAUR HUNTER (1993) (#0-47) (VALIANT) #40 (Acclaim/Valiant) Very Fine
ULTRAVERSE YEAR TWO (1995) #1 (Marvel Malibu/Ultraverse) Very Fine
UNDERTAKER (1999) #4 (Chaos Comics) Near Mint/Mint
UNITY 2000 (1999) #1 PREVIEW (Acclaim/Valiant) Near Mint/Mint
UNITY 2000 (1999) #2 UNBAGGED (Acclaim/Valiant) Fine
WAR MOTHER (2017) #3 B GORHAM (Valiant Comics) Near Mint/Mint
WAR MOTHER (2017) #4 B GORHAM (Valiant Comics) Near Mint/Mint
X-O MANOWAR (1992) (#0-68) (VALIANT) #42 (Acclaim/Valiant) Very Fine
X-O MANOWAR (1992) (#0-68) (VALIANT) #47 (Acclaim/Valiant) Fine
X-O MANOWAR (1992) (#0-68) (VALIANT) #51 (Acclaim/Valiant) Near Mint/Mint
X-O MANOWAR (1992) (#0-68) (VALIANT) #55 (Acclaim/Valiant) Near Mint/Mint
X-O MANOWAR (1992) (#0-68) (VALIANT) #56 (Acclaim/Valiant) Near Mint/Mint
X-O MANOWAR (1992) (#0-68) (VALIANT) #58 (Acclaim/Valiant) Very Fine
X-O MANOWAR (1992) (#0-68) (VALIANT) #59 (Acclaim/Valiant) Very Fine
X-O MANOWAR (1992) (#0-68) (VALIANT) #60 (Acclaim/Valiant) Near Mint/Mint
X-O MANOWAR (1992) (#0-68) (VALIANT) #61 (Acclaim/Valiant) Near Mint/Mint
X-O MANOWAR (1992) (#0-68) (VALIANT) #62 (Acclaim/Valiant) Near Mint/Mint
X-O MANOWAR (1992) (#0-68) (VALIANT) #64 (Acclaim/Valiant) Near Mint/Mint
X-O MANOWAR (1992) (#0-68) (VALIANT) #65 (Acclaim/Valiant) Very Fine
X-O MANOWAR (1992) (#0-68) (VALIANT) #66 (Acclaim/Valiant) Near Mint/Mint
X-O MANOWAR (1992) (#0-68) (VALIANT) #67 (Acclaim/Valiant) Near Mint/Mint
X-O MANOWAR (1992) (#0-68) (VALIANT) #68 (Acclaim/Valiant) Very Fine
To be unsubscribed from our e-mail newsletter, please send your request to moulton@milehighcomics.com
Mile High Comics, 4600 Jason Street, Denver CO 80211, USA