If you are having trouble viewing this newsletter, click here
Record-breaking Sales At Mile High Comics
Howdy!
After working at my farm yesterday morning, I spent my afternoon sorting through newly-purchased back issue comics at Mile High Comics. I had planned to take my rambunctious puppy, Nicky, along with me, but was informed at the last minute that she (and her equally-animated sister) had been scheduled for baths. That turned out to be a fortuitous circumstance, as I discovered when I arrived that the Jason St. Mega-Store was far too busy yesterday for a puppy who is still being trained in how to behave reasonably in social environments.
Long story short, we absolutely rocked in the Mega-Store yesterday, experiencing one of our highest-grossing Sundays, ever. So you know, this was not a function of a promotion and/or advertising, as I stopped all store advertising after Covid restrictions were lifted last year. Instead, yesterday's huge surge in our business was a purely organic display of the affection that so many thousands of ardent fans feel toward our wonderful "cathedral of comics." Our sales are currently running at 168% of last year, so (clearly) we are engendering an astonishing degree of love.
What I found especially heart-warming yesterday were the innumerable local parents who brought their children to our beautiful store for a fun Sunday afternoon outing. This truly gladdens me, as while Jason St. at its core is structured to serve the needs of truly passionate collectors, I also want it to serve the function of being a Community resource for the children of Colorado. The fact that so many young people visited us yesterday, and were able to experience the joys of perusing through our warehouse filled with comic books and pop culture, made me really quite happy. It is amazingly satisfying when you make a plan, and all then turns out far better than even your most optimistic projections. Yay!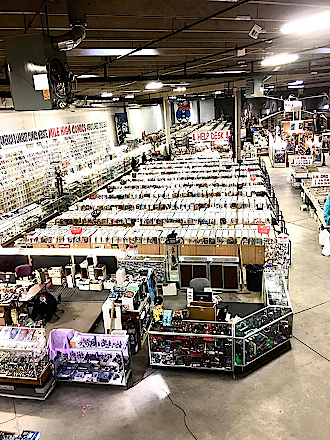 Ocean of comics in the Jason St. Mega-Store
As regards my own efforts, I sorted through yet another 1,500 back issues, carefully selecting about 200 comics for either Will Moulton or Pam to grade, and then enter into our online inventory for you. These are issues that we need to fill holes in our website inventory, or (at the very least) to give us a little bit more depth. I also located about 30 issues (mostly small press publications) where Chris Boyd needs to capture cover scans, and then post them to our website. So you know, this is about the same daily output as I have achieved every day (seven days a week) for the past month.
The sum of my personal efforts are small (but steady) improvements, which over the course of a month help to make a profound impact on our operations. I not only locate issues that have been out-of-stock, but I also actively replace many of the issues that we sell each day. Issues that are currently not needed are then stashed away, with our intention being to reexamine them in about a year. In a nutshell, this is how we keep growing our selections for you every single day.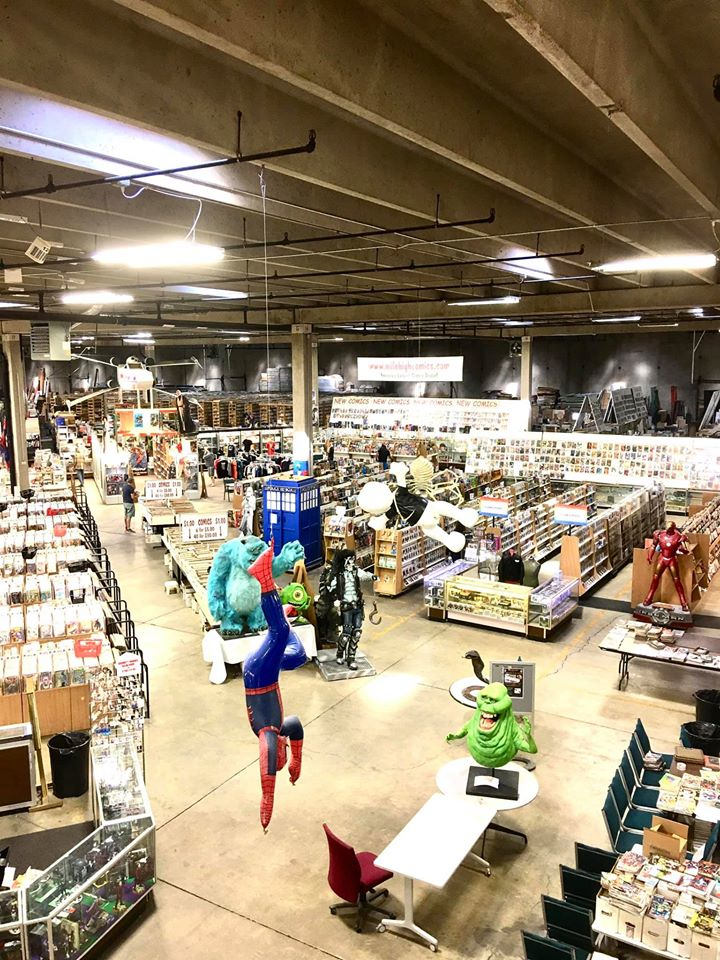 Toy and Appreal area in the Jason St. Mega-Store
As dusk approached last evening, I closed up Jason St., and donned my safety gear so that I could then use my industrial Stihl weed cutter to trim part of the lawn outside the store, and also the edges of our parking lot. I then used the last fading light to fill a large bag with a bit of trash that the wind had blown in, and then finally drove back home to Boulder in the dark, weary, but feeling complete. Mine is most certainly not a glamorous life, but after 51 years, it still brings me great joy. I am grateful to be so blessed.
That's it for today. Our 40% off SUMMER! codeword sale is still in effect for you this week on all ten million-plus of our back issue comics and magazines, excepting only new issues, a few variants, and our professionally-graded items. The 40% off discount even applies to most of the newly-arrived comics (some of which I sorted) listed at the end of this newsletter.
Happy collecting!
Chuck Rozanski/Bettie Pages,
President – Mile High Comics, Inc.
July 19, 2021
MARVEL
AMAZING SPIDER-MAN (1999) (#1-58, #500-700.5) (MARVEL) #529 2ND PRINT Fine

AVENGERS (1963) (#1-402) (MARVEL) #268 NEWSSTAND
AVENGERS (1963) (#1-402) (MARVEL) #268 NEWSSTAND Near Mint/Mint
CADILLACS AND DINOSAURS (1990) (#1-6) (MARVEL/EPIC) #1 NEWSSTAND Fine
CADILLACS AND DINOSAURS (1990) (#1-6) (MARVEL/EPIC) #1 NEWSSTAND Good
CADILLACS AND DINOSAURS (1990) (#1-6) (MARVEL/EPIC) #3 NEWSSTAND Very Fine
CADILLACS AND DINOSAURS (1990) (#1-6) (MARVEL/EPIC) #3 NEWSSTAND Fine
CADILLACS AND DINOSAURS (1990) (#1-6) (MARVEL/EPIC) #3 NEWSSTAND Good
CADILLACS AND DINOSAURS (1990) (#1-6) (MARVEL/EPIC) #4 NEWSSTAND Very Fine
CADILLACS AND DINOSAURS (1990) (#1-6) (MARVEL/EPIC) #4 NEWSSTAND Fine
CADILLACS AND DINOSAURS (1990) (#1-6) (MARVEL/EPIC) #4 NEWSSTAND Very Good
CADILLACS AND DINOSAURS (1990) (#1-6) (MARVEL/EPIC) #6 NEWSSTAND Near Mint/Mint
CADILLACS AND DINOSAURS (1990) (#1-6) (MARVEL/EPIC) #6 NEWSSTAND Very Fine
CAGE (2002) (#1-5) (MARVELMAX) (LUKE CAGE) #1 Fine
CAGE (2002) (#1-5) (MARVELMAX) (LUKE CAGE) #1 Very Good
CAGE (2002) (#1-5) (MARVELMAX) (LUKE CAGE) #1 Very Fine
CAGE (2002) (#1-5) (MARVELMAX) (LUKE CAGE) #2 Near Mint/Mint
CAGE (2002) (#1-5) (MARVELMAX) (LUKE CAGE) #2 Fine
CAGE (2002) (#1-5) (MARVELMAX) (LUKE CAGE) #2 Very Fine
CAGE (2002) (#1-5) (MARVELMAX) (LUKE CAGE) #2 Very Good
CAGE (2002) (#1-5) (MARVELMAX) (LUKE CAGE) #3 Fine
CAGE (2002) (#1-5) (MARVELMAX) (LUKE CAGE) #3 Near Mint/Mint
CAGE (2002) (#1-5) (MARVELMAX) (LUKE CAGE) #3 Very Fine
CAGE (2002) (#1-5) (MARVELMAX) (LUKE CAGE) #3 Very Good
CAGE (2002) (#1-5) (MARVELMAX) (LUKE CAGE) #4 Fine
CAGE (2002) (#1-5) (MARVELMAX) (LUKE CAGE) #4 Very Good
CAGE (2002) (#1-5) (MARVELMAX) (LUKE CAGE) #5 Good
CAGE (2002) (#1-5) (MARVELMAX) (LUKE CAGE) #5 Fine
CAGE (2002) (#1-5) (MARVELMAX) (LUKE CAGE) #5 Very Good
CAGE (2002) (#1-5) (MARVELMAX) (LUKE CAGE) #5 Very Fine

CAGE (1992) (#1-20) (MARVEL) (LUKE CAGE) #1 NEWSSTAND
CAGE (1992) (#1-20) (MARVEL) (LUKE CAGE) #1 NEWSSTAND Very Fine
CAGE (1992) (#1-20) (MARVEL) (LUKE CAGE) #1 NEWSSTAND Fine
CAGE (1992) (#1-20) (MARVEL) (LUKE CAGE) #1 NEWSSTAND Very Good
CAGE (1992) (#1-20) (MARVEL) (LUKE CAGE) #3 Very Fine
CAGE (1992) (#1-20) (MARVEL) (LUKE CAGE) #4 Near Mint/Mint
CAGE (1992) (#1-20) (MARVEL) (LUKE CAGE) #4 Very Fine
CAGE (1992) (#1-20) (MARVEL) (LUKE CAGE) #5 NEWSSTAND Fine
CAGE (1992) (#1-20) (MARVEL) (LUKE CAGE) #6 Near Mint/Mint
CAGE (1992) (#1-20) (MARVEL) (LUKE CAGE) #6 Very Fine
CAGE (1992) (#1-20) (MARVEL) (LUKE CAGE) #9 Near Mint/Mint
CAGE (1992) (#1-20) (MARVEL) (LUKE CAGE) #9 Fine
CAGE (1992) (#1-20) (MARVEL) (LUKE CAGE) #10 Near Mint/Mint
CAGE (1992) (#1-20) (MARVEL) (LUKE CAGE) #10 Fine
CAGE (1992) (#1-20) (MARVEL) (LUKE CAGE) #12 Near Mint/Mint
CAGE (1992) (#1-20) (MARVEL) (LUKE CAGE) #12 NEWSSTAND Fine
CAGE (1992) (#1-20) (MARVEL) (LUKE CAGE) #12 Very Fine
CAGE (1992) (#1-20) (MARVEL) (LUKE CAGE) #13 Near Mint/Mint
CAGE (1992) (#1-20) (MARVEL) (LUKE CAGE) #13 Very Fine
CAGE (1992) (#1-20) (MARVEL) (LUKE CAGE) #14 Very Fine
CAGE (1992) (#1-20) (MARVEL) (LUKE CAGE) #16 Near Mint/Mint
CAGE (1992) (#1-20) (MARVEL) (LUKE CAGE) #16 Very Fine
CAGE (1992) (#1-20) (MARVEL) (LUKE CAGE) #17 Near Mint/Mint
CAGE (1992) (#1-20) (MARVEL) (LUKE CAGE) #17 Fine
CAGE (1992) (#1-20) (MARVEL) (LUKE CAGE) #18 Fine
CAGE (1992) (#1-20) (MARVEL) (LUKE CAGE) #18 Very Good
CAGE (1992) (#1-20) (MARVEL) (LUKE CAGE) #18 Very Fine
CAGE (1992) (#1-20) (MARVEL) (LUKE CAGE) #19 Near Mint/Mint
CAGE (1992) (#1-20) (MARVEL) (LUKE CAGE) #19 Fine
CAGE (1992) (#1-20) (MARVEL) (LUKE CAGE) #19 Very Fine
CAGE (1992) (#1-20) (MARVEL) (LUKE CAGE) #20 Fine

CAGE (1992) (#1-20) (MARVEL) (LUKE CAGE) #20
CAGE (1992) (#1-20) (MARVEL) (LUKE CAGE) #20 Very Good
DEADPOOL (1997) (#0-69) (MARVEL) #1 Very Fine
DEADPOOL VS. CARNAGE TPB (2014) #1 2ND PRINT Near Mint/Mint
DEADPOOL VS. MARVEL UNIVERSE TPB (2008) #1 7TH PRINT Near Mint/Mint
DEADPOOL'S SECRET SECRET WARS TPB (2016) #1 Near Mint/Mint
DEFENDERS BY MATT FRACTION TPB (2012) #2 Near Mint/Mint
DOCTOR STRANGE: DON'T PAY THE FERRYMAN TPB (2015) #1 Near Mint/Mint
DR. STRANGE: OATH TPB (2ND EDITION) (2013) #1 3RD PRINT Near Mint/Mint
E IS FOR EXTINCTION: WARZONES TPB (2016) #1 Near Mint/Mint
EMPRESS TPB (2017) #1 Near Mint/Mint
EXTRAORDINARY X-MEN VOL. 1: X-HAVEN TPB (2016) #1 Near Mint/Mint
FURY MAX VOL. 2: MY WAR GONE BY TPB (2013) #1 Near Mint/Mint
GUARDIANS OF KNOWHERE TPB (2015) #1 Near Mint/Mint
GUARDIANS OF THE GALAXY BY JIM VALENTINO TPB (2014) #1 2ND PRINT Near Mint/Mint
GUARDIANS OF THE GALAXY BY JIM VALENTINO TPB (2014) #3 Near Mint/Mint
GUARDIANS OF THE GALAXY VOL. 4: ORIGINAL SIN TPB (2015) #1 Near Mint/Mint

GUARDIANS OF THE GALAXY VOL. 5: THROUGH LOOKING TPB (2016) #1
GUARDIANS OF THE GALAXY VOL. 5: THROUGH LOOKING TPB (2016) #1 Near Mint/Mint
GUARDIANS TEAM-UP VOL. 1: GUARDIANS ASSEMBLE TPB (2015) #1 Near Mint/Mint
GUARDIANS TEAM-UP VOL. 2: UNLIKELY STORY TPB (2015) #1 Near Mint/Mint
HAWKEYE VOL. 4: RIO BRAVO TPB (2014) #1 Near Mint/Mint
HAWKEYE VOL. 5: ALL-NEW HAWKEYE TPB (2015) #1 Near Mint/Mint
HOUSE OF M: WARZONES TPB (2016) #1 Near Mint/Mint
HOWARD THE DUCK VOL. 00: WHAT THE DUCK TPB (2015) #1 Near Mint/Mint
HOWARD THE DUCK VOL. 1: COMPLETE COLLECTION TPB (2015) #1 Near Mint/Mint
HOWARD THE DUCK VOL. 1: DUCK HUNT TPB (2016) #1 Near Mint/Mint
HOWARD THE DUCK VOL. 2: COMPLETE COLLECTION TPB (2016) #1 Near Mint/Mint
HULK VOL. 1: BANNER DOA TPB (2014) #1 Near Mint/Mint
INFERNO: WARZONES TPB (2015) #1 Near Mint/Mint
INFINITY WAR: AFTERMATH TPB (2015) #1 Near Mint/Mint
INHUMANS: ORIGIN OF THE INHUMANS TPB (2013) #1 2ND PRINT Near Mint/Mint
DC
ADVENTURES OF DEAN MARTIN AND JERRY LEWIS (1952) #22 Good

ADVENTURES OF DEAN MARTIN AND JERRY LEWIS (1952) #24
ADVENTURES OF DEAN MARTIN AND JERRY LEWIS (1952) #24 Good
BATMAN (1940) (#0-713) (DC) #656 Fine
CRISIS ON INFINITE EARTHS (1985) #1 Very Fine
CRISIS ON INFINITE EARTHS (1985) #2 Fine
CRISIS ON INFINITE EARTHS (1985) #3 Near Mint/Mint
CRISIS ON INFINITE EARTHS (1985) #4 Fine
CRISIS ON INFINITE EARTHS (1985) #6 Fine
CRISIS ON INFINITE EARTHS (1985) #7 Fair
CRISIS ON INFINITE EARTHS (1985) #8 FACSIMILE Near Mint/Mint
CRISIS ON INFINITE EARTHS (1985) #8 Very Good
CRISIS ON INFINITE EARTHS (1985) #10 Very Good
CRISIS ON INFINITE EARTHS (1985) #12 Fine
DARK DAYS: THE CASTING (2017) #1 Fine
DARK DAYS: THE FORGE & CASTING DIRECTOR'S CUT (2017) #1 Fine
DARK DAYS: THE FORGE (2017) #1 Very Fine
FLASH (2016) (#1-88, #750-UP) (DC REBIRTH) #64 Near Mint/Mint
FLASH (2016) (#1-88, #750-UP) (DC REBIRTH) #65 Very Fine
GREEN ARROW (2016) (#1-UP) (DC REBIRTH) #45 FOIL COVER Near Mint/Mint
HEROES IN CRISIS (2018) #1 Near Mint/Mint
HEROES IN CRISIS (2018) #1 SOOK Near Mint/Mint
HEROES IN CRISIS (2018) #2 Near Mint/Mint

HEROES IN CRISIS (2018) #2 3RD PRINT
HEROES IN CRISIS (2018) #2 3RD PRINT Near Mint/Mint
HEROES IN CRISIS (2018) #2 VARIANT Near Mint/Mint
HEROES IN CRISIS (2018) #3 Near Mint/Mint
HEROES IN CRISIS (2018) #3 2ND PRINT Near Mint/Mint
HEROES IN CRISIS (2018) #3 VARIANT Very Fine
HEROES IN CRISIS (2018) #4 Near Mint/Mint
HEROES IN CRISIS (2018) #4 2ND PRINT Near Mint/Mint
HEROES IN CRISIS (2018) #4 VARIANT Near Mint/Mint
HEROES IN CRISIS (2018) #5 Near Mint/Mint
HEROES IN CRISIS (2018) #5 VARIANT Near Mint/Mint
HEROES IN CRISIS (2018) #6 Near Mint/Mint
HEROES IN CRISIS (2018) #6 VARIANT Near Mint/Mint
HEROES IN CRISIS (2018) #7 Near Mint/Mint
HEROES IN CRISIS (2018) #7 VARIANT Near Mint/Mint
HEROES IN CRISIS (2018) #8 Near Mint/Mint
HEROES IN CRISIS (2018) #8 VARIANT Near Mint/Mint
HEROES IN CRISIS (2018) #9 Near Mint/Mint
HEROES IN CRISIS (2018) #9 VARIANT Near Mint/Mint
MUTT & JEFF (1939) (#1-103) (DC) #77 Fair
MUTT & JEFF (1939) (#1-103) (DC) #83 Very Good
MUTT & JEFF (1939) (#1-103) (DC) #84 Very Good
DARK HORSE COMICS
BATMAN VS. PREDATOR (1991) #1 DLX BATMAN Very Fine
BATMAN VS. PREDATOR (1991) #1 Very Fine
BATMAN VS. PREDATOR (1991) #2 Fine
BATMAN VS. PREDATOR (1991) #2 DELUXE Very Fine
BATMAN VS. PREDATOR (1991) #3 Fine

BATMAN VS. PREDATOR (1991) #3 DELUXE
BATMAN VS. PREDATOR (1991) #3 DELUXE Fine
INDEPENDENTS
100 GIRLS (2004) #1 (Arcana Studio) Fine
100 GIRLS (2004) #2 (Arcana Studio) Near Mint/Mint
100 GIRLS (2004) #3 (Arcana Studio) Near Mint/Mint
100 GIRLS (2004) #4 (Arcana Studio) Near Mint/Mint
100 GIRLS (2004) #5 (Arcana Studio) Near Mint/Mint
100 GIRLS (2004) #6 (Arcana Studio) Near Mint/Mint
100 GIRLS (2004) #7 (Arcana Studio) Near Mint/Mint
10TH MUSE/DEMONSLAYER (2002) #1 MARTIN (Avatar Comics) Near Mint/Mint
10TH MUSE: EZRA (2006) #1 (Arcana Studio) Fine
303 (AVATAR) (2004) #1 (Avatar Comics) Near Mint/Mint
303 (AVATAR) (2004) #2 WRAPAROUND (Avatar Comics) Fine
303 (AVATAR) (2004) #3 WRAPAROUND (Avatar Comics) Near Mint/Mint
303 (AVATAR) (2004) #4 WRAPAROUND (Avatar Comics) Near Mint/Mint
303 (AVATAR) (2004) #5 WRAPAROUND (Avatar Comics) Very Fine
303 (AVATAR) (2004) #6 (Avatar Comics) Very Fine
303 PREVIEW (AVATAR) (2004) #1 (Avatar Comics) Near Mint/Mint
BAD MOON RISING SPECIAL (AVATAR) (2006) #1 WRAPAROUND (Avatar Comics) Very Fine
BEETLE BAILEY (1953) (#1-38) (Dell Publishing) #6 (Dell Publishing) Very Good
BEETLE BAILEY (1953) (#1-38) (Dell Publishing) #7 (Dell Publishing) Fine
BEETLE BAILEY (1953) (#1-38) (Dell Publishing) #8 (Dell Publishing) Good
BEETLE BAILEY (1953) (#1-38) (Dell Publishing) #9 (Dell Publishing) Very Good

BEETLE BAILEY (1953) (#1-38) (Dell Publishing) #10
BEETLE BAILEY (1953) (#1-38) (Dell Publishing) #10 (Dell Publishing) Fine
BEETLE BAILEY (1953) (#1-38) (Dell Publishing) #11 (Dell Publishing) Fine
BEETLE BAILEY (1953) (#1-38) (Dell Publishing) #12 (Dell Publishing) Very Good
BEETLE BAILEY (1953) (#1-38) (Dell Publishing) #16 (Dell Publishing) Very Good
BEETLE BAILEY (1953) (#1-38) (Dell Publishing) #4 FC #622 (Dell Publishing) Fair
BELLADONNA 2004 CONVENTION SPECIAL (2004) #1 AMORIM (Avatar Comics) Near Mint/Mint
BELLADONNA PREVIEW (2004) #1 SIQUIERA (Avatar Comics) Near Mint/Mint
BONGO & LUMPJAW (1956) #1 FC #706 (Dell Publishing) Very Fine
BUGS BUNNY (1942) (#1-85) (Dell Publishing) #54 (Dell Publishing) Fine
BUGS BUNNY (1942) (#1-85) (Dell Publishing) #55 (Dell Publishing) Fine
BY BIZARRE HANDS (2004) #1 (Avatar Comics) Near Mint/Mint
BY BIZARRE HANDS (2004) #2 WRAPAROUND (Avatar Comics) Near Mint/Mint
CADILLACS AND DINOSAURS (1993) (#1) (KITCHEN SINK) #1 TYCO TOYS (Kitchen Sink Publishing) Near Mint/Mint
CADILLACS AND DINOSAURS (1993) (#1) (KITCHEN SINK) #1 TYCO TOYS (Kitchen Sink Publishing) Very Fine
CAGED HEAT 3000 #1 (Roger Corman's Cosmic Comics) Near Mint/Mint
CAGED HEAT 3000 #1 (Roger Corman's Cosmic Comics) Fine
CAGED HEAT 3000 #1 (Roger Corman's Cosmic Comics) Very Fine
CAIN/VAMPIRELLA FLIPBOOK #1 (Harris Comics) Fine
CAIN/VAMPIRELLA FLIPBOOK #1 (Harris Comics) Near Mint/Mint
CALIBAN (2014) #3 DESIGN (Avatar Comics) Very Fine
CALIBAN (2014) #5 DARKMATTER (Avatar Comics) Very Fine
CALIBAN (2014) #5 (Avatar Comics) Very Fine
CALIBAN (2014) #6 DARKMATTER (Avatar Comics) Very Fine
CALIBAN (2014) #6 TERROR (Avatar Comics) Near Mint/Mint
CALIBAN (2014) #6 (Avatar Comics) Very Fine
CALIBAN (2014) #7 TERROR (Avatar Comics) Near Mint/Mint
CALIBAN (2014) #7 WRAPAROUND (Avatar Comics) Near Mint/Mint
CALIBER (FIRST CANON OF JUSTICE) (RADICAL COMICS) (2008) #1 B (Radical Comix) Near Mint/Mint
CALIBER CHRISTMAS (1989) #1 (Caliber Press) Fine
CALIBER CHRISTMAS (1989) #1 (Caliber Press) Very Good
CALIBER CHRISTMAS (1989) #1 (Caliber Press) Very Fine
CALIBER CORE #0 (Caliber Press) Near Mint/Mint
CALIBER PRESENTS (1989) #1 (Caliber Press) Fine
CALIBER PRESENTS (1989) #2 (Caliber Press) Fine
CALIBER PRESENTS (1989) #2 (Caliber Press) Very Good
CALIBER PRESENTS (1989) #2 (Caliber Press) Very Fine
CALIBER PRESENTS (1989) #3 (Caliber Press) Very Good
CALIBER PRESENTS (1989) #4 (Caliber Press) Fine
CALIBER PRESENTS (1989) #5 (Caliber Press) Fine
CALIBER PRESENTS (1989) #5 (Caliber Press) Very Good
CALIBER PRESENTS (1989) #7 (Caliber Press) Very Fine
CALIBER PRESENTS (1989) #10 (Caliber Press) Very Fine
CALIBER PRESENTS (1989) #15 (Caliber Press) Near Mint/Mint
CALIBER PRESENTS (1989) #15 (Caliber Press) Fine
CALIBER PRESENTS (1989) #15 (Caliber Press) Very Fine
CALIBER PRESENTS (1989) #18 (Caliber Press) Fine
CALIBER PRESENTS (1989) #19 (Caliber Press) Fine
CALIBER PRESENTS (1989) #24 (Caliber Press) Fine
CALIBER PRESENTS (1989) #24 (Caliber Press) Very Fine

CALIBER PRESENTS: SOMETHING INSIDE #1
CALIBER PRESENTS: SOMETHING INSIDE #1 (Caliber Press) Very Fine
CALIBER SPOTLIGHT SPECIAL (1995) #1 (Caliber Press) Very Fine
CHIP 'N' DALE (1953) (#1-30) (Dell Publishing) #4 (Dell Publishing) Very Good
CHIP 'N' DALE (1953) (#1-30) (Dell Publishing) #6 (Dell Publishing) Very Good
CHIP 'N' DALE (1953) (#1-30) (Dell Publishing) #7 (Dell Publishing) Fine
CHIP 'N' DALE (1953) (#1-30) (Dell Publishing) #3 FC #636 (Dell Publishing) Fair
CHRISTMAS PARADE (DELL GIANT) (1949) #7 (Dell Publishing) Good
COMIC ALBUM (1958) #1 (Dell Publishing) Very Good
COVERED WAGONS, HO (1957) #1 FC #814 (Dell Publishing) Very Good
CRISIS ON INFINITE EARTHS INDEX (OFFICIAL) (1986) #1 (Independents, All) Fine
DAISY DUCK'S DIARY #1 FC #659 (Dell Publishing) Very Good
DEMONSLAYER: LORDS OF NIGHT #1/2 (2003) #1 FIRE (Avatar Comics) Near Mint/Mint
DEMONSLAYER: LORDS OF NIGHT (2003) #1 WRAPAROUND (Avatar Comics) Near Mint/Mint
DEMONSLAYER: LORDS OF NIGHT PREVIEW (2003) #1 (Avatar Comics) Near Mint/Mint
DRIVE IN (DRIVE-IN) (AVATAR) (2003) #1 (Avatar Comics) Near Mint/Mint
DRIVE IN (DRIVE-IN) (AVATAR) (2003) #2 (Avatar Comics) Near Mint/Mint
DRIVE IN (DRIVE-IN) (AVATAR) (2003) #3 WRAPAROUND (Avatar Comics) Near Mint/Mint
DRIVE IN (DRIVE-IN) (AVATAR) (2003) #4 (Avatar Comics) Near Mint/Mint
EXPOSURE SPECIAL (2001) #1 PHOTO (Avatar Comics) Near Mint/Mint

EXPOSURE: SECOND COMING #1 PHOTO
EXPOSURE: SECOND COMING #1 PHOTO (Avatar Comics) Near Mint/Mint
EXPOSURE: SECOND COMING #2 PHOTO (Avatar Comics) Near Mint/Mint
EZRA: EVOKED EMOTIONS (2006) #1 (Arcana Studio) Very Fine
FRANCIS THE FAMOUS TALKING MULE (1951) #1 FC #579 (Dell Publishing) Very Good
FRIDAY THE 13TH SPECIAL (2005) #1 WRAPAROUND (Avatar Comics) Near Mint/Mint
FRIDAY THE 13TH: FEARBOOK (2006) #1 WRAPAROUND (Avatar Comics) Fine
GLORY (2001) (#0-2) (AVATAR) #0 HALEY CVR (Avatar Comics) Near Mint/Mint
GLORY (2001) (#0-2) (AVATAR) #0 LUSH LANDS (Avatar Comics) Near Mint/Mint
GLORY (2001) (#0-2) (AVATAR) #2 HALEY (Avatar Comics) Near Mint/Mint
GOOFY (1953) #1 FC #658 (Dell Publishing) Very Good
GOOFY (1953) #1 FC #702 (Dell Publishing) Very Good
GOOFY (1953) #1 FC #857 (Dell Publishing) Very Good
GOOFY (1953) #1 FC #1149 (Dell Publishing) Very Good
GRANDMA DUCK'S FARM FRIENDS (1957) #1 FC #873 (Dell Publishing) Very Good
GREAT CAT FAMILY (1956) #1 FC #750 (Dell Publishing) Very Good
GYPSY (2005) #1 ADRIAN (Avatar Comics) Near Mint/Mint
GYPSY PREVIEW (2004) #1 (Avatar Comics) Near Mint/Mint
HELLINA COMPANION (2004) #1 (Comic Cavalcade) Near Mint/Mint
HELLINA VS. PANDORA (2004) #0 (Avatar Comics) Near Mint/Mint
HELLINA VS. PANDORA (2004) #1 (Avatar Comics) Near Mint/Mint
HELLINA VS. PANDORA (2004) #2 AMORIM (Avatar Comics) Near Mint/Mint
HELLINA VS. PANDORA (2004) #3 (Avatar Comics) Near Mint/Mint
HI AND LOIS (1956) #1 FC #774 (Dell Publishing) Very Good
HYPOTHETICAL LIZARD (ALAN MOORE) (2004) #1 WRAPAROUND (Avatar Comics) Near Mint/Mint
HYPOTHETICAL LIZARD PREVIEW (2004) #1 WRAPAROUND (Avatar Comics) Near Mint/Mint
JADE WARRIORS: SLAVE OF THE DRAGON (2001) #1 PHOTO (Avatar Comics) Near Mint/Mint
JASON X SPECIAL (2005) #1 (Avatar Comics) Near Mint/Mint
JIMINY CRICKET (1956) #1 FC #701 (Dell Publishing) Very Good
LADY AND THE TRAMP (1955) #1 FC #634 (Dell Publishing) Very Good
LITTLE KING (1953) #1 FC #677 (Dell Publishing) Very Good
LITTLE RASCALS (1956) #1 FC #778 (Dell Publishing) Fine
NIGHTJAR (2004) #1 (Avatar Comics) Near Mint/Mint
NIGHTMARE ON ELM STREET SPECIAL (2005) #1 (Avatar Comics) Near Mint/Mint
SMOKEY STOVER (1942) #1 FC #730 (Dell Publishing) Very Good
STRIPS (#1-12) (RIP OFF PRESS/WHITE BUFFALO) (ADULT) (1989) #9 (White Buffaloe Press) Fine
TRUTH ABOUT MOTHER GOOSE (1957) #1 FC #862 (Dell Publishing) Fine
WILL-YUM (1956) #1 FC #676 (Dell Publishing) Very Good
To be unsubscribed from our e-mail newsletter, please send your request to moulton@milehighcomics.com
Mile High Comics, 4600 Jason Street, Denver CO 80211, USA