If you are having trouble viewing this newsletter, click here
Comic Books Are On Fire!
Howdy!
A couple of decades ago, there was a young comic book dealer who endlessly hustled upcoming new comic books in his ads as «Hot Hot! Hot! (Limit 3).» He reportedly burned through several million dollars of his family money before finally walking away from our beloved comic book world entirely, leaving many thousands of fans stuck with "Hot!» comics that were essentially unsalable.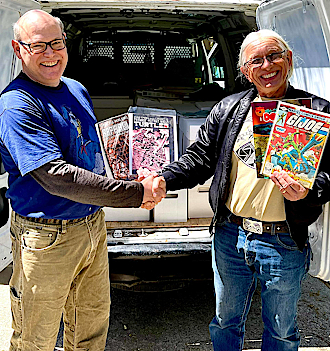 Chuck and James in Atlanta, Georgia.
I mention this bit of obscure comic book retailing history only to explain why I try to never use the word "hot» as regards comic books. It still just rubs me the wrong way. That having been said, the passing of upwards of 30 years of time has (finally) validated many of that young man's originally overblown representations. The "limited edition» comics that he was touting are now recognized as some of the earliest publisher variants, and are selling reasonably well for us at 5X-10X cover price. We also do not see them included in collections as much anymore, which certainly adds to their newfound cachet.
What this reinforces for me is that almost all comics become more desirable when they hit the magic 30-year point. As a case in point, I can remember with great clarity our once being overloaded with thousands of copies of X-Men #1, Spawn #1, X-Force #1, and Legends of the Dark Knight #1. All four of those comics now sell quite well for us, and what original supplies we have left are dwindling, rather rapidly. The good news is that practically every early 1990's collection that we purchase today contains those four titles, so we are doing a brisk business in sharing those iconic titles with an entirely new generation of collectors. It took a long time for those titles (and thousands of others) to bloom in the collector marketplace, but that new dawn has finally arrived.
I could write a long essay about the supply/demand ratios that are driving these secondary market changes, but (as my provocative heading to today's newsletter hinted) I want to relate to you today that the entire comics industry is on fire right now. In my infinite capacity for hubris, before this morning I thought that our own 101% sales increase of this March (over March 2020) was unique to Mile High Comics. That was, until I read in one of my industry blogs that this remarkable doubling of sales in March occurred through the comics retailing world, and that some comics retailers experienced sales increases even larger than ours! Really and truly, that unexpected revelation totally blew my mind.

Darth Vader #3 variant edition
So what is going on? Truthfully, I have no idea. I do know that we have seen a huge influx of new comic book buyers of late, and that they are quite cognizant that the back issues of titles published during the past ten years (in particular) are stunningly scarce. This has led to speculative demand that is truly over the top, with our having to revise our pricing upwards on some issues as frequently as three times per week. For example, we sold a Marvel Comics Darth Vader #3 variant edition for over $1,200 last week, which is a title that is only about five years old. Many other Marvel and Dark Horse Star Wars titles are tripling by the week, especially if they in any way tie in with streaming properties, such as The Mandalorian.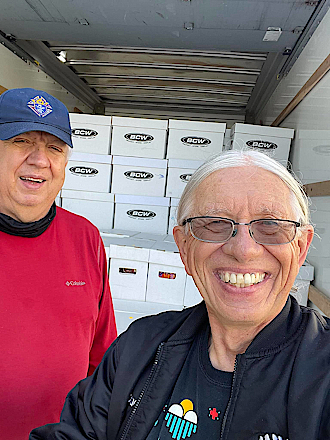 Chuck and Greg in Jacksonville, Florida.
Before I close out this little report, I do want to emphasize that not all comics are rapidly rising in value right now. Nor is there any assurance whatsoever that current speculator demand will continue into the future. I am confident enough in this short term trend, however, that when I was asked to up my bid on a huge 70,000+ comics collection by an additional $10,000.00 on Saturday, I agreed. I made that momentous decision not because of that man's enormous array of Silver Age comics, but rather because he had NM/Mint copies of darn near every comic book published during the past three years. Those are worth their weight in gold right now.
That's it for today. I have to run to the FedEx Freight yard in Jacksonville, Florida this morning, and load that huge comics deal for shipment back to Colorado. Then I (finally) begin my own journey home, with just a few stops in Tennessee on the way. This three-week adventure has required a long, long journey of over 5,000 miles, but I am thrilled with the 20,000 lbs of comic books, action figures, graphic novels, and comics hardback collections that I have been able to ship home. Life is good!
Happy collecting!
Chuck Rozanski/Bettie Pages,
President – Mile High Comics, Inc.
April 5, 2021
P.S. My beloved wife, Nanette, would be less than pleased with me if I failed to mention that our 50% off SPRINGBREAK! Codeword sale is still in effect for you on all of our back issues comics and magazines, including most of the ones in the list below. Only new issues, a few variants, and our professionally-graded items are exempt from this Very generous across-the-board half price opportunity. Enjoy!
MARVEL

AMAZING ADVENTURES (1970) (#1-39) (MARVEL) #1
AMAZING ADVENTURES (1970) (#1-39) (MARVEL) #1 Very Good
AVENGERS (2017) (#672-690) (MARVEL LEGACY) #684 Near Mint/Mint
BLACK KNIGHT (1990) (#1-4) (MARVEL) #1 NEWSSTAND Fine
BLACK KNIGHT (1990) (#1-4) (MARVEL) #3 NEWSSTAND Very Good
BULLWINKLE AND ROCKY (1987) #4 (Marvel Star) Fine
CAPTAIN AMERICA (1968) (#100-454) (MARVEL) #108 Very Good
CAPTAIN AMERICA (1968) (#100-454) (MARVEL) #120 Very Good
CAPTAIN MARVEL (1968) (#1-62) (MARVEL) #19 Fine
CAPTAIN MARVEL (1968) (#1-62) (MARVEL) #23 Fine
CAPTAIN MARVEL (1968) (#1-62) (MARVEL) #34 Very Good
CAT (1972) #1 Very Good
CAT (1972) #2 Very Good
CAT (1972) #3 Very Good
CAT (1972) #4 Very Good
DAREDEVIL (1964) (#1-380) (MAN WITHOUT FEAR) (MARVEL) #22 Fine
DAREDEVIL (1964) (#1-380) (MAN WITHOUT FEAR) (MARVEL) #238 Very Good
DAREDEVIL (1964) (#1-380) (MAN WITHOUT FEAR) (MARVEL) #254 Near Mint/Mint
FANTASTIC FOUR (1961) (#1-416) (MARVEL) #31 Fair
FANTASTIC FOUR (1961) (#1-416) (MARVEL) #37 Fair
FANTASTIC FOUR (1961) (#1-416) (MARVEL) #41 Fair
FANTASTIC FOUR (1961) (#1-416) (MARVEL) #119 Very Good
FEAR (ADVENTURE INTO…) (1970) #19 Fine
GI JOE #1 Near Mint/Mint

HULK (1962) (#1-6, #102-474, #600-635)(INCREDIBLE)(MV) #233
HULK (1962) (#1-6, #102-474, #600-635)(INCREDIBLE)(MV) #233 Near Mint/Mint
HULK (1962) (#1-6, #102-474, #600-635)(INCREDIBLE)(MV) #234 Near Mint/Mint
HULK (1962) (#1-6, #102-474, #600-635)(INCREDIBLE)(MV) #235 Near Mint/Mint
HULK (1962) (#1-6, #102-474, #600-635)(INCREDIBLE)(MV) #236 NEWSSTAND Good
HULK (1962) (#1-6, #102-474, #600-635)(INCREDIBLE)(MV) #238 Fine
HULK (1962) (#1-6, #102-474, #600-635)(INCREDIBLE)(MV) #239 NEWSSTAND Very Good
HULK (1962) (#1-6, #102-474, #600-635)(INCREDIBLE)(MV) #241 Fine
HULK (1962) (#1-6, #102-474, #600-635)(INCREDIBLE)(MV) #242 Fine
HULK (1962) (#1-6, #102-474, #600-635)(INCREDIBLE)(MV) #245 NEWSSTAND Good
HULK (1962) (#1-6, #102-474, #600-635)(INCREDIBLE)(MV) #246 Very Fine
HULK (1962) (#1-6, #102-474, #600-635)(INCREDIBLE)(MV) #247 NEWSSTAND Near Mint/Mint
HULK (1962) (#1-6, #102-474, #600-635)(INCREDIBLE)(MV) #253 NEWSSTAND Good
HULK (1962) (#1-6, #102-474, #600-635)(INCREDIBLE)(MV) #254 NEWSSTAND Very Good
HULK (1962) (#1-6, #102-474, #600-635)(INCREDIBLE)(MV) #255 NEWSSTAND Very Good
HULK (1962) (#1-6, #102-474, #600-635)(INCREDIBLE)(MV) #256 NEWSSTAND Very Good
HULK (1962) (#1-6, #102-474, #600-635)(INCREDIBLE)(MV) #257 NEWSSTAND Very Good
HULK (1962) (#1-6, #102-474, #600-635)(INCREDIBLE)(MV) #258 Very Good
HULK (1962) (#1-6, #102-474, #600-635)(INCREDIBLE)(MV) #259 NEWSSTAND Good
HULK (1962) (#1-6, #102-474, #600-635)(INCREDIBLE)(MV) #260 Very Good
HULK (1962) (#1-6, #102-474, #600-635)(INCREDIBLE)(MV) #261 NEWSSTAND Very Good
HULK (1962) (#1-6, #102-474, #600-635)(INCREDIBLE)(MV) #262 Very Good
HULK (1962) (#1-6, #102-474, #600-635)(INCREDIBLE)(MV) #263 NEWSSTAND Good
HULK (1962) (#1-6, #102-474, #600-635)(INCREDIBLE)(MV) #264 NEWSSTAND Very Good
HULK (1962) (#1-6, #102-474, #600-635)(INCREDIBLE)(MV) #265 NEWSSTAND Very Good
HULK (1962) (#1-6, #102-474, #600-635)(INCREDIBLE)(MV) #266 Very Good
HULK (1962) (#1-6, #102-474, #600-635)(INCREDIBLE)(MV) #267 NEWSSTAND Very Good
HULK (1962) (#1-6, #102-474, #600-635)(INCREDIBLE)(MV) #268 Very Fine
HULK (1962) (#1-6, #102-474, #600-635)(INCREDIBLE)(MV) #269 NEWSSTAND Very Good
HULK (1962) (#1-6, #102-474, #600-635)(INCREDIBLE)(MV) #270 NEWSSTAND Fine
HULK (1962) (#1-6, #102-474, #600-635)(INCREDIBLE)(MV) #272 NEWSSTAND Fine
HULK (1962) (#1-6, #102-474, #600-635)(INCREDIBLE)(MV) #273 NEWSSTAND Very Good
HULK (1962) (#1-6, #102-474, #600-635)(INCREDIBLE)(MV) #274 NEWSSTAND Fine
HULK (1962) (#1-6, #102-474, #600-635)(INCREDIBLE)(MV) #275 NEWSSTAND Very Good
HULK (1962) (#1-6, #102-474, #600-635)(INCREDIBLE)(MV) #276 NEWSSTAND Good

HULK (1962) (#1-6, #102-474, #600-635)(INCREDIBLE)(MV) #278 NEWSSTAND
HULK (1962) (#1-6, #102-474, #600-635)(INCREDIBLE)(MV) #278 NEWSSTAND Very Good
HULK (1962) (#1-6, #102-474, #600-635)(INCREDIBLE)(MV) #279 NEWSSTAND Very Good
HULK (1962) (#1-6, #102-474, #600-635)(INCREDIBLE)(MV) #282 NEWSSTAND Very Good
HULK (1962) (#1-6, #102-474, #600-635)(INCREDIBLE)(MV) #284 NEWSSTAND Very Good
HULK (1962) (#1-6, #102-474, #600-635)(INCREDIBLE)(MV) #285 Fine
HULK (1962) (#1-6, #102-474, #600-635)(INCREDIBLE)(MV) #325 Very Good
IRON MAN (1968) (#1-332) (INVINCIBLE IRON MAN)(MARVEL) #282 Near Mint/Mint
LONGSHOT (1985) (#1-6) (MARVEL LIMITED SERIES) #1 Very Good
MARVEL AGE (1983) #41 Fine
MARVEL AGE (1983) #91 Very Fine
MARVEL PREMIERE (1972) #18 Good
MARVEL PRESENTS (1975) #4 Good
MARVEL PRESENTS (1975) #11 Fine
MARVEL PRESENTS (1975) #12 Very Good
MARVEL SPOTLIGHT (1971) (#1-33) (MARVEL) #1 Good
MARVEL SPOTLIGHT (1971) (#1-33) (MARVEL) #5 Very Good
MARVEL SPOTLIGHT (1971) (#1-33) (MARVEL) #6 Very Good
MARVEL SPOTLIGHT (1971) (#1-33) (MARVEL) #7 Fine
MARVEL SPOTLIGHT (1971) (#1-33) (MARVEL) #8 Fine
MARVEL SPOTLIGHT (1971) (#1-33) (MARVEL) #9 Very Good
MARVEL SPOTLIGHT (1971) (#1-33) (MARVEL) #10 Fine
MARVEL SPOTLIGHT (1971) (#1-33) (MARVEL) #11 Fine
MARVEL SPOTLIGHT (1971) (#1-33) (MARVEL) #12 Fine
MARVEL SPOTLIGHT (1971) (#1-33) (MARVEL) #13 Very Good
MARVEL SPOTLIGHT (1971) (#1-33) (MARVEL) #14 Very Good
MARVEL SPOTLIGHT (1971) (#1-33) (MARVEL) #15 Fine
MARVEL SPOTLIGHT (1971) (#1-33) (MARVEL) #16 Fine
MARVEL SPOTLIGHT (1971) (#1-33) (MARVEL) #17 Fine

MARVEL SPOTLIGHT (1971) (#1-33) (MARVEL) #18
MARVEL SPOTLIGHT (1971) (#1-33) (MARVEL) #18 Fine
MARVEL SPOTLIGHT (1971) (#1-33) (MARVEL) #19 Very Good
MARVEL SPOTLIGHT (1971) (#1-33) (MARVEL) #20 Very Good
MARVEL SPOTLIGHT (1971) (#1-33) (MARVEL) #21 Fine
MARVEL SPOTLIGHT (1971) (#1-33) (MARVEL) #22 Fine
MARVEL SPOTLIGHT (1971) (#1-33) (MARVEL) #23 Fine
MARVEL SPOTLIGHT (1971) (#1-33) (MARVEL) #24 Fine
MARVEL SPOTLIGHT (1971) (#1-33) (MARVEL) #26 Very Good
MARVEL SPOTLIGHT (1971) (#1-33) (MARVEL) #28 Fine
MARVEL SPOTLIGHT (1971) (#1-33) (MARVEL) #29 Fine
MARVEL SPOTLIGHT (1971) (#1-33) (MARVEL) #32 Fine
MARVEL TALES (1964) (#1-291) #25 Good
MARVEL TALES (1964) (#1-291) #29 Good
MARVEL TALES (1964) (#1-291) #30 Fine
MARVEL TALES (1964) (#1-291) #31 Very Good
MARVEL TALES (1964) (#1-291) #32 Fine
MARVEL TALES (1964) (#1-291) #33 Very Good
MARVEL TALES (1964) (#1-291) #34 Fine
MARVEL TALES (1964) (#1-291) #35 Very Good
MARVEL TALES (1964) (#1-291) #36 Fine
MARVEL TALES (1964) (#1-291) #37 Fine
MARVEL TALES (1964) (#1-291) #38 Very Fine
MARVEL TALES (1964) (#1-291) #39 Fine
MARVEL TALES (1964) (#1-291) #40 Fine
MARVEL TALES (1964) (#1-291) #41 Very Fine
MARVEL TALES (1964) (#1-291) #42 Very Good
MARVEL TALES (1964) (#1-291) #43 Very Fine
MARVEL TALES (1964) (#1-291) #44 Fine
MARVEL TALES (1964) (#1-291) #45 Very Good
MARVEL TALES (1964) (#1-291) #46 Fine
MARVEL TALES (1964) (#1-291) #47 Very Good
MARVEL TALES (1964) (#1-291) #48 Very Good
MARVEL TALES (1964) (#1-291) #49 Fine
MARVEL TALES (1964) (#1-291) #50 Very Good

MARVEL TALES (1964) (#1-291) #51
MARVEL TALES (1964) (#1-291) #51 Fine
MARVEL TALES (1964) (#1-291) #52 Fine
MARVEL TALES (1964) (#1-291) #53 Very Good
MARVEL TALES (1964) (#1-291) #54 Good
MARVEL TALES (1964) (#1-291) #55 Good
MARVEL TALES (1964) (#1-291) #56 Fine
MARVEL TALES (1964) (#1-291) #57 Very Fine
MARVEL TALES (1964) (#1-291) #58 Very Fine
MARVEL TALES (1964) (#1-291) #59 Very Good
MARVEL TALES (1964) (#1-291) #60 Very Good
MARVEL TALES (1964) (#1-291) #61 Very Good
MARVEL TALES (1964) (#1-291) #64 Good
MARVEL TALES (1964) (#1-291) #75 Good
MARVEL TEAM-UP (1972) (#1-150) (MARVEL) #107 Near Mint/Mint
MASTER OF KUNG FU (1974) (#15-125) (MARVEL) (SHANG-CHI) #15 Very Fine
MASTER OF KUNG FU (1974) (#15-125) (MARVEL) (SHANG-CHI) #16 Very Fine
MASTER OF KUNG FU (1974) (#15-125) (MARVEL) (SHANG-CHI) #17 Fine
MASTER OF KUNG FU (1974) (#15-125) (MARVEL) (SHANG-CHI) #18 Fine
MASTER OF KUNG FU (1974) (#15-125) (MARVEL) (SHANG-CHI) #20 Very Good
MASTER OF KUNG FU (1974) (#15-125) (MARVEL) (SHANG-CHI) #21 Fine
MASTER OF KUNG FU (1974) (#15-125) (MARVEL) (SHANG-CHI) #25 Very Good
MASTER OF KUNG FU (1974) (#15-125) (MARVEL) (SHANG-CHI) #27 Very Fine
MASTER OF KUNG FU (1974) (#15-125) (MARVEL) (SHANG-CHI) #28 Very Fine
MASTER OF KUNG FU (1974) (#15-125) (MARVEL) (SHANG-CHI) #33 Fine
MASTER OF KUNG FU (1974) (#15-125) (MARVEL) (SHANG-CHI) #34 Very Fine
MASTER OF KUNG FU (1974) (#15-125) (MARVEL) (SHANG-CHI) #35 Fine
MASTER OF KUNG FU (1974) (#15-125) (MARVEL) (SHANG-CHI) #36 Very Fine
MASTER OF KUNG FU (1974) (#15-125) (MARVEL) (SHANG-CHI) #37 Very Fine
MASTER OF KUNG FU (1974) (#15-125) (MARVEL) (SHANG-CHI) #38 Fine
MASTER OF KUNG FU (1974) (#15-125) (MARVEL) (SHANG-CHI) #39 Very Fine
MASTER OF KUNG FU (1974) (#15-125) (MARVEL) (SHANG-CHI) #40 Very Fine
MASTER OF KUNG FU (1974) (#15-125) (MARVEL) (SHANG-CHI) #41 Fine

MASTER OF KUNG FU (1974) (#15-125) (MARVEL) (SHANG-CHI) #47
MASTER OF KUNG FU (1974) (#15-125) (MARVEL) (SHANG-CHI) #47 Fine
MASTER OF KUNG FU (1974) (#15-125) (MARVEL) (SHANG-CHI) #48 Fine
MASTER OF KUNG FU (1974) (#15-125) (MARVEL) (SHANG-CHI) #49 Very Fine
MASTER OF KUNG FU (1974) (#15-125) (MARVEL) (SHANG-CHI) #50 Fine
MASTER OF KUNG FU ANNUAL (1976) #1 Very Good
MASTER OF KUNG FU GIANT-SIZE (1974) #1 Good
MASTER OF KUNG FU GIANT-SIZE (1974) #2 Fine
MASTER OF KUNG FU GIANT-SIZE (1974) #3 Very Good
MASTER OF KUNG FU GIANT-SIZE (1974) #4 Very Good
NEW AVENGERS (2004) (#1-64) (MARVEL) #53 Near Mint/Mint
NEW AVENGERS (2004) (#1-64) (MARVEL) #53 VARIANT Near Mint/Mint
NEW MUTANTS (1983) (#1-100) (MARVEL) #87 Fine
NEW MUTANTS (1983) (#1-100) (MARVEL) #92 Fine
NEW MUTANTS (1983) (#1-100) (MARVEL) #93 Very Fine
NEW MUTANTS (1983) (#1-100) (MARVEL) #98 Near Mint/Mint
NEW WARRIORS (1990) (#1-75) (MARVEL) #75 Very Fine
POWER MAN/IRON FIST (LUKE CAGE, POWER MAN #1-49) (1972) #1 Fine
POWER MAN/IRON FIST (LUKE CAGE, POWER MAN #1-49) (1972) #2 Very Good
POWER MAN/IRON FIST (LUKE CAGE, POWER MAN #1-49) (1972) #3 Fine
POWER MAN/IRON FIST (LUKE CAGE, POWER MAN #1-49) (1972) #4 Fine
POWER MAN/IRON FIST (LUKE CAGE, POWER MAN #1-49) (1972) #5 Fine
POWER MAN/IRON FIST (LUKE CAGE, POWER MAN #1-49) (1972) #6 Fine
POWER MAN/IRON FIST (LUKE CAGE, POWER MAN #1-49) (1972) #7 Fine
POWER MAN/IRON FIST (LUKE CAGE, POWER MAN #1-49) (1972) #8 Fine
POWER MAN/IRON FIST (LUKE CAGE, POWER MAN #1-49) (1972) #9 Fine
POWER MAN/IRON FIST (LUKE CAGE, POWER MAN #1-49) (1972) #10 Fine
POWER MAN/IRON FIST (LUKE CAGE, POWER MAN #1-49) (1972) #11 Fine
POWER MAN/IRON FIST (LUKE CAGE, POWER MAN #1-49) (1972) #12 Fine

POWER MAN/IRON FIST (LUKE CAGE, POWER MAN #1-49) (1972) #13
POWER MAN/IRON FIST (LUKE CAGE, POWER MAN #1-49) (1972) #13 Fine
POWER MAN/IRON FIST (LUKE CAGE, POWER MAN #1-49) (1972) #14 Fine
POWER MAN/IRON FIST (LUKE CAGE, POWER MAN #1-49) (1972) #16 Fine
POWER MAN/IRON FIST (LUKE CAGE, POWER MAN #1-49) (1972) #17 Fine
POWER MAN/IRON FIST (LUKE CAGE, POWER MAN #1-49) (1972) #18 Fine
POWER MAN/IRON FIST (LUKE CAGE, POWER MAN #1-49) (1972) #19 Fine
POWER MAN/IRON FIST (LUKE CAGE, POWER MAN #1-49) (1972) #21 Very Good
POWER MAN/IRON FIST (LUKE CAGE, POWER MAN #1-49) (1972) #22 Fine
POWER MAN/IRON FIST (LUKE CAGE, POWER MAN #1-49) (1972) #23 Fine
POWER MAN/IRON FIST (LUKE CAGE, POWER MAN #1-49) (1972) #24 Fine
POWER MAN/IRON FIST (LUKE CAGE, POWER MAN #1-49) (1972) #25 Fine
POWER MAN/IRON FIST (LUKE CAGE, POWER MAN #1-49) (1972) #26 Fine
POWER MAN/IRON FIST (LUKE CAGE, POWER MAN #1-49) (1972) #27 Very Good
POWER MAN/IRON FIST (LUKE CAGE, POWER MAN #1-49) (1972) #28 Very Good
POWER MAN/IRON FIST (LUKE CAGE, POWER MAN #1-49) (1972) #29 Very Good
POWER MAN/IRON FIST (LUKE CAGE, POWER MAN #1-49) (1972) #33 Fine
POWER MAN/IRON FIST (LUKE CAGE, POWER MAN #1-49) (1972) #34 Fine
POWER MAN/IRON FIST (LUKE CAGE, POWER MAN #1-49) (1972) #35 Fine
POWER MAN/IRON FIST (LUKE CAGE, POWER MAN #1-49) (1972) #36 Fine
POWER MAN/IRON FIST (LUKE CAGE, POWER MAN #1-49) (1972) #38 Fine
POWER MAN/IRON FIST (LUKE CAGE, POWER MAN #1-49) (1972) #43 Fine
POWER MAN/IRON FIST (LUKE CAGE, POWER MAN #1-49) (1972) #45 Fine
POWER MAN/IRON FIST (LUKE CAGE, POWER MAN #1-49) (1972) #46 Fine
POWER MAN/IRON FIST (LUKE CAGE, POWER MAN #1-49) (1972) #48 Fine
POWER MAN/IRON FIST (LUKE CAGE, POWER MAN #1-49) (1972) #50 Very Good
POWER MAN/IRON FIST (LUKE CAGE, POWER MAN #1-49) (1972) #57 NEWSSTAND Good
POWER MAN/IRON FIST (LUKE CAGE, POWER MAN) ANNUAL (1976) #1 Very Good
POWER MAN/IRON FIST (LUKE CAGE, POWER MAN) GIANT-SIZE (1975) #1 Very Good
PRIME/CAPTAIN AMERICA (1996) #1 (Marvel Malibu/Ultraverse) Fine
PRIME/CAPTAIN AMERICA (1996) #1 (Marvel Malibu/Ultraverse) Very Fine

SECRET WARS (1984) (#1-12) (LIMTED SERIES) (MARVEL) #8
SECRET WARS (1984) (#1-12) (LIMTED SERIES) (MARVEL) #8 Fine
SHE-HULK (1980) (#1-25) (SAVAGE SHE-HULK) (MARVEL) #24 Near Mint/Mint
SHE-HULK (1989) (#1-60) (SENSATIONAL SHE-HULK)(MARVEL) #4 Near Mint/Mint
SHE-HULK (1989) (#1-60) (SENSATIONAL SHE-HULK)(MARVEL) #5 Near Mint/Mint
SHE-HULK (1989) (#1-60) (SENSATIONAL SHE-HULK)(MARVEL) #6 Near Mint/Mint
SHE-HULK (1989) (#1-60) (SENSATIONAL SHE-HULK)(MARVEL) #7 Near Mint/Mint
SHE-HULK (1989) (#1-60) (SENSATIONAL SHE-HULK)(MARVEL) #8 Near Mint/Mint
SHE-HULK (1989) (#1-60) (SENSATIONAL SHE-HULK)(MARVEL) #9 Fine
SHE-HULK (1989) (#1-60) (SENSATIONAL SHE-HULK)(MARVEL) #10 Near Mint/Mint
SHE-HULK (1989) (#1-60) (SENSATIONAL SHE-HULK)(MARVEL) #11 Near Mint/Mint
SHE-HULK (1989) (#1-60) (SENSATIONAL SHE-HULK)(MARVEL) #12 Near Mint/Mint
SHE-HULK (1989) (#1-60) (SENSATIONAL SHE-HULK)(MARVEL) #13 Very Good
SHE-HULK (1989) (#1-60) (SENSATIONAL SHE-HULK)(MARVEL) #15 NEWSSTAND Very Fine
SHE-HULK (1989) (#1-60) (SENSATIONAL SHE-HULK)(MARVEL) #16 NEWSSTAND Very Fine
SHE-HULK (1989) (#1-60) (SENSATIONAL SHE-HULK)(MARVEL) #19 Near Mint/Mint
SHE-HULK (1989) (#1-60) (SENSATIONAL SHE-HULK)(MARVEL) #42 Near Mint/Mint
SHE-HULK (1989) (#1-60) (SENSATIONAL SHE-HULK)(MARVEL) #44 Near Mint/Mint
SPIDER-MAN (1963) (AMAZING SPIDER-MAN) (#1-441) #192 Very Fine
SPIDER-MAN (1963) (AMAZING SPIDER-MAN) (#1-441) #193 NEWSSTAND Very Fine
SPIDER-MAN (1963) (AMAZING SPIDER-MAN) (#1-441) #194 NEWSSTAND Very Fine
SPIDER-MAN (1963) (AMAZING SPIDER-MAN) (#1-441) #195 Near Mint/Mint
SPIDER-MAN (1963) (AMAZING SPIDER-MAN) (#1-441) #196 Near Mint/Mint
SPIDER-MAN (1963) (AMAZING SPIDER-MAN) (#1-441) #197 Near Mint/Mint
SPIDER-MAN (1963) (AMAZING SPIDER-MAN) (#1-441) #198 Near Mint/Mint
SPIDER-MAN (1963) (AMAZING SPIDER-MAN) (#1-441) #199 Near Mint/Mint
SPIDER-MAN (1963) (AMAZING SPIDER-MAN) (#1-441) #200 Near Mint/Mint
SPIDER-MAN (1963) (AMAZING SPIDER-MAN) (#1-441) #201 Very Fine
SPIDER-MAN (1963) (AMAZING SPIDER-MAN) (#1-441) #202 Very Fine
SPIDER-MAN (1963) (AMAZING SPIDER-MAN) (#1-441) #275 Very Fine
SPIDER-MAN (1963) (AMAZING SPIDER-MAN) (#1-441) #279 Very Fine
SPIDER-MAN (1963) (AMAZING SPIDER-MAN) (#1-441) #280 Near Mint/Mint
SPIDER-MAN (1963) (AMAZING SPIDER-MAN) (#1-441) #282 Very Good

SPIDER-MAN (1963) (AMAZING SPIDER-MAN) (#1-441) #295
SPIDER-MAN (1963) (AMAZING SPIDER-MAN) (#1-441) #295 Near Mint/Mint
SPIDER-MAN (1963) (AMAZING SPIDER-MAN) (#1-441) #300 Fine
SPIDER-MAN (1963) (AMAZING SPIDER-MAN) (#1-441) #300 Near Mint/Mint
SPIDER-MAN (1963) (AMAZING SPIDER-MAN) (#1-441) #301 Near Mint/Mint
SPIDER-MAN (1963) (AMAZING SPIDER-MAN) (#1-441) #302 Near Mint/Mint
SPIDER-MAN (1963) (AMAZING SPIDER-MAN) (#1-441) #303 Near Mint/Mint
SPIDER-MAN (1963) (AMAZING SPIDER-MAN) (#1-441) #304 Very Fine
SPIDER-MAN (1963) (AMAZING SPIDER-MAN) (#1-441) #308 Near Mint/Mint
SPIDER-MAN (1963) (AMAZING SPIDER-MAN) (#1-441) #309 Near Mint/Mint
SPIDER-MAN (1963) (AMAZING SPIDER-MAN) (#1-441) #309 Very Fine
SPIDER-MAN (1963) (AMAZING SPIDER-MAN) (#1-441) #310 Near Mint/Mint
SPIDER-MAN (1963) (AMAZING SPIDER-MAN) (#1-441) #314 Near Mint/Mint
SPIDER-MAN (1963) (AMAZING SPIDER-MAN) (#1-441) #316 Near Mint/Mint
SPIDER-MAN (1963) (AMAZING SPIDER-MAN) (#1-441) #328 Near Mint/Mint
SPIDER-MAN (1963) (AMAZING SPIDER-MAN) (#1-441) #332 Fine
SPIDER-MAN (1963) (AMAZING SPIDER-MAN) (#1-441) #344 Fine
SPIDER-MAN ANNUAL (1964) (#1-28) (MARVEL) #21 Very Fine
STAR WARS (1977) (#1-107) (MARVEL) #85 Very Good
STAR WARS (1977) (#1-107) (MARVEL) #86 Near Mint/Mint
STAR WARS (1977) (#1-107) (MARVEL) #87 Near Mint/Mint
STAR WARS (1977) (#1-107) (MARVEL) #88 Very Fine
STAR WARS (1977) (#1-107) (MARVEL) #89 Near Mint/Mint
STAR WARS (1977) (#1-107) (MARVEL) #90 Very Fine
STAR WARS (1977) (#1-107) (MARVEL) #92 Near Mint/Mint
STAR WARS (1977) (#1-107) (MARVEL) #93 Very Fine
STAR WARS (1977) (#1-107) (MARVEL) #94 Very Good
STAR WARS (1977) (#1-107) (MARVEL) #95 Near Mint/Mint
STAR WARS (1977) (#1-107) (MARVEL) #96 Near Mint/Mint
STAR WARS (1977) (#1-107) (MARVEL) #97 Near Mint/Mint
STAR WARS (1977) (#1-107) (MARVEL) #98 Near Mint/Mint
STAR WARS (1977) (#1-107) (MARVEL) #99 Near Mint/Mint
STAR WARS (1977) (#1-107) (MARVEL) #100 Very Fine

STAR WARS (1977) (#1-107) (MARVEL) #101
STAR WARS (1977) (#1-107) (MARVEL) #101 Near Mint/Mint
STAR WARS (1977) (#1-107) (MARVEL) #102 Near Mint/Mint
STAR WARS (1977) (#1-107) (MARVEL) #103 Very Fine
STAR WARS (1977) (#1-107) (MARVEL) #104 Very Fine
STAR WARS (1977) (#1-107) (MARVEL) #105 Fine
STAR WARS (1977) (#1-107) (MARVEL) #106 Near Mint/Mint
STAR WARS (1977) (#1-107) (MARVEL) #107 Near Mint/Mint
STRANGE TALES (1951) (#1-85 ATLAS, #86-188 MARVEL) #125 Very Good
STRANGE TALES (1951) (#1-85 ATLAS, #86-188 MARVEL) #127 Fair
STRANGE TALES (1951) (#1-85 ATLAS, #86-188 MARVEL) #128 Fair
STRANGE TALES (1951) (#1-85 ATLAS, #86-188 MARVEL) #129 Fair
STRANGE TALES (1951) (#1-85 ATLAS, #86-188 MARVEL) #131 Fair
STRANGE TALES (1951) (#1-85 ATLAS, #86-188 MARVEL) #132 Fair
STRANGE TALES (1951) (#1-85 ATLAS, #86-188 MARVEL) #133 Fair
STRANGE TALES (1951) (#1-85 ATLAS, #86-188 MARVEL) #134 Fair
STRANGE TALES (1951) (#1-85 ATLAS, #86-188 MARVEL) #136 Fair
STRANGE TALES (1951) (#1-85 ATLAS, #86-188 MARVEL) #136 Good
STRANGE TALES (1951) (#1-85 ATLAS, #86-188 MARVEL) #137 Fair
STRANGE TALES (1951) (#1-85 ATLAS, #86-188 MARVEL) #139 Very Good
STRANGE TALES (1951) (#1-85 ATLAS, #86-188 MARVEL) #159 Very Good
SUB-MARINER (1968) (#1-72) (PRINCE NAMOR SUB-MARINER) #31 Fine
SUB-MARINER (1968) (#1-72) (PRINCE NAMOR SUB-MARINER) #51 Fine
SUB-MARINER (1968) (#1-72) (PRINCE NAMOR SUB-MARINER) #56 Very Fine
SUB-MARINER (1968) (#1-72) (PRINCE NAMOR SUB-MARINER) #63 Fine
SUB-MARINER ANNUAL (1971) #2 Fine
TALES OF SUSPENSE (1959) (#1-99) (ATLAS/MARVEL) #47 Fair
TALES OF SUSPENSE (1959) (#1-99) (ATLAS/MARVEL) #56 Fair
TALES OF SUSPENSE (1959) (#1-99) (ATLAS/MARVEL) #64 Fair
TALES OF SUSPENSE (1959) (#1-99) (ATLAS/MARVEL) #66 Fair
TALES OF SUSPENSE (1959) (#1-99) (ATLAS/MARVEL) #67 Fair

TALES OF SUSPENSE (1959) (#1-99) (ATLAS/MARVEL) #68
TALES OF SUSPENSE (1959) (#1-99) (ATLAS/MARVEL) #68 Fair
TALES OF SUSPENSE (1959) (#1-99) (ATLAS/MARVEL) #69 Fair
TALES OF SUSPENSE (1959) (#1-99) (ATLAS/MARVEL) #70 Good
TALES OF SUSPENSE (1959) (#1-99) (ATLAS/MARVEL) #88 Very Good
TALES OF SUSPENSE (1959) (#1-99) (ATLAS/MARVEL) #89 Very Good
TALES OF SUSPENSE (1959) (#1-99) (ATLAS/MARVEL) #91 Fair
TALES OF SUSPENSE (1959) (#1-99) (ATLAS/MARVEL) #95 Good
TALES OF SUSPENSE (1959) (#1-99) (ATLAS/MARVEL) #96 Very Good
TALES TO ASTONISH (1959) (#1-21 ATLAS, #22-101 MARVEL) #51 Fair
TALES TO ASTONISH (1959) (#1-21 ATLAS, #22-101 MARVEL) #62 Fair
TALES TO ASTONISH (1959) (#1-21 ATLAS, #22-101 MARVEL) #63 Fair
TALES TO ASTONISH (1959) (#1-21 ATLAS, #22-101 MARVEL) #64 Fair
TALES TO ASTONISH (1959) (#1-21 ATLAS, #22-101 MARVEL) #65 Fair
TALES TO ASTONISH (1959) (#1-21 ATLAS, #22-101 MARVEL) #66 Fair
TALES TO ASTONISH (1959) (#1-21 ATLAS, #22-101 MARVEL) #67 Fair
TALES TO ASTONISH (1959) (#1-21 ATLAS, #22-101 MARVEL) #68 Fair
TALES TO ASTONISH (1959) (#1-21 ATLAS, #22-101 MARVEL) #69 Fair
TALES TO ASTONISH (1959) (#1-21 ATLAS, #22-101 MARVEL) #71 Fair
TALES TO ASTONISH (1959) (#1-21 ATLAS, #22-101 MARVEL) #71 Good
TALES TO ASTONISH (1959) (#1-21 ATLAS, #22-101 MARVEL) #94 Very Good
THANOS QUEST (1990) (#1-2) (PRESTIGE) #2 NEWSSTAND Near Mint/Mint
THOR (1962) (#83-125 JOURNEY INTO MYSTERY, 126-502) #245 Very Good
THOR (1962) (#83-125 JOURNEY INTO MYSTERY, 126-502) #373 Very Good
THOR (1962) (#83-125 JOURNEY INTO MYSTERY, 126-502) #390 Fine
VISION/SCARLET WITCH (1982) #4 Fine
VISION/SCARLET WITCH (1985) #1 Near Mint/Mint
VISION/SCARLET WITCH (1985) #2 Very Fine
VISION/SCARLET WITCH (1985) #5 Fine
VISION/SCARLET WITCH (1985) #8 Fine

VISION/SCARLET WITCH (1985) #9
VISION/SCARLET WITCH (1985) #9 Fine
VISION/SCARLET WITCH (1985) #11 Fine
WEB OF SPIDER-MAN (1985) (#1-129) (MARVEL) #20 Fine
WEB OF SPIDER-MAN (1985) (#1-129) (MARVEL) #38 Fine
WEST COAST AVENGERS (1985) (#1-102) (MARVEL) #12 Fine
WEST COAST AVENGERS (1985) (#1-102) (MARVEL) #14 Very Good
WOLVERINE (1988) (#1/2-189) (MARVEL) #1 Good
WOLVERINE (1988) (#1/2-189) (MARVEL) #56 NEWSSTAND Near Mint/Mint
WOLVERINE (1988) (#1/2-189) (MARVEL) #56 NEWSSTAND Very Good
X-MEN (1963) (#1-113, UNCANNY X-MEN #114-544) (MARVEL) #211 Very Good
X-MEN (1963) (#1-113, UNCANNY X-MEN #114-544) (MARVEL) #212 Very Good
X-MEN (1963) (#1-113, UNCANNY X-MEN #114-544) (MARVEL) #213 Very Good
X-MEN (1963) (#1-113, UNCANNY X-MEN #114-544) (MARVEL) #265 Very Fine
X-MEN (1963) (#1-113, UNCANNY X-MEN #114-544) (MARVEL) #266 Very Good
X-MEN ANNUAL (1970) #14 Very Fine
YOUNG AVENGERS (2005) (#1-12) #1 Near Mint/Mint
YOUNG AVENGERS (2005) (#1-12) #1 Very Fine
YOUNG AVENGERS (2005) (#1-12) #6 Near Mint/Mint
YOUNG AVENGERS (2005) (#1-12) #6 Fine
YOUNG AVENGERS (2005) (#1-12) #6 Very Fine
DC
BATMAN (1940) (#0-713) (DC) #238 Very Good
BATMAN (1940) (#0-713) (DC) #268 Very Good
BATMAN (1940) (#0-713) (DC) #402 Fine
BATMAN: THE DARK KNIGHT (#1-5) (2011) #1 2ND PRINT Very Fine
BATMAN: THE DARK KNIGHT (#1-5) (2011) #1 2ND PRINT Fine
DARK KNIGHT (1986) #4 1ST PRT Fine
DC 100 PAGE SUPER SPECTACULAR (1971) #6 Fine
DC 100 PAGE SUPER SPECTACULAR (1971) #14 Very Good
DC 100 PAGE SUPER SPECTACULAR (1971) #17 Very Good
DC 100 PAGE SUPER SPECTACULAR (1971) #18 Good
DC 100 PAGE SUPER SPECTACULAR (1971) #20 Good
DC 100 PAGE SUPER SPECTACULAR (1971) #22 Good
DC SPECIAL (1968) #16 Good
DC SPECIAL (1968) #17 Fine
DC SPECIAL (1968) #18 Very Good
DC SPECIAL (1968) #19 Very Good
DC SPECIAL (1968) #20 Fine
DC SPECIAL (1968) #21 Very Good
DC SPECIAL (1968) #22 Very Good
DC SPECIAL (1968) #23 Very Good
DC SPECIAL (1968) #24 Very Good
DC SPECIAL (1968) #25 Fine
DC SPECIAL (1968) #25 Very Good
DC SPECIAL (1968) #27 Fine
DC SPECIAL (1968) #28 Fine
DC SPECIAL (1968) #29 Very Good
DC SUPER-STARS (1976) #11 Very Good
DETECTIVE COMICS (1937) (#0-881) (DC) #567 Very Good
DETECTIVE COMICS (1937) (#0-881) (DC) #568 Very Good
DETECTIVE COMICS (1937) (#0-881) (DC) #569 Fine
DETECTIVE COMICS (1937) (#0-881) (DC) #570 Fine
ELVIRA'S HOUSE OF MYSTERY (1986) #1 Very Fine
FIRST ISSUE SPECIAL (1975) #6 Fine

FLASH (1959) (#105-350) (DC) #246
FLASH (1959) (#105-350) (DC) #246 Fine
FLASH (1959) (#105-350) (DC) #254 Very Good
FLASH (1959) (#105-350) (DC) #255 Very Good
FLASH (1959) (#105-350) (DC) #256 Fine
FLASH (1959) (#105-350) (DC) #257 Very Fine
FLASH (1959) (#105-350) (DC) #258 Very Fine
FLASH (1959) (#105-350) (DC) #259 Very Good
FLASH (1959) (#105-350) (DC) #260 Fine
FLASH (1959) (#105-350) (DC) #268 Fine
FLASH (1959) (#105-350) (DC) #269 Very Good
FLASH (1959) (#105-350) (DC) #270 Very Good
FLASH (1959) (#105-350) (DC) #271 Very Fine
FLASH (1959) (#105-350) (DC) #272 Very Fine
FLASH (1959) (#105-350) (DC) #273 Very Good
FLASH (1959) (#105-350) (DC) #274 Very Good
FLASH (1959) (#105-350) (DC) #275 Very Good
ISIS (MIGHTY ISIS) (1976) #1 Very Good
ISIS (MIGHTY ISIS) (1976) #2 Fine
ISIS (MIGHTY ISIS) (1976) #3 Very Good
JUSTICE LEAGUE OF AMERICA (1960) (#1-261) (DC) #45 Fair
KARATE KID (1976) #1 Good
KARATE KID (1976) #7 Fine
KARATE KID (1976) #8 Fine
KARATE KID (1976) #9 Fine
KARATE KID (1976) #10 Fine
KARATE KID (1976) #11 Fine
KOBRA (1976) #3 Fine
KOBRA (1976) #5 Fine
KOBRA (1976) #7 Fine
LEGEND OF WONDER WOMAN (1986) #2 Near Mint/Mint

LEGEND OF WONDER WOMAN (1986) #4
LEGEND OF WONDER WOMAN (1986) #4 Near Mint/Mint
NEW GODS (1971) #1 Fine
NEW GODS (1971) #2 Fine
NEW GODS (1971) #3 Very Good
NEW GODS (1971) #4 Very Fine
NEW GODS (1971) #5 Fine
NEW GODS (1971) #6 Very Fine
NEW GODS (1971) #7 Fine
NEW GODS (1971) #8 Very Fine
NEW GODS (1971) #9 Fine
NEW GODS (1971) #10 Fine
NEW GODS (1971) #11 Fine
NEW GODS (1971) #12 Very Good
NEW GODS (1971) #14 Very Good
NEW GODS (1971) #15 Very Fine
OMAC (1974) (#1-8) (ONE MAN ARMY CORPS) (JACK KIRBY) #3 Fine
OMAC (1974) (#1-8) (ONE MAN ARMY CORPS) (JACK KIRBY) #4 Good
OMAC (1974) (#1-8) (ONE MAN ARMY CORPS) (JACK KIRBY) #6 Fine
OMAC (1974) (#1-8) (ONE MAN ARMY CORPS) (JACK KIRBY) #8 Good
ROBIN (1991) (#1-5) (DC) #1 Very Fine
SANDMAN (1988) (#1-75) (DC/VERTIGO) #1 (DC: Vertigo Press) Near Mint/Mint
SANDMAN (1988) (#1-75) (DC/VERTIGO) #7 (DC: Vertigo Press) Fine
SANDMAN (1988) (#1-75) (DC/VERTIGO) #8 (DC: Vertigo Press) Fine
SANDMAN (1988) (#1-75) (DC/VERTIGO) #15 (DC: Vertigo Press) Very Fine
SANDMAN (1988) (#1-75) (DC/VERTIGO) #17 (DC: Vertigo Press) Fine
SANDMAN (1988) (#1-75) (DC/VERTIGO) #18 (DC: Vertigo Press) Very Good
SANDMAN (1988) (#1-75) (DC/VERTIGO) #21 (DC: Vertigo Press) Fine
SANDMAN (1988) (#1-75) (DC/VERTIGO) #22 (DC: Vertigo Press) Fine
SANDMAN (1988) (#1-75) (DC/VERTIGO) #23 (DC: Vertigo Press) Fine

SANDMAN (1988) (#1-75) (DC/VERTIGO) #24
SANDMAN (1988) (#1-75) (DC/VERTIGO) #24 (DC: Vertigo Press) Fine
SWAMP THING, SAGA OF (1982) #19 (DC: Vertigo Press) Near Mint/Mint
SWAMP THING, SAGA OF (1982) #20 (DC: Vertigo Press) Near Mint/Mint
WONDER WOMAN (1942) (#1-329) (DC) #289 Fine
WONDER WOMAN (1942) (#1-329) (DC) #295 Near Mint/Mint
WONDER WOMAN (1987) (#0-226) (DC) #2 Near Mint/Mint
WONDER WOMAN (1987) (#0-226) (DC) #5 Near Mint/Mint
WONDER WOMAN (1987) (#0-226) (DC) #11 Very Fine
WONDER WOMAN (1987) (#0-226) (DC) #12 Very Fine
WONDER WOMAN (1987) (#0-226) (DC) #13 Near Mint/Mint
WONDER WOMAN (1987) (#0-226) (DC) #15 Near Mint/Mint
WONDER WOMAN (1987) (#0-226) (DC) #16 Near Mint/Mint
WONDER WOMAN (1987) (#0-226) (DC) #17 Very Fine
WONDER WOMAN (1987) (#0-226) (DC) #18 Very Fine
WONDER WOMAN (1987) (#0-226) (DC) #19 Near Mint/Mint
WONDER WOMAN (1987) (#0-226) (DC) #21 Near Mint/Mint
WONDER WOMAN (1987) (#0-226) (DC) #22 Near Mint/Mint
WONDER WOMAN (1987) (#0-226) (DC) #25 Near Mint/Mint
WONDER WOMAN (1987) (#0-226) (DC) #26 Very Fine
WONDER WOMAN (1987) (#0-226) (DC) #30 Near Mint/Mint
WONDER WOMAN (1987) (#0-226) (DC) #32 Near Mint/Mint
WONDER WOMAN (1987) (#0-226) (DC) #34 Very Fine
WONDER WOMAN (1987) (#0-226) (DC) #35 Very Fine
WONDER WOMAN (1987) (#0-226) (DC) #36 Near Mint/Mint
WONDER WOMAN (1987) (#0-226) (DC) #37 Near Mint/Mint
WONDER WOMAN (1987) (#0-226) (DC) #38 Near Mint/Mint
WONDER WOMAN (1987) (#0-226) (DC) #39 Very Fine
WONDER WOMAN (1987) (#0-226) (DC) #40 Near Mint/Mint
WONDER WOMAN (1987) (#0-226) (DC) #42 Near Mint/Mint
WONDER WOMAN (1987) (#0-226) (DC) #43 Very Fine
WONDER WOMAN (1987) (#0-226) (DC) #44 Near Mint/Mint
WONDER WOMAN (1987) (#0-226) (DC) #45 Near Mint/Mint

WONDER WOMAN (1987) (#0-226) (DC) #46
WONDER WOMAN (1987) (#0-226) (DC) #46 Very Fine
WONDER WOMAN (1987) (#0-226) (DC) #47 Very Fine
WONDER WOMAN (1987) (#0-226) (DC) #50 Very Fine
WONDER WOMAN (1987) (#0-226) (DC) #51 Very Fine
WONDER WOMAN (1987) (#0-226) (DC) #52 Near Mint/Mint
WONDER WOMAN (1987) (#0-226) (DC) #54 Near Mint/Mint
WONDER WOMAN (1987) (#0-226) (DC) #55 Very Fine
WONDER WOMAN (1987) (#0-226) (DC) #56 Near Mint/Mint
WONDER WOMAN (1987) (#0-226) (DC) #59 Near Mint/Mint
WONDER WOMAN (1987) (#0-226) (DC) #61 Near Mint/Mint
WONDER WOMAN (1987) (#0-226) (DC) #63 Very Fine
WONDER WOMAN (1987) (#0-226) (DC) #64 Very Fine
WONDER WOMAN (1987) (#0-226) (DC) #67 Near Mint/Mint
WONDER WOMAN SPECIAL (1992) #1 Fine
WORLDS FINEST (1941) (#2-323) (DC) (WORLD'S FINEST) #89 Good
WORLDS FINEST (1941) (#2-323) (DC) (WORLD'S FINEST) #207 Fine
WORLDS FINEST (1941) (#2-323) (DC) (WORLD'S FINEST) #208 Very Good
WORLDS FINEST (1941) (#2-323) (DC) (WORLD'S FINEST) #224 Very Good
WORLDS FINEST (1941) (#2-323) (DC) (WORLD'S FINEST) #226 Very Good
WORLDS FINEST (1941) (#2-323) (DC) (WORLD'S FINEST) #227 Fine
WORLDS FINEST (1941) (#2-323) (DC) (WORLD'S FINEST) #228 Fine
WORLDS FINEST (1941) (#2-323) (DC) (WORLD'S FINEST) #230 Fine
WORLDS FINEST (1941) (#2-323) (DC) (WORLD'S FINEST) #238 Very Good
WORLDS FINEST (1941) (#2-323) (DC) (WORLD'S FINEST) #239 Very Good
WORLDS FINEST (1941) (#2-323) (DC) (WORLD'S FINEST) #240 Fine
WORLDS FINEST (1941) (#2-323) (DC) (WORLD'S FINEST) #242 Very Good
WORLDS FINEST (1941) (#2-323) (DC) (WORLD'S FINEST) #243 Fine
WORLDS FINEST (1941) (#2-323) (DC) (WORLD'S FINEST) #244 Fine
WORLDS FINEST (1941) (#2-323) (DC) (WORLD'S FINEST) #245 Fine
WORLDS FINEST (1941) (#2-323) (DC) (WORLD'S FINEST) #248 Fine
WORLDS FINEST (1941) (#2-323) (DC) (WORLD'S FINEST) #249 Fine
WORLDS FINEST (1941) (#2-323) (DC) (WORLD'S FINEST) #250 Very Good

WORLDS FINEST (1941) (#2-323) (DC) (WORLD'S FINEST) #254
WORLDS FINEST (1941) (#2-323) (DC) (WORLD'S FINEST) #254 Very Fine
WORLDS FINEST (1941) (#2-323) (DC) (WORLD'S FINEST) #255 Fine
WORLDS FINEST (1941) (#2-323) (DC) (WORLD'S FINEST) #256 Very Good
WORLDS FINEST (1941) (#2-323) (DC) (WORLD'S FINEST) #257 Fine
DARK HORSE COMICS
PREDATOR (1989) #4 Fine
PREDATOR (1989) #4 2ND PRT Near Mint/Mint
PREDATOR (1989) #4 2ND PRT Very Fine
IMAGE COMICS
SPAWN (1992) #1 Near Mint/Mint
INDEPENDENTS
BETTY AND ME (1965) #188 (Archie Comics) Fine
BETTY AND ME (1965) #188 (Archie Comics) Very Fine
BORIS KARLOFF TALES OF MYSTERY (GOLD KEY) (1963) #15 (Gold Key) Very Good
CAPTAIN VICTORY (1981) (#1-13) (KIRBY) (PACFIC COMICS) #12 (Pacific Comics) Fine
CAPTAIN VICTORY (1981) (#1-13) (KIRBY) (PACFIC COMICS) #12 (Pacific Comics) Very Fine
CROW (1989) (#1-4) (CALIBER) #2 (Caliber Press) Fine
CROW (1989) (#1-4) (CALIBER) #3 2ND PRT (Caliber Press) Fine
MIRACLEMAN (1985) (#1-24) (ECLIPSE) #15 (Eclipse Enterprises) Fine
MIRACLEMAN (1985) (#1-24) (ECLIPSE) #16 (Eclipse Enterprises) Fine
MIRACLEMAN (1985) (#1-24) (ECLIPSE) #17 (Eclipse Enterprises) Fine
MIRACLEMAN (1985) (#1-24) (ECLIPSE) #18 (Eclipse Enterprises) Fine
ORIGINAL SHIELD (1984) #4 (Archie Comics) Fine
PETER RISK MONSTER MASHER #2 (Me Comics (McNeil)) Fine
PETER RISK MONSTER MASHER #3 (Me Comics (McNeil)) Fine
PETER RISK MONSTER MASHER #3 (Me Comics (McNeil)) Very Fine
RED SONJA (2005) (#0-80) (DYNAMITE) #78 (DYNAMITE Entertainment) Near Mint/Mint
RICHIE RICH (1960) #185 (Harvey Comics) Fine
RICHIE RICH (1960) #185 (Harvey Comics) Very Fine
RICHIE RICH AND CADBURY (1977) #10 (Harvey Comics) Very Fine
RICHIE RICH AND GLORIA (1977) #1 (Harvey Comics) Fine
RICHIE RICH AND GLORIA (1977) #1 (Harvey Comics) Very Fine
RICHIE RICH AND GLORIA (1977) #1 (Harvey Comics) Very Good
ROCK 'N' ROLL COMICS VOL.11: AEROSMITH (1990) #1 (Revolutionary Comics) Fine
ROCK 'N' ROLL COMICS VOL.11: AEROSMITH (1990) #1 (Revolutionary Comics) Very Fine
ROGER RABBIT (1990) #3 (Walt Disney Company) Very Fine
ROGER RABBIT (1990) #6 (Walt Disney Company) Very Good
ROGER RABBIT (1990) #6 (Walt Disney Company) Very Fine
ROGER RABBIT (1990) #7 (Walt Disney Company) Very Fine
ROGER RABBIT (1990) #8 (Walt Disney Company) Very Fine
ROGER RABBIT (1990) #10 (Walt Disney Company) Very Fine
ROGER RABBIT'S TOONTOWN (1991) #1 (Walt Disney Company) Very Fine
TEENAGE MUTANT NINJA TURTLES ADVENTURES (1988) (#1-3) #1 (Archie Comics) Very Fine
THIS IS YOUR LIFE DONALD DUCK (1960) #1 FC #1109 (Dell Publishing) Very Good
TRUE AVIATION PICTURE STORIES (1942) #8 (PARENTS' MAGAZINE INSTITUE) Fair
To be unsubscribed from our e-mail newsletter, please send your request to moulton@milehighcomics.com
Mile High Comics, 4600 Jason Street, Denver CO 80211, USA