If you are having trouble viewing this newsletter, click here
Chuck's Coming Home With Treasures
Howdy!
I awoke in Phoenix this morning, on the final leg of my truly wonderful West Coast comic book and toys buying trip. I am now exactly two weeks into my 4,000+ mile journey, and (quite honestly) I am more than ready to be back home at my beautiful Jay Hill Farm. That having been said, I have accomplished all that I had hoped for on this trip, purchasing well over 100,000 back issue comics along the way, as well as massive numbers of action figures, graphic novels, and statues.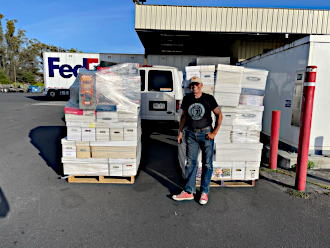 Chuck with the 1st load at FedEx
After my shipping home eight huge pallets (and bringing home another two tons of comics and collectibles in my huge cargo van) we are now stocked with more than enough great items to keep both Jason St., and our website, bursting over with awesome new additions every single day until the snow returns. I will continue to buy collections (both locally and nationally) throughout the rest of the summer and fall, but only as individual opportunities present themselves. That matters not in the least, however, as we have more than enough unsorted material to keep us busy, and to keep you excited and happy, through to the fall (and perhaps beyond).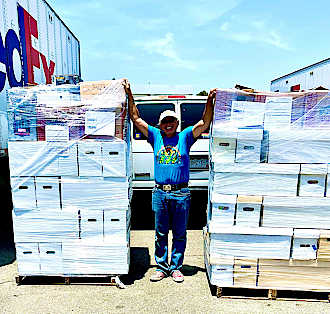 Chuck with the 2nd load at FedEx
That having been said, anyone wanting and/or needing to sell a collection of any kind (comics, books, toys, statues, Pop! figures, etc.) should still write to our head buyer, Pam Brandle pamb@milehighcomics (or bring them to Jason St. Monday-Friday 9-5). Pam will still be sending me out in occasional jaunts, and can also forward prepaid shipping labels that will allow you to send us your treasures at our cost. We may be a bit buried in wonderful treasures right now, but we never (ever) stop buying great items for our store.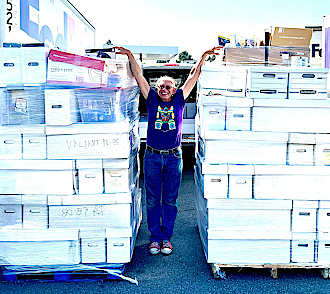 Chuck with the 3rd load at FedEx
On a related note, our 50% off JUNE50! codeword sale remains in effect for you on all of our back issue comics and magazines. Only new issues, a few variants, and our professionally-graded comics are exempt. This special half price sale on back issues provides you with an opportunity to avail yourself of some of the great items that I just purchased at a full 50% off. I would advise keeping an eye on our daily Premium New-In-Stock listings every weekday morning, as Will and Pam are adding 1,000-2,000 great items into our online inventory every day. On many of those new listings we have but a single copy in stock, so whoever orders first, is the winner. Just saying…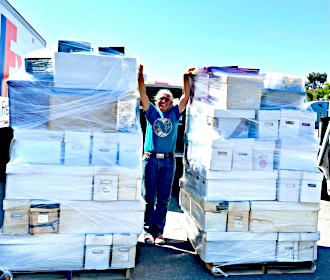 Chuck with the 4th load at FedEx
That's it for today. I just received a call from my dear friend (and esteemed fellow comics retailer), Tim Kupin, about having a late breakfast together down in Tucson, so I am going to pack up and get on the road. I have one more small collection to look at this afternoon in southern Arizona, and then it's on to New Mexico. I might (just maybe…) stop in Santa Fe to buy a few Pueblo pottery items for my museum on my way home. Life is good!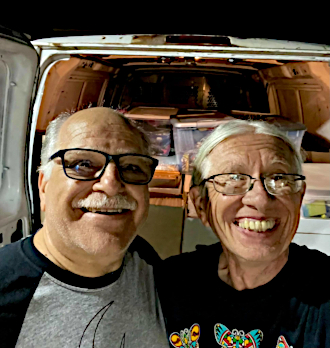 Chuck and Stephen last collection pick up in San Diego
Happy collecting!
Chuck Rozanski/Bettie Pages,
President – Mile High Comics, Inc.
June 7, 2021
More New Arrivals:
MARVEL

CAPTAIN AMERICA (1968) (#100-454) (MARVEL) #416
CAPTAIN AMERICA (1968) (#100-454) (MARVEL) #416 Fine
CAPTAIN AMERICA (1968) (#100-454) (MARVEL) #416 Very Fine
CAPTAIN AMERICA (1968) (#100-454) (MARVEL) #417 Fine
CAPTAIN AMERICA (1968) (#100-454) (MARVEL) #417 Very Fine
CAPTAIN AMERICA (1968) (#100-454) (MARVEL) #418 Fine
CAPTAIN AMERICA (1968) (#100-454) (MARVEL) #419 Fine
CAPTAIN AMERICA (1968) (#100-454) (MARVEL) #419 Near Mint/Mint
CAPTAIN AMERICA (1968) (#100-454) (MARVEL) #419 Very Fine
CAPTAIN AMERICA (1968) (#100-454) (MARVEL) #420 NEWSSTAND Fine
CAPTAIN AMERICA (1968) (#100-454) (MARVEL) #421 Fine
CAPTAIN AMERICA (1968) (#100-454) (MARVEL) #421 Near Mint/Mint
CAPTAIN AMERICA (1968) (#100-454) (MARVEL) #421 NEWSSTAND Very Fine
CAPTAIN AMERICA (1968) (#100-454) (MARVEL) #421 Very Fine
CAPTAIN AMERICA (1968) (#100-454) (MARVEL) #422 Fine
CAPTAIN AMERICA (1968) (#100-454) (MARVEL) #422 Near Mint/Mint
CAPTAIN AMERICA (1968) (#100-454) (MARVEL) #422 Very Fine
CAPTAIN AMERICA (1968) (#100-454) (MARVEL) #423 Fine
CAPTAIN AMERICA (1968) (#100-454) (MARVEL) #423 Near Mint/Mint
CAPTAIN AMERICA (1968) (#100-454) (MARVEL) #423 NEWSSTAND Fine
CAPTAIN AMERICA (1968) (#100-454) (MARVEL) #424 Fine
CAPTAIN AMERICA (1968) (#100-454) (MARVEL) #424 Near Mint/Mint
CAPTAIN AMERICA (1968) (#100-454) (MARVEL) #424 NEWSSTAND Good
CAPTAIN AMERICA (1968) (#100-454) (MARVEL) #424 Very Fine
CAPTAIN AMERICA (1968) (#100-454) (MARVEL) #425 Near Mint/Mint
CAPTAIN AMERICA (1968) (#100-454) (MARVEL) #425 EMBOSSED Near Mint/Mint
CAPTAIN AMERICA (1968) (#100-454) (MARVEL) #425 EMBOSSED Very Fine
CAPTAIN AMERICA (1968) (#100-454) (MARVEL) #425 DELUXENEWS Fine
CAPTAIN AMERICA (1968) (#100-454) (MARVEL) #425 Very Fine
CAPTAIN AMERICA (1968) (#100-454) (MARVEL) #426 Near Mint/Mint
CAPTAIN AMERICA (1968) (#100-454) (MARVEL) #426 Fine
CAPTAIN AMERICA (1968) (#100-454) (MARVEL) #426 NEWSSTAND Very Fine

CAPTAIN AMERICA (1968) (#100-454) (MARVEL) #426
CAPTAIN AMERICA (1968) (#100-454) (MARVEL) #426 Very Good
CAPTAIN AMERICA (1968) (#100-454) (MARVEL) #426 Very Fine
CAPTAIN AMERICA (1968) (#100-454) (MARVEL) #427 Fine
CAPTAIN AMERICA (1968) (#100-454) (MARVEL) #427 Near Mint/Mint
CAPTAIN AMERICA (1968) (#100-454) (MARVEL) #427 Very Fine
CAPTAIN AMERICA (1968) (#100-454) (MARVEL) #428 Fine
CAPTAIN AMERICA (1968) (#100-454) (MARVEL) #429 Fine
CAPTAIN AMERICA (1968) (#100-454) (MARVEL) #429 Very Fine
CAPTAIN AMERICA (1968) (#100-454) (MARVEL) #431 Fine
CAPTAIN AMERICA (1968) (#100-454) (MARVEL) #431 NEWSSTAND Fine
CAPTAIN AMERICA (1968) (#100-454) (MARVEL) #432 Fine
CAPTAIN AMERICA (1968) (#100-454) (MARVEL) #433 Fine
CAPTAIN AMERICA (1968) (#100-454) (MARVEL) #433 Very Fine
CAPTAIN AMERICA (1968) (#100-454) (MARVEL) #434 Fine
CAPTAIN AMERICA (1968) (#100-454) (MARVEL) #435 Fine
CAPTAIN AMERICA (1968) (#100-454) (MARVEL) #435 Very Fine
CAPTAIN AMERICA (1968) (#100-454) (MARVEL) #436 Fine
CAPTAIN AMERICA (1968) (#100-454) (MARVEL) #436 NEWSSTAND Very Good
CAPTAIN AMERICA (1968) (#100-454) (MARVEL) #437 Near Mint/Mint
CAPTAIN AMERICA (1968) (#100-454) (MARVEL) #437 Fine
CAPTAIN AMERICA (1968) (#100-454) (MARVEL) #437 Very Fine
CAPTAIN AMERICA (1968) (#100-454) (MARVEL) #438 Fine
CAPTAIN AMERICA (1968) (#100-454) (MARVEL) #440 Near Mint/Mint
CAPTAIN AMERICA (1968) (#100-454) (MARVEL) #440 Fine
CAPTAIN AMERICA (1968) (#100-454) (MARVEL) #441 Fine
CAPTAIN AMERICA (1968) (#100-454) (MARVEL) #441 NEWSSTAND Very Fine
CAPTAIN AMERICA (1968) (#100-454) (MARVEL) #441 Very Good
CAPTAIN AMERICA (1968) (#100-454) (MARVEL) #441 Very Fine
CAPTAIN AMERICA (1968) (#100-454) (MARVEL) #443 Very Fine
CAPTAIN AMERICA (1968) (#100-454) (MARVEL) #443 Very Good
CAPTAIN AMERICA (1968) (#100-454) (MARVEL) #444 Fine

CAPTAIN AMERICA (1968) (#100-454) (MARVEL) #445
CAPTAIN AMERICA (1968) (#100-454) (MARVEL) #445 Fine
CAPTAIN AMERICA (1968) (#100-454) (MARVEL) #445 Near Mint/Mint
CAPTAIN AMERICA (1968) (#100-454) (MARVEL) #445 Very Fine
CAPTAIN AMERICA (1968) (#100-454) (MARVEL) #446 Fine
CAPTAIN AMERICA (1968) (#100-454) (MARVEL) #446 Very Fine
CAPTAIN AMERICA (1968) (#100-454) (MARVEL) #447 Near Mint/Mint
CAPTAIN AMERICA (1968) (#100-454) (MARVEL) #447 Fine
CAPTAIN AMERICA (1968) (#100-454) (MARVEL) #447 Very Good
CAPTAIN AMERICA (1968) (#100-454) (MARVEL) #448 Fine
CAPTAIN AMERICA (1968) (#100-454) (MARVEL) #448 Very Fine
CAPTAIN AMERICA (1968) (#100-454) (MARVEL) #449 Fine
CAPTAIN AMERICA (1968) (#100-454) (MARVEL) #449 Near Mint/Mint
CAPTAIN AMERICA (1968) (#100-454) (MARVEL) #449 Very Fine
CAPTAIN AMERICA (1968) (#100-454) (MARVEL) #449 Very Good
CAPTAIN AMERICA (1968) (#100-454) (MARVEL) #450 Near Mint/Mint
CAPTAIN AMERICA (1968) (#100-454) (MARVEL) #450 VARIANT Fine
CAPTAIN AMERICA (1968) (#100-454) (MARVEL) #450 VARIANT Very Good
CAPTAIN AMERICA (1968) (#100-454) (MARVEL) #450 Very Fine
CAPTAIN AMERICA (1968) (#100-454) (MARVEL) #451 Fine
CAPTAIN AMERICA (1968) (#100-454) (MARVEL) #451 NEWSSTAND Very Good
CAPTAIN AMERICA (1968) (#100-454) (MARVEL) #451 Very Good
CAPTAIN AMERICA (1968) (#100-454) (MARVEL) #451 Very Fine
CAPTAIN AMERICA (1968) (#100-454) (MARVEL) #453 Fine
CAPTAIN AMERICA (1968) (#100-454) (MARVEL) #453 NEWSSTAND Fine
CAPTAIN AMERICA (1968) (#100-454) (MARVEL) #453 Very Fine
CAPTAIN AMERICA (1968) (#100-454) (MARVEL) #454 Good
CAPTAIN AMERICA (1968) (#100-454) (MARVEL) #454 Very Fine
CAPTAIN AMERICA (1996) (#1-13) (MARVEL) #1 CONPREVIEW Very Fine
CAPTAIN AMERICA (1996) (#1-13) (MARVEL) #2 Near Mint/Mint
CAPTAIN AMERICA (1996) (#1-13) (MARVEL) #3 Near Mint/Mint

CAPTAIN AMERICA (1996) (#1-13) (MARVEL) #3
CAPTAIN AMERICA (1996) (#1-13) (MARVEL) #3 Fine
CAPTAIN AMERICA (1996) (#1-13) (MARVEL) #3 Very Fine
CAPTAIN AMERICA (1996) (#1-13) (MARVEL) #4 Fine
CAPTAIN AMERICA (1996) (#1-13) (MARVEL) #4 Near Mint/Mint
CAPTAIN AMERICA (1996) (#1-13) (MARVEL) #4 NEWSSTAND Very Good
CAPTAIN AMERICA (1996) (#1-13) (MARVEL) #4 NEWSSTAND Good
CAPTAIN AMERICA (1996) (#1-13) (MARVEL) #4 Very Fine
CAPTAIN AMERICA (1996) (#1-13) (MARVEL) #5 Good
CAPTAIN AMERICA (1996) (#1-13) (MARVEL) #5 Near Mint/Mint
CAPTAIN AMERICA (1996) (#1-13) (MARVEL) #5 VARIANT Near Mint/Mint
CAPTAIN AMERICA (1996) (#1-13) (MARVEL) #5 VARIANT Very Fine
CAPTAIN AMERICA (1996) (#1-13) (MARVEL) #5 VARIANT Fine
CAPTAIN AMERICA (1996) (#1-13) (MARVEL) #5 VARIANT Very Good
CAPTAIN AMERICA (1996) (#1-13) (MARVEL) #5 Very Good
CAPTAIN AMERICA (1996) (#1-13) (MARVEL) #5 Very Fine
CAPTAIN AMERICA (1996) (#1-13) (MARVEL) #6 Near Mint/Mint
CAPTAIN AMERICA (1996) (#1-13) (MARVEL) #6 Very Good
CAPTAIN AMERICA (1996) (#1-13) (MARVEL) #6 Very Fine
CAPTAIN AMERICA (1996) (#1-13) (MARVEL) #7 Near Mint/Mint
CAPTAIN AMERICA (1996) (#1-13) (MARVEL) #8 Near Mint/Mint
CAPTAIN AMERICA (1996) (#1-13) (MARVEL) #8 Very Fine
CAPTAIN AMERICA (1996) (#1-13) (MARVEL) #11 Fine
CAPTAIN AMERICA (1996) (#1-13) (MARVEL) #11 Near Mint/Mint
CAPTAIN AMERICA (1996) (#1-13) (MARVEL) #11 Very Fine
CAPTAIN AMERICA (1996) (#1-13) (MARVEL) #12 Fine
CAPTAIN AMERICA (1996) (#1-13) (MARVEL) #12 Near Mint/Mint
CAPTAIN AMERICA (1996) (#1-13) (MARVEL) #12 Very Fine
CAPTAIN AMERICA (1996) (#1-13) (MARVEL) #13 Near Mint/Mint
CAPTAIN AMERICA (1996) (#1-13) (MARVEL) #13 Fine
CAPTAIN AMERICA (1996) (#1-13) (MARVEL) #13 Very Good

CAPTAIN AMERICA (1998) (#1-50) (MARVEL) #1 NEWSSTAND
CAPTAIN AMERICA (1998) (#1-50) (MARVEL) #1 NEWSSTAND Fine
CAPTAIN AMERICA (1998) (#1-50) (MARVEL) #1 VARIANT Near Mint/Mint
CAPTAIN AMERICA (2004) (#1-50, 600-619) (MARVEL) #31 Fine
CAPTAIN AMERICA (2004) (#1-50, 600-619) (MARVEL) #31 Very Fine
CAPTAIN AMERICA (2004) (#1-50, 600-619) (MARVEL) #32 Near Mint/Mint
CAPTAIN AMERICA (2004) (#1-50, 600-619) (MARVEL) #32 Fine
CAPTAIN AMERICA (2004) (#1-50, 600-619) (MARVEL) #32 Very Fine
CAPTAIN AMERICA (2004) (#1-50, 600-619) (MARVEL) #32 Very Good
FANTASTIC FOUR: LIFE STORY (2021) #1 RIVERA Near Mint/Mint
GI JOE #14 Fine
HEROES REBORN (2021) #1 MCGUINNESS Near Mint/Mint
HEROES REBORN (2021) #3 BRADSHAW Near Mint/Mint
HEROES REBORN (2021) #4 MEDINA Near Mint/Mint
KANAN: LAST PADAWAN (STAR WARS) (2015) #12 Near Mint/Mint
MARVELS (THE MARVELS) (2021) #2 PANOSIAN Near Mint/Mint
MILES MORALES: SPIDER-MAN (2019) #26 VICENTINI Near Mint/Mint
OBI-WAN & ANAKIN (STAR WARS) (2015) #1 MOVIE CVR Near Mint/Mint
OBI-WAN & ANAKIN (STAR WARS) (2015) #1 MOVIE CVR Very Fine
SECRET WARS (1984) (#1-12) (LIMTED SERIES) (MARVEL) #1 NEWS SGN Fine
SHANG-CHI (2021) (#1-UP) (MARVEL) #1 SU Near Mint/Mint
SPIDER-WOMAN (2020) (#1-UP) (JESSICA DREW) #11 PEREZ Near Mint/Mint

STAR WARS (2015) (#1-75) (MARVEL) #1
STAR WARS (2015) (#1-75) (MARVEL) #1 Fine
STAR WARS: DARTH MAUL (2017) #1 MOVIE CVR Near Mint/Mint
STAR WARS: DARTH MAUL (2017) #2 AJA Near Mint/Mint
STAR WARS: DARTH MAUL (2017) #4 Near Mint/Mint
STAR WARS: DOCTOR APHRA (2016) (#1-40) (MARVEL) #1 REIS Very Fine
STAR WARS: DOCTOR APHRA (2016) (#1-40) (MARVEL) #2 WU Very Fine
STAR WARS: DOCTOR APHRA (2016) (#1-40) (MARVEL) #6 LOPEZ Very Fine
STAR WARS: DOCTOR APHRA (2016) (#1-40) (MARVEL) #21 Very Fine
STAR WARS: FORCE AWAKENS ADAPTATION (2016) #6 RIBIC Near Mint/Mint
STAR WARS: LANDO (2015) #1 Near Mint/Mint
STAR WARS: POE DAMERON (2016) #1 NAKAYAMB&W Near Mint/Mint
STAR WARS: POE DAMERON (2016) #1 PREMIERE Near Mint/Mint
STAR WARS: ROGUE ONE ADAPTATION (2017) #3 Near Mint/Mint
STAR WARS: ROGUE ONE ADAPTATION (2017) #3 FEGREDO Near Mint/Mint
DC
ALL-STAR BATMAN (DC REBIRTH) (2016) #1 Near Mint/Mint
AMERICA VS. THE JUSTICE SOCIETY (JSA) (1985) #1 Fine
AMERICA VS. THE JUSTICE SOCIETY (JSA) (1985) #2 Fine
AMERICA VS. THE JUSTICE SOCIETY (JSA) (1985) #3 Fine
AMERICA VS. THE JUSTICE SOCIETY (JSA) (1985) #4 Fine
ARKHAM MANOR (2014) #1 Very Fine
BATMAN (2016) (#1-UP) (DC REBIRTH) #106 FEDERICI Near Mint/Mint
BATMAN & ROBIN (2011) (#0-40) (NEW 52) #23 .2 DELUXE Near Mint/Mint
BATMAN & ROBIN (2011) (#0-40) (NEW 52) #23 .3 DELUXE Near Mint/Mint
BATMAN GIANT (2019) #1 Near Mint/Mint
BATMAN GIANT (2019) #3 Very Fine
BATMAN GIANT (2019) #6 Fine
BATMAN GIANT (2019) #7 Very Fine
BATMAN MOVIE ADAPTATION (DELUXE) (1989) #1 Near Mint/Mint
BATMAN MOVIE ADAPTATION (DIRECT) (1989) #1 NEWSSTAND Fine
BATMAN UNIVERSE (2019) #1 Fine
BATMAN UNIVERSE (2019) #2 Fine
BATMAN UNIVERSE (2019) #3 Near Mint/Mint
BATMAN UNIVERSE (2019) #4 Fine
BATMAN UNIVERSE (2019) #5 Near Mint/Mint
BATMAN UNIVERSE (2019) #6 Very Fine
BATMAN VS. RAS AL GHUL (2019) #1 Fine
BATMAN VS. RAS AL GHUL (2019) #1 B&W Near Mint/Mint
BATMAN VS. RAS AL GHUL (2019) #2 Very Fine
BATMAN VS. RAS AL GHUL (2019) #3 Near Mint/Mint
BATMAN VS. RAS AL GHUL (2019) #4 Very Fine
BATMAN'S GRAVE (2019) #1 BLANK CVR Near Mint/Mint
BATMAN'S GRAVE (2019) #1 VARIANT Fine
BATMAN'S GRAVE (2019) #1 Very Fine
BATMAN'S GRAVE (2019) #2 Near Mint/Mint
BATMAN'S GRAVE (2019) #2 VARIANT Near Mint/Mint
BATMAN'S GRAVE (2019) #3 VARIANT Near Mint/Mint
BATMAN'S GRAVE (2019) #3 Very Fine
BATMAN'S GRAVE (2019) #4 Fine
BATMAN'S GRAVE (2019) #4 VARIANT Very Fine
BATMAN'S GRAVE (2019) #5 Near Mint/Mint
BATMAN'S GRAVE (2019) #5 VARIANT Very Fine
BATMAN/SPIDER-MAN (DC) (MARVEL) (BATMAN AND SPIDER-MAN) #1 Fine
BATMAN/TEENAGE MUTANT NINJA TURTLES (2015) #1 Very Fine
BATMAN: LAST KNIGHT ON EARTH (2019) #2 Near Mint/Mint
BATMAN: LAST KNIGHT ON EARTH (2019) #2 VARIANT Near Mint/Mint
BATMAN: LAST KNIGHT ON EARTH (2019) #3 Near Mint/Mint
BATMAN: LAST KNIGHT ON EARTH (2019) #3 VARIANT Near Mint/Mint
BATMAN: PENNYWORTH RIP (2020) #1 Near Mint/Mint
BLOOD SYNDICATE (1993) #1 DELUXE (DC: Milestone Press) Near Mint/Mint
BLOOD SYNDICATE (1993) #1 NOBAG (DC: Milestone Press) Fine
BLOOD SYNDICATE (1993) #1 (DC: Milestone Press) Very Good
BRAVE AND THE BOLD (1955) #111 Fine
BRAVE AND THE BOLD (1955) #141 Very Good
BRAVE AND THE BOLD (1955) #150 Good
BRAVE AND THE BOLD (1955) #189 NEWSSTAND Fine
BRAVE AND THE BOLD (1955) #191 NEWSSTAND Fine
BRAVE AND THE BOLD (1955) #200 Very Fine

CATWOMAN (2018) (#1-UP) (DC UNIVERSE) #1
CATWOMAN (2018) (#1-UP) (DC UNIVERSE) #1 Near Mint/Mint
CHRISTMAS WITH THE SUPERHEROES (1988) #1 Very Good
CRISIS ON INFINITE EARTHS GIANT (2020) #1 Very Fine
CURSED COMICS CAVALCADE (2018) #1 Fine
DC CHALLENGE (1985) #6 Fine
DC CHALLENGE (1985) #10 Fine
DC CHALLENGE (1985) #11 Fine
DC CHALLENGE (1985) #12 Very Good
DC COMICS PRESENTS (1978) #41 Fine
DC COMICS PRESENTS BATMAN (2004) #1 Fine
DC CRIMES OF PASSION (2020) #1 Near Mint/Mint
DC DOLLAR COMICS: BATMAN ADVENTURES (1992) #12 (2020) #1 Near Mint/Mint
DC DOLLAR COMICS: BRAVE AND THE BOLD (1955) #197 (2020) #1 Near Mint/Mint
DC SPECIAL (1968) #28 Fine
DC SPECIAL (1968) #29 Fine
DC SPECIAL SERIES (1977) #21 Very Good
DC VILLAINS GIANT (2019) #1 Near Mint/Mint
DETECTIVE COMICS (2011) (#0-52) (DC NEW52) #36 LEGO Very Fine

DOOM PATROL (1987) (#1-87) (DC) (DC VERTIGO) #86
DOOM PATROL (1987) (#1-87) (DC) (DC VERTIGO) #86 (DC: Vertigo Press) Near Mint/Mint
FLASH (2016) (#1-88, #750-UP) (DC REBIRTH) #21 VARIANT Near Mint/Mint
GHOSTS GIANT (2019) #1 Near Mint/Mint
HARLEY QUINN 25TH ANNIVERSARY SPECIAL (2017) #1 Fine
HARLEY QUINN: VILLAIN OF THE YEAR (2019) #1 Fine
JLA (1996) #43 Near Mint/Mint
JLA (1996) #44 Very Fine
JLA (1996) #45 Fine
JLA (1996) #46 Very Fine
JUST IMAGINE: BATMAN (2001) #1 Fine
JUSTICE LEAGUE (2011) (#0-52) (DC NEW52) #42 TEENTITANS Near Mint/Mint
JUSTICE LEAGUE (2011) (#0-52) (DC NEW52) #50 Near Mint/Mint
JUSTICE LEAGUE (2016) (#1-44) (DC REBIRTH) #1 Very Fine
JUSTICE LEAGUE REBIRTH (2016) #1 VARIANT Fine
LEGENDS OF THE DARK KNIGHT (2021) #1 FEDERICI Near Mint/Mint
LEGENDS OF THE DARK KNIGHT (BATMAN) (1989) #1 GREEN Near Mint/Mint
LEGENDS OF THE DARK KNIGHT (BATMAN) (1989) #1 ORANGE Fine
LEGENDS OF THE DARK KNIGHT (BATMAN) (1989) #1 PINK Near Mint/Mint
LEGENDS OF THE DARK KNIGHT (BATMAN) (1989) #1 YELLOW Near Mint/Mint
LEGENDS OF THE DARK KNIGHT (BATMAN) (1989) #18 Near Mint/Mint

LEGENDS OF THE DARK KNIGHT (BATMAN) (1989) #39
LEGENDS OF THE DARK KNIGHT (BATMAN) (1989) #39 Fine
LEGENDS OF THE DC UNIVERSE (1998) #3 Near Mint/Mint
LEGENDS OF THE DC UNIVERSE (1998) #4 Very Good
LEGENDS OF THE DC UNIVERSE (1998) #5 Fine
LEGENDS OF THE DC UNIVERSE (1998) #6 Very Fine
LEGENDS OF THE DC UNIVERSE (1998) #7 Fine
LEGENDS OF THE DC UNIVERSE (1998) #8 Fine
LEGENDS OF THE DC UNIVERSE (1998) #9 Fine
LEGENDS OF THE DC UNIVERSE (1998) #10 Fine
LEGENDS OF THE DC UNIVERSE (1998) #11 Fine
LEGENDS OF THE DC UNIVERSE (1998) #12 Fine
LEGENDS OF THE DC UNIVERSE (1998) #13 Fine
LEGENDS OF THE DC UNIVERSE (1998) #14 Fine
LEGENDS OF THE DC UNIVERSE (1998) #15 Very Fine
LEGENDS OF THE DC UNIVERSE (1998) #16 Fine
LEGENDS OF THE DC UNIVERSE 80-PAGE GIANT (1998) #1 Very Good
LEGENDS OF THE DC UNIVERSE CRISIS ON INFINITE EARTHS (1999) #1 Very Fine
NEW TALENT SHOWCASE (2018) #1 Near Mint/Mint
SUPER POWERS (1984) (#1-5) (DC) #1 Near Mint/Mint
SUPER POWERS (1984) (#1-5) (DC) #2 Near Mint/Mint
SUPER POWERS (1984) (#1-5) (DC) #3 Near Mint/Mint
SUPER POWERS (1984) (#1-5) (DC) #4 Fine
SUPER POWERS (1984) (#1-5) (DC) #5 Fine
SUPERGIRL (2005) (#0-67) (DC) #1 Fine
SUPERGIRL (2005) (#0-67) (DC) #2 TURNER Very Fine

SUPERGIRL (2005) (#0-67) (DC) #3
SUPERGIRL (2005) (#0-67) (DC) #3 Near Mint/Mint
SWAMP THING GIANT (2019) #1 Fine
TALES FROM THE DARK MULTIVERSE: BATMAN KNIGHTFALL (2019) #1 Near Mint/Mint
TALES FROM THE DARK MULTIVERSE: BLACKEST NIGHT (2019) #1 Near Mint/Mint
TALES FROM THE DARK MULTIVERSE: DEATH OF SUPERMAN (2019) #1 Near Mint/Mint
TALES FROM THE DARK MULTIVERSE: INFINITE CRISIS (2019) #1 Near Mint/Mint
TALES FROM THE DARK MULTIVERSE: JUDAS CONTRACT (2019) #1 Near Mint/Mint
TANGENT COMICS: BATMAN (1998) #1 Fine
TANGENT COMICS: GREEN LANTERN (1998) #1 Fine
TANGENT COMICS: JOKER'S WILD (1998) #1 Fine
TANGENT COMICS: SUPERMAN (1998) #1 Fine
TANGENT COMICS: TRIALS OF THE FLASH (1998) #1 Fine
UNTOLD LEGEND OF BATMAN (1980) #1 LTD Fine
UNTOLD LEGEND OF BATMAN (1980) #2 LTD 2NDPRT Fine
UNTOLD LEGEND OF BATMAN (1980) #3 LTD 2NDPRT Near Mint/Mint
IMAGE COMICS
GEIGER (2021) #1 E FRANGLOW Near Mint/Mint
NOCTERRA (2021) #3 E DANIEB&W Near Mint/Mint
INDEPENDENTS
ASPEN VISIONS: SOULFIRE – HEART OF ICE (2019) #1 A CAFARO (Aspen) Very Fine
EVE (2021) #1 C ANDOLVIR (Boom Studios Publishing) Near Mint/Mint

JIMMY'S BASTARDS (2017) #1 B BRAUN
JIMMY'S BASTARDS (2017) #1 B BRAUN (After-Shock Comics) Very Fine
JIMMY'S BASTARDS (2017) #3 (After-Shock Comics) Very Fine
JIMMY'S BASTARDS (2017) #9 (After-Shock Comics) Near Mint/Mint
JIRNI (VOL. 2) (2015) #3 B (Aspen) Very Fine
JIRNI (VOL. 2) (2015) #5 A (Aspen) Near Mint/Mint
JOHN WICK (2017) #4 B GARRIGA (DYNAMITE Entertainment) Near Mint/Mint
JOHN WICK (2017) #4 C PHOTO (DYNAMITE Entertainment) Very Fine
KONG: SKULL ISLAND OFFICAL COMIC (BIRTH OF KONG) (2017) #1 (Legendary Comics) Very Fine
KONG: SKULL ISLAND OFFICAL COMIC (BIRTH OF KONG) (2017) #3 (Legendary Comics) Very Fine
KONG: SKULL ISLAND OFFICAL COMIC (BIRTH OF KONG) (2017) #4 (Legendary Comics) Near Mint/Mint
MANY DEATHS OF LAILA STARR (2021) #1 2ND ANDRAD (Boom Studios Publishing) Near Mint/Mint
MANY DEATHS OF LAILA STARR (2021) #1 2ND PRINT (Boom Studios Publishing) Near Mint/Mint
MICHAEL TURNER ART EDITION: SOULFIRE (2016) #1 (Aspen) Fine
MICHAEL TURNER ART EDITION: SOULFIRE (2016) #1 (Aspen) Very Fine
NANCY DREW/HARDY BOYS (THE BIG LIE) (2017) #1 A DALTON (DYNAMITE Entertainment) Very Fine
NANCY DREW/HARDY BOYS (THE BIG LIE) (2017) #1 B VIECELI (DYNAMITE Entertainment) Very Fine
NANCY DREW/HARDY BOYS (THE BIG LIE) (2017) #3 A DALTON (DYNAMITE Entertainment) Very Fine
NANCY DREW/HARDY BOYS (THE BIG LIE) (2017) #3 B CHARRETI (DYNAMITE Entertainment) Very Fine
NANCY DREW/HARDY BOYS (THE BIG LIE) (2017) #6 B BULLOCK (DYNAMITE Entertainment) Very Fine
NEWBURY & HOBBES (2018) #1 C FLOREAN (Titan Distributing) Very Fine
NEWBURY & HOBBES (2018) #3 B GLASS (Titan Distributing) Very Fine
NIGHTMARE BEFORE CHRISTMAS: ZERO'S JOURNEY (2018) #3 (Tokyo Pop (Formerly Mixx)) Fine

NIGHTMARE BEFORE CHRISTMAS: ZERO'S JOURNEY (2018) #6
NIGHTMARE BEFORE CHRISTMAS: ZERO'S JOURNEY (2018) #6 (Tokyo Pop (Formerly Mixx)) Near Mint/Mint
NU WAY (2018) #5 B MAVINGA (Aspen) Very Fine
NULL FAERIES (2018) #1 A CICCONI (Action Lab Entertainment) Near Mint/Mint
NULL FAERIES (2018) #1 B CICCONI (Action Lab Entertainment) Very Fine
OBERON (2019) #2 (After-Shock Comics) Near Mint/Mint
OBLIV18N (2018) #2 (Scout Comics) Very Fine
OBLIVION (2016) (#1-3) (ACTION LAB) #1 A MORANELL (Action Lab Entertainment) Very Fine
OBLIVION (2016) (#1-3) (ACTION LAB) #2 A MORANELL (Action Lab Entertainment) Near Mint/Mint
OBLIVION (2016) (#1-3) (ACTION LAB) #3 A MORANELL (Action Lab Entertainment) Near Mint/Mint
ODDWELL (2018) #1 (Starburns Press) Very Fine
ODDWELL (2018) #2 (Starburns Press) Very Fine
OH HELL (2016) #3 (Overground Comics) Very Fine
OH HELL (2016) #4 (Overground Comics) Very Fine
SHADOWMAN (2018) (#1-11) (VALIANT) #9 B GRANT (Valiant Comics) Near Mint/Mint
SHADOWMAN (2018) (#1-11) (VALIANT) #10 C SAINASIX (Valiant Comics) Near Mint/Mint
SHADOWMAN (2018) (#1-11) (VALIANT) #11 A ZONJIC (Valiant Comics) Near Mint/Mint
SHAFT (2014) #1 FARINAS (DYNAMITE Entertainment) Very Fine
SHERLOCK: A STUDY IN PINK (2016) #1 E QUESTION (Titan Distributing) Fine
SHERLOCK: BLIND BANKER (2017) #1 C LACLAUST (Titan Distributing) Very Fine
SHERLOCK: BLIND BANKER (2017) #5 C SAOHIN (Titan Distributing) Near Mint/Mint

SHERLOCK: THE GREAT GAME (2017) #2 C YEOWELL
SHERLOCK: THE GREAT GAME (2017) #2 C YEOWELL (Titan Distributing) Near Mint/Mint
SHERLOCK: THE GREAT GAME (2017) #4 A BUCKINGH (Titan Distributing) Near Mint/Mint
SHIPWRECK (2016) #6 (After-Shock Comics) Near Mint/Mint
SHIVER BUREAU (2018) #3 (Scout Comics) Near Mint/Mint
SHRUGGED (VOL. 2) (2013) #5 A (Aspen) Near Mint/Mint
SHRUGGED (VOL. 3) (2018) #1 A RISSO (Aspen) Near Mint/Mint
SHRUGGED (VOL. 3) (2018) #3 B GUNNELL (Aspen) Near Mint/Mint
SIMPSONS COMICS (BONGO) (1993) #240 (Bongo Comics) Very Fine
SINK (2017) (#1-UP) (COMIXTRIBE) #4 VARIANT (COMIXTRIBE) Very Fine
SIRENS (GEORGE PEREZ) (2014) #3 A (Boom Studios Publishing) Very Fine
SIRENS (GEORGE PEREZ) (2014) #4 A (Boom Studios Publishing) Very Fine
SIRENS (GEORGE PEREZ) (2014) #6 A PEREZ (Boom Studios Publishing) Very Fine
SISTERS OF SORROW (2017) #2 A TENFOLD (Boom Studios Publishing) Near Mint/Mint
SIX MILLION DOLLAR MAN: MAN FALL (2016) #5 (DYNAMITE Entertainment) Near Mint/Mint
SKEPTICS (2016) #2 (Black Mask) Very Fine
SKEPTICS (2016) #3 (Black Mask) Very Fine
SKIN & EARTH (2017) #6 B MASK (DYNAMITE Entertainment) Near Mint/Mint
SKYBOURNE (2016) #5 (Boom Studios Publishing) Near Mint/Mint
SLAM (2016) #1 (Boom Studios Publishing) Near Mint/Mint
SLAM (2016) #1 (Boom Studios Publishing) Very Fine
SLAM (2016) #2 A FISH (Boom Studios Publishing) Very Fine
SLAM (2016) #3 (Boom Studios Publishing) Near Mint/Mint
SLAM (2016) #4 (Boom Studios Publishing) Near Mint/Mint
SMOKETOWN (2017) #2 (Scout Comics) Very Fine
SMOOTH CRIMINALS (2018) #3 (Boom Studios Publishing) Near Mint/Mint
SMOSH (2016) #1 A VIGLINO (DYNAMITE Entertainment) Near Mint/Mint
SMOSH (2016) #1 B STEWART (DYNAMITE Entertainment) Very Fine
SMOSH (2016) #1 C GAYLORD (DYNAMITE Entertainment) Very Fine
SMOSH (2016) #2 A VIGLINO (DYNAMITE Entertainment) Very Fine
SMOSH (2016) #2 B GAYLORD (DYNAMITE Entertainment) Very Fine
SMOSH (2016) #3 B GAYLORD (DYNAMITE Entertainment) Very Fine
SNAP FLASH HUSTLE (2018) #1 A PEARSON (Black Mask) Near Mint/Mint
SNAP FLASH HUSTLE (2018) #1 B STERLE (Black Mask) Near Mint/Mint
SNAP FLASH HUSTLE (2018) #1 C ST ONGE (Black Mask) Very Fine
SOLAR FLARE: SEASON 3 (2018) #4 (Scout Comics) Near Mint/Mint
SPACE BATTLE LUNCHTIME (2016) #2 (Oni Press Inc.) Very Fine
SPIRIT (2015) (#1-UP) (DYNAMITE) #1 POPE 2ND (DYNAMITE Entertainment) Very Fine
SPIRIT HUNTERS (2016) #12 B LEISTER (Zenescope Entertainment Inc) Near Mint/Mint
SPIRIT: CORPSE MAKERS (2017) #2 A FRANCAVI (DYNAMITE Entertainment) Near Mint/Mint
SPIRIT: CORPSE MAKERS (2017) #3 A FRANCAVI (DYNAMITE Entertainment) Near Mint/Mint

SPIRIT: CORPSE MAKERS (2017) #4 A FRANCAVI
SPIRIT: CORPSE MAKERS (2017) #4 A FRANCAVI (DYNAMITE Entertainment) Near Mint/Mint
SPIRIT: CORPSE MAKERS (2017) #5 A FRANCAVI (DYNAMITE Entertainment) Near Mint/Mint
SPIRITUS (2017) #2 (Vault) Very Fine
STABBITY BUNNY (2017) (#1-UP) (SCOUT COMICS) #6 B (Scout Comics) Very Fine
STARGATE ATLANTIS/UNIVERSE ANTHOLOGY (2018) #1 SGU PHOTO (American Mythology) Near Mint/Mint
STARGATE ATLANTIS: BACK TO PEGASUS (2016) #2 WRAP SUB (American Mythology) Very Fine
STARGATE ATLANTIS: GATEWAYS (2016) #2 (American Mythology) Near Mint/Mint
STARGATE ATLANTIS: GATEWAYS (2016) #3 SUBSCRIPT (American Mythology) Very Fine
STARGATE ATLANTIS: HEARTS & MINDS (2017) #1 LAROCQUE (American Mythology) Near Mint/Mint
STARGATE UNIVERSE: BACK TO DESTINY (2017) #6 HILINSKI (American Mythology) Very Fine
STARS END (2018) #1 (Antarctic Press) Very Fine
STARS END (2018) #3 (Antarctic Press) Very Fine
To be unsubscribed from our e-mail newsletter, please send your request to moulton@milehighcomics.com
Mile High Comics, 4600 Jason Street, Denver CO 80211, USA