If you are having trouble viewing this newsletter, click here
Chuck Buys Another Awesome Collection
Howdy!
It is pouring rain this morning here in the foothills of Appalachia located in northwestern North Carolina. That pretty much grinds things to a halt for me as regards shipping my comic book and toy acquisitions back to our Jason St. Mega-Store. I can (and have…) loaded comic books onto pallets at FedEx in a heavy mist or light drizzle, but pouring rain is just too darn hazardous for my precious paper items.
In case you are wondering, I am forced to build my pallets in the parking lot at FedEx Freight facilities because they have Covid-inspired restrictions on outsider access to their loading/shipping facilities. They are fine with sending a guy out with a forklift to pick up my skid-wrapped pallets in the parking lot, but no way can I go inside. That all makes complete sense, but leaves me spinning my wheels when heavy rain develops. Sigh…
What makes this delay all the more frustrating is that I am now far behind schedule on my epic comics-buying trip. I was doing just fine until I made it to Bert and Connie's house on Sunday afternoon, and discovered that Bert had not exaggerated in the slightest when he expressed to Pam that he had an immense collection. By the time I had finished (slowly) packing up his vast collection of 10,000 lbs of comics, graphic novels and hardback books, and action figures into my rented 20' U-Haul van, three days had passed! Yesterday was particular onerous, as I had to carry over 200 boxes that weighed 30-50 lbs each from his 2nd story collection room. Honestly, I am beat.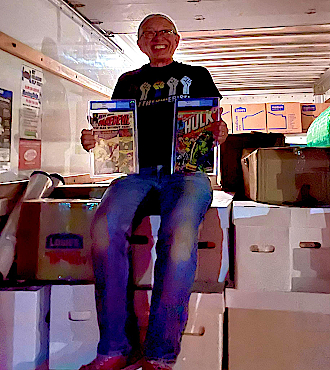 Chuck in the bac of the 20' U-Haul at 8 PM
So you know, I started yesterday at 8:30 AM, and finished loading Bert's collection into my rented 20' U-Haul at 8 PM. I then spent two more hours squeezing the wonderful Silver Age collection that I picked up on Long Island on Friday into a remaining corner of my rental. The two comics that I am holding (Hulk #181 – 7.5 and Daredevil #1 – 6.5) in this wonderful photo taken by Connie came from that Long Island collection.
As regards Bert's collection, he returned to passionately collecting in 1992, and has near-complete runs of an extraordinary number of titles. I have never seen a complete Simpsons/Bongo (with ALL the smaller titles), for example, or every single Disney title, from Gladstone through Gemstone. Also, every single Dark Horse Star Wars title. From Marvel, in addition to your typical superhero fare, he has all the Groo issues, plus hard-to-find Ren & Stimpy and Beavis & Butthead. His DC's are ridiculously comprehensive, with long runs of every title, including all of the key issues. Whew!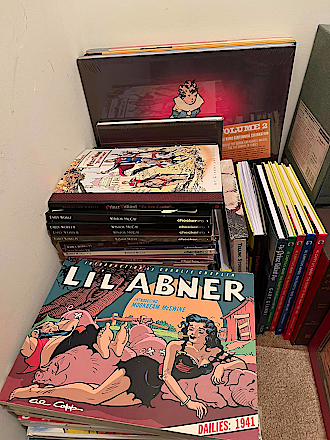 Some of the 1,000 rare and out of print graphic novels and comics reprint collections
The real prizes of Bert's collection, however, were his insanely cool collection of extremely rare action figures and character dioramas, and his library of over 1,000 rare and out of print graphic novels and comics reprint collections. My own personal comics reference library is vast, but Bert has (easily) 500 books that I really need for my own library (but which I will not take). In addition, Bert let me have his entire horror films reference library, including more Universal Monsters and Ray Harryhausen books than I had any idea even existed. Truly, Bert put together an amazing collection!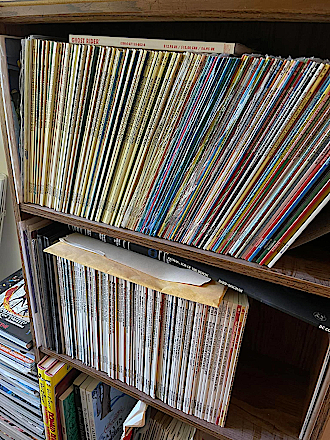 Some of the 1,000 rare and out of print graphic novels and comics reprint collections
Once I do get unloaded at FedEx, I will then continue on my buying trip. Pam has arranged 14 more home visits for me in seven states, and I will do my best to fulfill them all. I do have to be back in Colorado on the 9th, however, for a consult about cataract surgery. I am starting to have a really hard time reading road signs at night, so this eye operation is quickly becoming a priority. In the meantime, I rely upon Google Maps combined with Siri, which works just fine.
In other news, my first two 6' high pallets arrived in Denver yesterday, and both Will and Pam immediately began bagging and grading some of the scarce issues that I shipped to them. The listing of new arrivals at the end of this newsletter contains a sampling of those issues. More are coming!
As regards our online sales, we are currently at 50% off across-the-board with our SPRINGBREAK! codeword, and if my beloved wife, Nanette, has her way, we will stay at 50% off until hell freezes over. Nanette pays our company bills, and knows that our $114,000.00 annual property tax bill on our Jason St. Mega-Store is due in the 30th of April. We do have most of that enormous tax payment already escrowed, but Nanette is our voice of conservatism in the company, so we all listen to her. Besides, tomorrow is our 43rd wedding anniversary. Keeping Nanette happy will help me to facilitate that there is still a shot of reaching our 44th. Just saying…
Happy collecting!
Chuck Rozanski/Bettie Pages,
President – Mile High Comics, Inc.
March 31, 2021
P.S. Below are some of our new arrivals. Almost all of the back issues comics and books qualify for the 50% off SPRINGBREAK! codeword. Only new issues, a few variants, and our professionally-graded items are exempt. For a complete list visit our Premium New-In-Stock and overall New-In-Stock links. Be safe!
MARVEL

AGENT CARTER: GUIDEBOOK TO THE MARVEL CINEMATIC UNIV (2016) #1
AGENT CARTER: GUIDEBOOK TO THE MARVEL CINEMATIC UNIV (2016) #1 Near Mint/Mint
ALL-TRUE CRIME (MARVEL ATLAS) (1948) #38 (Marvel Atlas Titles) Good
AVENGERS (2013) (#1-44) (MARVEL) #35 Near Mint/Mint
BATTLE (MARVEL ATLAS) (1951) #43 (Marvel Atlas Titles) Very Good
BATTLE (MARVEL ATLAS) (1951) #45 (Marvel Atlas Titles) Very Good
BATTLE ACTION (MARVEL ATLAS) (1952) #13 (Marvel Atlas Titles) Good
BATTLE GROUND (MARVEL) (ATLAS) (1954) #7 (Marvel Atlas Titles) Very Good
BATTLEFRONT (1952) #22 (Marvel Atlas Titles) Good
BATTLEFRONT (1952) #38 (Marvel Atlas Titles) Very Good
CAPTAIN AMERICA: SAM WILSON (2015) #13 STERANKO Near Mint/Mint
COMBAT CASEY (1953) #14 (Marvel Atlas Titles) Fair
COMBAT CASEY (1953) #26 (Marvel Atlas Titles) Good
COMBAT KELLY (1951) #15 (Marvel Atlas Titles) Good
COMBAT KELLY (1951) #34 (Marvel Atlas Titles) Very Good
COMBAT KELLY (1951) #35 (Marvel Atlas Titles) Fine
COMBAT KELLY (1951) #40 (Marvel Atlas Titles) Fine
DAREDEVIL (1964) (#1-380) (MAN WITHOUT FEAR) (MARVEL) #42 Very Good
DEADPOOL: BACK IN BLACK (2016) #3 Near Mint/Mint
DEATH OF WOLVERINE (2014) #1 Near Mint/Mint
DEATH OF WOLVERINE (2014) #2 Very Fine
DEATH OF WOLVERINE (2014) #3 Near Mint/Mint
DEATH OF WOLVERINE (2014) #4 Near Mint/Mint
DISNEY'S HUNCHBACK OF NOTRE DAME (1996) #1 DELUXENEWS Near Mint/Mint
DOCTOR STRANGE: SORCERERS SUPREME (MARVEL NOW) (2016) #1 DESIGN Near Mint/Mint
HOWARD THE DUCK (2016)(#1-11) #11 ZDARSKY Near Mint/Mint
HULK (1962) (#1-6, #102-474, #600-635)(INCREDIBLE)(MV) #130 Very Good
HULK (1962) (#1-6, #102-474, #600-635)(INCREDIBLE)(MV) #295 Near Mint/Mint
HULK (1962) (#1-6, #102-474, #600-635)(INCREDIBLE)(MV) #298 Near Mint/Mint
HULK (1962) (#1-6, #102-474, #600-635)(INCREDIBLE)(MV) #303 Near Mint/Mint
HULK (1962) (#1-6, #102-474, #600-635)(INCREDIBLE)(MV) #309 Very Fine
HULK (1962) (#1-6, #102-474, #600-635)(INCREDIBLE)(MV) #311 Near Mint/Mint
HULK (1962) (#1-6, #102-474, #600-635)(INCREDIBLE)(MV) #341 Very Fine
HUNGER (2013) (#1-4) (MARVEL) (GALACTUS) #1 Near Mint/Mint
HUNGER (2013) (#1-4) (MARVEL) (GALACTUS) #2 Near Mint/Mint
HUNGER (2013) (#1-4) (MARVEL) (GALACTUS) #3 Near Mint/Mint
HUNGER (2013) (#1-4) (MARVEL) (GALACTUS) #4 Near Mint/Mint
INFINITY COUNTDOWN: CHAMPIONS (2018) #1 Near Mint/Mint
INFINITY COUNTDOWN: CHAMPIONS (2018) #1 Fine
INHUMANS (1975) (#1-12) (MARVEL) #1 Fine
INHUMANS (1975) (#1-12) (MARVEL) #2 Very Fine
INHUMANS (1975) (#1-12) (MARVEL) #7 Fine
INHUMANS (1975) (#1-12) (MARVEL) #8 Very Good
INHUMANS (1975) (#1-12) (MARVEL) #10 Fine
INHUMANS (1975) (#1-12) (MARVEL) #11 Fine
INVADERS (1975) (#1-41) (MARVEL) #9 Good
INVADERS (1975) (#1-41) (MARVEL) #15 Good

INVADERS (1975) (#1-41) (MARVEL) #23
INVADERS (1975) (#1-41) (MARVEL) #23 Very Good
INVINCIBLE IRON MAN (2008) (#1-33 & 500-527) (MARVEL) #501 Fine
INVINCIBLE IRON MAN (2017) (#1-11) (RIRI WILLIAMS) #1 YOUNG BABY Near Mint/Mint
IRON MAN (1968) (#1-332) (INVINCIBLE IRON MAN)(MARVEL) #206 Near Mint/Mint
IRON MAN (1968) (#1-332) (INVINCIBLE IRON MAN)(MARVEL) #211 Very Fine
KILLMONGER (2018) #1 Near Mint/Mint
LEGION (2018) (#1-5) (MARVE LEGACY) #2 Near Mint/Mint
LOCKJAW (2018) #1 Fine
LOCKJAW (2018) #1 Very Fine
LOCKJAW (2018) #3 Fine
LOCKJAW (2018) #3 Near Mint/Mint
LOCKJAW (2018) #3 Very Fine
MARVEL TALES (1964) (#1-291) #150 Near Mint/Mint
MARVEL TALES (1964) (#1-291) #154 Near Mint/Mint
MARVEL TALES (1964) (#1-291) #159 Near Mint/Mint
MARVEL TALES (1964) (#1-291) #160 Near Mint/Mint
MARVEL TALES (1964) (#1-291) #161 Near Mint/Mint
MARVEL TALES (1964) (#1-291) #162 Near Mint/Mint
MARVEL TALES (1964) (#1-291) #163 Near Mint/Mint
MARVEL TALES (1964) (#1-291) #165 Near Mint/Mint
MARVEL TALES (1964) (#1-291) #166 Near Mint/Mint
MARVEL TALES (1964) (#1-291) #167 NEWSSTAND Very Fine
MARVEL TALES (1964) (#1-291) #168 Near Mint/Mint
MARVEL TALES (1964) (#1-291) #169 Very Fine
MARVEL TALES (1964) (#1-291) #171 Very Fine
MARVEL UNIVERSE GUARDIANS OF THE GALAXY (OCTOBER) (2015) #14 Near Mint/Mint

MOON KNIGHT (1980) (#1-38) (MARVEL) #38
MOON KNIGHT (1980) (#1-38) (MARVEL) #38 Near Mint/Mint
OLD MAN LOGAN (2016) (#1-50) (MARVEL) #38 Fine
OLD MAN LOGAN (2016) (#1-50) (MARVEL) #42 Near Mint/Mint
OLD MAN LOGAN (2016) (#1-50) (MARVEL) #42 Fine
OLD MAN LOGAN (2016) (#1-50) (MARVEL) #47 Near Mint/Mint
OLD MAN LOGAN (2016) (#1-50) (MARVEL) #48 Near Mint/Mint
OLD MAN LOGAN (2016) (#1-50) (MARVEL) #48 Very Fine
PETER PARKER (1976) (#1-263) (SPECTACULAR SPIDER-MAN) #114 Near Mint/Mint
PETER PARKER (1976) (#1-263) (SPECTACULAR SPIDER-MAN) #119 Very Fine
PIRATES OF DARK WATER (1991) #4 Very Good
POWERS OF X (2019) #1 HANS Near Mint/Mint
PUNISHER (1987) (#1-104) (MARVEL) #1 Near Mint/Mint
PUNISHER (1987) (#1-104) (MARVEL) #10 Near Mint/Mint
PUNISHER (2016) (#1-17) (MARVEL) #13 Near Mint/Mint
PUNISHER (2016) (#1-17) (MARVEL) #14 Near Mint/Mint
PUNISHER WAR JOURNAL (1988) #1 Near Mint/Mint
PUNISHER WAR JOURNAL (1988) #3 Near Mint/Mint
PUNISHER WAR JOURNAL (1988) #8 Very Fine
PUNISHER WAR JOURNAL (1988) #13 Near Mint/Mint
PUNISHER: PLATOON (2017) #3 Near Mint/Mint
RISE OF THE BLACK PANTHER (2017) #6 Near Mint/Mint
SHE-HULK (2014) (#1-12) (MARVEL) #1 Very Fine
SHE-HULK (2014) (#1-12) (MARVEL) #2 Fine
SHE-HULK (2014) (#1-12) (MARVEL) #3 Near Mint/Mint
SHE-HULK (2014) (#1-12) (MARVEL) #4 Near Mint/Mint
SHE-HULK (2014) (#1-12) (MARVEL) #5 Near Mint/Mint

SHE-HULK (2014) (#1-12) (MARVEL) #6
SHE-HULK (2014) (#1-12) (MARVEL) #6 Near Mint/Mint
SHE-HULK (2014) (#1-12) (MARVEL) #7 Near Mint/Mint
SHE-HULK (2014) (#1-12) (MARVEL) #8 Very Fine
SHE-HULK (2014) (#1-12) (MARVEL) #9 Near Mint/Mint
SHE-HULK (2014) (#1-12) (MARVEL) #10 Near Mint/Mint
SHE-HULK (2014) (#1-12) (MARVEL) #11 Near Mint/Mint
SHE-HULK (2014) (#1-12) (MARVEL) #12 Near Mint/Mint
SILVER SURFER (1968) (#1-18) (MARVEL) #18 Fine
SILVER SURFER (1968) (#1-18) (MARVEL) #18 Very Good
SILVER SURFER (1987) (#1-146) (MARVEL) #10 NEWSSTAND Very Good
SILVER SURFER (1987) (#1-146) (MARVEL) #15 NEWSSTAND Good
SPIDER-MAN (1963) (AMAZING SPIDER-MAN) (#1-441) #281 Near Mint/Mint
SPIDER-MAN (1963) (AMAZING SPIDER-MAN) (#1-441) #318 Very Fine
SPIDER-MAN (1990) (#1-74, PETER PARKER SPIDEY #75-98) #13 NEWSSTAND Good
SPIDER-MAN, FIRE-STAR, AND ICEMAN (1983) #1 DENVER Very Good
STAR COMICS DIGEST #9 (Marvel Star) Fine
STAR WARS (2015) (#1-75) (MARVEL) #43 Near Mint/Mint
STAR WARS (2015) (#1-75) (MARVEL) #43 Very Fine
STAR WARS (2015) (#1-75) (MARVEL) #50 Fine
STAR WARS (2015) (#1-75) (MARVEL) #52 Near Mint/Mint
STAR WARS (2015) (#1-75) (MARVEL) #53 Near Mint/Mint
STAR WARS (2015) (#1-75) (MARVEL) #53 Very Fine
STAR WARS (2015) (#1-75) (MARVEL) #57 Near Mint/Mint
THOR (1962) (#83-125 JOURNEY INTO MYSTERY, 126-502) #398 NEWSSTAND Fine
THOR (1962) (#83-125 JOURNEY INTO MYSTERY, 126-502) #412 Very Good
THOR (2007) (#1-12, 600-621) (MARVEL) #602 Near Mint/Mint
THOR ANNUAL (1965) #2 Very Good
THOR ANNUAL (1965) #10 Very Good
THOR ANNUAL (2015) #1 ALBURQUERQ Near Mint/Mint
TRUE BELIEVERS: ANNIHILATION – SUPER-SKRULL (2019) #1 Near Mint/Mint
TRUE BELIEVERS: CRIMINALLY INSANE – MANDARIN (2020) #1 Near Mint/Mint
TRUE BELIEVERS: KIRBY 100TH – CAPTAIN AMERICA LIVES (2017) #1 Near Mint/Mint
TRUE BELIEVERS: KIRBY 100TH – INTRODUCING MIGHTY THOR (2017) #1 Very Fine
TRUE BELIEVERS: KIRBY 100TH – THOR VS. HULK (2017) #1 Near Mint/Mint
TRUE BELIEVERS: WHAT IF JANE FOSTER FOUND THE HAMMER (2018) #1 Near Mint/Mint
VENOM (2017) (#1-6, #150-165) (MARVEL) #150 Near Mint/Mint
VENOM (2011) (#1-42) (MARVEL) #9 Fine
VENOM: FIRST HOST (2018) #1 REIS Very Fine
VENOM: LETHAL PROTECTOR (1993) #1 Near Mint/Mint
WEB OF SPIDER-MAN (1985) (#1-129) (MARVEL) #20 Near Mint/Mint
WHAT IF… (1977) (#1-47) (MARVEL) #29 NEWSSTAND Good
WHAT IF: SPIDER-MAN – HOUSE OF M (2009) #1 NEWSSTAND Good
WINTER SOLDIER (2019) (#1-5) (MARVEL) #3 Near Mint/Mint
X-FORCE (2008) (#1-28) (MARVEL) #1 Near Mint/Mint
X-MEN (1963) (#1-113, UNCANNY X-MEN #114-544) (MARVEL) #222 Very Fine
X-MEN (1963) (#1-113, UNCANNY X-MEN #114-544) (MARVEL) #535 Very Fine
X-MEN (1963) (#1-113, UNCANNY X-MEN #114-544) (MARVEL) #536 Near Mint/Mint

X-MEN (1963) (#1-113, UNCANNY X-MEN #114-544) (MARVEL) #537
X-MEN (1963) (#1-113, UNCANNY X-MEN #114-544) (MARVEL) #537 Very Fine
X-MEN (1963) (#1-113, UNCANNY X-MEN #114-544) (MARVEL) #538 Near Mint/Mint
X-MEN (1963) (#1-113, UNCANNY X-MEN #114-544) (MARVEL) #539 Very Fine
X-MEN (1963) (#1-113, UNCANNY X-MEN #114-544) (MARVEL) #540 Near Mint/Mint
X-MEN (1963) (#1-113, UNCANNY X-MEN #114-544) (MARVEL) #541 Very Fine
X-MEN (1963) (#1-113, UNCANNY X-MEN #114-544) (MARVEL) #543 Near Mint/Mint
X-MEN (1963) (#1-113, UNCANNY X-MEN #114-544) (MARVEL) #544 Very Fine
X-MEN (1991) (#1-275) (MARVEL) #1 20TH ANNIV Very Fine
X-MEN (1991) (#1-275) (MARVEL) #3 Very Fine
X-MEN (1991) (#1-275) (MARVEL) #5 Very Fine
X-MEN (1991) (#1-275) (MARVEL) #6 Near Mint/Mint
X-MEN ANNUAL (1970) #14 Very Fine
X-WOMEN (2010) #1 Very Fine
DC
ACTION COMICS (1938) (#0-600, 643-904) (DC) #187 Good
ACTION COMICS (1938) (#0-600, 643-904) (DC) #188 Fair
ACTION COMICS (1938) (#0-600, 643-904) (DC) #204 Good
ACTION COMICS (1938) (#0-600, 643-904) (DC) #207 Very Good
ACTION COMICS (1938) (#0-600, 643-904) (DC) #213 Good
ACTION COMICS (1938) (#0-600, 643-904) (DC) #214 Very Good
ACTION COMICS (1938) (#0-600, 643-904) (DC) #224 Very Good
ACTION COMICS (2016) (#957-UP) (DC REBIRTH) #964 VARIANT Near Mint/Mint
ADVENTURE COMICS (1938) (#32-503) (DC) #194 Good
ADVENTURE COMICS (1938) (#32-503) (DC) #195 Fair
ADVENTURE COMICS (1938) (#32-503) (DC) #203 Fair
ADVENTURE COMICS (1938) (#32-503) (DC) #204 Good
ADVENTURE COMICS (1938) (#32-503) (DC) #218 Good
ADVENTURE COMICS (1938) (#32-503) (DC) #220 Fair
ADVENTURE COMICS (1938) (#32-503) (DC) #228 Very Good

ALL-AMERICAN MEN OF WAR (1952) #29
ALL-AMERICAN MEN OF WAR (1952) #29 Fair
AQUAMAN (2016) (#1-UP) (DC REBRITH) #40 Near Mint/Mint
BANE: CONQUEST (2017) #2 Near Mint/Mint
BANE: CONQUEST (2017) #3 Near Mint/Mint
BATGIRL (2016) (#1-UP) (DC REBIRTH) #4 VARIANT Near Mint/Mint
BATGIRL (2016) (#1-UP) (DC REBIRTH) #15 Near Mint/Mint
BATGIRL (2016) (#1-UP) (DC REBIRTH) #20 Near Mint/Mint
BATGIRL (2016) (#1-UP) (DC REBIRTH) #21 Fine
BATGIRL & THE BIRDS OF PREY (DC REBIRTH) (2016) #15 Near Mint/Mint
BATGIRL & THE BIRDS OF PREY (DC REBIRTH) (2016) #16 Near Mint/Mint
BATGIRL & THE BIRDS OF PREY (DC REBIRTH) (2016) #20 Near Mint/Mint
BATGIRL & THE BIRDS OF PREY (DC REBIRTH) (2016) #21 Near Mint/Mint
BATGIRL (2009) (#1-24) (DC) #1 Very Fine
BATGIRL (2009) (#1-24) (DC) #2 Near Mint/Mint
BATGIRL (2009) (#1-24) (DC) #3 Near Mint/Mint
BATMAN (1940) (#0-713) (DC) #400 Fine
BATMAN (1940) (#0-713) (DC) #655 Near Mint/Mint
BATMAN (1940) (#0-713) (DC) #656 Near Mint/Mint
BATMAN (1940) (#0-713) (DC) #657 Near Mint/Mint
BATMAN '66 MEETS WONDER WOMAN '77 (2017) #6 Very Fine
BATMAN AND THE OUTSIDERS (1983) (#1-32) (DC) #5 NEWSSTAND Very Good
BATMAN WHO LAUGHS (2017) (#1) (DC DARK NIGHTS) #1 Near Mint/Mint
BATMAN/TEENAGE MUTANT NINJA TURTLES II (2017) #1 Near Mint/Mint
BATMAN/TEENAGE MUTANT NINJA TURTLES II (2017) #2 Near Mint/Mint
BATMAN/THE SHADOW (2017) #2 Very Fine
BATMAN/THE SHADOW (2017) #3 Near Mint/Mint
BATMAN/THE SHADOW (2017) #5 Very Fine
BATMAN/THE SHADOW (2017) #6 Near Mint/Mint
BATMAN/THE SHADOW (2017) #6 Very Fine
BATMAN: BEYOND (2016)(#1-UP)(BATMAN BEYOND)(DC REBIRTH) #15 Near Mint/Mint
BATMAN: BEYOND (2016)(#1-UP)(BATMAN BEYOND)(DC REBIRTH) #15 Very Fine
BATMAN: BEYOND (2016)(#1-UP)(BATMAN BEYOND)(DC REBIRTH) #16 Very Fine
BATMAN: BEYOND (2016)(#1-UP)(BATMAN BEYOND)(DC REBIRTH) #17 Near Mint/Mint
BATMAN: BEYOND (2016)(#1-UP)(BATMAN BEYOND)(DC REBIRTH) #21 Near Mint/Mint
BATMAN: RED DEATH (2017) #1 3RD PRINT Near Mint/Mint
BATMAN: THE DEVASTATOR (2017) #1 2ND PRINT Near Mint/Mint
BLACK LIGHTNING: COLD DEAD HANDS (2017) #2 Near Mint/Mint
BLUE BEETLE (2016) (DC REBIRTH) (#1-UP) #13 Near Mint/Mint
BLUE BEETLE (2016) (DC REBIRTH) (#1-UP) #14 Near Mint/Mint
BLUE BEETLE (2016) (DC REBIRTH) (#1-UP) #18 Near Mint/Mint
BOMBSHELLS UNITED (2017) #6 Near Mint/Mint
BOMBSHELLS UNITED (2017) #7 Near Mint/Mint
BOMBSHELLS UNITED (2017) #7 Very Fine
CAVE CARSON HAS A CYBERNETIC EYE (2016) #8 Near Mint/Mint
CAVE CARSON HAS A CYBERNETIC EYE (2016) #9 Near Mint/Mint
CAVE CARSON HAS A CYBERNETIC EYE (2016) #11 Near Mint/Mint
CAVE CARSON HAS A CYBERNETIC EYE (2016) #11 Very Fine
CAVE CARSON HAS A CYBERNETIC EYE (2016) #12 Very Fine
CAVE CARSON HAS AN INTERSTELLAR EYE (2018) #1 Fine
CAVE CARSON HAS AN INTERSTELLAR EYE (2018) #2 Near Mint/Mint

CONVERGENCE: GREEN LANTERN/PARALLAX (2015) #1 KIDD
CONVERGENCE: GREEN LANTERN/PARALLAX (2015) #1 KIDD Fine
CYBORG (2016) (#1-UP) (DC REBIRTH) #11 Very Fine
CYBORG (2016) (#1-UP) (DC REBIRTH) #17 Near Mint/Mint
DARK NIGHTS: METAL (2017) #4 Fine
DARKSEID SPECIAL (2017) #1 Near Mint/Mint
DC UNIVERSE HOLIDAY SPECIAL (2017) #1 Near Mint/Mint
DEATHSTROKE (2016) (#1-UP) (DC REBIRTH) #5 VARIANT Near Mint/Mint
DEATHSTROKE (2016) (#1-UP) (DC REBIRTH) #12 Near Mint/Mint
DEATHSTROKE (2016) (#1-UP) (DC REBIRTH) #14 Near Mint/Mint
DEATHSTROKE (2016) (#1-UP) (DC REBIRTH) #15 Near Mint/Mint
DEATHSTROKE (2016) (#1-UP) (DC REBIRTH) #23 Very Fine
DEATHSTROKE (2016) (#1-UP) (DC REBIRTH) #24 Very Fine
DEATHSTROKE (2016) (#1-UP) (DC REBIRTH) #27 Very Fine
DEMON: HELL IS EARTH (#1-6) (2017) #3 Near Mint/Mint
DEMON: HELL IS EARTH (#1-6) (2017) #4 Near Mint/Mint
DEMON: HELL IS EARTH (#1-6) (2017) #4 Very Fine
DETECTIVE COMICS (2016) (#934-UP) (DC REBIRTH) #959 Near Mint/Mint
DETECTIVE COMICS (2016) (#934-UP) (DC REBIRTH) #968 Near Mint/Mint
DETECTIVE COMICS (2016) (#934-UP) (DC REBIRTH) #969 Near Mint/Mint
DETECTIVE COMICS (2016) (#934-UP) (DC REBIRTH) #971 Near Mint/Mint
DETECTIVE COMICS (2016) (#934-UP) (DC REBIRTH) #973 Near Mint/Mint
DETECTIVE COMICS (2016) (#934-UP) (DC REBIRTH) #974 Near Mint/Mint
DETECTIVE COMICS (2016) (#934-UP) (DC REBIRTH) #975 Very Fine
DETECTIVE COMICS (2016) (#934-UP) (DC REBIRTH) #976 Near Mint/Mint
DETECTIVE COMICS (2016) (#934-UP) (DC REBIRTH) #976 Very Fine
DETECTIVE COMICS (2016) (#934-UP) (DC REBIRTH) #977 Near Mint/Mint
DETECTIVE COMICS (2016) (#934-UP) (DC REBIRTH) #978 Near Mint/Mint
DETECTIVE COMICS (2016) (#934-UP) (DC REBIRTH) #978 Very Fine

DETECTIVE COMICS (2016) (#934-UP) (DC REBIRTH) #979
DETECTIVE COMICS (2016) (#934-UP) (DC REBIRTH) #979 Near Mint/Mint
DETECTIVE COMICS (2016) (#934-UP) (DC REBIRTH) #980 Very Fine
DETECTIVE COMICS (2016) (#934-UP) (DC REBIRTH) #982 Near Mint/Mint
DETECTIVE COMICS (2016) (#934-UP) (DC REBIRTH) #982 Very Fine
DETECTIVE COMICS (2016) (#934-UP) (DC REBIRTH) #983 Near Mint/Mint
DETECTIVE COMICS (2016) (#934-UP) (DC REBIRTH) #983 Very Fine
DETECTIVE COMICS (2016) (#934-UP) (DC REBIRTH) #984 Near Mint/Mint
DETECTIVE COMICS (2016) (#934-UP) (DC REBIRTH) #985 Near Mint/Mint
DOOM PATROL (2016) (#1-UP) (DC YOUNG ANIMAL) #3 Near Mint/Mint
FALL & RISE OF CAPTAIN ATOM (2017) #5 Very Fine
FLASH (1987) (#0-247) (DC) #217 Very Fine
FLASH (1987) (#0-247) (DC) #218 Near Mint/Mint
FLASH (1987) (#0-247) (DC) #219 Near Mint/Mint
FLASH (1987) (#0-247) (DC) #220 Near Mint/Mint
FLASH (1987) (#0-247) (DC) #221 Near Mint/Mint
FLASH (1987) (#0-247) (DC) #230 Near Mint/Mint
FUTURE QUEST PRESENTS (2017) #4 Near Mint/Mint
FUTURE QUEST PRESENTS (2017) #5 Near Mint/Mint
FUTURE QUEST PRESENTS (2017) #7 Very Fine
FUTURE QUEST PRESENTS (2017) #9 Near Mint/Mint
GOTHAM CITY GARAGE (2017) #4 Near Mint/Mint
GOTHAM CITY GARAGE (2017) #5 Near Mint/Mint
GOTHAM CITY GARAGE (2017) #7 Very Fine
GOTHAM CITY GARAGE (2017) #8 Near Mint/Mint
GOTHAM CITY GARAGE (2017) #9 Near Mint/Mint
GREEN ARROW (2016) (#1-UP) (DC REBIRTH) #10 VARIANT Near Mint/Mint
GREEN ARROW (2016) (#1-UP) (DC REBIRTH) #25 Very Fine
GREEN ARROW (2016) (#1-UP) (DC REBIRTH) #30 Near Mint/Mint
GREEN ARROW (2016) (#1-UP) (DC REBIRTH) #31 Near Mint/Mint

GREEN ARROW (2016) (#1-UP) (DC REBIRTH) #32
GREEN ARROW (2016) (#1-UP) (DC REBIRTH) #32 Near Mint/Mint
GREEN ARROW (2016) (#1-UP) (DC REBIRTH) #32 Very Fine
GREEN LANTERN (2018) (#1-UP) (DC UNIVERSE) #1 2ND PRINT Near Mint/Mint
GREEN LANTERN (2018) (#1-UP) (DC UNIVERSE) #8 Very Fine
GREEN LANTERN (2018) (#1-UP) (DC UNIVERSE) #9 Near Mint/Mint
GREEN LANTERNS (DC REBIRTH) (2016) #1 2ND PRINT Near Mint/Mint
GREEN LANTERNS (DC REBIRTH) (2016) #9 Near Mint/Mint
GREEN LANTERNS (DC REBIRTH) (2016) #13 Near Mint/Mint
GREEN LANTERNS (DC REBIRTH) (2016) #16 Near Mint/Mint
GREEN LANTERNS (DC REBIRTH) (2016) #22 Near Mint/Mint
GREEN LANTERNS (DC REBIRTH) (2016) #23 Very Fine
GREEN LANTERNS (DC REBIRTH) (2016) #26 Near Mint/Mint
GREEN LANTERNS (DC REBIRTH) (2016) #30 Very Fine
GREEN LANTERNS (DC REBIRTH) (2016) #32 Very Fine
GREEN LANTERNS (DC REBIRTH) (2016) #33 Very Fine
GREEN LANTERNS (DC REBIRTH) (2016) #34 Near Mint/Mint
GREEN LANTERNS (DC REBIRTH) (2016) #35 Near Mint/Mint
HAL JORDAN & THE GREEN LANTERN CORPS (DC REBIRTH) (2016) #5 Near Mint/Mint
HAL JORDAN & THE GREEN LANTERN CORPS (DC REBIRTH) (2016) #9 Near Mint/Mint
HAL JORDAN & THE GREEN LANTERN CORPS (DC REBIRTH) (2016) #28 Near Mint/Mint
HAL JORDAN & THE GREEN LANTERN CORPS (DC REBIRTH) (2016) #29 Near Mint/Mint
HAL JORDAN & THE GREEN LANTERN CORPS (DC REBIRTH) (2016) #30 Near Mint/Mint
HAL JORDAN & THE GREEN LANTERN CORPS (DC REBIRTH) (2016) #31 Near Mint/Mint
HAL JORDAN & THE GREEN LANTERN CORPS (DC REBIRTH) (2016) #33 Near Mint/Mint
HAL JORDAN & THE GREEN LANTERN CORPS (DC REBIRTH) (2016) #34 Near Mint/Mint
HAL JORDAN & THE GREEN LANTERN CORPS (DC REBIRTH) (2016) #35 Near Mint/Mint
HAL JORDAN & THE GREEN LANTERN CORPS (DC REBIRTH) (2016) #36 Near Mint/Mint
HAL JORDAN & THE GREEN LANTERN CORPS (DC REBIRTH) (2016) #37 Near Mint/Mint
HAL JORDAN & THE GREEN LANTERN CORPS (DC REBIRTH) (2016) #37 Very Fine
HAL JORDAN & THE GREEN LANTERN CORPS (DC REBIRTH) (2016) #39 Near Mint/Mint
HAL JORDAN & THE GREEN LANTERN CORPS (DC REBIRTH) (2016) #42 Near Mint/Mint
HAL JORDAN & THE GREEN LANTERN CORPS (DC REBIRTH) (2016) #43 Near Mint/Mint
HAL JORDAN & THE GREEN LANTERN CORPS (DC REBIRTH) (2016) #46 Near Mint/Mint

HELLBLAZER (2016) (#1-24) (DC REBIRTH) #13
HELLBLAZER (2016) (#1-24) (DC REBIRTH) #13 Near Mint/Mint
HELLBLAZER (2016) (#1-24) (DC REBIRTH) #15 Near Mint/Mint
HELLBLAZER (2016) (#1-24) (DC REBIRTH) #16 Near Mint/Mint
HELLBLAZER (2016) (#1-24) (DC REBIRTH) #17 Near Mint/Mint
HELLBLAZER (2016) (#1-24) (DC REBIRTH) #17 Very Fine
HELLBLAZER (2016) (#1-24) (DC REBIRTH) #18 Near Mint/Mint
HUNTRESS (1989) (#1-19) (DC) #1 Very Fine
INFINITY INC. (1984) (#1-53) (DC) #30 Very Fine
JUSTICE LEAGUE (2018) (#1-UP) (DC UNIVERSE) #9 Very Fine
JUSTICE LEAGUE DARK & WONDER WOMAN: WITCHING HOUR (2018) #1 Fine
JUSTICE LEAGUE DARK & WONDER WOMAN: WITCHING HOUR (2018) #1 Very Fine
JUSTICE LEAGUE OF AMERICA (1960) (#1-261) (DC) #166 Fine
JUSTICE LEAGUE OF AMERICA (1960) (#1-261) (DC) #167 Very Good
JUSTICE LEAGUE OF AMERICA (1960) (#1-261) (DC) #168 Good
MOTHER PANIC/BATMAN SPECIAL (2018) #1 Near Mint/Mint
NEW GODS (1989) #20 Near Mint/Mint
NIGHTWING (2016) (#1-UP) (DC REBIRTH) #50 Very Fine
NIGHTWING (2016) (#1-UP) (DC REBIRTH) #55 Near Mint/Mint
PLOP (1973) #6 Very Good
PLOP MILLENNIUM EDITION (2000) #1 Fine
POWER GIRL (1988) (#1-4) #1 Very Fine
PREACHER (1995) #1 (DC: Vertigo Press) Near Mint/Mint

RED HOOD & THE OUTLAWS (2016) (#1-UP) (DC REBRITH) #17
RED HOOD & THE OUTLAWS (2016) (#1-UP) (DC REBRITH) #17 Near Mint/Mint
RED HOOD & THE OUTLAWS (2016) (#1-UP) (DC REBRITH) #23 Fine
RED HOOD & THE OUTLAWS (2016) (#1-UP) (DC REBRITH) #23 Very Fine
RED HOOD & THE OUTLAWS ANNUAL (2017) (#1) (DC REBIRTH) #1 Near Mint/Mint
SANDMAN MYSTERY THEATRE (1993) #37 (DC: Vertigo Press) Very Fine
SECRET SOCIETY OF SUPER-VILLAINS (1976) #2 Fine
SECRET SOCIETY OF SUPER-VILLAINS (1976) #3 Very Good
SECRET SOCIETY OF SUPER-VILLAINS (1976) #4 Very Good
SECRET SOCIETY OF SUPER-VILLAINS (1976) #9 Fine
SECRET SOCIETY OF SUPER-VILLAINS (1976) #10 Fine
SHAZAM! (2011) (#1) #1 Very Fine
SIX PACK & DOG WELDER: HARD TRAVELIN HEROEZ (2016) #2 Near Mint/Mint
SIX PACK & DOG WELDER: HARD TRAVELIN HEROEZ (2016) #3 Near Mint/Mint
STEEL (2011) (#1) (DC) (REIGN OF DOOMSDAY) #1 Very Fine
SUICIDE SQUAD (2016) (#1-50) (DC REBIRTH) #41 Near Mint/Mint
SUICIDE SQUAD (2016) (#1-50) (DC REBIRTH) #42 Very Fine
SUICIDE SQUAD (2016) (#1-50) (DC REBIRTH) #43 Near Mint/Mint
SUICIDE SQUAD: BLACK FILES (2017) #1 Near Mint/Mint
SUICIDE SQUAD: BLACK FILES (2017) #2 Near Mint/Mint
SUICIDE SQUAD: BLACK FILES (2017) #3 Near Mint/Mint
SUICIDE SQUAD: BLACK FILES (2017) #3 Very Fine
SUICIDE SQUAD: BLACK FILES (2017) #4 Near Mint/Mint
SUPERMAN FAMILY (1974) #164 Fair
SUPERMAN FAMILY (1974) #172 Fine
SUPERMAN FAMILY (1974) #173 Good
SUPERMAN FAMILY (1974) #176 Fine
SUPERMAN MILLENNIUM EDITION (1939 SERIES) (2000) #233 Fine
TALES OF THE NEW TEEN TITANS (1982) #1 NEWSSTAND Very Fine
TALES OF THE NEW TEEN TITANS (1982) #2 Very Good
TALES OF THE NEW TEEN TITANS (1982) #3 Fine
TEEN TITANS (1966) (#1-53) (DC) #41 Good
TEEN TITANS (1966) (#1-53) (DC) #44 Very Good
TEEN TITANS (1966) (#1-53) (DC) #46 Good
TEEN TITANS (1966) (#1-53) (DC) #47 Very Good
TEEN TITANS (1966) (#1-53) (DC) #49 Very Good
TEEN TITANS (1966) (#1-53) (DC) #50 Very Good
TEEN TITANS (1966) (#1-53) (DC) #51 Very Good
TEEN TITANS (1980) (#1-91) (DC) #14 Fine
TEEN TITANS (1980) (#1-91) (DC) #21 Very Good
TEEN TITANS (1980) (#1-91) (DC) #23 Fine
TEEN TITANS (1980) (#1-91) (DC) #42 NEWSSTAND Fine
TEEN TITANS (1980) (#1-91) (DC) #43 Fine
TEEN TITANS (1980) (#1-91) (DC) #44 NEWSSTAND Fine
TEEN TITANS (2016) (#1-UP) (DC REBIRTH) #16 Very Fine
TEEN TITANS (2016) (#1-UP) (DC REBIRTH) #18 Fine
TEEN TITANS (2016) (#1-UP) (DC REBIRTH) #18 Very Fine
TEEN TITANS (2016) (#1-UP) (DC REBIRTH) #22 Very Fine
TEEN TITANS ANNUAL (1982) #2 Fine
TEEN TITANS ANNUAL (1982) #2 NEWSSTAND Fine
TEEN TITANS ANNUAL (1982) #3 Fine
TITANS (2016) (#1-UP) (DC REBIRTH) #3 Near Mint/Mint

TITANS (2016) (#1-UP) (DC REBIRTH) #12
TITANS (2016) (#1-UP) (DC REBIRTH) #12 Very Fine
WILD STORM (DC) (WARREN ELLIS) (WILDSTORM) (2017) #11 Near Mint/Mint
WILD STORM (DC) (WARREN ELLIS) (WILDSTORM) (2017) #14 Near Mint/Mint
WILD STORM (DC) (WARREN ELLIS) (WILDSTORM) (2017) #14 Fine
WILD STORM (DC) (WARREN ELLIS) (WILDSTORM) (2017) #18 Near Mint/Mint
WONDER WOMAN (2016) (#1-83, #750-UP) (DC REBIRTH) #18 Near Mint/Mint
WONDER WOMAN (2016) (#1-83, #750-UP) (DC REBIRTH) #19 Near Mint/Mint
WONDER WOMAN (2016) (#1-83, #750-UP) (DC REBIRTH) #22 Very Fine
WONDER WOMAN (2016) (#1-83, #750-UP) (DC REBIRTH) #36 Very Fine
YOUNG LOVE (1963) #82 Very Good
DARK HORSE COMICS
FIGHT CLUB 2 (2015) #10 MACK Near Mint/Mint
PREDATOR (1989) #1 Near Mint/Mint
STAR WARS TALES (1999) #20 PHOTO Near Mint/Mint
STAR WARS TALES (1999) #21 PHOTO Fine
STAR WARS TALES (1999) #22 Near Mint/Mint
STAR WARS X-WING: ROGUE SQUADRON #1 Fine
STAR WARS X-WING: ROGUE SQUADRON #2 Near Mint/Mint
STAR WARS: HEIR TO THE EMPIRE (1995) #1 PAPERCOVER Near Mint/Mint
STAR WARS: HEIR TO THE EMPIRE (1995) #2 Near Mint/Mint
STAR WARS: HEIR TO THE EMPIRE (1995) #3 Near Mint/Mint
STAR WARS: HEIR TO THE EMPIRE (1995) #4 Very Fine
STAR WARS: HEIR TO THE EMPIRE (1995) #5 Near Mint/Mint
STAR WARS: HEIR TO THE EMPIRE (1995) #6 Near Mint/Mint
STAR WARS: SHADOWS OF THE EMPIRE (1996) #2 Very Fine
STAR WARS: SHADOWS OF THE EMPIRE (1996) #4 Near Mint/Mint

STAR WARS: SHADOWS OF THE EMPIRE (1996) #5
STAR WARS: SHADOWS OF THE EMPIRE (1996) #5 Near Mint/Mint
STAR WARS: SHADOWS OF THE EMPIRE (1996) #6 Near Mint/Mint
IMAGE COMICS
CYBERFORCE (1993) (#1-35) (IMAGE) #35 (Image Top Cow) Near Mint/Mint
DARKNESS/BATMAN (1999) #1 (Image Top Cow) Near Mint/Mint
SPAWN (1992) #1 Fine
SPAWN (1992) #6 NEWSSTAND Fine
SPAWN (1992) #13 NEWSSTAND Good
SPAWN (1992) #66 Fine
SPAWN (1992) #84 Very Fine
SPAWN (1992) #85 Very Fine
SPAWN (1992) #86 Near Mint/Mint
SPAWN (1992) #90 Very Fine
SPAWN (1992) #91 Near Mint/Mint
SPAWN (1992) #94 Near Mint/Mint
SPAWN (1992) #95 Very Good
SPAWN (1992) #96 NEWSSTAND Very Fine
SPAWN (1992) #97 Fine
SPAWN (1992) #98 Near Mint/Mint
SPAWN (1992) #99 Fine
SPAWN (1992) #100 ROSS Near Mint/Mint
SPAWN (1992) #101 Near Mint/Mint
SPAWN (1992) #102 Very Fine
SPAWN (1992) #103 Fine
SPAWN (1992) #104 Near Mint/Mint
SPAWN (1992) #105 Near Mint/Mint
SPAWN (1992) #138 Very Fine
SPAWN (1992) #142 Very Fine
SPAWN (1992) #143 Near Mint/Mint
SPAWN (1992) #181 Very Fine
SPAWN (1992) #221 A Near Mint/Mint
SPAWN (1992) #222 Near Mint/Mint
SPAWN (1992) #223 Near Mint/Mint
SPAWN (1992) #250 MCFARLANE Very Fine
SPAWN (1992) #300 J MCFARLAN Near Mint/Mint
SPAWN (1992) #301 H MCFARLAN Near Mint/Mint
SPAWN KILLS EVERYONE (2016) #1 3RD PRINT Near Mint/Mint
INDEPENDENTS
3 LITTLE KITTENS (2002) #1 VARIANT (Broadsword Comics) Near Mint/Mint
AIR ACE (VOL. 2) (1944) #10 (Street & Smith Publications) Very Good
AIR ACE (VOL. 3) #3 (Street & Smith Publications) Very Good
AMERICAN AIR FORCES (1944) #12 (MAGAZINE ENTERPRISES) Good
ARCHANGELS: THE SAGA (ETERNAL COMICS) (1995) #1 2ND PRINT (Eternal Comics) Near Mint/Mint
ATOMIC ATTACK (YOUTHFUL MAGAZINES) (1953) #5 (Youthfull Magazines) Fair
BATTLESTAR GALACTICA (REALM PRESS) (1997) #1 (Realm Press) Fine
BATTLESTAR GALACTICA (REALM PRESS) (1997) #4 (Realm Press) Fine
BATTLESTAR GALACTICA (REALM PRESS) (1997) #5 (Realm Press) Near Mint/Mint
BATTLESTAR GALACTICA (REALM PRESS) (1997) #5 (Realm Press) Very Fine
BATTLESTAR GALACTICA SEASON 3 #1 (Realm Press) Fine
BATTLESTAR GALACTICA SEASON 3 #1 (Realm Press) Very Fine
BATTLESTAR GALACTICA SEASON 3 #2 (Realm Press) Fine
BATTLESTAR GALACTICA: SEARCH FOR SANCTUARY #1 (Realm Press) Near Mint/Mint
BLACKHAWK (1944) (#9-107) (QUALITY) #66 (Quality Comics) Fair

BLACKHAWK (1944) (#9-107) (QUALITY) #81
BLACKHAWK (1944) (#9-107) (QUALITY) #81 (Quality Comics) Good
BLACKHAWK (1944) (#9-107) (QUALITY) #85 (Quality Comics) Very Good
BLACKHAWK (1944) (#9-107) (QUALITY) #96 (Quality Comics) Good
CAPTAIN MARVEL ADVENTURES (1941) #144 (FAWCETT PUBLICATION) Fair
CHERRY (#1-22)(CHERRY POPTART) (1982) #1 3RD PRT (Kitchen Sink Publishing) Very Good
CLASSICS ILLUSTRATED (1942) #22 HRN60 ED3 (Gilberton Publications) Very Good
COMMANDER BATTLE AND THE ATOMIC SUB (1954) #2 (ACG) Good
CROW/RAZOR: KILL THE PAIN #0 (London Night Studios) Near Mint/Mint
DOCTOR WHO: 10TH DOCTOR – YEAR TWO (2015) #15 A WHEATLEY (TITAN BOOKS) Near Mint/Mint
DOCTOR WHO: 11TH DOCTOR – YEAR TWO (2015) #14 A RONALD (Titan Distributing) Near Mint/Mint
DOCTOR WHO: 11TH DOCTOR – YEAR TWO (2015) #14 C MYERS (Titan Distributing) Near Mint/Mint
DOCTOR WHO: SUPREMACY OF THE CYBERMEN (2016) #1 C LISTRAN (Titan Distributing) Near Mint/Mint
DOCTOR WHO: SUPREMACY OF THE CYBERMEN (2016) #3 B PHOTO (Titan Distributing) Near Mint/Mint
DOCTOR WHO: SUPREMACY OF THE CYBERMEN (2016) #4 B PHOTO (Titan Distributing) Near Mint/Mint
EVIL DEAD 2: DARK ONES RISING (2016) #1 GUICHET (Space Goat Productions) Near Mint/Mint
MAN IN FLIGHT (1957) #1 FC #836 (Dell Publishing) Fine
MAN IN SPACE (1956) #1 FC #716 (Dell Publishing) Very Good
MANDRAKE THE MAGICIAN (1956) #1 FC #752 (Dell Publishing) Very Good
MARK TRAIL'S ADVENTURE BOOK OF NATURE (1958) #1 (PINES COMICS) Very Fine
MARS AND BEYOND (1957) #1 FC #866 (Dell Publishing) Very Good
MASTER OF THE WORLD (1961) #1 FC #1157 (Dell Publishing) Fine

MEN INTO SPACE (Dell Publishing) #1 FC #1083
MEN INTO SPACE (Dell Publishing) #1 FC #1083 (Dell Publishing) Very Good
MOBY DICK (1956) #1 FC #717 (Dell Publishing) Very Good
MORGAN THE PIRATE (1961) #1 FC #1227 (Dell Publishing) Fine
NAZI ZOMBIES (2012) #1 (Antarctic Press) Near Mint/Mint
NAZI ZOMBIES (2012) #2 (Antarctic Press) Very Good
NAZI ZOMBIES (2012) #3 (Antarctic Press) Near Mint/Mint
PLANET OF THE APES/GREEN LANTERN (2017) #1 VAN (Boom Studios Publishing) Near Mint/Mint
RICHIE RICH HOLIDAY DIGEST (1980) #5 (Harvey Comics) Fine
SHERLOCK NINJA: CURIOUS CASE OF THE IRON MONKEY (2009) #1 (Antarctic Press) Near Mint/Mint
SONIC UNIVERSE (2009) #71 (Archie Comics) Near Mint/Mint
SPIRIT (1983) (#1-87) (KITCHEN SINK) #20 (Kitchen Sink Publishing) Very Fine
SPIRIT (1983) (#1-87) (KITCHEN SINK) #32 (Kitchen Sink Publishing) Near Mint/Mint
SPIRIT (1983) (#1-87) (KITCHEN SINK) #86 (Kitchen Sink Publishing) Very Fine
STAR TREK/GREEN LANTERN (VOL. 2) (STRANGER WORLDS) (2016) #4 (IDW Publishing) Near Mint/Mint
STAR TREK: NEW VISIONS – THE CAGE (2016) #1 (IDW Publishing) Near Mint/Mint
STEAM WARS (2013) #1 (Antarctic Press) Near Mint/Mint
STEAM WARS (2013) #2 (Antarctic Press) Near Mint/Mint
STEAM WARS (2013) #3 (Antarctic Press) Near Mint/Mint
STEAM WARS (2013) #4 (Antarctic Press) Near Mint/Mint
STEAMPUNK FAIRY TALES ONE-SHOT (2011) #1 (Antarctic Press) Near Mint/Mint
SUPER MARIO BROS. (1991) #3 (Acclaim/Valiant) Near Mint/Mint
TEENAGE MUTANT NINJA TURTLES (1984) (#1-62) (MIRAGE) #2 3RD PRT (Mirage Studios) Very Good

TIME LINCOLN ONE-SHOT (2010) #1
TIME LINCOLN ONE-SHOT (2010) #1 (Antarctic Press) Near Mint/Mint
TIME LINCOLN: APOCALYPSE MAO (2010) #1 (Antarctic Press) Very Fine
TIME LINCOLN: CONTINENTAL ONE-SHOT (2014) #1 (Antarctic Press) Near Mint/Mint
TIME LINCOLN: CUBA COMMANDER ONE-SHOT (2011) #1 (Antarctic Press) Very Fine
TIME LINCOLN: FISTS OF FUHRER (2010) #1 (Antarctic Press) Near Mint/Mint
TIME LINCOLN: JACK TO THE FUTURE ONE-SHOT (2011) #1 (Antarctic Press) Near Mint/Mint
TRUMP VS. TIME LINCOLN (2017) #1 (Antarctic Press) Very Fine
To be unsubscribed from our e-mail newsletter, please send your request to moulton@milehighcomics.com
Mile High Comics, 4600 Jason Street, Denver CO 80211, USA