If you are having trouble viewing this newsletter, click here
A Story From Chucks Teenage Years
Howdy!
As my accompanying story explains, I am off on (yet another) comic book buying trip this evening. I have over 2,000 lbs of food and drinks loaded in my van right now, however, that I need to deliver this afternoon to some of the unhoused people living in tents in lower downtown Denver. That commitment means that I simply do not have time for writing a long newsletter for you today. With that restriction in mind, what I have asked for Will Moulton to provide you today a brief essay that I wrote early this morning, about a dangerous cross country journey that I took as a teen. It is not really about comics, but it certainly provides insights as to me as an individual, and about how/why I choose to operate Mile High Comics. I hope that you enjoy my tale:
"I am packing today for a 2,000-mile journey to buy comic books. Along the way, I am going to revisit Clayton, an incredibly tiny town on the windswept plains of eastern New Mexico. I last visited there in March, 1974, when I was on the first leg of an epic hitchhiking journey to meet my birth father for the first time. He lived in Marshall, Texas, which is just a few miles from the Texas/Louisiana border, and well over 1,000 miles from my tiny boarding house room, in Boulder.
I had many adventures on that journey, including preventing a murder at a highway rest stop area near Tyler, TX, but what is truly seared in my memory about that trip is being dropped off in Clayton by a friendly rancher who had picked me up by the side of the road, in Raton. It was nearly twilight on a Friday night when he left me in the middle of that incredibly isolated little wide spot called Clayton, hundreds of miles from any real civilization. To my extreme dismay, I quickly discovered that the local teens "cruised" back and forth on the state highway that formed their only "main street." Having nothing else to do, they amused themselves by screaming insults (and threats) at me. This was clearly not a friendly place for a young hitchhiker who was all alone, and defenseless.
After an hour of fruitlessly trying to hitch a ride toward Amarillo, I finally gave up. It was pitch dark by then, with a windchill of about twenty degrees. I had no money for a room in the only motel, so my plan was to find a sheltered spot in a dry ditch that paralleled the road to lay out my sleeping bag, and to then wait for dawn. First, however, I decided to spend some of my last dollars to buy some cheap food at the little diner at the eastern edge part of the "city" limits that was the only open place left in town.
I sat down at the counter, and picked up one of the menus. It was then that I noticed the silence, and distinct chill in the air. I looked around, and discovered that the few other people in the place were glaring at me with open hostility. This included the one waitress. I then sat for over an hour, being totally ignored by her. She would not take an order from me, and even refused to acknowledge my polite request for a glass of water.
Just as I was about to give up and spend a hungry (and thirsty) night in that ditch, two young couples entered the diner, and sat in a booth near me. They were immediately given menus and water. After they had placed their order, I went over to them and asked if they might be heading eastward, and if they might be willing to give me a ride. They told me that they were heading for Dallas(!), but explained that they had only four seats in their little car. I thanked them, and went back to my seat at the counter for another brief effort (in vain) to buy food.
Just as I was heading out the door, one of the young men got up and asked me if I would be willing to sit on a the ridge between the two bucket seats in the back if their car? They had seen the terrible treatment that I was receiving, and were willing to help me to get out of town. With extreme gratitude, I accepted their offer.
That night's journey to Dallas was truly surreal, as it turned out that these two couples had just seen the "Exorcist" movie, and had decided that demonic possessions threatened us all on a daily basis. Just outside of Amarillo, one of the young women started shrieking in tongues, which forced us to stop under a brilliantly clear sky (lit by millions of incredibly beautiful stars) and "lay hands" upon her to force that parasitic demon to leave her.
Seriously, that really happened. I will never forget kneeling on gravel in the darkness, to help her to battle her damned demon. I also had to listen to their manic "born-again" blithering for the entire 6-hour trip, as they did their best to convince me all night that their particular form of religious madness was the only way for me to avoid eternal damnation. When they finally dropped me off in Dallas, my ass was incredibly sore from sitting on that damn hump all night, and any chance that I would ever join their insane religion was totally obliterated. While their helping me to escape Clayton was greatly appreciated, I was truly delighted to see their tail lights disappear in the distance, forever.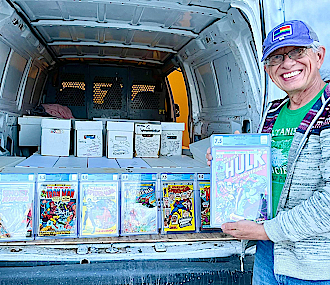 Chuck with the last roadtrip collection.
Fast-forward 47 years, and I am now a millionaire many times over. I am also blessed to have the means (and the personal freedom) to be able to occasionally take off on solitary road trips all by myself. I tell everyone that these journeys are all about buying old comic books, but truth be told, I already own more comic books than I can possibly sell before I die. The real reason that I drive thousands of miles by myself is that it helps to ground me, and to remind me of how truly blessed that I have been by Providence. Never, ever, forget the beginning of your journey. Truly, it makes the end all the more gratifying.
That having been said, I will not be stopping in Clayton out of bitterness or anger, but rather to reflect on how far I have come from the days when I was not considered worthy of even a glass of water, and had no other choice but to sleep in an icy cold ditch, hoping that I would not be beaten, or killed, in the middle of the night. That is the reality that many of our homeless urban poor still face every day, and it is to thank Providence for my blessings that I today seek to help them in any way that I can. That was my beginning, and I sincerely hope that it is not their end.
Love is love"
Happy collecting!
Chuck Rozanski/Bettie Pages,
President – Mile High Comics, Inc.
February 19, 2021
P.S At the end of this newsletter is (yet another) lengthy listing of newly-arrived back issues comics, books, and magazines. Over the past two months we have been undertaking a nationwide search for private collections that we can purchase, and our success is reflected in the amazing diversity of our daily New-In-Stock and Premium New-In-Stock listings. Almost all of the comics and magazines listed are available to you at 40% discount from our list prices when you plug our current FEBRUARY! codeword into the discount line provided to you at checkout. Only new issues, a few variants, and our professionally-graded items are exempt. Please have fun reading your comics this weekend, and do enjoy perusing our new fun listing.
MARVEL

AGE OF APOCALYPSE (2012) (#1-14) (FROM THE PAGES…) #8
AGE OF APOCALYPSE (2012) (#1-14) (FROM THE PAGES…) #8 Near Mint/Mint
AGE OF APOCALYPSE (2012) (#1-14) (FROM THE PAGES…) #9 Fine
AGE OF ULTRON (AVENGERS) (2013) #6 Near Mint/Mint
AGE OF ULTRON (AVENGERS) (2013) #7 Very Fine
AGE OF ULTRON (AVENGERS) (2013) #8 Fine
ALL-NEW INHUMANS (2015) #11 Near Mint/Mint
ALL-NEW INVADERS (2014) #14 Near Mint/Mint
ALL-NEW INVADERS (2014) #15 Near Mint/Mint
ALL-NEW SAVAGE SHE-HULK (2009) #2 Very Fine
ALL-NEW SAVAGE SHE-HULK (2009) #3 Very Fine
ALL-NEW SAVAGE SHE-HULK (2009) #4 Fine
ALL-NEW X-FACTOR (2014) #1 Very Fine
ALL-NEW X-MEN (2012) (#1-41) #18 Fine
ALL-NEW X-MEN (2012) (#1-41) #19 Fine
ALL-NEW X-MEN (2012) (#1-41) #20 Fine
ALL-NEW X-MEN (2012) (#1-41) #35 Very Fine
ALL-NEW X-MEN (2012) (#1-41) #36 Very Fine
ALL-NEW X-MEN (2012) (#1-41) #37 Fine
ALL-NEW X-MEN (2012) (#1-41) #38 Very Fine
ALL-NEW X-MEN (2015) (#1-19) #1 Very Fine
AMAZING SPIDER-MAN (1999) (#1-58, #500-700.5) (MARVEL) #596 Near Mint/Mint
AMAZING SPIDER-MAN (1999) (#1-58, #500-700.5) (MARVEL) #597 Fine
AMAZING SPIDER-MAN (1999) (#1-58, #500-700.5) (MARVEL) #598 Fine
AMAZING SPIDER-MAN (1999) (#1-58, #500-700.5) (MARVEL) #599 Very Fine
AMAZING SPIDER-MAN (1999) (#1-58, #500-700.5) (MARVEL) #600 ROSS Very Fine
AMAZING SPIDER-MAN (1999) (#1-58, #500-700.5) (MARVEL) #685 Fine
AMAZING SPIDER-MAN (1999) (#1-58, #500-700.5) (MARVEL) #686 Very Fine
AMAZING SPIDER-MAN (1999) (#1-58, #500-700.5) (MARVEL) #687 Very Fine
AMAZING SPIDER-MAN (1999) (#1-58, #500-700.5) (MARVEL) #688 Very Fine
AMAZING SPIDER-MAN (1999) (#1-58, #500-700.5) (MARVEL) #689 Very Fine

AMAZING SPIDER-MAN (1999) (#1-58, #500-700.5) (MARVEL) #694
AMAZING SPIDER-MAN (1999) (#1-58, #500-700.5) (MARVEL) #694 Very Fine
AMAZING SPIDER-MAN (1999) (#1-58, #500-700.5) (MARVEL) #695 Near Mint/Mint
AMAZING SPIDER-MAN (1999) (#1-58, #500-700.5) (MARVEL) #696 Very Fine
AMAZING SPIDER-MAN (1999) (#1-58, #500-700.5) (MARVEL) #697 Fine
AMAZING SPIDER-MAN (1999) (#1-58, #500-700.5) (MARVEL) #698 Very Fine
AMAZING SPIDER-MAN (1999) (#1-58, #500-700.5) (MARVEL) #700 .1 Fine
AMAZING SPIDER-MAN (1999) (#1-58, #500-700.5) (MARVEL) #700 .2 VARIANT Fine
AMAZING SPIDER-MAN (1999) (#1-58, #500-700.5) (MARVEL) #700 .3 VARIANT Very Fine
AMAZING SPIDER-MAN (1999) (#1-58, #500-700.5) (MARVEL) #700 .4 VARIANT Fine
AMAZING SPIDER-MAN (1999) (#1-58, #500-700.5) (MARVEL) #700 .5 VARIANT Fine
AMAZING SPIDER-MAN (2014) (#1-20.1) (MARVEL) #14 Very Fine
AMAZING SPIDER-MAN (2014) (#1-20.1) (MARVEL) #15 Fine
AMAZING SPIDER-MAN (2014) (#1-20.1) (MARVEL) #16 .1 BIANCHI Very Fine
AMAZING SPIDER-MAN (2014) (#1-20.1) (MARVEL) #16 Very Fine
AMAZING SPIDER-MAN (2015) (#1-32) (MARVEL) #1 .6 Very Fine
AMAZING SPIDER-MAN ANNUAL (2008) #39 Fine
AMAZING SPIDER-MAN SPECIAL (2015) #1 KUBERT Fine
AMAZING SPIDER-MAN: ENDS OF THE EARTH (BIG HERO 6) (2012) #1 Very Fine
AMAZING X-MEN (2014) (#1-19) #2 Fine
AMAZING X-MEN (2014) (#1-19) #16 Fine
AMAZING X-MEN (2014) (#1-19) #17 Fine
ASTONISHING ANT-MAN (2015) #1 Very Fine
ASTONISHING ANT-MAN (2015) #2 Near Mint/Mint
ASTONISHING ANT-MAN (2015) #3 Near Mint/Mint
ASTONISHING ANT-MAN (2015) #4 Fine
ASTONISHING X-MEN (2004) (#1-68) (MARVEL)(JOSS WHENDON) #30 Fine
ASTONISHING X-MEN ANNUAL (2012) #1 Very Fine

AVENGING SPIDER-MAN (2011) #13
AVENGING SPIDER-MAN (2011) #13 Very Fine
AVENGING SPIDER-MAN (2011) #14 Fine
AVENGING SPIDER-MAN ANNUAL (2012) #1 Fine
BIG HERO 6: BRAVE NEW HEROES (2012) #1 Very Fine
BLACK KNIGHT (2015) (#1-5) (MARVEL) #1 Fine
BLACK KNIGHT (2015) (#1-5) (MARVEL) #2 Near Mint/Mint
BLACK KNIGHT (2015) (#1-5) (MARVEL) #3 Near Mint/Mint
BLAZE (1993) (#1-4) (LEGACY OF BLOOD) (MARVEL) #1 NEWSSTAND Very Fine
BLAZE (1993) (#1-4) (LEGACY OF BLOOD) (MARVEL) #2 Very Fine
BLAZE (1993) (#1-4) (LEGACY OF BLOOD) (MARVEL) #3 Near Mint/Mint
BLAZE (1993) (#1-4) (LEGACY OF BLOOD) (MARVEL) #3 Very Fine
BLAZE (1993) (#1-4) (LEGACY OF BLOOD) (MARVEL) #4 Near Mint/Mint
BLAZE (1993) (#1-4) (LEGACY OF BLOOD) (MARVEL) #4 Fine
BLAZE (1993) (#1-4) (LEGACY OF BLOOD) (MARVEL) #4 NEWSSTAND Fine
BLAZE (1994) (#1-12) (MARVEL) #1 Near Mint/Mint
BLAZE (1994) (#1-12) (MARVEL) #1 Very Fine
BLAZE (1994) (#1-12) (MARVEL) #2 Near Mint/Mint
BLAZE (1994) (#1-12) (MARVEL) #2 Very Fine
BLAZE (1994) (#1-12) (MARVEL) #3 Near Mint/Mint
BLAZE (1994) (#1-12) (MARVEL) #3 Very Fine
BLAZE (1994) (#1-12) (MARVEL) #4 Very Fine
BLAZE (1994) (#1-12) (MARVEL) #8 Fine
BLAZE (1994) (#1-12) (MARVEL) #8 Very Fine
BLAZE (1994) (#1-12) (MARVEL) #10 Near Mint/Mint
BLAZE (1994) (#1-12) (MARVEL) #10 Very Fine
BLAZE (1994) (#1-12) (MARVEL) #11 Very Fine
BLAZE OF GLORY (2000) #1 Very Fine
BLAZE OF GLORY (2000) #2 Near Mint/Mint
BLAZE OF GLORY (2000) #2 Very Fine
BLAZE OF GLORY (2000) #3 Near Mint/Mint
BLAZE OF GLORY (2000) #4 Near Mint/Mint
BLINK (2000) #3 Fine
BLIP (1983) #1 Fine
BLIP (1983) #1 NEWSSTAND Very Fine
BLIP (1983) #1 Very Fine
BLIP (1983) #2 Very Good
BLIP (1983) #3 Very Good
BLIP (1983) #4 Good
BLIP (1983) #4 NEWSSTAND Fine
BLIP (1983) #4 NEWSSTAND Very Good
BLIP (1983) #4 Very Good
BLIP (1983) #5 Fine
BLIP (1983) #5 Very Good
BLIP (1983) #5 Very Fine
BLIP (1983) #6 Fine
BLIP (1983) #6 Very Fine
BLOCKBUSTERS OF THE MARVEL UNIVERSE (2011) #1 Very Fine
BORN (2003) (#1-4) (MARVEL MAX) (PUNISHER) #1 Fine
BORN (2003) (#1-4) (MARVEL MAX) (PUNISHER) #2 Near Mint/Mint
BORN (2003) (#1-4) (MARVEL MAX) (PUNISHER) #3 Near Mint/Mint
BORN (2003) (#1-4) (MARVEL MAX) (PUNISHER) #4 Very Fine
CABLE (2008) (#1-25) (MARVEL) #14 VARIANT Fine
CABLE (2008) (#1-25) (MARVEL) #15 Near Mint/Mint
CABLE & X-FORCE (2012) #17 Near Mint/Mint
CABLE & X-FORCE (2012) #18 Near Mint/Mint
CAPTAIN AMERICA (2013) (#1-25) (MARVEL) #1 Fine
CAPTAIN AMERICA (2013) (#1-25) (MARVEL) #13 Fine
CAPTAIN AMERICA (2013) (#1-25) (MARVEL) #14 Near Mint/Mint
CAPTAIN AMERICA & .. (#620-640) (2011) #629 Very Fine
CAPTAIN AMERICA: LIVING LEGEND (2013) #4 Very Fine
CAPTAIN BRITAIN AND MI 13 (2008) #14 Very Fine

CAPTAIN BRITAIN AND MI 13 ANNUAL (2009) #1
CAPTAIN BRITAIN AND MI 13 ANNUAL (2009) #1 Near Mint/Mint
DAREDEVIL (2011) (#1-36) (MARVEL) #11 Near Mint/Mint
DAREDEVIL (2011) (#1-36) (MARVEL) #12 Near Mint/Mint
DAREDEVIL (2011) (#1-36) (MARVEL) #13 Near Mint/Mint
DAREDEVIL (2011) (#1-36) (MARVEL) #14 Near Mint/Mint
DAREDEVIL (2011) (#1-36) (MARVEL) #18 Near Mint/Mint
DAREDEVIL (2011) (#1-36) (MARVEL) #19 Near Mint/Mint
DAREDEVIL (2011) (#1-36) (MARVEL) #20 Near Mint/Mint
DAREDEVIL (2011) (#1-36) (MARVEL) #33 Near Mint/Mint
DAREDEVIL (2011) (#1-36) (MARVEL) #34 Near Mint/Mint
DAREDEVIL (2016) (#1-28) (MARVEL) #1 Near Mint/Mint
DAREDEVIL (2016) (#1-28) (MARVEL) #2 Near Mint/Mint
DAREDEVIL (2016) (#1-28) (MARVEL) #4 Very Fine
DAREDEVIL (2016) (#1-28) (MARVEL) #11 Very Fine
DAREDEVIL (2016) (#1-28) (MARVEL) #13 Very Fine
DAREDEVIL (2016) (#1-28) (MARVEL) #14 Near Mint/Mint
DAREDEVIL (2016) (#1-28) (MARVEL) #18 Very Fine
DAREDEVIL: END OF DAYS (2012) #1 Near Mint/Mint
DAREDEVIL: END OF DAYS (2012) #2 Near Mint/Mint
DAREDEVIL: NOIR (2009) #4 VARIANT Very Fine
DEADPOOL (1993) (#1-4) (CIRCLE CHASE) (MARVEL) #1 Fine
DEADPOOL (1993) (#1-4) (CIRCLE CHASE) (MARVEL) #2 Fine
DEADPOOL (1993) (#1-4) (CIRCLE CHASE) (MARVEL) #3 Fine
DEADPOOL (1993) (#1-4) (CIRCLE CHASE) (MARVEL) #4 NEWSSTAND Good
DEADPOOL (1997) (#0-69) (MARVEL) #61 Near Mint/Mint
DEADPOOL (1997) (#0-69) (MARVEL) #62 Near Mint/Mint
DEADPOOL (1997) (#0-69) (MARVEL) #63 Near Mint/Mint
DEADPOOL (1997) (#0-69) (MARVEL) #64 Near Mint/Mint
DEADPOOL (2008) (#1-63, 900, 1000) (MARVEL) #11 Fine

DEADPOOL (2008) (#1-63, 900, 1000) (MARVEL) #54
DEADPOOL (2008) (#1-63, 900, 1000) (MARVEL) #54 Near Mint/Mint
DEADPOOL (2008) (#1-63, 900, 1000) (MARVEL) #55 Very Fine
DEADPOOL (2008) (#1-63, 900, 1000) (MARVEL) #57 Very Fine
DEADPOOL (2008) (#1-63, 900, 1000) (MARVEL) #61 Fine
DEADPOOL (2008) (#1-63, 900, 1000) (MARVEL) #62 Fine
DEADPOOL (2008) (#1-63, 900, 1000) (MARVEL) #63 Fine
DEADPOOL (2013) (#1-45, 250) (MARVEL) #1 Fine
DEADPOOL (2013) (#1-45, 250) (MARVEL) #20 Fine
DEADPOOL (2013) (#1-45, 250) (MARVEL) #21 Near Mint/Mint
DEADPOOL (2013) (#1-45, 250) (MARVEL) #22 Near Mint/Mint
DEADPOOL (2016) (#1-36) (MARVEL) #1 Fine
DEADPOOL (2016) (#1-36) (MARVEL) #2 Near Mint/Mint
DEADPOOL (2016) (#1-36) (MARVEL) #3 Very Fine
DEADPOOL (2016) (#1-36) (MARVEL) #4 Near Mint/Mint
DEADPOOL (2016) (#1-36) (MARVEL) #5 Very Fine
DEADPOOL (2016) (#1-36) (MARVEL) #6 Near Mint/Mint
DEADPOOL (2016) (#1-36) (MARVEL) #7 Near Mint/Mint
DEADPOOL & CABLE: SPLIT SECOND (2015) #2 Very Fine
DEADPOOL & THE MERCS FOR MONEY (VOL. 1) (#1-5) (2016) #1 Very Fine
DEADPOOL & THE MERCS FOR MONEY (VOL. 1) (#1-5) (2016) #2 HAWTHORNE Very Fine
DEADPOOL & THE MERCS FOR MONEY (VOL. 2) (2016) #9 Near Mint/Mint
DEADPOOL & THE MERCS FOR MONEY (VOL. 2) (2016) #10 Very Fine
DEADPOOL: BACK IN BLACK (2016) #4 Very Fine
DEADPOOL: MERC WITH A MOUTH (2009) #1 Fine
DEADPOOL: SUICIDE KINGS (2009) #2 Very Fine
DEADPOOL: SUICIDE KINGS (2009) #3 Near Mint/Mint
DEADPOOL: SUICIDE KINGS (2009) #4 Very Fine
DEXTER (2013) #5 Fine
DRAX (2015) #3 Near Mint/Mint
IRON MAN (1968) (#1-332) (INVINCIBLE IRON MAN)(MARVEL) #258 .1 Near Mint/Mint
IRON MAN (1968) (#1-332) (INVINCIBLE IRON MAN)(MARVEL) #258 .2 Near Mint/Mint
IRON MAN (1968) (#1-332) (INVINCIBLE IRON MAN)(MARVEL) #258 .3 Near Mint/Mint
IRON MAN (1968) (#1-332) (INVINCIBLE IRON MAN)(MARVEL) #258 .4 Near Mint/Mint
IRON MAN (2013) (#1-28) (MARVEL) #4 Near Mint/Mint
IRON MAN (2013) (#1-28) (MARVEL) #7 Near Mint/Mint
IRON MAN (2013) (#1-28) (MARVEL) #9 Near Mint/Mint
IRON MAN (2013) (#1-28) (MARVEL) #10 Near Mint/Mint
IRON MAN (2013) (#1-28) (MARVEL) #11 Near Mint/Mint
IRON MAN (2013) (#1-28) (MARVEL) #12 Near Mint/Mint
IRON MAN (2013) (#1-28) (MARVEL) #13 Near Mint/Mint
IRON MAN (2013) (#1-28) (MARVEL) #14 Near Mint/Mint
IRON MAN (2013) (#1-28) (MARVEL) #15 Near Mint/Mint
IRON MAN (2013) (#1-28) (MARVEL) #16 Near Mint/Mint
IRON MAN (2013) (#1-28) (MARVEL) #17 Near Mint/Mint
IRON MAN (2013) (#1-28) (MARVEL) #18 Near Mint/Mint
IRON MAN (2013) (#1-28) (MARVEL) #19 Near Mint/Mint
IRON MAN (2013) (#1-28) (MARVEL) #20 Near Mint/Mint
IRON MAN (2013) (#1-28) (MARVEL) #20 INH Near Mint/Mint
IRON MAN (2013) (#1-28) (MARVEL) #21 Near Mint/Mint
IRON MAN (2013) (#1-28) (MARVEL) #22 Near Mint/Mint
IRON MAN 2020 (2020) #1 Near Mint/Mint
IRON MAN ANNUAL (2014) (#1) (FINAL FRONTIERS) #1 Near Mint/Mint
MIGHTY THOR (2017) (#700-UP) (MARVEL LEGACY) #700 Fine
MILES MORALES: THE END (2020) #1 Near Mint/Mint
MINIMUM CARNAGE: ALPHA (2012) #1 Near Mint/Mint
MINIMUM CARNAGE: OMEGA (2012) #1 Near Mint/Mint

NEW MUTANTS (1983) (#1-100) (MARVEL) #25
NEW MUTANTS (1983) (#1-100) (MARVEL) #25 Fair
RAVENCROFT (2020) #1 JACINTO Near Mint/Mint
SCARLET SPIDER (2012) (#1-25) (MARVEL) #20 Near Mint/Mint
SPIDER-MAN (1990) (#1-74, PETER PARKER SPIDEY #75-98) #50 DELUXE Near Mint/Mint
SPIDER-MAN: CITY AT WAR (GAMERVERSE) (2019) #2 Very Fine
STAR (2020) (#1-5) (MARVEL) #1 Near Mint/Mint
STAR WARS (1977) (#1-107) (MARVEL) #4 WHITMANREP Good
STAR WARS (1977) (#1-107) (MARVEL) #5 WHITMANREP Very Good
STAR WARS (1977) (#1-107) (MARVEL) #8 WHITMAN Good
STAR WARS (1977) (#1-107) (MARVEL) #13 WHITMAN Good
THOR (1962) (#83-125 JOURNEY INTO MYSTERY, 126-502) #432 Near Mint/Mint
THOR (1962) (#83-125 JOURNEY INTO MYSTERY, 126-502) #435 Near Mint/Mint
VISION/SCARLET WITCH (1982) #1 Near Mint/Mint
X-FORCE (1991) (#1-129) (MARVEL) #1 DEADPOOL Near Mint/Mint
DC
BEAUTIFUL STORIES FOR UGLY CHILDREN (1989) #30 (DC: Piranha Press) Very Fine
BLASTERS SPECIAL (1989) #1 Fine
BLASTERS SPECIAL (1989) #1 Near Mint/Mint
BLASTERS SPECIAL (1989) #1 Very Fine
BLITZKRIEG (1976) #4 Good
BLOOD AND WATER (2003) #1 (DC: Vertigo Press) Fine
BLOOD AND WATER (2003) #1 (DC: Vertigo Press) Near Mint/Mint
BLOOD AND WATER (2003) #1 (DC: Vertigo Press) Very Fine
BLOOD AND WATER (2003) #4 (DC: Vertigo Press) Near Mint/Mint
BLOOD AND WATER (2003) #4 (DC: Vertigo Press) Fine
BLOOD AND WATER (2003) #4 (DC: Vertigo Press) Very Fine
BLOOD OF THE DEMON (2005) #1 Near Mint/Mint
BLOOD OF THE DEMON (2005) #1 Fine
BLOOD OF THE DEMON (2005) #1 Very Fine
BLOOD OF THE DEMON (2005) #2 Fine
BLOOD OF THE DEMON (2005) #2 Near Mint/Mint
BLOOD OF THE DEMON (2005) #2 Very Fine
BLOOD OF THE DEMON (2005) #3 Near Mint/Mint
BLOOD OF THE DEMON (2005) #3 Very Fine
BLOOD OF THE DEMON (2005) #5 Fine
BLOOD OF THE DEMON (2005) #6 Fine
BLOOD OF THE DEMON (2005) #6 Near Mint/Mint
BLOOD OF THE DEMON (2005) #6 Very Fine
BLOOD OF THE DEMON (2005) #8 Near Mint/Mint
BLOOD OF THE DEMON (2005) #8 Very Fine
BLOOD OF THE DEMON (2005) #9 Very Fine
BLOOD OF THE DEMON (2005) #11 Near Mint/Mint
BLOOD OF THE DEMON (2005) #12 Fine
BLOOD OF THE DEMON (2005) #12 Near Mint/Mint
BLOOD OF THE DEMON (2005) #12 Very Fine
BLOOD OF THE DEMON (2005) #13 Very Fine
BLOOD OF THE DEMON (2005) #14 Near Mint/Mint
BLOOD OF THE DEMON (2005) #14 Very Fine
BLOOD OF THE DEMON (2005) #17 Fine
BLOOD OF THE DEMON (2005) #17 Near Mint/Mint
BLOOD PACK (1995) #4 Near Mint/Mint
BLOOD PACK (1995) #4 Fine
BLOOD SYNDICATE (1993) #2 (DC: Milestone Press) Near Mint/Mint
BLOOD SYNDICATE (1993) #4 NEWSSTAND (DC: Milestone Press) Fine
BLOOD SYNDICATE (1993) #5 (DC: Milestone Press) Near Mint/Mint
BLOOD SYNDICATE (1993) #5 (DC: Milestone Press) Fine
BLOOD SYNDICATE (1993) #6 (DC: Milestone Press) Fine
BLOOD SYNDICATE (1993) #6 (DC: Milestone Press) Near Mint/Mint
BLOOD SYNDICATE (1993) #6 (DC: Milestone Press) Very Fine
BLOOD SYNDICATE (1993) #7 (DC: Milestone Press) Near Mint/Mint
BLOOD SYNDICATE (1993) #7 (DC: Milestone Press) Very Fine
BLOOD SYNDICATE (1993) #8 (DC: Milestone Press) Near Mint/Mint
BLOOD SYNDICATE (1993) #8 (DC: Milestone Press) Very Fine
BLUE BEETLE (1986) (#1-24) (DC) #23 Near Mint/Mint
BLUE BEETLE (1986) (#1-24) (DC) #23 Fine
BLUE BEETLE (1986) (#1-24) (DC) #23 Very Fine
BLUE BEETLE (1986) (#1-24) (DC) #24 Near Mint/Mint
BLUE BEETLE (1986) (#1-24) (DC) #24 Fine
BLUE BEETLE (1986) (#1-24) (DC) #24 Very Fine
BLUE BEETLE (2006) (#1-36) (DC) #9 Near Mint/Mint
BLUE BEETLE (2006) (#1-36) (DC) #12 Fine
BLUE BEETLE (2006) (#1-36) (DC) #12 Near Mint/Mint
BLUE BEETLE (2006) (#1-36) (DC) #12 Very Fine
BLUE BEETLE (2006) (#1-36) (DC) #16 Very Fine
BLUE BEETLE (2006) (#1-36) (DC) #21 Near Mint/Mint
BLUE BEETLE (2006) (#1-36) (DC) #21 Fine
BLUE BEETLE (2006) (#1-36) (DC) #21 Very Fine
BLUE BEETLE (2006) (#1-36) (DC) #22 Near Mint/Mint
BLUE BEETLE (2006) (#1-36) (DC) #24 Near Mint/Mint
BLUE BEETLE (2006) (#1-36) (DC) #25 Fine
BLUE BEETLE (2006) (#1-36) (DC) #25 Near Mint/Mint
BLUE BEETLE (2006) (#1-36) (DC) #25 Very Fine
BLUE BEETLE (2006) (#1-36) (DC) #30 Near Mint/Mint
BLUE BEETLE (2006) (#1-36) (DC) #32 Near Mint/Mint
BLUE BEETLE (2006) (#1-36) (DC) #33 Near Mint/Mint
BLUE BEETLE (2006) (#1-36) (DC) #33 Fine
BLUE BEETLE (2006) (#1-36) (DC) #33 Very Fine
BLUE BEETLE (2006) (#1-36) (DC) #35 Near Mint/Mint
BLUE BEETLE (2006) (#1-36) (DC) #36 Very Fine
BLUE BEETLE (2011) (DC NEW52) (#0-16) #6 Very Fine
BLUE DEVIL (1984) #1 Near Mint/Mint
BLUE DEVIL (1984) #1 Fine
BLUE DEVIL (1984) #1 Good
BLUE DEVIL (1984) #1 NEWSSTAND Very Fine
BLUE DEVIL (1984) #1 NEWSSTAND Fine
BLUE DEVIL (1984) #1 Very Good
BLUE DEVIL (1984) #1 Very Fine
BLUE DEVIL (1984) #3 Near Mint/Mint
BLUE DEVIL (1984) #3 Fine
BLUE DEVIL (1984) #3 NEWSSTAND Very Fine
BLUE DEVIL (1984) #3 NEWSSTAND Very Good
BLUE DEVIL (1984) #3 NEWSSTAND Good
BLUE DEVIL (1984) #3 Very Good
BLUE DEVIL (1984) #3 Very Fine
BLUE DEVIL (1984) #4 Fine
BLUE DEVIL (1984) #4 NEWSSTAND Very Fine
BLUE DEVIL (1984) #4 NEWSSTAND Fine
BLUE DEVIL (1984) #4 Very Fine
BLUE DEVIL (1984) #5 Near Mint/Mint
BLUE DEVIL (1984) #5 Fine
BLUE DEVIL (1984) #5 NEWSSTAND Very Fine
BLUE DEVIL (1984) #5 Very Fine
BLUE DEVIL (1984) #6 Near Mint/Mint
BLUE DEVIL (1984) #6 NEWSSTAND Very Fine
BLUE DEVIL (1984) #6 Very Fine
BLUE DEVIL (1984) #7 Near Mint/Mint
BLUE DEVIL (1984) #7 Fine
BLUE DEVIL (1984) #7 NEWSSTAND Very Fine
BLUE DEVIL (1984) #7 Very Fine
BLUE DEVIL (1984) #8 Near Mint/Mint
BLUE DEVIL (1984) #8 NEWSSTAND Very Fine
BLUE DEVIL (1984) #8 Very Fine
BLUE DEVIL (1984) #9 Fine
BLUE DEVIL (1984) #9 Near Mint/Mint
BLUE DEVIL (1984) #9 NEWSSTAND Very Good
BLUE DEVIL (1984) #9 Very Fine
BLUE DEVIL (1984) #10 Near Mint/Mint
BLUE DEVIL (1984) #10 Very Fine
BLUE DEVIL (1984) #11 Near Mint/Mint
BLUE DEVIL (1984) #11 Very Fine
BLUE DEVIL (1984) #12 Fine
BLUE DEVIL (1984) #12 Near Mint/Mint
BLUE DEVIL (1984) #12 NEWSSTAND Fine
BLUE DEVIL (1984) #12 Very Fine
BLUE DEVIL (1984) #13 Fine
BLUE DEVIL (1984) #13 Near Mint/Mint
BLUE DEVIL (1984) #13 NEWSSTAND Fine
BLUE DEVIL (1984) #13 NEWSSTAND Good
BLUE DEVIL (1984) #13 Very Fine
BLUE DEVIL (1984) #14 Near Mint/Mint
BLUE DEVIL (1984) #14 NEWSSTAND Very Good
BLUE DEVIL (1984) #14 NEWSSTAND Good
BLUE DEVIL (1984) #14 Very Fine
BLUE DEVIL (1984) #15 NEWSSTAND Good
BLUE DEVIL (1984) #15 Very Fine
BLUE DEVIL (1984) #16 NEWSSTAND Very Good
BLUE DEVIL (1984) #16 NEWSSTAND Good
BLUE DEVIL (1984) #16 Very Fine
BLUE DEVIL (1984) #17 Near Mint/Mint
BLUE DEVIL (1984) #17 NEWSSTAND Fine
BLUE DEVIL (1984) #17 NEWSSTAND Good
BLUE DEVIL (1984) #17 Very Fine
BLUE DEVIL (1984) #18 Near Mint/Mint
BLUE DEVIL (1984) #18 Fine
BLUE DEVIL (1984) #18 Very Fine
BLUE DEVIL (1984) #19 Fine
BLUE DEVIL (1984) #19 Near Mint/Mint
BLUE DEVIL (1984) #19 Very Fine
BLUE DEVIL (1984) #20 NEWSSTAND Very Fine
BLUE DEVIL (1984) #20 NEWSSTAND Fine
BLUE DEVIL (1984) #21 Fine
BLUE DEVIL (1984) #21 Near Mint/Mint
BLUE DEVIL (1984) #21 NEWSSTAND Near Mint/Mint
BLUE DEVIL (1984) #21 NEWSSTAND Good
BLUE DEVIL (1984) #23 Near Mint/Mint
BLUE DEVIL (1984) #23 NEWSSTAND Very Fine
BLUE DEVIL (1984) #23 Very Fine
BLUE DEVIL (1984) #25 Fine
BLUE DEVIL (1984) #25 Near Mint/Mint
BLUE DEVIL (1984) #25 Very Fine
BLUE DEVIL (1984) #26 NEWSSTAND Fine
BLUE DEVIL (1984) #27 Near Mint/Mint
BLUE DEVIL (1984) #27 Fine
BLUE DEVIL (1984) #27 NEWSSTAND Very Good
BLUE DEVIL (1984) #27 Very Fine
BLUE DEVIL (1984) #28 Good
BLUE DEVIL (1984) #28 Near Mint/Mint
BLUE DEVIL (1984) #28 Very Fine
BLUE DEVIL (1984) #30 NEWSSTAND Good
BLUE DEVIL (1984) #31 Near Mint/Mint
BLUE DEVIL (1984) #31 Fine
BLUE DEVIL (1984) #31 NEWSSTAND Fine
BLUE DEVIL (1984) #31 NEWSSTAND Good
BLUE DEVIL (1984) #31 Very Fine
BLUE DEVIL ANNUAL (1985) #1 Near Mint/Mint
BLUE DEVIL ANNUAL (1985) #1 Fine
BLUE DEVIL ANNUAL (1985) #1 NEWSSTAND Fine
BLUE DEVIL ANNUAL (1985) #1 Very Fine
BLUE DEVIL ANNUAL (1985) #1 Very Good
CATWOMAN (2018) (#1-UP) (DC UNIVERSE) #4 FOIL COVER Near Mint/Mint
NEW SUICIDE SQUAD (DC NEW52) #1 Fine
NEW SUICIDE SQUAD (DC NEW52) #2 Very Fine
RED HOOD & THE OUTLAWS (2016) (#1-UP) (DC REBRITH) #27 FOIL COVER Near Mint/Mint
STARFIRE (2015) #1 Fine
STARFIRE (2015) #2 Very Fine
STARFIRE (2015) #4 Near Mint/Mint
STARFIRE (2015) #5 Near Mint/Mint
STARFIRE (2015) #6 Near Mint/Mint

TEEN TITANS (2016) (#1-UP) (DC REBIRTH) #23 FOIL COVER
TEEN TITANS (2016) (#1-UP) (DC REBIRTH) #23 FOIL COVER Near Mint/Mint
TEEN TITANS (2016) (#1-UP) (DC REBIRTH) #29 Very Fine
TEEN TITANS GO! (2014) #1 Near Mint/Mint
WEIRD WESTERN TALES (1972) #40 Very Good
WEIRD WESTERN TALES (1972) #41 Fine
WEIRD WESTERN TALES (1972) #42 Very Good
WEIRD WESTERN TALES (1972) #43 Fine
WEIRD WESTERN TALES (1972) #45 Very Fine
WEIRD WESTERN TALES (1972) #53 Fine
WEIRD WESTERN TALES (1972) #54 Fine
WEIRD WESTERN TALES (1972) #55 Very Fine
WEIRD WESTERN TALES (1972) #56 Fine
WEIRD WESTERN TALES (1972) #57 Very Good
WEIRD WESTERN TALES (1972) #58 Very Fine
WEIRD WESTERN TALES (1972) #59 Very Fine
WEIRD WESTERN TALES (1972) #60 Fine
WEIRD WESTERN TALES (1972) #61 Fine
WEIRD WESTERN TALES (1972) #64 Very Good
WEIRD WESTERN TALES (1972) #65 Very Good
WEIRD WESTERN TALES (1972) #67 Very Good
WEIRD WESTERN TALES (1972) #68 NEWSSTAND Very Good
WEIRD WESTERN TALES (1972) #69 Fine
WEIRD WESTERN TALES (1972) #70 Fine
WONDER WOMAN (1987) (#0-226) (DC) #121 Fine
WONDER WOMAN ANNUAL (1988) #2 Fine
WONDER WOMAN GALLERY (1996) #1 Fine
DARK HORSE COMICS
ANGEL & FAITH (2011) (#1-25) (SEASON 9) (DARK HORSE) #14 ISAACS Near Mint/Mint
BLAST CORPS (NINTENDO) (DARK HORSE) (1998) #1 Near Mint/Mint

BLOOD BROTHERS (2013) (#1-3) (DARK HORSE) #2
BLOOD BROTHERS (2013) (#1-3) (DARK HORSE) #2 Near Mint/Mint
IMAGE COMICS
BLAIR WITCH: DARK TESTAMENTS #1 Good
BLAIR WITCH: DARK TESTAMENTS #1 VARIANT Fine
BLAIR WITCH: DARK TESTAMENTS #1 VARIANT Very Good
BLAIR WITCH: DARK TESTAMENTS #1 VARIANT Good
BLAIR WITCH: DARK TESTAMENTS #1 Very Fine
BLAIR WITCH: DARK TESTAMENTS #1 Very Good
BLISS ALLEY #1 Near Mint/Mint
BLOOD LEGACY #1 TURNER (Image Top Cow) Near Mint/Mint
BLOOD LEGACY #1 TURNER (Image Top Cow) Fine
BLOOD LEGACY #3 (Image Top Cow) Near Mint/Mint
BLOOD LEGACY #4 (Image Top Cow) Near Mint/Mint
BLOOD LEGACY #4 (Image Top Cow) Fine
BLOOD RED DRAGON (2011) #0 Fine
BLOOD RED DRAGON (2011) #1 Near Mint/Mint
BLUE ESTATE (2011) #11 Near Mint/Mint
SAGA (2012) #52 Near Mint/Mint
SAGA (2012) #53 Near Mint/Mint
SAGA (2012) #54 Very Fine
INDEPENDENTS
BLANK THE ENCEPHELON VOID #1 W/ CD (Artery Entertainment) Fine
BLAZIN' BRANDY (2007) #1 (Screaming Press Comics) Near Mint/Mint
BLAZIN' BRANDY (2007) #3 (Screaming Press Comics) Very Fine
BLAZIN' BRANDY (2007) #4 (Screaming Press Comics) Near Mint/Mint

BLAZING BATTLE TALES (1975) #1
BLAZING BATTLE TALES (1975) #1 (Atlas/Seaboard) Good
BLAZING COMBAT: VIETNAM/KOREA (1993) #1 (Apple Comics) Near Mint/Mint
BLAZING COMBAT: VIETNAM/KOREA (1993) #1 (Apple Comics) Very Fine
BLAZING COMBAT: VIETNAM/KOREA (1993) #2 (Apple Comics) Near Mint/Mint
BLAZING COMBAT: WWI & II (1994) #1 (Apple Comics) Fine
BLAZING WESTERN (1989) (#1-2) (AC COMICS) #1 (ACG) Fine
BLAZING WESTERN (1989) (#1-2) (AC COMICS) #1 (ACG) Very Fine
BLEAT (1995) #1 (Slave Labor Graphics) Fine
BLEAT (1995) #1 (Slave Labor Graphics) Very Fine
BLEEDING COOL MAGAZINE (2012) #9 (Bleeding Cool) Near Mint/Mint
BLEEDING COOL MAGAZINE (2012) #16 (Bleeding Cool) Very Fine
BLEEDING COOL MAGAZINE (2012) #17 (Bleeding Cool) Very Fine
BLEEDING COOL MAGAZINE (2012) #18 (Bleeding Cool) Near Mint/Mint
BLEEDING HEART (FANTAGRAPHICS) (1992) #1 (Fantagraphics) Fine
BLEEDING HEART (FANTAGRAPHICS) (1992) #1 (Fantagraphics) Very Fine
BLEEDING HEART (FANTAGRAPHICS) (1992) #2 (Fantagraphics) Very Fine
BLEEDING HEART (FANTAGRAPHICS) (1992) #3 (Fantagraphics) Very Fine
BLINDWOLF COMICS TOUR BOOK (2000) #1 (Blind Wolf Studios) Very Fine
BLITZ (NIGHT WYND) (1992) #2 (Night Wynd Enterprises) Near Mint/Mint
BLITZ (NIGHT WYND) (1992) #2 (Night Wynd Enterprises) Very Fine
BLONDE ADDICTION QUARTERLY #4 (Blonde Avenger Comics) Very Fine
BLONDE AVENGER (1993) #2 (Blonde Avenger Comics) Fine
BLONDE AVENGER (1996) #1 (Blonde Avenger Comics) Fine
BLONDE AVENGER (1996) #4 (Blonde Avenger Comics) Fine
BLONDE AVENGER (1996) #23 DELUXE (Blonde Avenger Comics) Very Fine
BLOOD & KISSES (FANTACO) (1993) #0 (Fantaco Enterprises) Near Mint/Mint

BLOOD & KISSES (FANTACO) (1993) #1
BLOOD & KISSES (FANTACO) (1993) #1 (Fantaco Enterprises) Near Mint/Mint
BLOOD & KISSES (FANTACO) (1993) #2 (Fantaco Enterprises) Near Mint/Mint
BLOOD & KISSES (FANTACO) (1993) #3 (Fantaco Enterprises) Near Mint/Mint
BLOOD & ROSES: IN THE DARK (2008) #1 B (AFTERBURN COMICS) Near Mint/Mint
BLOOD & ROSES: SEARCH FOR THE TIME STONE (1994) #2 (Sky Comics) Fine
BLOOD & ROSES: SEARCH FOR THE TIME STONE (1994) #2 (Sky Comics) Very Fine
BLOOD & THUNDER (ROBERT E. HOWARD) (1992) #1 (Conquest Press) Fine
BLOOD 'N' GUTS (1990) #2 (Aircel Publications) Fine
BLOOD BOWL: KILLER CONTRACT (2008) #2 B (Boom Studios Publishing) Near Mint/Mint
BLOOD BROTHERS (1988) (#1-4) (ETERNITY) #1 (Eternity Comics (World/Imperial)) Fine
BLOOD BROTHERS (1988) (#1-4) (ETERNITY) #1 (Eternity Comics (World/Imperial)) Very Fine
BLOOD BROTHERS (1988) (#1-4) (ETERNITY) #3 (Eternity Comics (World/Imperial)) Fine
BLOOD BROTHERS (1988) (#1-4) (ETERNITY) #3 (Eternity Comics (World/Imperial)) Very Fine
BLOOD BROTHERS (1988) (#1-4) (ETERNITY) #4 (Eternity Comics (World/Imperial)) Very Fine
BLOOD CHROME & TEARS (1996) #1 (Eyefull Press) Very Fine
BLOOD CLUB (CHARLES BURNS) (1992) #2 (Kitchen Sink Publishing) Near Mint/Mint
BLOOD CLUB (CHARLES BURNS) (1992) #2 (Kitchen Sink Publishing) Very Fine
BLOOD FEAST (1991) (#1-3) (ETERNITY) #1 (Eternity Comics (World/Imperial)) Fine
BLOOD FEAST (1991) (#1-3) (ETERNITY) #1 GRAPHIC (Eternity Comics (World/Imperial)) Fine
BLOOD FEAST (1991) (#1-3) (ETERNITY) #2 (Eternity Comics (World/Imperial)) Fine
BLOOD FEAST (1991) (#1-3) (ETERNITY) #2 (Eternity Comics (World/Imperial)) Very Fine
BLOOD FEUD (2015) #2 A (Oni Press Inc.) Near Mint/Mint
BLOOD FEUD (2015) #2 A (Oni Press Inc.) Very Fine
BLOOD FEUD (2015) #3 A (Oni Press Inc.) Near Mint/Mint
BLOOD FOR THE MUSE (1997) #1 (Cry For Dawn Productions) Fine

BLOOD FOR THE MUSE: CHILLVILLE (1997) #1
BLOOD FOR THE MUSE: CHILLVILLE (1997) #1 (Chanting Monk Studios) Very Fine
BLOOD FOR THE MUSE: CHILLVILLE (1997) #2 (Chanting Monk Studios) Fine
BLOOD HUNTER (1996) #1 GOLD ED (Brainstorm Comics) Very Fine
BLOOD LEGACY: YOUNG ONES ONE-SHOT (2003) #1 (Image Top Cow) Very Fine
BLOOD LINES (1987) (#1-7) (AIRCEL) #6 (Aircel Publications) Fine
BLOOD LINES (1987) (#1-7) (AIRCEL) #6 (Aircel Publications) Very Good
BLOOD LINES (1987) (#1-7) (AIRCEL) #7 (Aircel Publications) Fine
BLOOD OF DRACULA (1987) (#1-19) (APPLE) #1 (Apple Comics) Fine
BLOOD OF DRACULA (1987) (#1-19) (APPLE) #1 (Apple Comics) Very Fine
BLOOD OF DRACULA (1987) (#1-19) (APPLE) #4 (Apple Comics) Good
BLOOD OF DRACULA (1987) (#1-19) (APPLE) #4 (Apple Comics) Very Good
BLOOD OF DRACULA (1987) (#1-19) (APPLE) #5 (Apple Comics) Fine
BLOOD OF DRACULA (1987) (#1-19) (APPLE) #6 (Apple Comics) Fine
BLOOD OF DRACULA (1987) (#1-19) (APPLE) #7 MISPRINT (Apple Comics) Very Fine
BLOOD OF DRACULA (1987) (#1-19) (APPLE) #7 (Apple Comics) Very Fine
BLOOD OF DRACULA (1987) (#1-19) (APPLE) #8 (Apple Comics) Very Fine
BLOOD OF DRACULA (1987) (#1-19) (APPLE) #10 (Apple Comics) Fine
BLOOD OF DRACULA (1987) (#1-19) (APPLE) #10 (Apple Comics) Very Fine
BLOOD OF DRACULA (1987) (#1-19) (APPLE) #12 (Apple Comics) Fine
BLOOD OF DRACULA (1987) (#1-19) (APPLE) #14 (Apple Comics) Fine
BLOOD OF DRACULA (1987) (#1-19) (APPLE) #14 (Apple Comics) Very Good
BLOOD OF DRACULA (1987) (#1-19) (APPLE) #17 (Apple Comics) Fine
BLOOD OF DRACULA (1987) (#1-19) (APPLE) #17 (Apple Comics) Very Fine
BLOOD OF DRACULA (1987) (#1-19) (APPLE) #17 (Apple Comics) Very Good
BLOOD OF DRACULA (1987) (#1-19) (APPLE) #18 (Apple Comics) Fine
BLOOD OF DRACULA (1987) (#1-19) (APPLE) #18 (Apple Comics) Very Fine
BLOOD OF DRACULA (1987) (#1-19) (APPLE) #19 (Apple Comics) Fine
BLOOD QUEEN (2014) #2 ANACLETO (DYNAMITE Entertainment) Very Fine
BLOOD QUEEN (2014) #4 ANACLETO (DYNAMITE Entertainment) Very Fine
BLOOD QUEEN VS. DRACULA (2015) #3 ANACLETO (DYNAMITE Entertainment) Very Fine

BLOOD QUEEN VS. DRACULA (2015) #3 NEVES
BLOOD QUEEN VS. DRACULA (2015) #3 NEVES (DYNAMITE Entertainment) Very Fine
BLOOD REIGN (FATHOM PRESS) (ADULT) (1991) #1 (Fathom Press) Near Mint/Mint
BLOOD REIGN (FATHOM PRESS) (ADULT) (1991) #1 (Fathom Press) Very Good
BLOOD REIGN (FATHOM PRESS) (ADULT) (1991) #1 (Fathom Press) Very Fine
BLOOD REIGN (FATHOM PRESS) (ADULT) (1991) #2 (Fathom Press) Fine
BLOOD REIGN (FATHOM PRESS) (ADULT) (1991) #3 (Fathom Press) Near Mint/Mint
BLOOD REIGN (FATHOM PRESS) (ADULT) (1991) #4 (Fathom Press) Fine
BLOOD REIGN (FATHOM PRESS) (ADULT) (1991) #4 (Fathom Press) Very Fine
BLOOD REIGN (FATHOM PRESS) (ADULT) (1991) #5 (Fathom Press) Near Mint/Mint
BLOOD REIGN (FATHOM PRESS) (ADULT) (1991) #5 (Fathom Press) Very Fine
BLOOD REIGN (FATHOM PRESS) (ADULT) (1991) #6 (Fathom Press) Fine
BLOOD REIGN (FATHOM PRESS) (ADULT) (1991) #6 (Fathom Press) Very Fine
BLOOD REIGN (FATHOM PRESS) (ADULT) (1991) #7 (Fathom Press) Fine
BLOOD REIGN (FATHOM PRESS) (ADULT) (1991) #7 (Fathom Press) Very Good
BLOOD REIGN (FATHOM PRESS) (ADULT) (1991) #7 (Fathom Press) Very Fine
BLOOD REIGN (FATHOM PRESS) (ADULT) (1991) #8 (Fathom Press) Fine
BLOOD REIGN (FATHOM PRESS) (ADULT) (1991) #8 (Fathom Press) Good
BLOOD REIGN (FATHOM PRESS) (ADULT) (1991) #8 (Fathom Press) Very Fine
BLOOD REIGN (FATHOM PRESS) (ADULT) (1991) #8 (Fathom Press) Very Good
BLOOD REIGN (FATHOM PRESS) (ADULT) (1991) #9 (Fathom Press) Good
BLOOD REIGN (FATHOM PRESS) (ADULT) (1991) #9 (Fathom Press) Very Good
BLOOD REIGN SAGA (1996) #1 (London Night Studios) Very Fine
BLOOD SHED (2000) #1 (Double Eye Studios) Near Mint/Mint
BLOOD SHED (2000) #3 (Double Eye Studios) Near Mint/Mint
BLOOD STAINED SWORD (2005) #1 (IDW Publishing) Near Mint/Mint
BLOOD SWORD (1988) #1 (Jademan Comic) Fine
BLOOD SWORD (1988) #1 (Jademan Comic) Very Fine
BLOOD SWORD (1988) #2 (Jademan Comic) Fine
BLOOD SWORD (1988) #2 (Jademan Comic) Very Fine
BLOOD SWORD (1988) #8 (Jademan Comic) Fine
BLOOD SWORD (1988) #8 (Jademan Comic) Near Mint/Mint
BLOOD SWORD (1988) #8 (Jademan Comic) Very Fine
BLOOD SWORD (1988) #9 (Jademan Comic) Near Mint/Mint
BLOOD SWORD (1988) #9 (Jademan Comic) Fine
BLOOD SWORD (1988) #9 (Jademan Comic) Very Fine
BLOOD SWORD (1988) #10 (Jademan Comic) Near Mint/Mint
BLOOD SWORD (1988) #15 (Jademan Comic) Fine
BLOOD SWORD (1988) #15 (Jademan Comic) Very Fine
BLOOD SWORD (1988) #19 (Jademan Comic) Fine
BLOOD SWORD (1988) #19 (Jademan Comic) Very Fine
BLOOD SWORD (1988) #20 (Jademan Comic) Fine
BLOOD SWORD (1988) #20 (Jademan Comic) Very Fine
BLOOD SWORD (1988) #22 (Jademan Comic) Very Fine
BLOOD SWORD (1988) #23 (Jademan Comic) Fine
BLOOD SWORD (1988) #23 (Jademan Comic) Very Fine
BLOOD SWORD (1988) #27 (Jademan Comic) Very Good
BLOOD SWORD (1988) #28 (Jademan Comic) Very Good
BLOOD SWORD (1988) #29 (Jademan Comic) Very Good
BLOOD SWORD (1988) #30 (Jademan Comic) Near Mint/Mint
BLOOD SWORD (1988) #30 (Jademan Comic) Fine
BLOOD SWORD (1988) #30 (Jademan Comic) Very Fine
BLOOD SWORD (1988) #30 (Jademan Comic) Very Good
BLOOD SWORD (1988) #31 (Jademan Comic) Fine
BLOOD SWORD (1988) #31 (Jademan Comic) Very Fine
BLOOD SWORD (1988) #32 (Jademan Comic) Fine
BLOOD SWORD (1988) #32 (Jademan Comic) Very Fine
BLOOD SWORD (1988) #32 (Jademan Comic) Very Good
BLOOD SWORD (1988) #33 (Jademan Comic) Fine
BLOOD SWORD (1988) #35 (Jademan Comic) Fine
BLOOD SWORD (1988) #36 (Jademan Comic) Fine
BLOOD SWORD (1988) #36 (Jademan Comic) Very Fine
BLOOD SWORD (1988) #39 (Jademan Comic) Fine
BLOOD SWORD (1988) #39 (Jademan Comic) Near Mint/Mint
BLOOD SWORD (1988) #40 (Jademan Comic) Very Fine
BLOOD SWORD (1988) #41 (Jademan Comic) Near Mint/Mint
BLOOD SWORD (1988) #42 (Jademan Comic) Near Mint/Mint
BLOOD SWORD (1988) #42 (Jademan Comic) Very Fine
BLOOD SWORD (1988) #44 (Jademan Comic) Near Mint/Mint
BLOOD SWORD (1988) #44 (Jademan Comic) Very Fine
BLOOD SWORD (1988) #46 (Jademan Comic) Very Fine
BLOOD SWORD (1988) #47 (Jademan Comic) Near Mint/Mint
BLOOD SWORD (1988) #50 (Jademan Comic) Very Fine
BLOOD SWORD (1988) #53 (Jademan Comic) Near Mint/Mint
BLOOD SWORD (1988) #53 (Jademan Comic) Fine
BLOOD SWORD (1988) #53 (Jademan Comic) Very Good
BLOOD SWORD (1988) #53 (Jademan Comic) Very Fine
BLOOD SWORD DYNASTY (1989) #3 (Jademan Comic) Fine
BLOOD SWORD DYNASTY (1989) #3 (Jademan Comic) Very Fine
BLOOD SWORD DYNASTY (1989) #5 (Jademan Comic) Near Mint/Mint
BLOOD SWORD DYNASTY (1989) #5 (Jademan Comic) Fine
BLOOD SWORD DYNASTY (1989) #8 (Jademan Comic) Fine
BLOOD SWORD DYNASTY (1989) #8 (Jademan Comic) Very Fine
BLOOD SWORD DYNASTY (1989) #9 (Jademan Comic) Fine
BLOOD SWORD DYNASTY (1989) #9 (Jademan Comic) Very Fine
BLOOD SWORD DYNASTY (1989) #10 (Jademan Comic) Fine
BLOOD SWORD DYNASTY (1989) #10 (Jademan Comic) Very Fine
BLOOD SWORD DYNASTY (1989) #11 (Jademan Comic) Fine
BLOOD SWORD DYNASTY (1989) #12 (Jademan Comic) Fine
BLOOD SWORD DYNASTY (1989) #17 (Jademan Comic) Fine
BLOOD SWORD DYNASTY (1989) #18 (Jademan Comic) Fine
BLOOD SWORD DYNASTY (1989) #18 (Jademan Comic) Very Fine
BLOOD SWORD DYNASTY (1989) #19 (Jademan Comic) Very Good
BLOOD SWORD DYNASTY (1989) #19 (Jademan Comic) Very Fine
BLOOD SWORD DYNASTY (1989) #20 (Jademan Comic) Fine
BLOOD SWORD DYNASTY (1989) #20 (Jademan Comic) Very Fine
BLOOD SWORD DYNASTY (1989) #22 (Jademan Comic) Good
BLOOD SWORD DYNASTY (1989) #22 (Jademan Comic) Very Fine
BLOOD SWORD DYNASTY (1989) #22 (Jademan Comic) Very Good
BLOOD SWORD DYNASTY (1989) #23 (Jademan Comic) Very Good
BLOOD SWORD DYNASTY (1989) #24 (Jademan Comic) Fine
BLOOD SWORD DYNASTY (1989) #24 (Jademan Comic) Very Fine
BLOOD SWORD DYNASTY (1989) #27 (Jademan Comic) Fine
BLOOD SWORD DYNASTY (1989) #29 (Jademan Comic) Fine
BLOOD SWORD DYNASTY (1989) #29 (Jademan Comic) Very Fine

BLOOD SWORD DYNASTY (1989) #30
BLOOD SWORD DYNASTY (1989) #30 (Jademan Comic) Near Mint/Mint
BLOOD SWORD DYNASTY (1989) #30 (Jademan Comic) Fine
BLOOD SWORD DYNASTY (1989) #30 (Jademan Comic) Very Good
BLOOD SWORD DYNASTY (1989) #32 (Jademan Comic) Near Mint/Mint
BLOOD SWORD DYNASTY (1989) #32 (Jademan Comic) Very Fine
BLOOD SWORD DYNASTY (1989) #34 (Jademan Comic) Very Fine
BLOOD SWORD DYNASTY (1989) #37 (Jademan Comic) Fine
BLOOD SWORD DYNASTY (1989) #39 (Jademan Comic) Fine
BLOOD SWORD DYNASTY (1989) #39 (Jademan Comic) Very Fine
BLOOD SWORD DYNASTY (1989) #40 (Jademan Comic) Fine
BLOOD SWORD DYNASTY (1989) #41 (Jademan Comic) Good
BLUE BLOCK (KITCHEN SINK) (1993) #1 (Kitchen Sink Publishing) Fine
BLUE BLOCK (KITCHEN SINK) (1993) #1 (Kitchen Sink Publishing) Very Fine
BLUE BULLETEER (AC COMICS) (1989) #1 (Americomics) Fine
BLUE BULLETEER (AC COMICS) (1989) #1 (Americomics) Very Fine
BLUE BULLETEER (AC COMICS) (1989) #1 (Americomics) Very Good
BLUE BUSTER (NDP COMICS) (2004) #1 (NDP COMICS) Fine
BLUE BUSTER (NDP COMICS) (2004) #1 (NDP COMICS) Very Fine
BLUE HOLE (1995) #2 (Around & Around) Very Fine
BLUE LOCO (KITCHEN SINK) (1998) #1 (Kitchen Sink Publishing) Near Mint/Mint
BLUE LOCO (KITCHEN SINK) (1998) #1 (Kitchen Sink Publishing) Very Fine
BLUE MONDAY: KIDS ARE ALRIGHT (2000) #2 (Oni Press Inc.) Very Fine
BLUE MONDAY: KIDS ARE ALRIGHT (2000) #3 (Oni Press Inc.) Fine
BLUE MONDAY: THIEVES LIKE US (2008) #1 (Oni Press Inc.) Near Mint/Mint
BLUE MONDAY: THIEVES LIKE US (2008) #1 (Oni Press Inc.) Fine
BLUE MONDAY: THIEVES LIKE US (2008) #1 (Oni Press Inc.) Very Fine
BLUE MOON (MU PRESS) (1992) #2 (Mu Press) Fine
BLUE MOON (MU PRESS) (1992) #4 (Mu Press) Very Fine

CHRISTA SHERMOT'S 100% GUARANTEED HOW-TO MANUAL FCBD (2003) #1
CHRISTA SHERMOT'S 100% GUARANTEED HOW-TO MANUAL FCBD (2003) #1 (Second To Some Studios) Near Mint/Mint
KILLING RED SONJA (2020) #1 B GEDEON (DYNAMITE Entertainment) Near Mint/Mint
MEGA MAN: MASTERMIX (2018) #1 B CRUZ (UDON ENTERTAINMENT) Near Mint/Mint
MEGA MAN: MASTERMIX (2018) #2 A ARIGA (UDON ENTERTAINMENT) Near Mint/Mint
MIGHTY MORPHIN POWER RANGERS (2016) #18 (Boom Studios Publishing) Near Mint/Mint
MIGHTY MORPHIN POWER RANGERS (2016) #19 (Boom Studios Publishing) Near Mint/Mint
MIGHTY MORPHIN POWER RANGERS (2016) #20 (Boom Studios Publishing) Near Mint/Mint
MIGHTY MORPHIN POWER RANGERS (2016) #21 (Boom Studios Publishing) Near Mint/Mint
MIGHTY MORPHIN POWER RANGERS (2016) #22 (Boom Studios Publishing) Near Mint/Mint
MIGHTY MORPHIN POWER RANGERS (2016) #23 (Boom Studios Publishing) Near Mint/Mint
MIGHTY MORPHIN POWER RANGERS (2016) #29 (Boom Studios Publishing) Very Fine
MIGHTY MORPHIN POWER RANGERS ANNUAL (2017) #1 (Boom Studios Publishing) Near Mint/Mint
MIGHTY MORPHIN POWER RANGERS: SHATTERED GRID FCBD (2018) #1 (Boom Studios Publishing) Very Fine
PATHFINDER: RUNESCARS (2017) #1 A LAU (DYNAMITE Entertainment) Very Fine
PATHFINDER: RUNESCARS (2017) #2 B QUALANO (DYNAMITE Entertainment) Fine
PATHFINDER: RUNESCARS (2017) #3 B QUALANO (DYNAMITE Entertainment) Fine
PATHFINDER: RUNESCARS (2017) #4 A LAU (DYNAMITE Entertainment) Near Mint/Mint
PATHFINDER: RUNESCARS (2017) #5 A LAU (DYNAMITE Entertainment) Very Fine
PATHFINDER: SPIRAL OF BONES (2018) #1 A GALINDO (DYNAMITE Entertainment) Very Fine
PATHFINDER: SPIRAL OF BONES (2018) #2 A SANTUCCI (DYNAMITE Entertainment) Fine
PATHFINDER: SPIRAL OF BONES (2018) #3 B GALINDO (DYNAMITE Entertainment) Fine
PATHFINDER: SPIRAL OF BONES (2018) #4 A SANTUCCI (DYNAMITE Entertainment) Very Fine
PATHFINDER: SPIRAL OF BONES (2018) #5 A SANTUCCI (DYNAMITE Entertainment) Fine
PATHFINDER: WORLDSCAPE (2016) #1 A BROWN (DYNAMITE Entertainment) Very Fine
PATHFINDER: WORLDSCAPE (2016) #2 A BROWN (DYNAMITE Entertainment) Very Fine
PATHFINDER: WORLDSCAPE (2016) #5 A BERMUDEZ (DYNAMITE Entertainment) Very Fine
PATHFINDER: WORLDSCAPE (2016) #6 A FERNANDE (DYNAMITE Entertainment) Very Fine
PRINCELESS: SHORT STORIES FOR WARRIOR WOMEN (2012) #1 (Action Lab Entertainment) Fine

RAI (1992) (#0-33) (RAI & THE FUTURE FORCE #8-23) #0
RAI (1992) (#0-33) (RAI & THE FUTURE FORCE #8-23) #0 (Acclaim/Valiant) Near Mint/Mint
RAI (1992) (#0-33) (RAI & THE FUTURE FORCE #8-23) #1 (Acclaim/Valiant) Fine
RAI (1992) (#0-33) (RAI & THE FUTURE FORCE #8-23) #2 (Acclaim/Valiant) Near Mint/Mint
RAI (1992) (#0-33) (RAI & THE FUTURE FORCE #8-23) #3 (Acclaim/Valiant) Near Mint/Mint
RAI (1992) (#0-33) (RAI & THE FUTURE FORCE #8-23) #5 (Acclaim/Valiant) Near Mint/Mint
SPENCER & LOCKE (2017) #1 A SANTIAGO (Action Lab Entertainment) Very Fine
TEENAGE MUTANT NINJA TURTLES (1984) (#1-62) (MIRAGE) #20 (Mirage Studios) Very Good
TEENAGE MUTANT NINJA TURTLES (1984) (#1-62) (MIRAGE) #22 (Mirage Studios) Fine
TEENAGE MUTANT NINJA TURTLES (1984) (#1-62) (MIRAGE) #23 (Mirage Studios) Fine
VAMPIRELLA (2019) (#0-UP) (DYNAMITE) #5 C DALTON (DYNAMITE Entertainment) Near Mint/Mint
ZOMBIE TRAMP (2014) #59 E MENDOZA (Danger Zone) Near Mint/Mint
To be unsubscribed from our e-mail newsletter, please send your request to moulton@milehighcomics.com
Mile High Comics, 4600 Jason Street, Denver CO 80211, USA