If you are having trouble viewing this newsletter, click here
50% Off All Comics HALLOWEEN! Sale Begins
Howdy!
Will Moulton is on a long-deserved mini-vacation during the second half of this week, so Pam and Chris Boyd are helping me to keep things running smoothly here at Mile High Comics. Thanks to the diligent efforts of our entire team, we are completely caught up right now, which provides me with the opportunity to commence our annual 50% Off HALLOWEEN! codeword sale a week earlier than usual. This immense half price sale will be in effect on all ten million of our back issue comics and magazines (excepting only new issues, a few variant editions, and our professionally-graded issues) through Tuesday, November 3rd. The 50% off discount on our vast selection of comics is in effect for you online, and also on most of the issues that we offer (except blue sticker) in our Jason St. Mega-Store. Enjoy!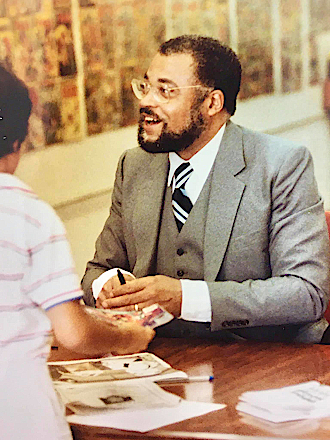 James Earl Jones signing autographs at our stores 1983
In other news, my recuperation from my recent abdominal surgery is going just fine, and by the end of next week I should be able to again (carefully…) lift up to the weight of a short box of comics. The titanium screws in my abdomen are still setting, however, so it will be another four weeks before I can fully return to lifting long boxes. If I tear out those abdominal screws in the meantime, they will have to cut me open again, which is an outcome that I definitely do not wish to experience. That is why I am continuing to (mostly) work from home.
Speaking of working from home, I have been cleaning up in my personal comics vault. To my great surprise, I uncovered several boxes containing a total of over one thousand photos of Mile High Comics events from the 1970's, 1980's, and 1990's. I am posting individual photos from those events on a near-daily basis to our Mile High Comics Facebook page, so be sure and "Like" our Facebook page if you would like to see my updates. Here is a photo of Neil Gaiman at our Mega-Store circa 1994: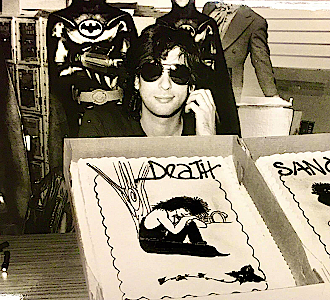 Neil Gaiman at our Mega-Store circa 1994
I will close today with a quick "thank you!" to you for participating in the amazing groundswell of fan support that we have received over the past five decades. Whether you have shopped with us online, through a public venue, or via our Mega-Store, you have helped us to keep alive and nurture our beautiful comic book retailing dream. It has been a truly awesome 50-year journey…
Happy collecting!
Chuck Rozanski/Bettie Pages,
October 16, 2020
President – Mile High Comics, Inc.
P.S. Below are a few more of the comics and magazines that Will and Pam have recently purchased. Most are available to you right now at half of our list price when you utilize the 50% off HALLOWEEN! codeword:
MARVEL

AGE OF APOCALYPSE (2012) (#1-14) (FROM THE PAGES…) #1 Fine
ALL-NEW ALL-DIFFERENT MARVEL POINT ONE (2015) #1 Near Mint/Mint
ANNIHILATORS: EARTHFALL (MARVEL) (2011) #3 Near Mint/Mint
ANNIHILATORS: EARTHFALL (MARVEL) (2011) #4 Near Mint/Mint
ASTONISHING X-MEN (2004) (#1-68) (MARVEL)(JOSS WHENDON) #44 Near Mint/Mint
AVENGERS (2010) (#1-34) (MARVEL) #24 Very Fine
AVENGERS ACADEMY (2010) #22 Near Mint/Mint
AVENGERS ACADEMY (2010) #23 Near Mint/Mint
AVENGERS ACADEMY (2010) #24 Near Mint/Mint
AVENGERS ANNUAL (2012) #1 Fine
AVENGERS ORIGINS: LUKE CAGE (2011) #1 Near Mint/Mint
AVENGERS ORIGINS: SCARLET WITCH & QUICKSILVER (2011) #1 Near Mint/Mint
AVENGERS ORIGINS: THOR (2011) #1 Very Fine
AVENGERS ORIGINS: VISION (2011) #1 Near Mint/Mint
AVENGERS: 1959 (2011) #4 Near Mint/Mint
AVENGERS: 1959 (2011) #5 Near Mint/Mint

AVENGERS: CHILDREN'S CRUSADE (2010) #8 Near Mint/Mint
AVENGERS: CHILDREN'S CRUSADE (2010) #9 Near Mint/Mint
AVENGERS: X-SANCTION (2011) #2 Near Mint/Mint
AVENGERS: X-SANCTION (2011) #3 Near Mint/Mint
AVENGERS: X-SANCTION (2011) #4 Near Mint/Mint
BATTLE SCARS (2011) #1 Near Mint/Mint
BATTLE SCARS (2011) #5 Near Mint/Mint
BLACK PANTHER (2009) (#1-12 & #513-529) (MARVEL) #525 Near Mint/Mint
BLACK PANTHER (2009) (#1-12 & #513-529) (MARVEL) #526 Near Mint/Mint
BLACK PANTHER (2009) (#1-12 & #513-529) (MARVEL) #527 Near Mint/Mint
BLACK PANTHER (2009) (#1-12 & #513-529) (MARVEL) #528 Near Mint/Mint
BLACK PANTHER (2009) (#1-12 & #513-529) (MARVEL) #529 Near Mint/Mint
CARNAGE: USA (2011) #2 Near Mint/Mint
CARNAGE: USA (2011) #3 Near Mint/Mint
CARNAGE: USA (2011) #4 Near Mint/Mint
DAREDEVIL (2011) (#1-36) (MARVEL) #6 Near Mint/Mint
DAREDEVIL (2011) (#1-36) (MARVEL) #7 Near Mint/Mint
DAREDEVIL (2011) (#1-36) (MARVEL) #8 Near Mint/Mint
DEADPOOL (2008) (#1-63, 900, 1000) (MARVEL) #46 Near Mint/Mint
DEADPOOL (2008) (#1-63, 900, 1000) (MARVEL) #47 Near Mint/Mint
DEADPOOL (2008) (#1-63, 900, 1000) (MARVEL) #48 Near Mint/Mint
DEADPOOL (2008) (#1-63, 900, 1000) (MARVEL) #49 Near Mint/Mint


DEADPOOL (2008) (#1-63, 900, 1000) (MARVEL) #49 .1 Near Mint/Mint
DEADPOOL (2008) (#1-63, 900, 1000) (MARVEL) #50 Near Mint/Mint
DEADPOOL (2008) (#1-63, 900, 1000) (MARVEL) #51 Near Mint/Mint
DEADPOOL (2008) (#1-63, 900, 1000) (MARVEL) #52 Near Mint/Mint
DEADPOOL MAX (VOL. 2) (2011) #2 Near Mint/Mint
DEADPOOL MAX (VOL. 2) (2011) #3 Near Mint/Mint
DEADPOOL MAX (VOL. 2) (2011) #4 Near Mint/Mint
DEADPOOL MAX (VOL. 2) (2011) #5 Near Mint/Mint
DEADPOOL MAX X-MAS SPECIAL (2011) #1 Very Fine
DOCTOR STRANGE (2015) (#1-26) (MARVEL) (DR. STRANGE) #3 Near Mint/Mint
DOCTOR STRANGE (2015) (#1-26) (MARVEL) (DR. STRANGE) #4 Near Mint/Mint
ECTOKID (CLIVE BARKER) (1993) #1 Near Mint/Mint
ECTOKID (CLIVE BARKER) (1993) #1 NEWSSTAND Near Mint/Mint
ECTOKID (CLIVE BARKER) (1993) #1 NEWSSTAND Very Fine
FANTASTIC FOUR (1998) (#1-79, 509-611) (MARVEL) #600 Fine
FANTASTIC FOUR (1998) (#1-79, 509-611) (MARVEL) #601 Near Mint/Mint
FANTASTIC FOUR (1998) (#1-79, 509-611) (MARVEL) #602 Near Mint/Mint
FANTASTIC FOUR (1998) (#1-79, 509-611) (MARVEL) #603 Near Mint/Mint
FANTASTIC FOUR (1998) (#1-79, 509-611) (MARVEL) #604 Near Mint/Mint
FEAR ITSELF: FEARLESS (2011) #4 Near Mint/Mint
FEAR ITSELF: FEARLESS (2011) #6 Near Mint/Mint
FEAR ITSELF: FEARLESS (2011) #8 Near Mint/Mint
FEAR ITSELF: FEARLESS (2011) #11 Very Fine

GHOST RACERS (2015) #4 Very Fine
GUARDIANS OF INFINITY (2015) #1 Near Mint/Mint
GUARDIANS OF INFINITY (2015) #4 Near Mint/Mint
GUARDIANS OF THE GALAXY (2015) (#1-19) (MARVEL) #3 Near Mint/Mint
GUARDIANS TEAM-UP (2015) #10 Near Mint/Mint
HERCULES (2015) (#1-6) (MARVEL) #2 Near Mint/Mint
HOWARD THE DUCK (2015) (MAY) (#1-5) #1 Near Mint/Mint
HOWARD THE DUCK (2016)(#1-11) #1 Near Mint/Mint
HOWARD THE DUCK (2016)(#1-11) #2 Near Mint/Mint
HOWARD THE DUCK (2016)(#1-11) #3 Near Mint/Mint
INVINCIBLE IRON MAN (2015) (#1-14) (MARVEL) #4 Near Mint/Mint
INVINCIBLE IRON MAN (2015) (#1-14) (MARVEL) #5 Near Mint/Mint
MOCKINGBIRD: SHIELD 50TH ANNIVERSARY (2015) #1 Very Fine
MOON GIRL & DEVIL DINOSAUR (2015) #2 Near Mint/Mint
NEW AVENGERS (2010) (#1-34) (MARVEL) #18 Near Mint/Mint
NEW AVENGERS (2010) (#1-34) (MARVEL) #19 Near Mint/Mint
NEW AVENGERS (2010) (#1-34) (MARVEL) #20 Near Mint/Mint
NEW AVENGERS (2015) (#1-18) (MARVEL) #5 Near Mint/Mint
SAVAGE SWORD OF CONAN (MAGAZINE) (1974) #95 NEWSSTAND Very Fine

SECRET AVENGERS (2010) (#1-37) (MARVEL) #22 Near Mint/Mint
TOTALLY AWESOME HULK (2015) #1 Very Fine
TOTALLY AWESOME HULK (2015) #2 Near Mint/Mint
UNCANNY AVENGERS (2015) (#1-5) (MARCH) #1 Very Fine
UNCANNY AVENGERS (2015) (#1-30) (DECEMBER) #4 Near Mint/Mint
UNCANNY AVENGERS ANNUAL (2015) #1 Near Mint/Mint
UNCANNY INHUMANS (2015) #1 Near Mint/Mint
UNCANNY INHUMANS (2015) #4 Near Mint/Mint
DC
AQUAMAN (2011) (#0-52) (DC NEW52) #16 Near Mint/Mint
AQUAMAN (2011) (#0-52) (DC NEW52) #17 Very Fine
ARROW (DC) (GREEN ARROW) (2013) #3 Near Mint/Mint
BATMAN & ROBIN (2011) (#0-40) (NEW 52) #17 Near Mint/Mint
BATMAN & ROBIN ANNUAL (2013) #1 Near Mint/Mint
BATMAN INCORPORATED (2012) (#0-13) (DC) (NEW 52) #7 Near Mint/Mint
BATMAN/HELLBOY/STARMAN (DC) (DARK HORSE) (1999) #1 Very Fine
BATMAN: ARKHAM UNHINGED (2012) #10 Near Mint/Mint
BATMAN: ARKHAM UNHINGED (2012) #11 Near Mint/Mint
BATMAN: ARKHAM UNHINGED (2012) #12 Near Mint/Mint

BATMAN: BEYOND UNLIMITED (2012) #13 Very Fine
BATMAN: GOTHAM ADVENTURES (1998) #43 Very Good
BATMAN: GOTHAM ADVENTURES (1998) #44 Very Good
DEATHSTROKE (2011) (#0-20) (DC NEW52) #16 Near Mint/Mint
DEATHSTROKE (2011) (#0-20) (DC NEW52) #17 Near Mint/Mint
DEATHSTROKE (2011) (#0-20) (DC NEW52) #18 Near Mint/Mint
GREEN LANTERN (2011) (#0-52) (DC NEW52) #18 Near Mint/Mint
HARLEY QUINN (2000) (#1-38) (DC) #24 Very Good
HARLEY QUINN (2016) (#1-UP) (DC REBIRTH) #47 VARIANT Near Mint/Mint
HARLEY QUINN (2016) (#1-UP) (DC REBIRTH) #48 VARIANT Near Mint/Mint
HARLEY QUINN (2016) (#1-UP) (DC REBIRTH) #49 VARIANT Near Mint/Mint
HARLEY QUINN (2016) (#1-UP) (DC REBIRTH) #50 VARIANT Near Mint/Mint
HARLEY QUINN (2016) (#1-UP) (DC REBIRTH) #51 VARIANT Near Mint/Mint
HARLEY QUINN (2016) (#1-UP) (DC REBIRTH) #52 VARIANT Near Mint/Mint
HARLEY QUINN (2016) (#1-UP) (DC REBIRTH) #53 VARIANT Near Mint/Mint
HARLEY QUINN (2016) (#1-UP) (DC REBIRTH) #54 VARIANT Near Mint/Mint
HARLEY QUINN (2016) (#1-UP) (DC REBIRTH) #55 Near Mint/Mint
HARLEY QUINN (2016) (#1-UP) (DC REBIRTH) #55 VARIANT Near Mint/Mint
HARLEY QUINN (2016) (#1-UP) (DC REBIRTH) #56 VARIANT Near Mint/Mint
HARLEY QUINN (2016) (#1-UP) (DC REBIRTH) #58 VARIANT Near Mint/Mint
HARLEY QUINN (2016) (#1-UP) (DC REBIRTH) #59 VARIANT Near Mint/Mint
HARLEY QUINN (2016) (#1-UP) (DC REBIRTH) #60 VARIANT Near Mint/Mint
HARLEY QUINN (2016) (#1-UP) (DC REBIRTH) #61 VARIANT Near Mint/Mint
HARLEY QUINN (2016) (#1-UP) (DC REBIRTH) #62 VARIANT Near Mint/Mint
HARLEY QUINN (2016) (#1-UP) (DC REBIRTH) #63 VARIANT Near Mint/Mint
HARLEY QUINN (2016) (#1-UP) (DC REBIRTH) #64 VARIANT Near Mint/Mint


HARLEY QUINN (2016) (#1-UP) (DC REBIRTH) #65 VARIANT Near Mint/Mint
I, VAMPIRE (2011) #7 Near Mint/Mint
SUPERMAN/BATMAN (2003) #1 SUPERMAN Very Good
WONDER WOMAN (1987) (#0-226) (DC) #195 Fine
IMAGE COMICS
INVINCIBLE (2003) #26 Near Mint/Mint
INVINCIBLE (2003) #27 Fine
LIBERTY MEADOWS (#27-37) (IMAGE) (2002) #36 Near Mint/Mint
INDEPENDENTS

TIM VIGIL ARTWORKS 1976-1990 GN (1991) #1 (Rebel Creations) Fine
To be unsubscribed from our e-mail newsletter, please send your request to moulton@milehighcomics.com
Mile High Comics, 4600 Jason Street, Denver CO 80211, USA