If you are having trouble viewing this newsletter, click here
40% Off All Back Issues!
Howdy!
I am still recovering today from hauling five truckloads of comics, statues, action figures, and model kits from the former house of Russel Henson, an astoundingly talented Denver area model builder who passed away two years ago. Over a period of 30 years, Mr. Henson had built a full model-enhancement workshop in his house, complete with numerous saws, dremels, airbrush setups, and innumerable varieties of paints and glues. He used these tools to convert relatively common model kits into truly delightful and innovative dioramas.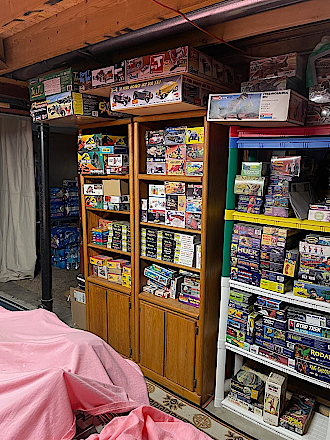 One of the dozens of shelves filled with Models
Mr. Henson's passion was such that, even after his children carefully rescued some of his most beautiful works themselves to keep as reminders of his stunning proficiency, there were still thousands of items left to move. With the house having already been sold, and a deadline looming to get everything out, I quickly saw where the family could clearly benefit from my assistance. That being the case, I dropped pretty much everything that I had planned to do last week, and redirected nearly all of my energy into rescuing Mr. Henson's decades of accumulated treasures.
What made this particular task so onerous was that I had to handle so many extremely delicate items. The "King's Ransom" sailing ship, for example is a true work of art, having been customized by Mr. Henson from a standard motorized ship kit into being a one-of-a-kind representation of Captain Hook's ship from Peter Pan. I was terrified when I packed it that I would break some of the incredibly fragile spars and masts, but it came through totally intact. Whew!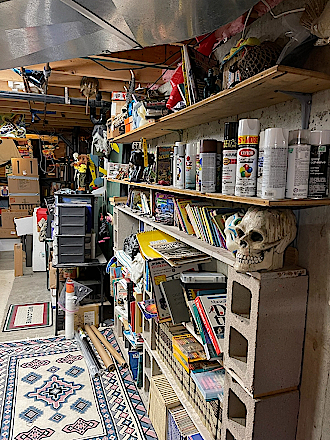 Some of Russel's painting and building supplies
In any event, a great many of Mr. Henson's treasures are now already on display in our Jason St. Mega-Store, with Pam and Lisa working hard each day to create even more beautiful displays. Most of Mr. Henson's creations are for sale, but about 10% of them we will be keeping for permanent display of his work in Jason St. This fits in perfectly with our goal of making Jason St. an even cooler experience every single day for the thousands of families who visit the Mega-Store each week. Suffice it to say, all of us at Mile High Comics are sincerely grateful to Russel Henson's family for having chosen us to s afeguard his legacy. He was truly an amazing artist!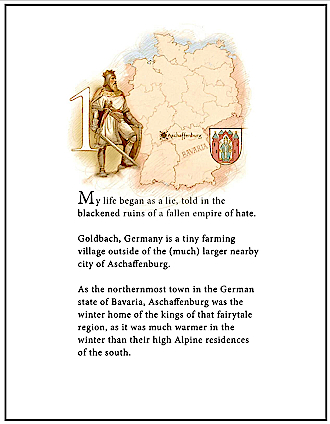 A interior page (mock up) of the 96-page illustrated novel
Moving on to other news, I have finished writing all of the text for my first 96-page illustrated novel about my life, and have already written the first chapter of the second book. My dear friend and artistic collaborator, Thomas Haller Buchanan, has begun the illustrations, and thinks that he may be finished with book one by July 1st. If that turns out to be the case, we should be shipping the first limited edition copies by September 1st. I will provide ordering information as soon as we get back our printing/binding quotes. I am self-publishing this entire series of books, so all of the cost is coming out of my own pocket.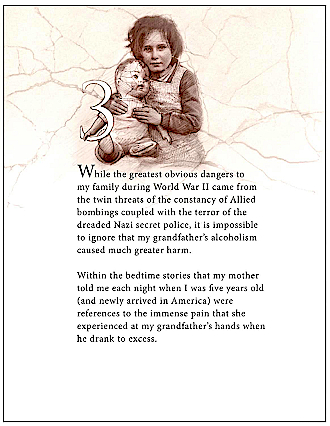 A interior page (mock up) of the 96-page illustrated novel
I will close today by mentioning that back issue comics are continuing to sell for us at a record pace, both through our website, and in Jason St. Our 40% off SUPERHERO! codeword is still in effect for you this week on all of our back issues comics and magazines (excepting new issues, a few variants, and our professionally-graded items), but only because I was able to get ahead of the curve by purchasing nearly $200,000.00 in back issues during my epic 23-day buying trip of earlier this month. Had I not stocked us up so well in late March and early April, our discounting might well have already had to be reduced, or even eliminated. Just saying…
Given that this is a truly unprecedented moment in the history of collectible comics, I hope that you are stocking up, while you still can. Building awesome collections of great back issues is still quite possible (and reasonable) right now for just about everyone, but with a shockingly large number of new buyers flocking to Jason St. every week, I am honestly uncertain about how long that we can keep being so moderate. Patterns that worked great for us in the past, are starting to be superseded by this new wave of collectors that are appearing out of seemingly thin air. This may all eventually turn out to be nothing more than a temporary market "bubble," but it certainly bears watching.
Happy collecting!
Chuck Rozanski/Bettie Pages,
President – Mile High Comics, Inc.
April 26, 2021
P.S. Here are even more new comic arrivals. All are 40% off when you utilize the SUPERHERO! codeword at checkout.
MARVEL

AGE OF ULTRON (AVENGERS) (2013) #9
AGE OF ULTRON (AVENGERS) (2013) #9 Very Good
AGE OF ULTRON (AVENGERS) (2013) #10 UNBAGGED Near Mint/Mint
ALIEN (2021) #1 FINCH B&W Near Mint/Mint
ALIEN (2021) #1 LARROCA Near Mint/Mint
ALL-NEW MIRACLEMAN ANNUAL (2014) #1 QUESADA Near Mint/Mint
AMAZING ADVENTURES (1979) (#1-14) (MARVEL) #3 NEWSSTAND Very Fine
AMAZING ADVENTURES (1979) (#1-14) (MARVEL) #4 NEWSSTAND Fine
AMAZING ADVENTURES (1979) (#1-14) (MARVEL) #5 Very Fine
AMAZING ADVENTURES (1979) (#1-14) (MARVEL) #6 Very Fine
AMAZING ADVENTURES (1979) (#1-14) (MARVEL) #7 Very Fine
AMAZING ADVENTURES (1979) (#1-14) (MARVEL) #8 Near Mint/Mint
AMAZING FANTASY (1962) (MARVEL) #15 FACSIMILE Fine
AMAZING SPIDER-MAN (1999) (#1-58, #500-700.5) (MARVEL) #657 Near Mint/Mint
AMAZING SPIDER-MAN (2018) (#1-UP) (MARVEL) #63 WEAVERDESI Near Mint/Mint
AVENGERS (1963) (#1-402) (MARVEL) #218 Near Mint/Mint
AVENGERS (1963) (#1-402) (MARVEL) #221 Near Mint/Mint
AVENGERS (2013) (#1-44) (MARVEL) #12 Fine
AVENGERS VS. X-MEN (AVX) (2012) #12 AVENGERS Very Good
BEAVIS & BUTT-HEAD (1994) #1 Near Mint/Mint
BETA RAY BILL (2021) #1 SIMONSON Near Mint/Mint

CAPTAIN AMERICA (1968) (#100-454) (MARVEL) #264
CAPTAIN AMERICA (1968) (#100-454) (MARVEL) #264 Near Mint/Mint
CAPTAIN AMERICA (1968) (#100-454) (MARVEL) #275 Very Fine
CAPTAIN AMERICA (1968) (#100-454) (MARVEL) #307 Near Mint/Mint
CAPTAIN AMERICA (1968) (#100-454) (MARVEL) #325 Fine
CAPTAIN AMERICA (2004) (#1-50, 600-619) (MARVEL) #11 Very Good
CAPTAIN MARVEL (2014) (#1-15) (MARVEL) #14 Very Fine
CHILDREN OF THE ATOM (2021) #1 MULLERDESI Fine
CONAN THE BARBARIAN (2019) (#1-UP) (MARVEL) #2 Fine
CONAN THE BARBARIAN (2019) (#1-UP) (MARVEL) #3 Near Mint/Mint
CONAN THE BARBARIAN (2019) (#1-UP) (MARVEL) #3 Very Good
CONAN THE BARBARIAN (2019) (#1-UP) (MARVEL) #4 Very Fine
CONAN THE BARBARIAN (2019) (#1-UP) (MARVEL) #5 Very Fine
CONAN THE BARBARIAN (2019) (#1-UP) (MARVEL) #5 WALTA Very Fine
CONAN THE BARBARIAN (2019) (#1-UP) (MARVEL) #6 Fine
CRYPT OF SHADOWS (1973) (#1-21) (MARVEL) #1 Good
DAREDEVIL (1964) (#1-380) (MAN WITHOUT FEAR) (MARVEL) #173 Near Mint/Mint
DAREDEVIL (1998) (#1-119, 500-512) (MARVEL) #111 VARIANT Fine
DEADPOOL (2013) (#1-45, 250) (MARVEL) #45 250 Fine
DEADPOOL (2019) (#1-UP) (MARVEL) #1 Near Mint/Mint
DEADPOOL: BACK IN BLACK (2016) #1 Near Mint/Mint
DOCTOR STRANGE (2018) (#1-20) (MARVEL) #17 Near Mint/Mint
DOCTOR STRANGE (2018) (#1-20) (MARVEL) #18 Near Mint/Mint
DOCTOR STRANGE (2018) (#1-20) (MARVEL) #19 Fine
DOCTOR STRANGE (2020) (#1-UP) (MARVEL) #2 Near Mint/Mint

ETERNALS: SECRETS FROM THE MARVEL UNIVERSE (2019) #1
ETERNALS: SECRETS FROM THE MARVEL UNIVERSE (2019) #1 Near Mint/Mint
EWOKS (STAR WARS) (1985) #3 NEWSSTAND (Marvel Star) Good
GUARDIANS OF THE GALAXY (2013) (#0.1-27) (MARVEL) #14 Very Fine
GUARDIANS OF THE GALAXY (2013) (#0.1-27) (MARVEL) #25 Near Mint/Mint
GUARDIANS OF THE GALAXY & X-MEN: BLACK VORTEX ALPHA (2015) #1 Fine
GUARDIANS TEAM-UP (2015) #3 Fine
HAWKEYE (2012) (#1-22) (MARVEL) (MATT FRACTION) #12 Near Mint/Mint
HAWKEYE (2012) (#1-22) (MARVEL) (MATT FRACTION) #13 Near Mint/Mint
HAWKEYE (2012) (#1-22) (MARVEL) (MATT FRACTION) #14 Near Mint/Mint
HAWKEYE (2012) (#1-22) (MARVEL) (MATT FRACTION) #15 Near Mint/Mint
HAWKEYE (2012) (#1-22) (MARVEL) (MATT FRACTION) #21 Near Mint/Mint
HOUSE OF M (2005) (#1-8) #8 Near Mint/Mint
HOWARD THE DUCK (1976) (#1-33) #5 Near Mint/Mint
HULK (1962) (#1-6, #102-474, #600-635)(INCREDIBLE)(MV) #314 Very Fine
HULK (1962) (#1-6, #102-474, #600-635)(INCREDIBLE)(MV) #332 Near Mint/Mint
HULK (1962) (#1-6, #102-474, #600-635)(INCREDIBLE)(MV) #344 Very Fine
HULK (1962) (#1-6, #102-474, #600-635)(INCREDIBLE)(MV) #378 Near Mint/Mint
HULK (1999) (#1-112) (MARVEL) #106 2ND PRINT Fine
HULK ANNUAL (1968) #11 Very Fine
IMMORTAL HULK (2018) #15 Very Fine
IMMORTAL HULK (2018) #19 Near Mint/Mint
IMMORTAL HULK (2018) #21 Fine
IMMORTAL HULK (2018) #23 KEOWN Near Mint/Mint
IMMORTAL HULK (2018) #24 Fine
IMMORTAL HULK (2018) #30 Near Mint/Mint
INCREDIBLE HULK: LAST CALL (2019) #1 Fine
INDESTRUCTIBLE HULK SPECIAL (2013) #1 Fine
INFINITY (2013) #6 YOUNG BABY Very Fine
INVINCIBLE IRON MAN (2008) (#1-33 & 500-527) (MARVEL) #7 Very Fine
INVINCIBLE IRON MAN (2008) (#1-33 & 500-527) (MARVEL) #8 Near Mint/Mint
INVINCIBLE IRON MAN (2008) (#1-33 & 500-527) (MARVEL) #9 Fine
INVINCIBLE IRON MAN (2008) (#1-33 & 500-527) (MARVEL) #10 Very Fine
INVINCIBLE IRON MAN (2008) (#1-33 & 500-527) (MARVEL) #11 Near Mint/Mint
INVINCIBLE IRON MAN (2008) (#1-33 & 500-527) (MARVEL) #12 Near Mint/Mint
INVINCIBLE IRON MAN (2008) (#1-33 & 500-527) (MARVEL) #14 Very Fine
INVINCIBLE IRON MAN (2008) (#1-33 & 500-527) (MARVEL) #15 Near Mint/Mint
INVINCIBLE IRON MAN (2008) (#1-33 & 500-527) (MARVEL) #16 Near Mint/Mint
INVINCIBLE IRON MAN (2008) (#1-33 & 500-527) (MARVEL) #17 Very Fine
INVINCIBLE IRON MAN (2008) (#1-33 & 500-527) (MARVEL) #18 Fine
INVINCIBLE IRON MAN (2008) (#1-33 & 500-527) (MARVEL) #19 Very Fine
INVINCIBLE IRON MAN (2008) (#1-33 & 500-527) (MARVEL) #22 Near Mint/Mint
INVINCIBLE IRON MAN (2008) (#1-33 & 500-527) (MARVEL) #23 Near Mint/Mint
INVINCIBLE IRON MAN (2008) (#1-33 & 500-527) (MARVEL) #24 VARIANT Near Mint/Mint
INVINCIBLE IRON MAN (2008) (#1-33 & 500-527) (MARVEL) #25 HEROIC AGE Near Mint/Mint
INVINCIBLE IRON MAN (2008) (#1-33 & 500-527) (MARVEL) #25 MOVIE VAR Near Mint/Mint

INVINCIBLE IRON MAN (2008) (#1-33 & 500-527) (MARVEL) #29
INVINCIBLE IRON MAN (2008) (#1-33 & 500-527) (MARVEL) #29 Near Mint/Mint
INVINCIBLE IRON MAN (2008) (#1-33 & 500-527) (MARVEL) #30 Near Mint/Mint
INVINCIBLE IRON MAN (2008) (#1-33 & 500-527) (MARVEL) #31 Near Mint/Mint
INVINCIBLE IRON MAN (2008) (#1-33 & 500-527) (MARVEL) #32 Near Mint/Mint
INVINCIBLE IRON MAN (2008) (#1-33 & 500-527) (MARVEL) #500 .1 Near Mint/Mint
INVINCIBLE IRON MAN (2008) (#1-33 & 500-527) (MARVEL) #500 Very Fine
INVINCIBLE IRON MAN (2008) (#1-33 & 500-527) (MARVEL) #501 Near Mint/Mint
INVINCIBLE IRON MAN (2008) (#1-33 & 500-527) (MARVEL) #504 Near Mint/Mint
INVINCIBLE IRON MAN (2008) (#1-33 & 500-527) (MARVEL) #509 Near Mint/Mint
INVINCIBLE IRON MAN (2008) (#1-33 & 500-527) (MARVEL) #511 Very Fine
INVINCIBLE IRON MAN (2008) (#1-33 & 500-527) (MARVEL) #513 Near Mint/Mint
IRON MAN (1968) (#1-332) (INVINCIBLE IRON MAN)(MARVEL) #158 Near Mint/Mint
IRON MAN (1968) (#1-332) (INVINCIBLE IRON MAN)(MARVEL) #165 Very Fine
IRON MAN (1968) (#1-332) (INVINCIBLE IRON MAN)(MARVEL) #167 Very Fine
IRON MAN: REQUIEM ONE-SHOT (2009) #1 Near Mint/Mint
KICK ASS (2008) (#1-8) (MARVEL ICON) #1 3RD PRINT Near Mint/Mint
KING IN BLACK (2020) #5 SANDOVAL Near Mint/Mint
LEGENDARY STAR-LORD (2014) #1 Fine
LEGENDARY STAR-LORD (2014) #10 Near Mint/Mint
MAN-THING (1979) (#1-11) (MARVEL) #9 Very Fine
MARAUDERS (2019) #19 FINCH Near Mint/Mint
MARVEL (2020) #6 BERMEJO Near Mint/Mint
MARVEL COMICS (2019) #1000 HILDEBRANT Near Mint/Mint

MARVEL COMICS PRESENTS (2019) (#1-UP) (MARVEL) #1
MARVEL COMICS PRESENTS (2019) (#1-UP) (MARVEL) #1 Fine
MARVEL TALES (1964) (#1-291) #87 Fine
MARVEL TALES (1964) (#1-291) #92 Fine
MARVEL TALES (1964) (#1-291) #93 Very Fine
MARVEL TALES (1964) (#1-291) #94 Near Mint/Mint
MARVEL TALES (1964) (#1-291) #95 Very Fine
MARVEL TALES (1964) (#1-291) #96 Near Mint/Mint
MARVEL TALES (1964) (#1-291) #97 Near Mint/Mint
MARVEL TALES (1964) (#1-291) #98 Very Fine
MARVEL TALES (1964) (#1-291) #99 Near Mint/Mint
MARVEL TALES (1964) (#1-291) #100 Very Good
MARVEL TALES (1964) (#1-291) #133 NEWSSTAND Fine
MARVEL TALES (1964) (#1-291) #134 Very Fine
MARVEL TEAM-UP (1972) (#1-150) (MARVEL) #117 Very Fine
MARVEL TWO-IN-ONE (1974) (#1-100) (MARVEL) #4 Very Good
MARVEL TWO-IN-ONE (2017) (#1-UP) (MARVEL LEGACY) #1 Fine
MARVEL TWO-IN-ONE (2017) (#1-UP) (MARVEL LEGACY) #2 Very Fine
MARVEL TWO-IN-ONE ANNUAL (1976) #4 Fine
MARVEL TWO-IN-ONE ANNUAL (1976) #6 NEWSSTAND Very Good
MARVELS ANNOTATED (2019) #4 Near Mint/Mint
MIGHTY THOR (2011) (#1-23) (MARVEL) #22 Near Mint/Mint
MIRACLEMAN (2014) (#1-16) (MARVEL) #14 PETERSON Near Mint/Mint
MIRACLEMAN (2014) (#1-16) (MARVEL) #15 TOTLEBEN Near Mint/Mint
MIRACLEMAN BY GAIMAN & BUCKINGHAM (#1-6) (MARVEL) #1 BUCKINGHAM Near Mint/Mint

MIRACLEMAN BY GAIMAN & BUCKINGHAM (#1-6) (MARVEL) #2
MIRACLEMAN BY GAIMAN & BUCKINGHAM (#1-6) (MARVEL) #2 Near Mint/Mint
MOON KNIGHT (2014) (#1-17) (MARVEL) #5 Near Mint/Mint
MOON KNIGHT (2017) (#188-UP) (MARVEL LEGACY) #188 Very Fine
NEW AVENGERS (2013) (#1-33) (MARVEL) #12 Near Mint/Mint
NEW MUTANTS (1983) (#1-100) (MARVEL) #88 Good
NEW MUTANTS (1983) (#1-100) (MARVEL) #89 Good
NEW MUTANTS (1983) (#1-100) (MARVEL) #90 NEWSSTAND Good
NEW MUTANTS (2019) (#1-UP) (MARVEL) #5 RYP Fine
NEW X-MEN PREVIEW PRE-PRESS EDITION (WIZARD) (2001) #1 Very Fine
NON-STOP SPIDER-MAN (2021) #1 PREMIERE Near Mint/Mint
NON-STOP SPIDER-MAN (2021) #1 KUBERT Near Mint/Mint
NON-STOP SPIDER-MAN (2021) #1 NAUCK B&W Near Mint/Mint
NON-STOP SPIDER-MAN (2021) #1 PREMIERE Very Fine
ORIGINAL SIN (2014) (#0-8) (MARVEL) #1 Very Good
ORIGINAL SIN (2014) (#0-8) (MARVEL) #2 Near Mint/Mint
ORIGINAL SIN (2014) (#0-8) (MARVEL) #3 Very Good
ORIGINAL SIN (2014) (#0-8) (MARVEL) #5 Very Fine
ORIGINAL SIN (2014) (#0-8) (MARVEL) #6 Fine
ORIGINAL SIN (2014) (#0-8) (MARVEL) #7 Near Mint/Mint
PUNISHER WAR JOURNAL (1988) #6 Near Mint/Mint
RED SONJA (1977) (#1-15) (MARVEL) #2 Good
SAVAGE AVENGERS (2019) #3 Near Mint/Mint
SAVAGE SWORD OF CONAN (2019) #3 Fine
SAVAGE SWORD OF CONAN (2019) #3 Very Fine
SAVAGE SWORD OF CONAN (2019) #4 Near Mint/Mint
SAVAGE SWORD OF CONAN (2019) #5 Fine
SECRET INVASION (2008) #3 Near Mint/Mint
SECRET INVASION (2008) #4 Fine
SECRET WARS (2015) (#1-9) (MARVEL) #8 Fine
SECRET WARS (2015) (#1-9) (MARVEL) #9 Near Mint/Mint
SHE-HULK (1989) (#1-60) (SENSATIONAL SHE-HULK)(MARVEL) #11 Very Fine
SHE-HULK (2014) (#1-12) (MARVEL) #1 Near Mint/Mint
SILK (2021) (#1-5) (MARVEL) #1 BENGAL Near Mint/Mint
SPIDER-MAN (1963) (AMAZING SPIDER-MAN) (#1-441) #214 Near Mint/Mint
SPIDER-MAN (1963) (AMAZING SPIDER-MAN) (#1-441) #223 Near Mint/Mint
SPIDER-MAN (1963) (AMAZING SPIDER-MAN) (#1-441) #228 Near Mint/Mint
SPIDER-MAN (1963) (AMAZING SPIDER-MAN) (#1-441) #236 Near Mint/Mint
SPIDER-MAN (1963) (AMAZING SPIDER-MAN) (#1-441) #238 W/O TATTOS Very Fine
SPIDER-MAN (1963) (AMAZING SPIDER-MAN) (#1-441) #266 Very Fine
SPIDER-MAN (1963) (AMAZING SPIDER-MAN) (#1-441) #271 Very Fine
SPIDER-MAN (1963) (AMAZING SPIDER-MAN) (#1-441) #287 Very Fine
SPIDER-MAN (1963) (AMAZING SPIDER-MAN) (#1-441) #297 Near Mint/Mint
SPIDER-MAN: LIFE STORY (2019) #1 Very Fine

SPIDER-MAN: LIFE STORY (2019) #4
SPIDER-MAN: LIFE STORY (2019) #4 Near Mint/Mint
SPIDER-MAN: LIFE STORY (2019) #5 Near Mint/Mint
STAR WARS (1977) (#1-107) (MARVEL) #12 Fine
STAR WARS (1977) (#1-107) (MARVEL) #16 WHITMAN Very Fine
STAR WARS (1977) (#1-107) (MARVEL) #17 WHITMAN Very Fine
STAR WARS (1977) (#1-107) (MARVEL) #18 WHITMAN Fine
STAR WARS (2015) (#1-75) (MARVEL) #1 Near Mint/Mint
STAR WARS (2020) (#1-UP) (MARVEL) #12 YU Near Mint/Mint
STAR WARS: DARTH VADER (2020) #2 Near Mint/Mint
STAR WARS: HIGH REPUBLIC (2021) #2 Near Mint/Mint
THANOS QUEST COLLECTED EDITION (2000) #1 Fine
THOR (1962) (#83-125 JOURNEY INTO MYSTERY, 126-502) #171 Near Mint/Mint
THOR (1962) (#83-125 JOURNEY INTO MYSTERY, 126-502) #440 Near Mint/Mint
THOR (2020) (#1-UP) (MARVEL) #2 2ND PRINT Fine
THOR: GOD OF THUNDER (2012) #1 Very Good
ULTIMATES (2015) #3 Fine
ULTIMATES 3 (2007) #1 HEROES Near Mint/Mint

VENOM: LETHAL PROTECTOR (1993) #6 TOY BIZ
VENOM: LETHAL PROTECTOR (1993) #6 TOY BIZ Fine
WOLVERINE (1988) (#1/2-189) (MARVEL) #18 Near Mint/Mint
WOLVERINE (2020) (#1-UP) (MARVEL) #10 FINCH Near Mint/Mint
WOLVERINE: BLACK, WHITE & BLOOD (2020) #3 CLARKE Near Mint/Mint
X-MEN (1963) (#1-113, UNCANNY X-MEN #114-544) (MARVEL) #95 Fair
X-MEN (1991) (#1-275) (MARVEL) #201 Fine
X-MEN (1991) (#1-275) (MARVEL) #202 Fine
X-MEN (1991) (#1-275) (MARVEL) #203 Fine
X-MEN (1991) (#1-275) (MARVEL) #204 Very Fine
X-MEN (1991) (#1-275) (MARVEL) #205 Very Fine
X-MEN (1991) (#1-275) (MARVEL) #206 Very Fine
X-MEN (1991) (#1-275) (MARVEL) #207 Near Mint/Mint
X-MEN (1991) (#1-275) (MARVEL) #209 Fine
X-MEN (1991) (#1-275) (MARVEL) #210 Fine
X-MEN (1991) (#1-275) (MARVEL) #211 Near Mint/Mint
X-MEN (1991) (#1-275) (MARVEL) #212 Fine
X-MEN (1991) (#1-275) (MARVEL) #213 Fine
X-MEN (1991) (#1-275) (MARVEL) #214 Very Fine
X-MEN (1991) (#1-275) (MARVEL) #215 Fine
X-MEN (1991) (#1-275) (MARVEL) #216 Very Fine
X-MEN (1991) (#1-275) (MARVEL) #218 Fine
X-MEN (1991) (#1-275) (MARVEL) #221 Fine
X-MEN (1991) (#1-275) (MARVEL) #222 Fine
X-MEN (1991) (#1-275) (MARVEL) #224 Fine
X-MEN (1991) (#1-275) (MARVEL) #225 Fine

X-MEN (1991) (#1-275) (MARVEL) #226
X-MEN (1991) (#1-275) (MARVEL) #226 Near Mint/Mint
X-MEN (1991) (#1-275) (MARVEL) #227 Near Mint/Mint
X-MEN (1991) (#1-275) (MARVEL) #228 Fine
X-MEN (1991) (#1-275) (MARVEL) #229 Fine
X-MEN (1991) (#1-275) (MARVEL) #231 Near Mint/Mint
X-MEN (1991) (#1-275) (MARVEL) #232 Near Mint/Mint
X-MEN (1991) (#1-275) (MARVEL) #233 Fine
X-MEN (1991) (#1-275) (MARVEL) #234 Fine
X-MEN (1991) (#1-275) (MARVEL) #237 Near Mint/Mint
X-MEN (1991) (#1-275) (MARVEL) #239 Near Mint/Mint
X-MEN (1991) (#1-275) (MARVEL) #240 Near Mint/Mint
X-MEN (1991) (#1-275) (MARVEL) #241 Very Fine
X-MEN (1991) (#1-275) (MARVEL) #242 Fine
X-MEN (1991) (#1-275) (MARVEL) #243 Near Mint/Mint
X-MEN (1991) (#1-275) (MARVEL) #244 Near Mint/Mint
X-MEN (1991) (#1-275) (MARVEL) #247 Near Mint/Mint
X-MEN (1991) (#1-275) (MARVEL) #248 Fine
X-MEN (1991) (#1-275) (MARVEL) #249 Near Mint/Mint
X-MEN (1991) (#1-275) (MARVEL) #250 Near Mint/Mint
X-MEN (1991) (#1-275) (MARVEL) #251 Fine
X-MEN (1991) (#1-275) (MARVEL) #252 Near Mint/Mint
X-MEN (1991) (#1-275) (MARVEL) #253 Near Mint/Mint
X-MEN (1991) (#1-275) (MARVEL) #254 Near Mint/Mint
X-MEN (1991) (#1-275) (MARVEL) #255 Fine
X-MEN (1991) (#1-275) (MARVEL) #256 Fine
X-MEN (1991) (#1-275) (MARVEL) #257 Very Fine
X-MEN (1991) (#1-275) (MARVEL) #258 Fine
X-MEN (1991) (#1-275) (MARVEL) #259 Near Mint/Mint
X-MEN (1991) (#1-275) (MARVEL) #260 .1 Near Mint/Mint
X-MEN (1991) (#1-275) (MARVEL) #260 Very Fine
X-MEN (1991) (#1-275) (MARVEL) #262 Near Mint/Mint

X-MEN (1991) (#1-275) (MARVEL) #263
X-MEN (1991) (#1-275) (MARVEL) #263 Very Fine
X-MEN (1991) (#1-275) (MARVEL) #264 Fine
X-MEN (1991) (#1-275) (MARVEL) #265 Very Fine
X-MEN (1991) (#1-275) (MARVEL) #266 Fine
X-MEN (1991) (#1-275) (MARVEL) #267 Very Fine
X-MEN (1991) (#1-275) (MARVEL) #272 Very Fine
X-MEN (1991) (#1-275) (MARVEL) #273 Near Mint/Mint
X-MEN (1991) (#1-275) (MARVEL) #274 Near Mint/Mint
X-MEN (1991) (#1-275) (MARVEL) #275 Fine
X-MEN LEGENDS (2021) #1 DAUTERMAN Near Mint/Mint
X-MEN LEGENDS (2021) #1 YU Near Mint/Mint
DC
ACTION COMICS (1938) (#0-600, 643-904) (DC) #551 Very Fine
ANIMANIACS (DC) (1995) #28 Very Fine
BATMAN ADVENTURES (2003) #5 Fine
BEST OF DC COMICS DIGEST (1977) #59 NEWSSTAND Good
BRAVE AND THE BOLD (1955) #186 Very Fine
DETECTIVE COMICS (1937) (#0-881) (DC) #850 Very Fine
DOOM PATROL (1987) (#1-87) (DC) (DC VERTIGO) #19 (DC: Vertigo Press) Very Fine
FIRESTORM (1978) (#1-5) #5 Fine
FIRESTORM (1982) (#1-100) #5 NEWSSTAND Good
FIRESTORM (1982) (#1-100) #22 NEWSSTAND Very Good

FIRESTORM (1982) (#1-100) #23 NEWSSTAND
FIRESTORM (1982) (#1-100) #23 NEWSSTAND Fine
FIRESTORM (1982) (#1-100) #39 Very Fine
FLASH (1959) (#105-350) (DC) #309 Near Mint/Mint
FLASH (2016) (#1-88, #750-UP) (DC REBIRTH) #750 Near Mint/Mint
FURY OF FIRESTORM (2011) #1 Fine
FURY OF FIRESTORM (2011) #4 Near Mint/Mint
FURY OF FIRESTORM (2011) #6 Near Mint/Mint
FURY OF FIRESTORM (2011) #8 Near Mint/Mint
FURY OF FIRESTORM (2011) #9 Near Mint/Mint
FURY OF FIRESTORM (2011) #11 Near Mint/Mint
GREEN ARROW (1988) (#0-137) (DC) #136 Fine
GREEN ARROW (2001) (#1-75) (DC) #1 SGN & SKET Near Mint/Mint
GREEN ARROW (2001) (#1-75) (DC) #16 Near Mint/Mint
GREEN ARROW (2001) (#1-75) (DC) #19 Near Mint/Mint
GREEN ARROW (2001) (#1-75) (DC) #20 Near Mint/Mint
GREEN ARROW (2011) (#0-52) (DC NEW52) #17 Near Mint/Mint
GREEN LANTERN (1960) (#1-224) (DC) #149 Very Fine
GREEN LANTERN (1960) (#1-224) (DC) #152 Near Mint/Mint
GREEN LANTERN (1960) (#1-224) (DC) #161 Near Mint/Mint
GREEN LANTERN: EVIL'S MIGHT (2002) #1 Near Mint/Mint
HISTORY OF THE DC UNIVERSE (1986) #2 Near Mint/Mint
JLX (1996) #1 NEWSSTAND Near Mint/Mint
JUSTICE LEAGUE (2018) (#1-UP) (DC UNIVERSE) #19 Very Fine

JUSTICE LEAGUE OF AMERICA (1960) (#1-261) (DC) #206
JUSTICE LEAGUE OF AMERICA (1960) (#1-261) (DC) #206 Near Mint/Mint
LOIS LANE (1958) (#1-137) (SUPERMAN'S GIRL FRIEND) (DC) #136 Good
NEW LINE CINEMA'S TALES OF HORROR (2007) #1 (DC/Wildstorm) Near Mint/Mint
NIGHTMARE ON ELM STREET (2006) #1 (DC/Wildstorm) Very Fine
NIGHTMARE ON ELM STREET (2006) #2 (DC/Wildstorm) Near Mint/Mint
PLUNGE (JOE HILL) (2020) #1 Near Mint/Mint
SUPER SOLDIER (1996) #1 NEWSSTAND Near Mint/Mint
SUPERGIRL (1972) (#1-10) (DC) #3 Good
TEEN TITANS (1996) (#1-24) (DC) #19 NEWSSTAND Near Mint/Mint
TEEN TITANS (1996) (#1-24) (DC) #19 NEWSSTAND Very Fine
TEEN TITANS (1996) (#1-24) (DC) #19 NEWSSTAND Fine
TEXAS CHAINSAW MASSACRE: ABOUT A BOY (2007) #1 Very Fine
TEXAS CHAINSAW MASSACRE: CUT (2007) #1 Very Fine
THUNDERCATS (2002) (#0-5) (DC/WILDSTORM) #4 (DC/Wildstorm) Fine
THUNDERCATS (2002) (#0-5) (DC/WILDSTORM) #4 (DC/Wildstorm) Very Fine
TIME MASTERS (1990) #4 Very Fine
TIME WARP (1979) #1 Very Fine
TIME WARP (1979) #5 NEWSSTAND Fine
TIME WARP (1979) #5 NEWSSTAND Very Good
TOR (1975) (#1-6) (DC) (JOE KUBERT) #4 Near Mint/Mint
WONDER WOMAN (1942) (#1-329) (DC) #230 Good
DARK HORSE COMICS
SPY ISLAND (2020) #1 2ND PRINT Very Fine
SPY ISLAND (2020) #1 A MITERNIQ Very Fine
STAR WARS: DARK EMPIRE (1992) #3 Very Good
STAR WARS: DARK EMPIRE (1992) #6 Good
STAR WARS: DARK EMPIRE II (1994) #6 NEWSSTAND Good
STAR WARS: DARTH MAUL (2000) #1 PHOTO CVR Near Mint/Mint
STAR WARS: LEGACY (2006) #16 Near Mint/Mint
STAR WARS: LEGACY (2006) #16 Very Fine
IMAGE COMICS
BLUE ESTATE (2011) #1 Fine
BLUE ESTATE (2011) #2 Very Fine
DEATHDEALER (2007) (#1-6) (IMAGE) (FRANK FRAZETTA) #1 2ND GOLD Very Fine
DECORUM (2020) #1 A HUDDLEST Near Mint/Mint
ELEPHANTMEN (2006) #17 Near Mint/Mint
GEIGER (2021) #1 F FRANKB&W Near Mint/Mint
KILLADELPHIA (2019) #3 B SCALERA Fine
MOONSHINE (2016) #15 Near Mint/Mint
NOCTERRA (2021) #1 G MANAPUL Near Mint/Mint
NOCTERRA (2021) #1 H JIMENEZ Near Mint/Mint
OBLIVION SONG (KIRKMAN & DE FELICI) (2018) #23 Fine
OBLIVION SONG (KIRKMAN & DE FELICI) (2018) #23 Very Fine
SPAWN (1992) #1 Fine
SPAWN (1992) #64 Very Fine
SPAWN (1992) #70 Good
SPAWN (1992) #107 Fine
SPAWN (1992) #119 NEWSSTAND Good
SPAWN (1992) #121 NEWSSTAND Very Good
SPAWN (1992) #124 Very Fine
SPAWN (1992) #125 Very Fine
ULTRAMEGA (JAMES HARREN) (2021) #1 D MOORERAW Near Mint/Mint
ULTRAMEGA (JAMES HARREN) (2021) #1 D MOORERAW Very Fine
ULTRAMEGA (JAMES HARREN) (2021) #1 D MOORERAW Fine
ULTRAMEGA (JAMES HARREN) (2021) #1 E HARRERAW Near Mint/Mint
WALKING DEAD DELUXE (2020) #1 2ND B&W Near Mint/Mint
WALKING DEAD DELUXE (2020) #2 2ND B&W Near Mint/Mint
WALKING DEAD DELUXE (2020) #3 2ND B&W Near Mint/Mint
WALKING DEAD DELUXE (2020) #4 2ND B&W Near Mint/Mint
WALKING DEAD DELUXE (2020) #5 2ND B&W Near Mint/Mint
WALKING DEAD DELUXE (2020) #6 2ND B&W Near Mint/Mint
INDEPENDENTS
ARCHIE 1955 (2019) #4 C IGLE (Archie Comics) Very Fine
BLADE RUNNER 2019 (2019) #3 A GUICE (Titan Distributing) Very Fine
BLADE RUNNER 2019 (2019) #3 A GUICE (Titan Distributing) Fine
BLADE RUNNER 2019 (2019) #10 B MEAD (Titan Distributing) Very Fine
BLOODSHOT (2019) (#0-UP) (VALIANT) #1 H CARBON (Valiant Comics) Near Mint/Mint
BRZRKR (BERZERKER) (MATT KINDT) (KEANU REEVES) (2021) #1 2ND FOIL (Boom Studios Publishing) Near Mint/Mint
BRZRKR (BERZERKER) (MATT KINDT) (KEANU REEVES) (2021) #1 G BERMEJO (Boom Studios Publishing) Near Mint/Mint
BRZRKR (BERZERKER) (MATT KINDT) (KEANU REEVES) (2021) #1 H GRAMPA (Boom Studios Publishing) Near Mint/Mint
BRZRKR (BERZERKER) (MATT KINDT) (KEANU REEVES) (2021) #1 N BROOKB&W (Boom Studios Publishing) Near Mint/Mint
BUFFY THE VAMPIRE SLAYER (2019) (#1-UP) (BOOM STUDIOS) #24 D LOPEZ (Boom Studios Publishing) Near Mint/Mint
BUMP (2007) #1 (Fangoria) Very Good
BUMP (2007) #2 (Fangoria) Near Mint/Mint
CROW VOLUME (1992) #2 (Tundra Publishing) Fine
DISASTER INC. (2020) #1 A CLARKE (After-Shock Comics) Near Mint/Mint
DOCTOR WHO: 13TH DOCTOR – YEAR TWO (2020) #4 A ANWAR (Titan Distributing) Near Mint/Mint
DOCTOR WHO: TIME LORD – VICTORIOUS (2020) #1 A BINDING (Titan Distributing) Near Mint/Mint
EIGHTBALL (DANIEL CLOWES) (1989) #9 (Fantagraphics) Very Fine
FIREFLY (2018) #27 D YOUNG (Boom Studios Publishing) Near Mint/Mint
GHOSTBUSTERS (2011) #1 A (IDW Publishing) Very Fine
GHOSTBUSTERS (2011) #2 B (IDW Publishing) Near Mint/Mint
GHOSTBUSTERS (2011) #3 B (IDW Publishing) Near Mint/Mint
GHOSTBUSTERS (2011) #5 A (IDW Publishing) Very Fine
GHOSTBUSTERS (2011) #6 A (IDW Publishing) Near Mint/Mint
GHOSTBUSTERS HOLIDAY SPECIAL: WHAT IN SAMHAIN (2010) #1 (IDW Publishing) Fine
GOLD DIGGER VOL. 2 (1999) #270 (Antarctic Press) Very Fine
GREEN HORNET (2010) (#1-42) (DYNAMITE) (KEVIN SMITH) #1 ROSS (DYNAMITE Entertainment) Very Fine
H.R. PUFNSTUF (1970) #6 (Gold Key) Good
JIZZ (1991) (#1-10) (FANTAGRAPHICS) (SCOTT RUSSO) #4 (Fantagraphics) Very Good
KILLER FLY (1995) #1 (Slave Labor Graphics) Fine
KRUSTY COMICS (1995) #1 NEWSSTAND (Bongo Comics) Good

LAST DAYS OF AMERICAN CRIME (2009) #1 A
LAST DAYS OF AMERICAN CRIME (2009) #1 A (Radical Comix) Near Mint/Mint
LAST DAYS OF AMERICAN CRIME (2009) #1 B (Radical Comix) Near Mint/Mint
LAST DAYS OF AMERICAN CRIME (2009) #2 A (Radical Comix) Near Mint/Mint
MAGIC THE GATHERING (2021) (#1-UP) (BOOM) #1 I ANDOLVIR (Boom Studios Publishing) Near Mint/Mint
MAGIC THE GATHERING ASHCAN (2021) #1 (Boom Studios Publishing) Near Mint/Mint
MIRACLEMAN (1985) (#1-24) (ECLIPSE) #22 (Eclipse Enterprises) Very Fine
MR. MONSTER ATTACKS #1 (Tundra Publishing) Fine
NIOBE: SHE IS DEATH (2019) #1 2ND PRINT (Stranger Comics) Very Fine
OBLIVION CITY (1991) #1 (Slave Labor Graphics) Very Fine
PEEPSHOW (1992) (#1-14) (DRAWN & QUARTERLY) (JOE MATT) #1 (Drawn & Quarterly) Very Good
PEEPSHOW (1992) (#1-14) (DRAWN & QUARTERLY) (JOE MATT) #5 (Drawn & Quarterly) Fine
PEEPSHOW (1992) (#1-14) (DRAWN & QUARTERLY) (JOE MATT) #6 (Drawn & Quarterly) Very Fine
PEEPSHOW (1992) (#1-14) (DRAWN & QUARTERLY) (JOE MATT) #7 (Drawn & Quarterly) Good
PINK PANTHER (1971) (#1-73) (GOLD KEY) #55 WHITMAN (Gold Key) Very Fine
PINK PANTHER (1971) (#1-73) (GOLD KEY) #56 WHITMAN (Gold Key) Fine
PINK PANTHER (1971) (#1-73) (GOLD KEY) #57 WHITMAN (Gold Key) Fine
POWER RANGERS UNLIMITED: HEIR TO DARKNESS (2021) #1 B YOON (Boom Studios Publishing) Near Mint/Mint
PURE IMAGES (1990) #5 (Pure Imagination) Very Good
RED SONJA (2017) (#0-25) (DYNAMITE) #1 A BRADSHAW (DYNAMITE Entertainment) Near Mint/Mint
RED SONJA (2017) (#0-25) (DYNAMITE) #2 B CAMPBELL (DYNAMITE Entertainment) Near Mint/Mint

RED SONJA (2017) (#0-25) (DYNAMITE) #3 A MCKONE
RED SONJA (2017) (#0-25) (DYNAMITE) #3 A MCKONE (DYNAMITE Entertainment) Near Mint/Mint
RED SONJA (2017) (#0-25) (DYNAMITE) #4 A MCKONE (DYNAMITE Entertainment) Near Mint/Mint
RED SONJA (2017) (#0-25) (DYNAMITE) #5 A MCKONE (DYNAMITE Entertainment) Near Mint/Mint
RED SONJA (2017) (#0-25) (DYNAMITE) #6 A MCKONE (DYNAMITE Entertainment) Near Mint/Mint
RED SONJA (2017) (#0-25) (DYNAMITE) #7 A MCKONE (DYNAMITE Entertainment) Fine
RED SONJA (2017) (#0-25) (DYNAMITE) #8 A MCKONE (DYNAMITE Entertainment) Near Mint/Mint
RED SONJA (2017) (#0-25) (DYNAMITE) #9 A MCKONE (DYNAMITE Entertainment) Near Mint/Mint
RED SONJA (2017) (#0-25) (DYNAMITE) #10 A REEDER (DYNAMITE Entertainment) Near Mint/Mint
RED SONJA (2017) (#0-25) (DYNAMITE) #11 A MARION (DYNAMITE Entertainment) Near Mint/Mint
RED SONJA (2017) (#0-25) (DYNAMITE) #12 A CALDWELL (DYNAMITE Entertainment) Near Mint/Mint
RED SONJA (2017) (#0-25) (DYNAMITE) #13 A CALDWELL (DYNAMITE Entertainment) Near Mint/Mint
RED SONJA (2017) (#0-25) (DYNAMITE) #14 A MEYERS (DYNAMITE Entertainment) Very Fine
RED SONJA (2017) (#0-25) (DYNAMITE) #15 A MCKONE (DYNAMITE Entertainment) Very Fine
RED SONJA (2017) (#0-25) (DYNAMITE) #16 A MCKONE (DYNAMITE Entertainment) Near Mint/Mint
RED SONJA (2019) (#1-UP) (DYNAMITE) #12 C PHAM (DYNAMITE Entertainment) Fine
RELICS OF YOUTH (2019) #4 (Vault) Near Mint/Mint
RESISTANCE (2020) (#1-6) (ARTISTS WRITERS & ARTISANS) #1 A RAHZZAH (Artists, Writers & Artisans Inc.) Near Mint/Mint
RV9 (2019) #3 (Mad Cave Studios) Fine
SAW: REBIRTH (2005) #1 (IDW Publishing) Fine
SEX KINKS OF THE RICH & FAMOUS #1 (Rip Off Press) Very Good
SHRUGGED PREVIEW (2006) #1 A (Aspen) Near Mint/Mint
SON OF MUTANT WORLD (1990) (#1-5) (RICHARD CORBEN) #4 (Fantagor Press) Good
TEENAGE MUTANT NINJA TURTLES (1984) (#1-62) (MIRAGE) #54 (Mirage Studios) Fine
TEENAGE MUTANT NINJA TURTLES (1984) (#1-62) (MIRAGE) #54 (Mirage Studios) Very Good

TERMINATOR 2 FUTURE WAR: NUCLEAR TWILIGHT (1995) #4
TERMINATOR 2 FUTURE WAR: NUCLEAR TWILIGHT (1995) #4 (Marvel Malibu/Ultraverse) Fine
TERMINATOR 2 FUTURE WAR: NUCLEAR TWILIGHT (1995) #4 (Marvel Malibu/Ultraverse) Very Fine
TEXAS CHAINSAW MASSACRE: GRIND (2005) #1 GORE (Avatar Comics) Very Fine
TEXAS CHAINSAW MASSACRE: GRIND (2005) #1 TERROR (Avatar Comics) Near Mint/Mint
TEXAS CHAINSAW MASSACRE: GRIND (2005) #2 GORE (Avatar Comics) Very Fine
TEXAS CHAINSAW MASSACRE: GRIND (2005) #3 GORE (Avatar Comics) Near Mint/Mint
THIEVES (1987) #2 (Silverwolf Comics) Fine
THIEVES (1987) #2 (Silverwolf Comics) Very Fine
TICK FREE COMIC BOOK DAY (2017) #1 (Necromics) Very Fine
TIME TWISTERS (ALAN MOORE SCRIPTS IN 1-4, 6-9, & 14) (1987) #16 (Fleetway-Quality Comics) Fine
TIME TWISTERS (ALAN MOORE SCRIPTS IN 1-4, 6-9, & 14) (1987) #16 (Fleetway-Quality Comics) Very Fine
TWISTED TALES (1982) #6 (Pacific Comics) Very Good
TWISTED TALES (1982) #9 (Pacific Comics) Very Good
VAMPIRELLA (2017) (#0-11) (DYNAMITE) #1 A TAN (DYNAMITE Entertainment) Very Fine
VAMPIRELLA (2019) (#0-UP) (DYNAMITE) #0 FCBD 2019 (DYNAMITE Entertainment) Very Fine
VAMPIRELLA (2019) (#0-UP) (DYNAMITE) #17 K IAKOVB&W (DYNAMITE Entertainment) Near Mint/Mint
VAMPIRELLA (2019) (#0-UP) (DYNAMITE) #17 K IAKOVB&W (DYNAMITE Entertainment) Very Fine
VAMPIRELLA (2019) (#0-UP) (DYNAMITE) #18 J MASTRB&W (DYNAMITE Entertainment) Near Mint/Mint
VAMPIRELLA VALENTINE'S DAY SPECIAL (2021) #1 G HAVIRGIN (DYNAMITE Entertainment) Near Mint/Mint
VAMPIRELLA VS. PURGATORI (2021) #1 J CHEW B&W (DYNAMITE Entertainment) Near Mint/Mint
VAMPIRELLA: DARK POWERS (2020) #4 O YOON B&W (DYNAMITE Entertainment) Near Mint/Mint
VENGEANCE OF VAMPIRELLA (2019) (#1-UP) (DYNAMITE) #14 G OLIVEB&W (DYNAMITE Entertainment) Near Mint/Mint
VENGEANCE OF VAMPIRELLA (2019) (#1-UP) (DYNAMITE) #14 O PARRTINT (DYNAMITE Entertainment) Very Fine
VENGEANCE OF VAMPIRELLA (2019) (#1-UP) (DYNAMITE) #16 M PARRIB&W (DYNAMITE Entertainment) Near Mint/Mint
VOLCOMICS (2007) #1 (VOLCOM INC.) Very Good
WE ONLY FIND THEM WHEN THEY'RE DEAD (2020) #5 D FELICI (Boom Studios Publishing) Near Mint/Mint
WE ONLY FIND THEM WHEN THEY'RE DEAD (2020) #5 E MEO (Boom Studios Publishing) Near Mint/Mint
WITCH DOCTOR: NEW STRAINS ALTERNATIVE PRESS EXPO ASHCAN (2009) #1 (BRANDON SEIFERT) Very Fine
To be unsubscribed from our e-mail newsletter, please send your request to moulton@milehighcomics.com
Mile High Comics, 4600 Jason Street, Denver CO 80211, USA