If you are having trouble viewing this newsletter, click here
100,000 More Comic Books
Howdy!
Yesterday was the 9th day of my epic comics buying tour of the West Coast, and yet another massive private accumulation of comics was laboriously loaded into my cargo van, and then hauled over to the local FedEx Freight center for shipping. All told, I have now shipped over 10,000 lbs of back issue comics and magazines, graphic novels, action figures, and statues back to our Jason St. Mega-Store in just over a week. Whew!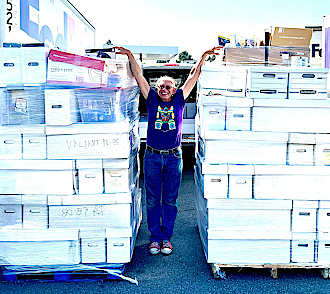 Chuck with the 3rd load at FedEx
In case you are wondering, I am out on the road (again) buying comics like a madman because I want to have more than enough to sort in my dotage. Truth be told, stacking those 2,000 lbs of comics while building one of my huge pallets really takes it out of me, especially when it is hot outside. I am still young enough (66) and in excellent physical health to do the job, which puts me leagues ahead of many other comic book resellers. Even my time and abilities will eventually run out, however, so setting aside as many pallets filled with mixed comics as I possibly can today for future sorting only makes sense to me.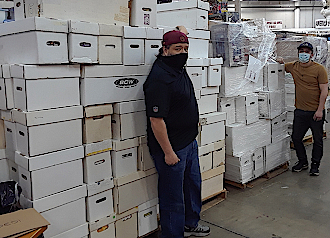 The first 4 pallets arrived in Denver
As regards the sorting/grading/bagging/entering of my acquisitions, that will continue with gusto upon my (eventual) return to Colorado. I still have a dozen stops scheduled on my current journey, and Pam seems to be adding them faster than I can keep up. If all goes well, I should finish up in LA today, and then head to San Diego for the weekend. Then on to Tucson and Phoenix next week. Sadly, I have had to cancel my planned appearance as Bettie Pages at the upcoming June 11th weekend Coronation in Lexington, KY, as I will not be home in time to catch my scheduled Thursday flight. Sigh.
One question that was raised on Facebook (almost in jest) was why I keep buying comic books, even though I already own more than anyone else in the world. The full story of my motivations is currently being written for inclusion in volume three of my upcoming series of essays about my life, suffice it to say, however, that owning vast numbers of comic books has provided me with the ability to positively impact our world. My charity work and assistance to children are but two manifestations of that enlightened effort, with other more nuanced impacts that will eventually be described fully in my published essays. The first book in the proposed series (illustrated by the incredibly talented Thomas Haller Buchanan) should be available in the fall.

SILVER SURFER (1987) (#1-146) (MARVEL) #146
In the meantime, if you would like to show your support for my efforts out here on the road, please place a small order via our website, or plan a visit our Jason St. Mega-Store. Simply put, I have already exceeded my buying budget for this trip, and really should just head for home. There are a dozen more people relying upon me to visit, however, and I cannot let them down. As a general rule, I have found that people sell their beloved comic book collections (that they accumulated during a lifetime) only after much forethought, and also with many sleepless nights of rationalization.

NEW MUTANTS (1983) (#1-100) (MARVEL) #98
Sadly, the reality is that comics are oftentimes sold under duress caused by either moving, illness, a death, crushing debt, or relationships falling apart (and sometimes a combination of several of the above). During my innumerable home visits, I have heard it all. Furthermore, (to be totally candid), sharing people's pain at selling their comics is very stressful on me, as I am visiting their homes to try to be supportive, and to help them to resolve their personal dilemma as best that I can. Nonetheless, I also have to keep my wits about me, and not forget that we have to keep Mile High Comics financially solvent, or else our ability to help even more people is greatly diminished. It is a dreadfully difficult emotional balancing act, one that few other businesspeople have to endure.
All of the previous having been said, I love my job. I frequently find myself in the position of helping older fans to transition out of our wonderful hobby with grace and ease, while then being able to repurpose their beloved comics to an entirely new generation of avid comic book fans. In the process, I have built a 60,000 square foot wonderland of comics, toys, books, collectibles of kinds that nourishes the imaginations and passions of tens of thousands of visitors each year. Were my life to end today, I would be fine with that. It has been good.
Happy collecting!
Chuck Rozanski/Bettie Pages,
President – Mile High Comics, Inc.
June 4, 2021
P.S. Below are more new arrivals, including a vast Milestone Media collection that Pam purchased in Jason St. earlier this week. Print runs on those early 1990's titles were remarkably small. All of our back issues are still available to you at 50% off when you utilize our ongoing JUNE50! codeword. Only new issues, a few variants, and our professionally-graded items are exempt. I truly thank you for your support.
MARVEL
BLINK (2000) #1 Near Mint/Mint
BLINK (2000) #2 Near Mint/Mint
BLINK (2000) #3 Near Mint/Mint
BLINK (2000) #4 Very Fine
BUCKAROO BANZAI (1984) (#1-2) (MARVEL) (MOVIE ADAPT.) #1 Near Mint/Mint
BUCKAROO BANZAI (1984) (#1-2) (MARVEL) (MOVIE ADAPT.) #2 Fine
BUCKAROO BANZAI (1984) (#1-2) (MARVEL) (MOVIE ADAPT.) #2 NEWSSTAND Very Fine
BUCKY BARNES: WINTER SOLDIER (2014) #5 Fine
BUCKY BARNES: WINTER SOLDIER (2014) #7 Near Mint/Mint
BUCKY BARNES: WINTER SOLDIER (2014) #9 Near Mint/Mint
BUCKY BARNES: WINTER SOLDIER (2014) #9 Very Fine
BUCKY BARNES: WINTER SOLDIER (2014) #10 Near Mint/Mint
BUCKY BARNES: WINTER SOLDIER (2014) #11 Near Mint/Mint
CAPTAIN AMERICA (1968) (#100-454) (MARVEL) #349 Very Fine
CAPTAIN AMERICA (1968) (#100-454) (MARVEL) #350 Very Fine
CAPTAIN AMERICA (1968) (#100-454) (MARVEL) #354 Very Fine
CAPTAIN AMERICA (1968) (#100-454) (MARVEL) #355 Fine
DAREDEVIL/BATMAN (1997) #1 Very Fine
DARKHAWK (1991) (#1-50) (MARVEL) #1 Very Fine
FANTASTIC FOUR (1996) (#1-13) (HEROES REBORN) (MARVEL) #1 Near Mint/Mint
FANTASTIC FOUR (1996) (#1-13) (HEROES REBORN) (MARVEL) #1 Very Fine
HULK (1962) (#1-6, #102-474, #600-635)(INCREDIBLE)(MV) #441 Very Fine
HULK (1962) (#1-6, #102-474, #600-635)(INCREDIBLE)(MV) #449 Very Good

INFINITY GAUNTLET (1991) #1 NEWSSTAND
INFINITY GAUNTLET (1991) #1 NEWSSTAND Very Fine
INFINITY GAUNTLET (1991) #2 Very Fine
INFINITY GAUNTLET (1991) #5 Very Fine
INVADERS (1975) (#1-41) (MARVEL) #21 WHITMAN Good
IRON LANTERN (1997) #1 Near Mint/Mint
IRON MAN (1968) (#1-332) (INVINCIBLE IRON MAN)(MARVEL) #237 Fine
KREE-SKRULL WAR (1983) #2 Fine
KULL THE CONQUEROR (1982) (#1-2) (MARVEL) #1 Near Mint/Mint
KULL THE CONQUEROR (1982) (#1-2) (MARVEL) #2 Near Mint/Mint
KULL THE CONQUEROR (1983) (#1-10) (MARVEL) #1 Near Mint/Mint
MACHINE MAN (1978) (#1-19) (MARVEL) #19 Fine
MAN-THING (1974) (#1-22) (MARVEL) #10 Near Mint/Mint
MARVEL COMICS PRESENTS (1988) (#1-175) (MARVEL) #1 Very Fine
MARVEL COMICS PRESENTS (1988) (#1-175) (MARVEL) #74 Fine
MARVEL SAGA (1985) #22 Near Mint/Mint
MARVEL SUPER ACTION (1977) #28 Very Fine
MARVEL SUPER ACTION (1977) #29 Near Mint/Mint
MARVEL SUPER ACTION (1977) #36 Near Mint/Mint
MARVEL SUPER ACTION (1977) #37 Fine
MARVEL SUPER-HERO CONTEST OF CHAMPIONS (1982) #2 Fine

MARVEL SUPER-HEROES (1967) #94
MARVEL SUPER-HEROES (1967) #94 Very Fine
MARVEL TALES (1964) (#1-291) #73 Very Good
MARVEL TALES (1964) (#1-291) #131 Near Mint/Mint
MARVEL TALES (1964) (#1-291) #136 Fine
MARVEL TEAM-UP (1972) (#1-150) (MARVEL) #57 WHITMAN Good
MARVEL TEAM-UP (1972) (#1-150) (MARVEL) #120 Near Mint/Mint
MARVEL TEAM-UP (1972) (#1-150) (MARVEL) #124 Near Mint/Mint
MARVEL TEAM-UP (1972) (#1-150) (MARVEL) #125 Fine
MARVEL TWO-IN-ONE (1974) (#1-100) (MARVEL) #77 Very Fine
MARVEL TWO-IN-ONE (1974) (#1-100) (MARVEL) #85 Near Mint/Mint
MARVEL TWO-IN-ONE (1974) (#1-100) (MARVEL) #90 Near Mint/Mint
MARVEL TWO-IN-ONE (1974) (#1-100) (MARVEL) #94 Near Mint/Mint
MARVEL TWO-IN-ONE (1974) (#1-100) (MARVEL) #95 Very Good
MARVEL TWO-IN-ONE (1974) (#1-100) (MARVEL) #99 Near Mint/Mint
MARVEL TWO-IN-ONE (1974) (#1-100) (MARVEL) #100 Very Good
MARVEL TWO-IN-ONE ANNUAL (1976) #7 Near Mint/Mint
MASTER OF KUNG FU (1974) (#15-125) (MARVEL) (SHANG-CHI) #38 Very Good
MASTER OF KUNG FU (1974) (#15-125) (MARVEL) (SHANG-CHI) #39 Very Good
MASTER OF KUNG FU (1974) (#15-125) (MARVEL) (SHANG-CHI) #40 Very Good
MASTER OF KUNG FU (1974) (#15-125) (MARVEL) (SHANG-CHI) #41 Very Good
MASTER OF KUNG FU (1974) (#15-125) (MARVEL) (SHANG-CHI) #42 Very Good
MASTER OF KUNG FU (1974) (#15-125) (MARVEL) (SHANG-CHI) #43 Fine
MASTER OF KUNG FU (1974) (#15-125) (MARVEL) (SHANG-CHI) #44 Very Good
MASTER OF KUNG FU (1974) (#15-125) (MARVEL) (SHANG-CHI) #45 Fine
MASTER OF KUNG FU (1974) (#15-125) (MARVEL) (SHANG-CHI) #46 Very Good
MASTER OF KUNG FU (1974) (#15-125) (MARVEL) (SHANG-CHI) #47 Very Good

MASTER OF KUNG FU (1974) (#15-125) (MARVEL) (SHANG-CHI) #48
MASTER OF KUNG FU (1974) (#15-125) (MARVEL) (SHANG-CHI) #48 Very Good
MASTER OF KUNG FU (1974) (#15-125) (MARVEL) (SHANG-CHI) #49 Very Good
MASTER OF KUNG FU (1974) (#15-125) (MARVEL) (SHANG-CHI) #50 Very Good
MASTER OF KUNG FU (1974) (#15-125) (MARVEL) (SHANG-CHI) #51 Very Good
MASTER OF KUNG FU (1974) (#15-125) (MARVEL) (SHANG-CHI) #52 Very Good
MASTER OF KUNG FU (1974) (#15-125) (MARVEL) (SHANG-CHI) #53 Very Good
MASTER OF KUNG FU (1974) (#15-125) (MARVEL) (SHANG-CHI) #54 Very Good
MASTER OF KUNG FU (1974) (#15-125) (MARVEL) (SHANG-CHI) #55 Very Good
MASTER OF KUNG FU (1974) (#15-125) (MARVEL) (SHANG-CHI) #56 Very Good
MASTER OF KUNG FU (1974) (#15-125) (MARVEL) (SHANG-CHI) #57 Very Good
MASTER OF KUNG FU (1974) (#15-125) (MARVEL) (SHANG-CHI) #58 Very Good
MASTER OF KUNG FU (1974) (#15-125) (MARVEL) (SHANG-CHI) #64 Fine
MASTER OF KUNG FU (1974) (#15-125) (MARVEL) (SHANG-CHI) #123 Fine
MICRONAUTS (1979) (#1-59) (MARVEL) #30 Fine
NEW MUTANTS (1983) (#1-100) (MARVEL) #51 Near Mint/Mint
NEW MUTANTS (1983) (#1-100) (MARVEL) #95 Fine
NEW MUTANTS (1983) (#1-100) (MARVEL) #98 Very Fine
PETER PARKER (1976) (#1-263) (SPECTACULAR SPIDER-MAN) #55 Fine
PETER PARKER (1976) (#1-263) (SPECTACULAR SPIDER-MAN) #67 Fine
PETER PARKER: SPIDER-MAN (1999) (#1-57, & 156.1) #9 Near Mint/Mint
PETER PARKER: SPIDER-MAN (1999) (#1-57, & 156.1) #10 Near Mint/Mint
ROGUE (2001) (#1-4) (MARVEL ICONS) #2 Very Fine
ROGUE (2001) (#1-4) (MARVEL ICONS) #3 Near Mint/Mint
ROGUE (2001) (#1-4) (MARVEL ICONS) #4 Very Fine
SGT. FURY AND HIS HOWLING COMMANDOS (1963) #131 Very Good

SHE-HULK (1989) (#1-60) (SENSATIONAL SHE-HULK)(MARVEL) #1 NEWSSTAND
SHE-HULK (1989) (#1-60) (SENSATIONAL SHE-HULK)(MARVEL) #1 NEWSSTAND Very Good
SHE-HULK (1989) (#1-60) (SENSATIONAL SHE-HULK)(MARVEL) #2 Fine
SHE-HULK (1989) (#1-60) (SENSATIONAL SHE-HULK)(MARVEL) #3 Very Good
SHE-HULK (1989) (#1-60) (SENSATIONAL SHE-HULK)(MARVEL) #4 Near Mint/Mint
SHE-HULK (1989) (#1-60) (SENSATIONAL SHE-HULK)(MARVEL) #5 Very Fine
SHE-HULK (1989) (#1-60) (SENSATIONAL SHE-HULK)(MARVEL) #6 Very Fine
SHE-HULK (1989) (#1-60) (SENSATIONAL SHE-HULK)(MARVEL) #7 Near Mint/Mint
SHE-HULK (1989) (#1-60) (SENSATIONAL SHE-HULK)(MARVEL) #8 Near Mint/Mint
SHE-HULK (1989) (#1-60) (SENSATIONAL SHE-HULK)(MARVEL) #9 Fine
SHE-HULK (1989) (#1-60) (SENSATIONAL SHE-HULK)(MARVEL) #10 Very Fine
SHE-HULK (1989) (#1-60) (SENSATIONAL SHE-HULK)(MARVEL) #11 Near Mint/Mint
SHE-HULK (1989) (#1-60) (SENSATIONAL SHE-HULK)(MARVEL) #12 Very Fine
SHE-HULK (1989) (#1-60) (SENSATIONAL SHE-HULK)(MARVEL) #13 Near Mint/Mint
SHE-HULK (1989) (#1-60) (SENSATIONAL SHE-HULK)(MARVEL) #14 Very Fine
SHE-HULK (1989) (#1-60) (SENSATIONAL SHE-HULK)(MARVEL) #15 NEWSSTAND Good
SHE-HULK (1989) (#1-60) (SENSATIONAL SHE-HULK)(MARVEL) #16 NEWSSTAND Near Mint/Mint
SHE-HULK (1989) (#1-60) (SENSATIONAL SHE-HULK)(MARVEL) #17 Very Fine
SHE-HULK (1989) (#1-60) (SENSATIONAL SHE-HULK)(MARVEL) #18 Very Fine
SHE-HULK (1989) (#1-60) (SENSATIONAL SHE-HULK)(MARVEL) #19 Very Fine
SHE-HULK (1989) (#1-60) (SENSATIONAL SHE-HULK)(MARVEL) #31 Very Good
SILVER SURFER (1987) (#1-146) (MARVEL) #139 Near Mint/Mint
SILVER SURFER (1987) (#1-146) (MARVEL) #140 Near Mint/Mint
SILVER SURFER (1987) (#1-146) (MARVEL) #141 Near Mint/Mint
SILVER SURFER (1987) (#1-146) (MARVEL) #142 Near Mint/Mint
SILVER SURFER (1987) (#1-146) (MARVEL) #143 Near Mint/Mint
SILVER SURFER (1987) (#1-146) (MARVEL) #144 Near Mint/Mint
SILVER SURFER (1987) (#1-146) (MARVEL) #145 Near Mint/Mint
SILVER SURFER (1987) (#1-146) (MARVEL) #146 Near Mint/Mint
SPIDER-GIRL (1998) (#0-100) #0 Near Mint/Mint

SPIDER-GIRL (1998) (#0-100) #1
SPIDER-GIRL (1998) (#0-100) #1 Near Mint/Mint
SPIDER-MAN (1963) (AMAZING SPIDER-MAN) (#1-441) #311 Very Good
SPIDER-MAN (1963) (AMAZING SPIDER-MAN) (#1-441) #312 Very Fine
SPIDER-MAN (1963) (AMAZING SPIDER-MAN) (#1-441) #313 Fine
SPIDER-MAN (1963) (AMAZING SPIDER-MAN) (#1-441) #314 Very Fine
SPIDER-MAN (1963) (AMAZING SPIDER-MAN) (#1-441) #316 Near Mint/Mint
SPIDER-MAN (1963) (AMAZING SPIDER-MAN) (#1-441) #317 Very Fine
SPIDER-MAN (1963) (AMAZING SPIDER-MAN) (#1-441) #318 Very Fine
SPIDER-MAN (1963) (AMAZING SPIDER-MAN) (#1-441) #319 Fine
SPIDER-MAN (1963) (AMAZING SPIDER-MAN) (#1-441) #320 Very Good
SPIDER-MAN (1963) (AMAZING SPIDER-MAN) (#1-441) #321 Very Good
SPIDER-MAN (1963) (AMAZING SPIDER-MAN) (#1-441) #322 Very Good
SPIDER-MAN (1963) (AMAZING SPIDER-MAN) (#1-441) #323 Very Fine
SPIDER-MAN (1963) (AMAZING SPIDER-MAN) (#1-441) #324 Very Fine
SPIDER-MAN (1963) (AMAZING SPIDER-MAN) (#1-441) #325 Fine
SPIDER-MAN (1963) (AMAZING SPIDER-MAN) (#1-441) #326 Very Fine
SPIDER-MAN (1963) (AMAZING SPIDER-MAN) (#1-441) #327 Very Fine
SPIDER-MAN (1963) (AMAZING SPIDER-MAN) (#1-441) #328 Very Fine
SPIDER-MAN (1963) (AMAZING SPIDER-MAN) (#1-441) #344 Near Mint/Mint
SPIDER-MAN (1963) (AMAZING SPIDER-MAN) (#1-441) #345 Very Fine
SPIDER-MAN (1963) (AMAZING SPIDER-MAN) (#1-441) #346 Very Fine
SPIDER-MAN (1963) (AMAZING SPIDER-MAN) (#1-441) #347 Very Fine
THOR (1962) (#83-125 JOURNEY INTO MYSTERY, 126-502) #411 Very Fine
THOR (1962) (#83-125 JOURNEY INTO MYSTERY, 126-502) #412 Very Fine
TRANSFORMERS: GENERATION 2 (1993) #1 DELUXE Near Mint/Mint
TRANSFORMERS: GENERATION 2 (1993) #2 Near Mint/Mint
TRANSFORMERS: GENERATION 2 (1993) #3 Near Mint/Mint
TRANSFORMERS: GENERATION 2 (1993) #4 Near Mint/Mint

TRANSFORMERS: GENERATION 2 (1993) #5
TRANSFORMERS: GENERATION 2 (1993) #5 Very Fine
TRANSFORMERS: GENERATION 2 (1993) #6 Near Mint/Mint
TRANSFORMERS: GENERATION 2 (1993) #7 Very Fine
TRANSFORMERS: GENERATION 2 (1993) #8 Very Fine
TRANSFORMERS: GENERATION 2 (1993) #9 Near Mint/Mint
TRANSFORMERS: GENERATION 2 (1993) #10 Very Fine
TRANSFORMERS: GENERATION 2 (1993) #11 Near Mint/Mint
TRANSFORMERS: GENERATION 2 (1993) #12 Near Mint/Mint
ULTIMATE ELEKTRA: DEVIL'S DUE TPB (2005) #1 Near Mint/Mint
WEST COAST AVENGERS (1985) (#1-102) (MARVEL) #43 Very Fine
WEST COAST AVENGERS (1985) (#1-102) (MARVEL) #45 Very Fine
WEST COAST AVENGERS (1985) (#1-102) (MARVEL) #47 Fine
WILD THING (WOLVERINE) (1999) #1 Very Fine
WOLVERINE: THE ORIGIN (2001) #1 Near Mint/Mint
X-MAN (1995) #1 Near Mint/Mint
YOUNG AVENGERS (2005) (#1-12) #5 Fine
YOUNG AVENGERS (2005) (#1-12) #5 Very Fine
YOUNG AVENGERS (2013) (#1-15) (MARVEL) #1 Very Fine
DC
100 BULLETS (1999) #1 (DC: Vertigo Press) Very Fine
100 BULLETS (1999) #2 (DC: Vertigo Press) Near Mint/Mint
100 BULLETS (1999) #3 (DC: Vertigo Press) Near Mint/Mint
100 BULLETS (1999) #4 (DC: Vertigo Press) Near Mint/Mint
100 BULLETS (1999) #5 (DC: Vertigo Press) Very Fine
100 BULLETS (1999) #6 (DC: Vertigo Press) Very Fine
ACTION COMICS (1938) (#0-600, 643-904) (DC) #684 Near Mint/Mint
ACTION COMICS 1,000,000 #1 Very Fine
ADVENTURES OF SUPERMAN (#0,#424-649) (1987) #497 Near Mint/Mint
ADVENTURES OF SUPERMAN 1,000,000 (1998) #1 Near Mint/Mint
AQUAMAN 1,000,000 (1998) #1 Near Mint/Mint
AZRAEL 1,000,000 (DC) (1998) #1 Near Mint/Mint
BATMAN (2016) (#1-UP) (DC REBIRTH) #109 FEDERICI Near Mint/Mint
BATMAN & SUPERMAN: WORLD'S FINEST (1999) #7 Near Mint/Mint
BATMAN 1,000,000 (1998) #1 Near Mint/Mint
BATMAN/HARLEY QUINN (PAUL DINI) (ALEX ROSS) (1999) #1 Near Mint/Mint
BATMAN: BEYOND THE RETURN OF THE JOKER (2000) #1 Very Fine
BATMAN: DARK VICTORY (JEPH LOEB) (TIM SALE) (1999) #1 Near Mint/Mint
BATMAN: SHADOW OF THE BAT 1,000,000 (1998) #1 Very Fine
BLOOD SYNDICATE (1993) #1 (DC: Milestone Press) Near Mint/Mint
BLOOD SYNDICATE (1993) #2 (DC: Milestone Press) Fine
BLOOD SYNDICATE (1993) #3 (DC: Milestone Press) Fine
BLOOD SYNDICATE (1993) #4 (DC: Milestone Press) Very Fine
BLOOD SYNDICATE (1993) #5 (DC: Milestone Press) Fine
BLOOD SYNDICATE (1993) #6 (DC: Milestone Press) Very Fine
BLOOD SYNDICATE (1993) #7 (DC: Milestone Press) Near Mint/Mint
BLOOD SYNDICATE (1993) #8 (DC: Milestone Press) Near Mint/Mint
BLOOD SYNDICATE (1993) #9 (DC: Milestone Press) Very Fine
BLOOD SYNDICATE (1993) #10 (DC: Milestone Press) Near Mint/Mint
BLOOD SYNDICATE (1993) #11 (DC: Milestone Press) Near Mint/Mint
BLOOD SYNDICATE (1993) #12 (DC: Milestone Press) Near Mint/Mint
BLOOD SYNDICATE (1993) #13 (DC: Milestone Press) Near Mint/Mint
BLOOD SYNDICATE (1993) #14 (DC: Milestone Press) Near Mint/Mint
BLOOD SYNDICATE (1993) #15 (DC: Milestone Press) Near Mint/Mint
BLOOD SYNDICATE (1993) #16 (DC: Milestone Press) Fine
BLOOD SYNDICATE (1993) #17 (DC: Milestone Press) Fine
BLOOD SYNDICATE (1993) #18 (DC: Milestone Press) Very Fine
BLOOD SYNDICATE (1993) #20 (DC: Milestone Press) Fine
BLOOD SYNDICATE (1993) #22 (DC: Milestone Press) Fine
BLOOD SYNDICATE (1993) #23 (DC: Milestone Press) Near Mint/Mint
BLOOD SYNDICATE (1993) #24 (DC: Milestone Press) Very Fine
BLOOD SYNDICATE (1993) #25 (DC: Milestone Press) Fine
BLOOD SYNDICATE (1993) #26 (DC: Milestone Press) Fine
BLOOD SYNDICATE (1993) #27 (DC: Milestone Press) Very Fine
BLOOD SYNDICATE (1993) #28 (DC: Milestone Press) Near Mint/Mint
BLOOD SYNDICATE (1993) #29 (DC: Milestone Press) Near Mint/Mint
BLOOD SYNDICATE (1993) #30 (DC: Milestone Press) Fine
BLOOD SYNDICATE (1993) #31 (DC: Milestone Press) Very Fine
BUGS BUNNY (1990) #1 Very Fine
BUGS BUNNY (1990) #2 Very Fine
BUGS BUNNY (1990) #3 Near Mint/Mint
CATWOMAN 1,000,000 #1 Near Mint/Mint
CHASE 1,000,000 (1998) #1 Near Mint/Mint
CHRONOS 1,000,000 #1 Near Mint/Mint
CREEPER 1,000,000 #1 Near Mint/Mint
DARK CLAW ADVENTURES #1 Near Mint/Mint
DC 1,000,000 (1998) #1 Near Mint/Mint
DC 1,000,000 (1998) #2 Very Fine
DC 1,000,000 (1998) #3 Near Mint/Mint
DC 1,000,000 (1998) #4 Near Mint/Mint
DC UNIVERSE HEROES SECRET FILES #1 Very Fine
DEATHWISH (1994) #1 (DC: Milestone Press) Very Good
DEATHWISH (1994) #2 (DC: Milestone Press) Fine
DETECTIVE COMICS (1937) (#0-881) (DC) #653 Near Mint/Mint
DETECTIVE COMICS (1937) (#0-881) (DC) #655 Near Mint/Mint
DETECTIVE COMICS (1937) (#0-881) (DC) #656 Near Mint/Mint
DETECTIVE COMICS 1,000,000 (1998) #1 Near Mint/Mint
FINAL CRISIS (2008) #7 Very Good
FLASH & GREEN LANTERN: THE BRAVE & THE BOLD #1 Near Mint/Mint
FLASH 1,000,000 #1 Near Mint/Mint
FOURTH WORLD (JACK KIRBY'S) (1997) #2 Near Mint/Mint
FOURTH WORLD (JACK KIRBY'S) (1997) #3 Near Mint/Mint
FOURTH WORLD (JACK KIRBY'S) (1997) #5 Very Fine
FOURTH WORLD (JACK KIRBY'S) (1997) #6 Near Mint/Mint
FOURTH WORLD (JACK KIRBY'S) (1997) #8 Very Fine
FOURTH WORLD (JACK KIRBY'S) (1997) #10 Near Mint/Mint
FOURTH WORLD (JACK KIRBY'S) (1997) #11 Very Fine
FOURTH WORLD (JACK KIRBY'S) (1997) #14 Near Mint/Mint
FOURTH WORLD (JACK KIRBY'S) (1997) #15 Very Fine
FOURTH WORLD (JACK KIRBY'S) (1997) #16 Near Mint/Mint
FOURTH WORLD (JACK KIRBY'S) (1997) #17 Near Mint/Mint
FOURTH WORLD (JACK KIRBY'S) (1997) #18 Fine
FOURTH WORLD (JACK KIRBY'S) (1997) #19 Fine
GREEN ARROW 1,000,000 (1998) #1 Near Mint/Mint
GREEN LANTERN 1,000,000 (1998) #1 Very Fine
HARDWARE (1993) #1 BAGGED (DC: Milestone Press) Near Mint/Mint
HARDWARE (1993) #1 DIRECT (DC: Milestone Press) Fine
HARDWARE (1993) #2 (DC: Milestone Press) Fine
HARDWARE (1993) #3 (DC: Milestone Press) Fine
HARDWARE (1993) #4 (DC: Milestone Press) Fine
HARDWARE (1993) #5 (DC: Milestone Press) Near Mint/Mint
HARDWARE (1993) #6 (DC: Milestone Press) Fine
HARDWARE (1993) #7 (DC: Milestone Press) Fine
HARDWARE (1993) #8 (DC: Milestone Press) Near Mint/Mint
HARDWARE (1993) #9 (DC: Milestone Press) Near Mint/Mint
HARDWARE (1993) #10 (DC: Milestone Press) Near Mint/Mint
HARDWARE (1993) #11 (DC: Milestone Press) Near Mint/Mint
HARDWARE (1993) #12 (DC: Milestone Press) Fine
HARDWARE (1993) #13 (DC: Milestone Press) Fine
HARDWARE (1993) #14 (DC: Milestone Press) Fine
HARDWARE (1993) #15 (DC: Milestone Press) Near Mint/Mint
HARDWARE (1993) #16 DIRECT (DC: Milestone Press) Near Mint/Mint
HARDWARE (1993) #17 (DC: Milestone Press) Very Fine
HARDWARE (1993) #18 (DC: Milestone Press) Fine
HARDWARE (1993) #19 (DC: Milestone Press) Fine
HARDWARE (1993) #20 (DC: Milestone Press) Near Mint/Mint
HARDWARE (1993) #21 (DC: Milestone Press) Near Mint/Mint
HARDWARE (1993) #22 (DC: Milestone Press) Fine
HARDWARE (1993) #23 (DC: Milestone Press) Fine
HARDWARE (1993) #24 (DC: Milestone Press) Near Mint/Mint
HARDWARE (1993) #25 (DC: Milestone Press) Very Fine
HARDWARE (1993) #26 (DC: Milestone Press) Fine
HARDWARE (1993) #28 (DC: Milestone Press) Near Mint/Mint
HARDWARE (1993) #29 (DC: Milestone Press) Fine
HARDWARE (1993) #30 (DC: Milestone Press) Near Mint/Mint
HARDWARE (1993) #31 (DC: Milestone Press) Very Fine
HARDWARE (1993) #32 (DC: Milestone Press) Fine
HARDWARE (1993) #33 (DC: Milestone Press) Fine
HARDWARE (1993) #47 (DC: Milestone Press) Very Fine
HARDWARE (1993) #48 (DC: Milestone Press) Very Fine
HARDWARE (1993) #49 (DC: Milestone Press) Very Fine
HARDWARE (1993) #50 (DC: Milestone Press) Near Mint/Mint
HITMAN 1,000,000 (1998) #1 Near Mint/Mint
HOLOCAUST #2 (DC: Milestone Press) Near Mint/Mint
HOLOCAUST #3 (DC: Milestone Press) Fine
HOLOCAUST #4 (DC: Milestone Press) Very Good
HOLOCAUST #5 (DC: Milestone Press) Fine
ICON (1993) #1 BAGGED (DC: Milestone Press) Near Mint/Mint
ICON (1993) #2 (DC: Milestone Press) Very Fine
ICON (1993) #3 (DC: Milestone Press) Near Mint/Mint
ICON (1993) #5 (DC: Milestone Press) Near Mint/Mint
ICON (1993) #6 (DC: Milestone Press) Fine
ICON (1993) #7 (DC: Milestone Press) Near Mint/Mint
ICON (1993) #8 (DC: Milestone Press) Fine
ICON (1993) #9 (DC: Milestone Press) Very Fine
ICON (1993) #10 (DC: Milestone Press) Very Fine
ICON (1993) #11 (DC: Milestone Press) Very Fine
ICON (1993) #12 (DC: Milestone Press) Near Mint/Mint
ICON (1993) #13 (DC: Milestone Press) Near Mint/Mint
ICON (1993) #14 (DC: Milestone Press) Near Mint/Mint
ICON (1993) #15 (DC: Milestone Press) Near Mint/Mint
ICON (1993) #16 (DC: Milestone Press) Near Mint/Mint
ICON (1993) #17 (DC: Milestone Press) Fine
ICON (1993) #18 (DC: Milestone Press) Near Mint/Mint
ICON (1993) #19 (DC: Milestone Press) Near Mint/Mint
ICON (1993) #20 (DC: Milestone Press) Very Fine
ICON (1993) #21 (DC: Milestone Press) Very Good
ICON (1993) #22 (DC: Milestone Press) Near Mint/Mint
ICON (1993) #23 (DC: Milestone Press) Very Fine
ICON (1993) #24 (DC: Milestone Press) Near Mint/Mint
ICON (1993) #25 (DC: Milestone Press) Fine
ICON (1993) #26 (DC: Milestone Press) Very Fine
ICON (1993) #27 (DC: Milestone Press) Near Mint/Mint
ICON (1993) #28 (DC: Milestone Press) Near Mint/Mint
ICON (1993) #29 (DC: Milestone Press) Very Fine
ICON (1993) #30 (DC: Milestone Press) Very Fine
ICON (1993) #41 (DC: Milestone Press) Near Mint/Mint
ICON (1993) #42 (DC: Milestone Press) Near Mint/Mint
IMPULSE 1,000,000 (1998) #1 Near Mint/Mint
JLA 1,000,000 (1998) #1 Near Mint/Mint
JONAH HEX (1977) #68 Very Fine
JUSTICE LEAGUE OF AMERICA (1960) (#1-261) (DC) #204 Near Mint/Mint
JUSTICE LEAGUE OF AMERICA (1960) (#1-261) (DC) #205 Very Fine
JUSTICE LEAGUE OF AMERICA (1960) (#1-261) (DC) #207 Near Mint/Mint
JUSTICE LEAGUE OF AMERICA (1960) (#1-261) (DC) #240 Near Mint/Mint
JUSTICE LEAGUE OF AMERICA (1960) (#1-261) (DC) #249 Near Mint/Mint
KINGDOM COME (1996) #1 Near Mint/Mint
KINGDOM COME (1996) #2 Near Mint/Mint
KINGDOM COME (1996) #3 Near Mint/Mint
KINGDOM COME (1996) #4 Near Mint/Mint
KOBALT (1994) #1 (DC: Milestone Press) Fine
KOBALT (1994) #2 (DC: Milestone Press) Fine
KOBALT (1994) #3 (DC: Milestone Press) Near Mint/Mint
KOBALT (1994) #4 (DC: Milestone Press) Near Mint/Mint
KOBALT (1994) #5 (DC: Milestone Press) Fine
KOBALT (1994) #8 (DC: Milestone Press) Near Mint/Mint
KOBALT (1994) #9 (DC: Milestone Press) Fine
KOBALT (1994) #10 (DC: Milestone Press) Very Fine
KOBALT (1994) #11 (DC: Milestone Press) Fine
KOBALT (1994) #12 (DC: Milestone Press) Fine
KOBALT (1994) #13 (DC: Milestone Press) Fine
KOBALT (1994) #14 (DC: Milestone Press) Fine
KOBALT (1994) #15 (DC: Milestone Press) Near Mint/Mint
KOBALT (1994) #16 (DC: Milestone Press) Very Fine
LEGENDS OF THE DARK CLAW (1996) #1 Near Mint/Mint
LEGENDS OF THE DARK KNIGHT HALLOWEEN SPECIAL (1993) #1 Near Mint/Mint
LEGION OF SUPER-HEROES 1,000,000 (1998) #1 Near Mint/Mint
LEGIONNAIRES 1,000,000 #1 Near Mint/Mint
LOBO 1,000,000 (1998) #1 Very Fine
LOBO THE DUCK (1997) #1 Near Mint/Mint
MARTIAN MANHUNTER 1,000,000 (1998) #1 Near Mint/Mint
METAL MEN (1963) (#1-56) (DC) #48 Very Good
METAL MEN (1963) (#1-56) (DC) #50 Very Good
NEW YEAR'S EVIL (2019) #1 Near Mint/Mint
NIGHTWING 1,000,000 (1998) #1 Near Mint/Mint
POWER GIRL (2009) (#1-27) #1 VARIANT Near Mint/Mint
POWER GIRL (2009) (#1-27) #2 VARIANT Near Mint/Mint
POWER GIRL (2009) (#1-27) #3 Near Mint/Mint
POWER GIRL (2009) (#1-27) #4 Near Mint/Mint
POWER GIRL (2009) (#1-27) #5 Near Mint/Mint
POWER GIRL (2009) (#1-27) #6 Near Mint/Mint
POWER GIRL (2009) (#1-27) #7 Fine
POWER GIRL (2009) (#1-27) #8 Very Fine
POWER GIRL (2009) (#1-27) #9 Near Mint/Mint
POWER GIRL (2009) (#1-27) #10 Near Mint/Mint
POWER GIRL (2009) (#1-27) #11 Near Mint/Mint
POWER GIRL (2009) (#1-27) #12 Very Fine
POWER GIRL (2009) (#1-27) #13 Very Fine
POWER GIRL (2009) (#1-27) #14 Near Mint/Mint
POWER GIRL (2009) (#1-27) #15 Near Mint/Mint
POWER GIRL (2009) (#1-27) #16 Near Mint/Mint
POWER GIRL (2009) (#1-27) #17 Near Mint/Mint
POWER GIRL (2009) (#1-27) #18 Very Fine
POWER OF SHAZAM 1,000,000 (1998) #1 Near Mint/Mint
RESURRECTION MAN 1,000,000 (1998) #1 Near Mint/Mint
ROBIN 1,000,000 (1998) #1 Near Mint/Mint
SECRET SOCIETY OF SUPER-VILLAINS (1976) #4 Very Good
SHADOW CABINET (1994) #0 (DC: Milestone Press) Near Mint/Mint
SHADOW CABINET (1994) #1 (DC: Milestone Press) Near Mint/Mint
SHADOW CABINET (1994) #2 (DC: Milestone Press) Near Mint/Mint
SHADOW CABINET (1994) #3 (DC: Milestone Press) Near Mint/Mint
SHADOW CABINET (1994) #5 (DC: Milestone Press) Near Mint/Mint
SHADOW CABINET (1994) #6 (DC: Milestone Press) Fine
SHADOW CABINET (1994) #7 (DC: Milestone Press) Fine
SHADOW CABINET (1994) #9 (DC: Milestone Press) Fine
SHADOW CABINET (1994) #10 (DC: Milestone Press) Fine
SHADOW CABINET (1994) #11 (DC: Milestone Press) Near Mint/Mint
SHADOW CABINET (1994) #12 (DC: Milestone Press) Near Mint/Mint
SHADOW CABINET (1994) #13 (DC: Milestone Press) Near Mint/Mint
SHADOW CABINET (1994) #14 (DC: Milestone Press) Near Mint/Mint
SHADOW CABINET (1994) #15 (DC: Milestone Press) Fine
SHADOW CABINET (1994) #16 (DC: Milestone Press) Very Fine
SHADOW CABINET (1994) #17 (DC: Milestone Press) Near Mint/Mint
STARMAN 1,000,000 (1998) #1 Near Mint/Mint
STATIC (1993) #1 (DC: Milestone Press) Near Mint/Mint
STATIC (1993) #2 (DC: Milestone Press) Very Fine
STATIC (1993) #3 (DC: Milestone Press) Fine
STATIC (1993) #4 (DC: Milestone Press) Very Fine
STATIC (1993) #5 (DC: Milestone Press) Near Mint/Mint
STATIC (1993) #6 (DC: Milestone Press) Very Fine
STATIC (1993) #7 (DC: Milestone Press) Very Fine
STATIC (1993) #8 (DC: Milestone Press) Near Mint/Mint
STATIC (1993) #9 (DC: Milestone Press) Near Mint/Mint
STATIC (1993) #10 (DC: Milestone Press) Near Mint/Mint
STATIC (1993) #11 (DC: Milestone Press) Near Mint/Mint
STATIC (1993) #12 (DC: Milestone Press) Near Mint/Mint
STATIC (1993) #13 (DC: Milestone Press) Fine
STATIC (1993) #14 (DC: Milestone Press) Very Fine
STATIC (1993) #15 (DC: Milestone Press) Fine
STATIC (1993) #16 (DC: Milestone Press) Near Mint/Mint
STATIC (1993) #17 (DC: Milestone Press) Near Mint/Mint
STATIC (1993) #18 (DC: Milestone Press) Near Mint/Mint
STATIC (1993) #19 (DC: Milestone Press) Fine
STATIC (1993) #20 (DC: Milestone Press) Near Mint/Mint
STATIC (1993) #21 (DC: Milestone Press) Very Fine
STATIC (1993) #22 (DC: Milestone Press) Near Mint/Mint
STATIC (1993) #23 (DC: Milestone Press) Near Mint/Mint
STATIC (1993) #24 (DC: Milestone Press) Very Fine
STATIC (1993) #25 (DC: Milestone Press) Fine
STATIC (1993) #26 (DC: Milestone Press) Fine
STATIC (1993) #27 (DC: Milestone Press) Very Fine
STATIC (1993) #28 (DC: Milestone Press) Very Fine
STATIC (1993) #43 (DC: Milestone Press) Near Mint/Mint
STATIC (1993) #44 (DC: Milestone Press) Very Fine
STATIC (1993) #45 (DC: Milestone Press) Very Fine
SUPERBOY 1,000,000 (1998) #1 Near Mint/Mint
SUPERGIRL 1,000,000 (1998) #1 Near Mint/Mint
SUPERMAN 1,000,000 (1998) #1 Near Mint/Mint
SUPERMAN: MAN OF STEEL (1991) #18 Near Mint/Mint
SUPERMAN: MAN OF STEEL 1,000,000 (1998) #1 Near Mint/Mint
SUPERMAN: MAN OF TOMORROW 1,000,000 (1998) #1 Near Mint/Mint
WONDER WOMAN (1987) (#0-226) (DC) #139 Near Mint/Mint
WONDER WOMAN (1987) (#0-226) (DC) #140 Near Mint/Mint
WONDER WOMAN (1987) (#0-226) (DC) #141 Near Mint/Mint
WONDER WOMAN (1987) (#0-226) (DC) #142 Very Fine
WONDER WOMAN (1987) (#0-226) (DC) #143 Near Mint/Mint

WONDER WOMAN 1,000,000 (1998) #1
WONDER WOMAN 1,000,000 (1998) #1 Near Mint/Mint
XERO (1997) #1 Fine
XERO (1997) #2 Fine
XERO (1997) #3 Fine
XERO (1997) #4 Fine
XERO (1997) #5 Fine
XERO (1997) #7 Fine
XERO (1997) #8 Fine
XERO (1997) #10 Near Mint/Mint
XERO (1997) #11 Fine
XOMBI (1994) #0 (DC: Milestone Press) Near Mint/Mint
XOMBI (1994) #1 (DC: Milestone Press) Near Mint/Mint
XOMBI (1994) #2 (DC: Milestone Press) Fine
XOMBI (1994) #3 (DC: Milestone Press) Fine
XOMBI (1994) #4 (DC: Milestone Press) Fine
XOMBI (1994) #5 (DC: Milestone Press) Near Mint/Mint
XOMBI (1994) #6 (DC: Milestone Press) Near Mint/Mint
XOMBI (1994) #7 (DC: Milestone Press) Fine
XOMBI (1994) #8 (DC: Milestone Press) Fine
XOMBI (1994) #9 (DC: Milestone Press) Fine
XOMBI (1994) #10 (DC: Milestone Press) Near Mint/Mint
XOMBI (1994) #11 (DC: Milestone Press) Very Fine
XOMBI (1994) #12 (DC: Milestone Press) Very Fine
XOMBI (1994) #13 (DC: Milestone Press) Fine
XOMBI (1994) #14 (DC: Milestone Press) Near Mint/Mint
XOMBI (1994) #15 (DC: Milestone Press) Near Mint/Mint
XOMBI (1994) #16 (DC: Milestone Press) Near Mint/Mint
XOMBI (1994) #17 (DC: Milestone Press) Very Fine
XOMBI (1994) #18 (DC: Milestone Press) Very Fine
XOMBI (1994) #19 (DC: Milestone Press) Near Mint/Mint
XOMBI (1994) #20 (DC: Milestone Press) Near Mint/Mint
XOMBI (1994) #21 (DC: Milestone Press) Very Fine
YOUNG HEROES IN LOVE 1,000,000 (1998) #1 Near Mint/Mint
YOUNG JUSTICE 1,000,000 (1998) #1 Near Mint/Mint
DARK HORSE COMICS
BATMAN/TARZAN: CLAWS OF CATWOMAN (DC) (DARK HORSE) (1999) #1 Near Mint/Mint
BATMAN/TARZAN: CLAWS OF CATWOMAN (DC) (DARK HORSE) (1999) #2 Near Mint/Mint
BUFFY THE VAMPIRE SLAYER (1998) (#1-63) (DARK HORSE) #1 PHOTO NEWS Fine
BUFFY THE VAMPIRE SLAYER (1998) (#1-63) (DARK HORSE) #2 PHOTO NEWS Very Fine
BUFFY THE VAMPIRE SLAYER (1998) (#1-63) (DARK HORSE) #3 PHOTO Near Mint/Mint
BUFFY THE VAMPIRE SLAYER (1998) (#1-63) (DARK HORSE) #5 Fine
BUFFY THE VAMPIRE SLAYER (1998) (#1-63) (DARK HORSE) #6 Near Mint/Mint
BUFFY THE VAMPIRE SLAYER (1998) (#1-63) (DARK HORSE) #6 Fine
BUFFY THE VAMPIRE SLAYER (1998) (#1-63) (DARK HORSE) #6 PHOTO Near Mint/Mint
BUFFY THE VAMPIRE SLAYER (1998) (#1-63) (DARK HORSE) #6 Very Fine
BUFFY THE VAMPIRE SLAYER (1998) (#1-63) (DARK HORSE) #11 PHOTO Near Mint/Mint
BUFFY THE VAMPIRE SLAYER (1998) (#1-63) (DARK HORSE) #12 PHOTO Near Mint/Mint
BUFFY THE VAMPIRE SLAYER (1998) (#1-63) (DARK HORSE) #13 PHOTO Very Fine
BUFFY THE VAMPIRE SLAYER (1998) (#1-63) (DARK HORSE) #14 PHOTO Near Mint/Mint
BUFFY THE VAMPIRE SLAYER (1998) (#1-63) (DARK HORSE) #14 PHOTO Very Fine
BUFFY THE VAMPIRE SLAYER (1998) (#1-63) (DARK HORSE) #15 PHOTO Near Mint/Mint
BUFFY THE VAMPIRE SLAYER (1998) (#1-63) (DARK HORSE) #16 PHOTO Near Mint/Mint
BUFFY THE VAMPIRE SLAYER (1998) (#1-63) (DARK HORSE) #16 PHOTO Very Fine
BUFFY THE VAMPIRE SLAYER (1998) (#1-63) (DARK HORSE) #17 PHOTO Near Mint/Mint
BUFFY THE VAMPIRE SLAYER (1998) (#1-63) (DARK HORSE) #18 PHOTO Near Mint/Mint
BUFFY THE VAMPIRE SLAYER (1998) (#1-63) (DARK HORSE) #19 PHOTO Very Fine

BUFFY THE VAMPIRE SLAYER (1998) (#1-63) (DARK HORSE) #21 PHOTO
BUFFY THE VAMPIRE SLAYER (1998) (#1-63) (DARK HORSE) #21 PHOTO Very Fine
BUFFY THE VAMPIRE SLAYER (1998) (#1-63) (DARK HORSE) #22 PHOTO Very Fine
BUFFY THE VAMPIRE SLAYER (1998) (#1-63) (DARK HORSE) #24 Near Mint/Mint
BUFFY THE VAMPIRE SLAYER (1998) (#1-63) (DARK HORSE) #25 PHOTO Near Mint/Mint
BUFFY THE VAMPIRE SLAYER (1998) (#1-63) (DARK HORSE) #25 PHOTO Very Fine
BUFFY THE VAMPIRE SLAYER (1998) (#1-63) (DARK HORSE) #26 Near Mint/Mint
BUFFY THE VAMPIRE SLAYER (1998) (#1-63) (DARK HORSE) #34 PHOTO Near Mint/Mint
BUFFY THE VAMPIRE SLAYER (1998) (#1-63) (DARK HORSE) #51 Near Mint/Mint
BUFFY THE VAMPIRE SLAYER (1998) (#1-63) (DARK HORSE) #52 PHOTO Near Mint/Mint
BUFFY THE VAMPIRE SLAYER (SEASON 8) (#1-40)(2007)(DKH) #1 2ND PRINT Near Mint/Mint
BUFFY THE VAMPIRE SLAYER (SEASON 8) (#1-40)(2007)(DKH) #1 MONSTER Very Fine
BUFFY THE VAMPIRE SLAYER (SEASON 8) (#1-40)(2007)(DKH) #1 Very Fine
BUFFY THE VAMPIRE SLAYER (SEASON 8) (#1-40)(2007)(DKH) #2 Very Fine
BUFFY THE VAMPIRE SLAYER (SEASON 8) (#1-40)(2007)(DKH) #3 Very Fine
BUFFY THE VAMPIRE SLAYER (SEASON 8) (#1-40)(2007)(DKH) #5 Near Mint/Mint
BUFFY THE VAMPIRE SLAYER (SEASON 8) (#1-40)(2007)(DKH) #7 VARIANT Very Fine
BUFFY THE VAMPIRE SLAYER (SEASON 8) (#1-40)(2007)(DKH) #24 CHEN Very Fine
BUFFY THE VAMPIRE SLAYER (SEASON 8) (#1-40)(2007)(DKH) #24 CHEN Fine
BUFFY THE VAMPIRE SLAYER (SEASON 8) (#1-40)(2007)(DKH) #26 CHEN Near Mint/Mint
BUFFY THE VAMPIRE SLAYER (SEASON 8) (#1-40)(2007)(DKH) #26 JEANTY Near Mint/Mint
BUFFY THE VAMPIRE SLAYER (SEASON 8) (#1-40)(2007)(DKH) #26 CHEN Fine
BUFFY THE VAMPIRE SLAYER (SEASON 8) (#1-40)(2007)(DKH) #26 JEANTY Fine
BUFFY THE VAMPIRE SLAYER (SEASON 8) (#1-40)(2007)(DKH) #27 CHEN Very Fine
BUFFY THE VAMPIRE SLAYER (SEASON 8) (#1-40)(2007)(DKH) #27 CHEN Fine
BUFFY THE VAMPIRE SLAYER (SEASON 8) (#1-40)(2007)(DKH) #28 CHEN Near Mint/Mint
BUFFY THE VAMPIRE SLAYER (SEASON 8) (#1-40)(2007)(DKH) #28 CHEN Very Fine
BUFFY THE VAMPIRE SLAYER (SEASON 8) (#1-40)(2007)(DKH) #28 JEANTY Near Mint/Mint
BUFFY THE VAMPIRE SLAYER (SEASON 8) (#1-40)(2007)(DKH) #28 CHEN Fine
BUFFY THE VAMPIRE SLAYER (SEASON 8) (#1-40)(2007)(DKH) #28 JEANTY Very Fine
BUFFY THE VAMPIRE SLAYER (SEASON 8) (#1-40)(2007)(DKH) #28 CHEN Very Good

BUFFY THE VAMPIRE SLAYER (SEASON 8) (#1-40)(2007)(DKH) #28 JEANTY
BUFFY THE VAMPIRE SLAYER (SEASON 8) (#1-40)(2007)(DKH) #28 JEANTY Fine
BUFFY THE VAMPIRE SLAYER (SEASON 8) (#1-40)(2007)(DKH) #29 JEANTY Near Mint/Mint
BUFFY THE VAMPIRE SLAYER (SEASON 8) (#1-40)(2007)(DKH) #29 CARNEVALE Near Mint/Mint
BUFFY THE VAMPIRE SLAYER (SEASON 8) (#1-40)(2007)(DKH) #29 JEANTY Very Fine
BUFFY THE VAMPIRE SLAYER (SEASON 8) (#1-40)(2007)(DKH) #29 CARNEVALE Fine
BUFFY THE VAMPIRE SLAYER (SEASON 8) (#1-40)(2007)(DKH) #29 JEANTY Fine
BUFFY THE VAMPIRE SLAYER (SEASON 8) (#1-40)(2007)(DKH) #30 HUGHES Near Mint/Mint
BUFFY THE VAMPIRE SLAYER (SEASON 8) (#1-40)(2007)(DKH) #30 JEANTY Near Mint/Mint
BUFFY THE VAMPIRE SLAYER (SEASON 8) (#1-40)(2007)(DKH) #31 CHEN Very Fine
BUFFY THE VAMPIRE SLAYER (SEASON 8) (#1-40)(2007)(DKH) #31 CHEN Fine
BUFFY THE VAMPIRE SLAYER (SEASON 8) (#1-40)(2007)(DKH) #31 JEANTY Near Mint/Mint
BUFFY THE VAMPIRE SLAYER (SEASON 8) (#1-40)(2007)(DKH) #32 CHEN Very Fine
BUFFY THE VAMPIRE SLAYER (SEASON 8) (#1-40)(2007)(DKH) #32 JEANTY Very Fine
BUFFY THE VAMPIRE SLAYER (SEASON 8) (#1-40)(2007)(DKH) #33 JEANTY Near Mint/Mint
BUFFY THE VAMPIRE SLAYER (SEASON 8) (#1-40)(2007)(DKH) #33 CHEN Very Fine
BUFFY THE VAMPIRE SLAYER (SEASON 8) (#1-40)(2007)(DKH) #33 JEANTY Very Fine
BUFFY THE VAMPIRE SLAYER (SEASON 8) (#1-40)(2007)(DKH) #34 CHEN Near Mint/Mint
BUFFY THE VAMPIRE SLAYER (SEASON 8) (#1-40)(2007)(DKH) #34 CHEN Very Fine
BUFFY THE VAMPIRE SLAYER (SEASON 8) (#1-40)(2007)(DKH) #34 JEANTY Fine
BUFFY THE VAMPIRE SLAYER (SEASON 8) (#1-40)(2007)(DKH) #34 CHEN Fine
BUFFY THE VAMPIRE SLAYER (SEASON 8) (#1-40)(2007)(DKH) #34 JEANTY Very Good
BUFFY THE VAMPIRE SLAYER (SEASON 8) (#1-40)(2007)(DKH) #35 CHEN Fine
BUFFY THE VAMPIRE SLAYER (SEASON 8) (#1-40)(2007)(DKH) #35 CHEN Very Good
BUFFY THE VAMPIRE SLAYER (SEASON 8) (#1-40)(2007)(DKH) #35 JEANTY Fine
BUFFY THE VAMPIRE SLAYER (SEASON 8) (#1-40)(2007)(DKH) #36 JEANTY Near Mint/Mint
BUFFY THE VAMPIRE SLAYER (SEASON 8) (#1-40)(2007)(DKH) #36 CHEN Fine
BUFFY THE VAMPIRE SLAYER (SEASON 8) (#1-40)(2007)(DKH) #36 JEANTY Very Fine
BUFFY THE VAMPIRE SLAYER (SEASON 8) (#1-40)(2007)(DKH) #38 CHEN Fine
BUFFY THE VAMPIRE SLAYER (SEASON 8) (#1-40)(2007)(DKH) #38 JEANTY Very Fine
BUFFY THE VAMPIRE SLAYER (SEASON 8) (#1-40)(2007)(DKH) #39 JEANTY Near Mint/Mint
BUFFY THE VAMPIRE SLAYER (SEASON 8) (#1-40)(2007)(DKH) #40 CHEN Very Fine

BUFFY THE VAMPIRE SLAYER SEASON 10 (2014) #4 MORRIS
BUFFY THE VAMPIRE SLAYER SEASON 10 (2014) #4 MORRIS Near Mint/Mint
BUFFY THE VAMPIRE SLAYER SEASON 10 (2014) #5 ISAACS Near Mint/Mint
BUFFY THE VAMPIRE SLAYER SEASON 10 (2014) #5 ISAACS Very Fine
BUFFY THE VAMPIRE SLAYER SEASON 10 (2014) #7 MORRIS Near Mint/Mint
BUFFY THE VAMPIRE SLAYER SEASON 10 (2014) #8 MORRIS Near Mint/Mint
BUFFY THE VAMPIRE SLAYER SEASON 10 (2014) #9 MORRIS Very Fine
BUFFY THE VAMPIRE SLAYER SEASON 10 (2014) #9 MORRIS Fine
BUFFY THE VAMPIRE SLAYER SEASON 10 (2014) #10 JACKSON Very Fine
BUFFY THE VAMPIRE SLAYER SEASON 10 (2014) #10 MORRIS Near Mint/Mint
BUFFY THE VAMPIRE SLAYER SEASON 10 (2014) #12 ISAACS Very Fine
BUFFY THE VAMPIRE SLAYER SEASON 10 (2014) #12 MORRIS Near Mint/Mint
BUFFY THE VAMPIRE SLAYER SEASON 10 (2014) #13 MORRIS Near Mint/Mint
BUFFY THE VAMPIRE SLAYER SEASON 10 (2014) #14 ISAACS Near Mint/Mint
BUFFY THE VAMPIRE SLAYER SEASON 10 (2014) #14 ISAACS Very Fine
BUFFY THE VAMPIRE SLAYER SEASON 10 (2014) #14 MORRIS Near Mint/Mint
BUFFY THE VAMPIRE SLAYER SEASON 10 (2014) #16 ISAACS Near Mint/Mint
BUFFY THE VAMPIRE SLAYER SEASON 10 (2014) #16 ISAACS Very Fine
BUFFY THE VAMPIRE SLAYER SEASON 10 (2014) #16 MORRIS Near Mint/Mint
BUFFY THE VAMPIRE SLAYER SEASON 10 (2014) #16 ISAACS Fine
BUFFY THE VAMPIRE SLAYER SEASON 10 (2014) #16 MORRIS Very Fine
BUFFY THE VAMPIRE SLAYER SEASON 10 (2014) #17 ISAACS Near Mint/Mint
BUFFY THE VAMPIRE SLAYER SEASON 10 (2014) #17 ISAACS Very Fine
BUFFY THE VAMPIRE SLAYER SEASON 10 (2014) #17 ISAACS Fine
BUFFY THE VAMPIRE SLAYER SEASON 10 (2014) #17 MORRIS Near Mint/Mint
BUFFY THE VAMPIRE SLAYER SEASON 9 (2011) #2 MORRIS Very Fine
BUFFY THE VAMPIRE SLAYER SEASON 9 (2011) #5 JEANTY Near Mint/Mint
BUFFY THE VAMPIRE SLAYER SEASON 9 (2011) #5 JEANTY Very Fine
BUFFY THE VAMPIRE SLAYER SEASON 9 (2011) #6 NOTO Near Mint/Mint
BUFFY THE VAMPIRE SLAYER SEASON 9 (2011) #7 JEANTY Near Mint/Mint
BUFFY THE VAMPIRE SLAYER SEASON 9 (2011) #7 NOTO Near Mint/Mint
BUFFY THE VAMPIRE SLAYER SEASON 9 (2011) #9 JEANTY Near Mint/Mint

BUFFY THE VAMPIRE SLAYER SEASON 9 (2011) #11 JEANTY
BUFFY THE VAMPIRE SLAYER SEASON 9 (2011) #11 JEANTY Near Mint/Mint
BUFFY THE VAMPIRE SLAYER SEASON 9 (2011) #11 JEANTY Fine
BUFFY THE VAMPIRE SLAYER SEASON 9 (2011) #12 JEANTY Very Fine
BUFFY THE VAMPIRE SLAYER SEASON 9 (2011) #18 JEANTY Very Fine
BUFFY THE VAMPIRE SLAYER SEASON 9 (2011) #19 JEANTY Near Mint/Mint
BUFFY THE VAMPIRE SLAYER SEASON 9 (2011) #19 JEANTY Very Fine
BUFFY THE VAMPIRE SLAYER SEASON 9 (2011) #19 NOTO Near Mint/Mint
BUFFY THE VAMPIRE SLAYER SEASON 9 (2011) #20 JEANTY Near Mint/Mint
BUFFY THE VAMPIRE SLAYER SEASON 9 (2011) #20 NOTO Near Mint/Mint
BUFFY THE VAMPIRE SLAYER SEASON 9 (2011) #21 NOTO Near Mint/Mint
BUFFY THE VAMPIRE SLAYER SEASON 9 (2011) #22 JEANTY Very Fine
BUFFY THE VAMPIRE SLAYER SEASON 9 (2011) #22 NOTO Very Fine
BUFFY THE VAMPIRE SLAYER SEASON 9 (2011) #24 NOTO Near Mint/Mint
BUFFY THE VAMPIRE SLAYER SEASON 9 (2011) #24 JEANTY Very Fine
BUFFY THE VAMPIRE SLAYER SEASON 9 (2011) #24 NOTO Very Fine
BUFFY THE VAMPIRE SLAYER: ANGEL (1999) #1 1/2 WIZARD Very Fine
BUFFY THE VAMPIRE SLAYER: ONE FOR ONE (2010) #1 Near Mint/Mint
BUFFY THE VAMPIRE SLAYER: ORIGIN (1999) #1 Near Mint/Mint
BUFFY THE VAMPIRE SLAYER: ORIGIN (1999) #1 PHOTO Very Fine
BUFFY THE VAMPIRE SLAYER: ORIGIN (1999) #2 PHOTO Very Fine
BUFFY THE VAMPIRE SLAYER: ORIGIN (1999) #3 Near Mint/Mint
BUFFY THE VAMPIRE SLAYER: ORIGIN (1999) #3 PHOTO Near Mint/Mint
BUFFY THE VAMPIRE SLAYER: OZ (2001) #3 Near Mint/Mint
MADMAN ADVENTURES ASHCAN (1994) #1 Near Mint/Mint
MADMAN ADVENTURES ASHCAN (1994) #1 Fine
NEXT MEN (1992) #21 Very Fine

STAR WARS BOBA FETT: AGENT OF DOOM (2000) #1
STAR WARS BOBA FETT: AGENT OF DOOM (2000) #1 Very Fine
STAR WARS EPISODE I: THE PHANTOM MENACE #3 Near Mint/Mint
STAR WARS EPISODE I: THE PHANTOM MENACE #4 Near Mint/Mint
STAR WARS: DARK EMPIRE (1992) #3 Near Mint/Mint
STAR WARS: DARK EMPIRE (1992) #4 Near Mint/Mint
STAR WARS: DARK EMPIRE (1992) #5 Near Mint/Mint
STAR WARS: DARK EMPIRE (1992) #6 Near Mint/Mint
STAR WARS: DARTH MAUL (2000) #1 Near Mint/Mint
STAR WARS: DARTH MAUL (2000) #3 Near Mint/Mint
STAR WARS: DARTH MAUL (2000) #4 Very Fine
STAR WARS: PURGE ONE-SHOT – LAST STAND OF THE JEDI (2005) #1 Fine
STAR WARS: TAG & BINK ARE DEAD (2001) #1 Fine
STAR WARS: TAG & BINK ARE DEAD (2001) #2 Near Mint/Mint
TARZAN VS. PREDATOR: AT THE EARTH'S CORE (1996) #1 Near Mint/Mint
YOUNG INDIANA JONES CHRONICLES (1992) #6 Very Fine
YOUNG INDIANA JONES CHRONICLES (1992) #7 Very Fine
IMAGE COMICS
SPAWN (1992) #136 Fine
SPAWN (1992) #137 Near Mint/Mint
SPAWN (1992) #138 Near Mint/Mint
SPAWN (1992) #139 Fine
SPAWN (1992) #140 Good
SPAWN (1992) #141 Near Mint/Mint
SPAWN (1992) #142 Very Good
SPAWN (1992) #143 Fine
SPAWN (1992) #144 Fine
SPAWN (1992) #145 Fine
SPAWN (1992) #146 Near Mint/Mint
SPAWN (1992) #151 VARIANT Fine
SPAWN (1992) #152 Very Fine
SPAWN (1992) #153 Very Fine
SPAWN (1992) #154 Fine
SPAWN (1992) #155 Fine
SPAWN (1992) #156 Very Good
INDEPENDENTS
AMAZING HEROES (FANTAGRAPHICS) (1981) #112 (Fantagraphics) Fine
AMAZING HEROES (FANTAGRAPHICS) (1981) #112 (Fantagraphics) Very Fine
AMERICAN FLAGG! (FIRST COMICS) (HOWARD CHAYKIN) (1983) #43 (First Comics) Fine
AMERICAN FLAGG! (FIRST COMICS) (HOWARD CHAYKIN) (1983) #43 (First Comics) Very Fine
BART SIMPSON'S TREEHOUSE OF HORROR (BONGO) (1995) #6 (Bongo Comics) Near Mint/Mint
BUCK ROGERS COMICS MODULE (1990) #6 (TSR Games) Near Mint/Mint
BUCK ROGERS COMICS MODULE (1990) #6 (TSR Games) Very Fine
BUCK ROGERS COMICS MODULE (1990) #10 FLIPBOOK (TSR Games) Near Mint/Mint
BUCK ROGERS COMICS MODULE (1990) #10 FLIPBOOK (TSR Games) Very Fine
BUCK ROGERS IN THE 25TH CENTURY (2013) #1 (HERMES PRESS) Very Fine
BUCKAROO BANZAI (2006) (#1-3) (MOONSTONE) (RETURN OF..) #1 A (Moonstone) Near Mint/Mint

BUCKAROO BANZAI (2006) (#1-3) (MOONSTONE) (RETURN OF..) #1 A
BUCKAROO BANZAI (2006) (#1-3) (MOONSTONE) (RETURN OF..) #1 A (Moonstone) Very Fine
BUCKAROO BANZAI (2006) (#1-3) (MOONSTONE) (RETURN OF..) #1 B (Moonstone) Near Mint/Mint
BUCKAROO BANZAI (2006) (#1-3) (MOONSTONE) (RETURN OF..) #1 LIMITED (Moonstone) Near Mint/Mint
BUCKAROO BANZAI (2006) (#1-3) (MOONSTONE) (RETURN OF..) #2 A (Moonstone) Near Mint/Mint
BUCKAROO BANZAI (2006) (#1-3) (MOONSTONE) (RETURN OF..) #2 B (Moonstone) Near Mint/Mint
BUCKAROO BANZAI (2006) (#1-3) (MOONSTONE) (RETURN OF..) #2 LIMITED (Moonstone) Near Mint/Mint
BUCKAROO BANZAI (2006) (#1-3) (MOONSTONE) (RETURN OF..) #3 A (Moonstone) Near Mint/Mint
BUCKAROO BANZAI (2011) (#1-2) (MOONSTONE) (TEARS & ..) #1 A (Moonstone) Near Mint/Mint
BUCKAROO BANZAI (2011) (#1-2) (MOONSTONE) (TEARS & ..) #1 A (Moonstone) Very Fine
BUCKAROO BANZAI (2011) (#1-2) (MOONSTONE) (TEARS & ..) #2 A (Moonstone) Near Mint/Mint
BUCKAROO BANZAI (2011) (#1-2) (MOONSTONE) (TEARS & ..) #2 A (Moonstone) Very Fine
BUCKAROO BANZAI BIG-SIZE (2008) #1 B (Moonstone) Near Mint/Mint
BUCKAROO BANZAI: ORIGINS (2009) #1 A (Moonstone) Near Mint/Mint
BUCKAROO BANZAI: THE PREQUEL (2008) #1 (Moonstone) Near Mint/Mint
BUCKAROO BANZAI: THE PREQUEL (2008) #1 VARIANT (Moonstone) Very Fine
BUCKAROO BANZAI: THE PREQUEL (2008) #1 (Moonstone) Very Fine
BUCKAROO BANZAI: THE PREQUEL (2008) #2 (Moonstone) Near Mint/Mint
BUCKY O'HARE (1991) #1 (Continuity Publishing) Fine
BUCKY O'HARE (1991) #1 NEWSSTAND (Continuity Publishing) Very Fine
BUCKY O'HARE (1991) #2 (Continuity Publishing) Fine
BUCKY O'HARE (1991) #2 NEWSSTAND (Continuity Publishing) Fine
BUCKY O'HARE (1991) #3 (Continuity Publishing) Very Fine
BUCKY O'HARE (1991) #4 (Continuity Publishing) Near Mint/Mint
BUCKY O'HARE (1991) #5 (Continuity Publishing) Near Mint/Mint
BUCKY O'HARE (1991) #5 (Continuity Publishing) Very Fine
BUDD'S BEAUTIES & BEASTS ONE-SHOT (2005) #1 (BASEMENT COMICS) Fine

BUDDHA ON THE ROAD (Aeon) (1996) #1
BUDDHA ON THE ROAD (Aeon) (1996) #1 (Aeon) Near Mint/Mint
BUDDHA ON THE ROAD (Aeon) (1996) #2 (Aeon) Near Mint/Mint
BUDDHA ON THE ROAD (Aeon) (1996) #2 (Aeon) Very Fine
BUDDHA: STORY OF ENLIGHTMENT (2008) #4 (VIRGIN BOOKS) Very Fine
BUDGET STRIPS #1 (Laughing Buddha Press) Near Mint/Mint
BUDGET STRIPS #1 (Laughing Buddha Press) Very Fine
BUDGET STRIPS #2 (Laughing Buddha Press) Near Mint/Mint
BUDGET STRIPS #2 (Laughing Buddha Press) Very Fine
BUFFY (Eros Comix (Fantagraphics)) (1995) #1 (Eros Comix (Fantagraphics)) Near Mint/Mint
DRAGON'S STAR (1987) #1 (Matrix Graphic Series) Very Fine
JOSIE & THE PUSSYCATS (JOSIE #1-106) (1963) #65 (Archie Comics) Good
JOSIE & THE PUSSYCATS (JOSIE #1-106) (1963) #86 (Archie Comics) Fine
LIFE WITH ARCHIE (1958) #113 (Archie Comics) Good
MADHOUSE MA-AD JOKES (#66-72) (1969) #67 (Archie Comics) Good
MONSTER HUNTERS (1975) #7 (Charlton) Very Good
MONSTER HUNTERS (1975) #9 (Charlton) Fine
PONYTAIL (1969) (#13-20) (CHARLTON) #16 (Charlton) Very Good
POPEYE (1969) (#94-138) (CHAR) #98 (Charlton) Good
SCARY GODMOTHER (2001) #2 (Sirius) Very Fine
SCARY GODMOTHER (2001) #3 (Sirius) Very Fine
SCARY GODMOTHER (2001) #4 (Sirius) Near Mint/Mint
SCARY GODMOTHER (2001) #5 (Sirius) Very Fine
SCARY GODMOTHER (2001) #6 (Sirius) Near Mint/Mint
SOLAR, MAN OF THE ATOM (1991) #1 (Acclaim/Valiant) Near Mint/Mint
SOLAR, MAN OF THE ATOM (1991) #10 (Acclaim/Valiant) Near Mint/Mint
TEENAGE MUTANT NINJA TURTLES ANIMATED (DREAMWAVE) (2003) #1 PAT LEE (Dreamwave) Fine
TEENAGE MUTANT NINJA TURTLES ANIMATED (DREAMWAVE) (2003) #2 (Dreamwave) Very Fine
TEENAGE MUTANT NINJA TURTLES ANIMATED (DREAMWAVE) (2003) #3 (Dreamwave) Near Mint/Mint
TEENAGE MUTANT NINJA TURTLES ANIMATED (DREAMWAVE) (2003) #4 (Dreamwave) Near Mint/Mint
TELL TALE HEART AND OTHER STORIES BY EDGAR ALLEN POE (1988) #1 (Fantagraphics) Fine
ZULUNATION #2 (Tome Press, A Division Of Caliber) Very Fine
To be unsubscribed from our e-mail newsletter, please send your request to moulton@milehighcomics.com
Mile High Comics, 4600 Jason Street, Denver CO 80211, USA